Welcome to the fourth annual #FallFlavors! We have 21 bloggers sharing over SIXTY recipes using fall ingredients like squash, apples, maple, pecans, and many more. Follow #FallFlavors to see all the delicious recipes on social media.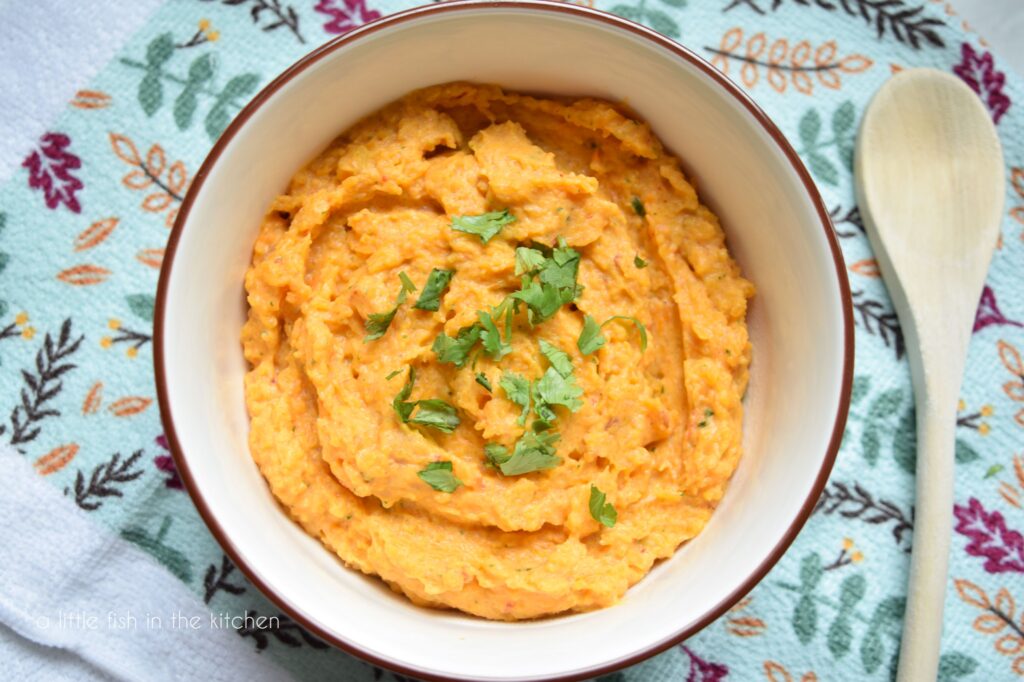 Butternut squash is my favorite member of the squash family (with acorn squash sliding into a strong second place!), but I must confess I didn't have my first taste of it until I was an adult. It just wasn't a thing in my childhood home. We ate yellow squash and zucchini weekly, it seemed. But none of the more "exotic" (exotic = labor intensive) squashes made the cut in my mom's kitchen. So spaghetti squash, butternut squash, acorn squash, pie pumpkins and the like, all captured my interest when I had the opportunity to try them for myself as an adult.
Once I got past the initial intimidation of working with them, because I really need all 10 of my fingers the delicious opportunities were endless. One of my favorite creations with spaghetti squash are still these Spicy Mexican Spaghetti Squash Cakes. And I've also made this Roasted Acorn Squash with Quinoa Vegetable Stuffing, which is a recipe I really need to make for us again soon.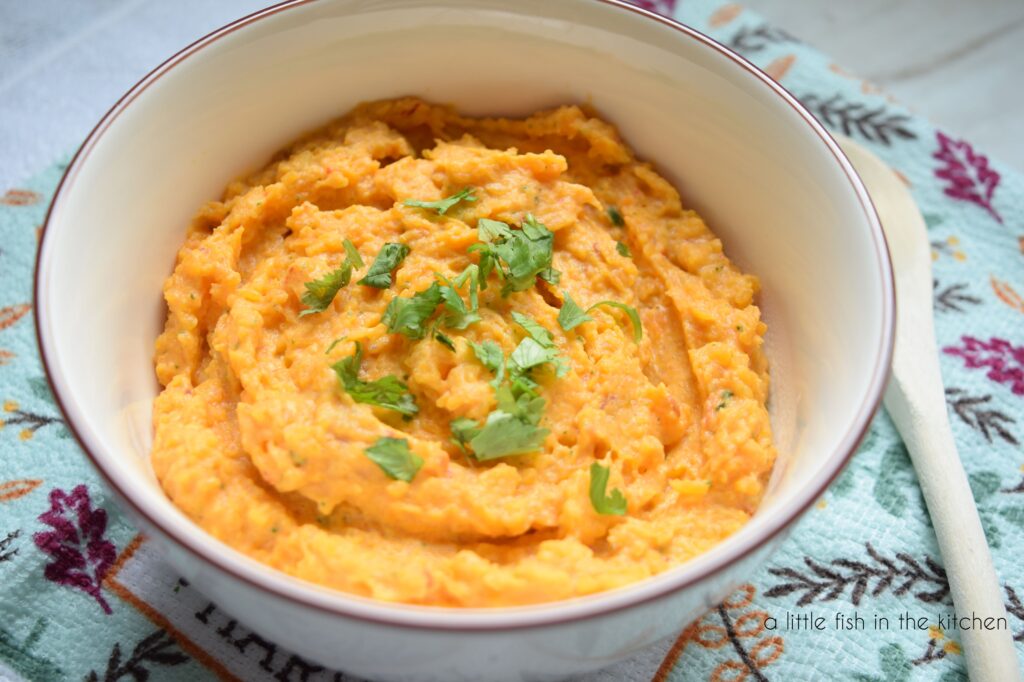 However, butternut squash has the most intriguing name of them all. I mean, it just sounds delicious! I was so relieved when I tried it for the first time and it lived up to it's name; it's earthy and slightly sweet. It's also very similar in texture and color to a sweet potato, which made it instantly familiar and comforting to me.
How to prepare chipolte butternut squash mash
I typically prepare butternut squash keeping with very traditional recipes. I coat it with olive oil, season it simply with salt, pepper, and light brown sugar; I then I roast it until it's fork tender. However, in this recipe for Chipolte Butternut Squash Mash, a familiar and comforting roasted butternut squash is mashed up with some spicy Southwestern-style flavors for a delicious change of pace!
Along with a measure of luscious cream cheese, a homemade paste of chili in adobe sauce, lime juice, and fresh cilantro is prepared and mixed into mashed butternut squash. The result is an attractively colorful side dish complete with rich flavors and a creamy texture.
This spicy butternut squash mash goes well with all poultry and any roasted or grilled meat.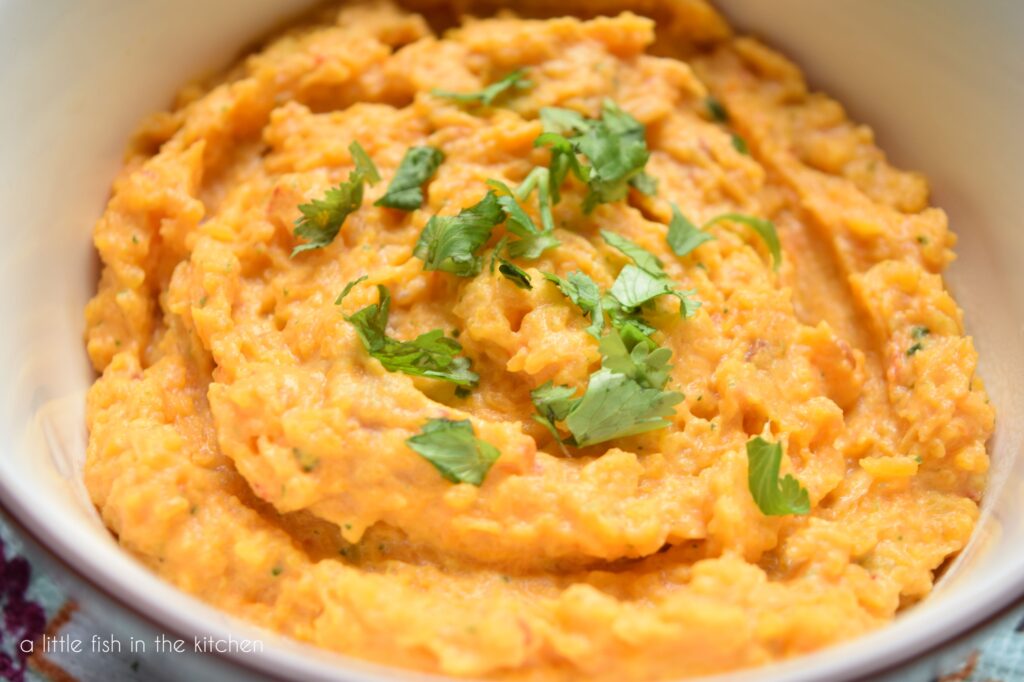 This flavor-packed Chipolte Butternut Squash Mash will make guests at dinner forget about plain, old mashed potatoes, and be prepared because they will probably ask for the recipe! I hope you'll share it!
Also, this Chipolte Butternut Squash Mash is a tasty low-carb and gluten free side dish option any time of the year, but the rich copper color of this dish makes it especially festive for autumn meals! 🍂🍁🎃
Happy eating, y'all and remember sharing is caring! xo – M
🍂🌻🎃More autumn-inspired recipes you might enjoy:
Be sure to share this with your friends and family on Pinterest!!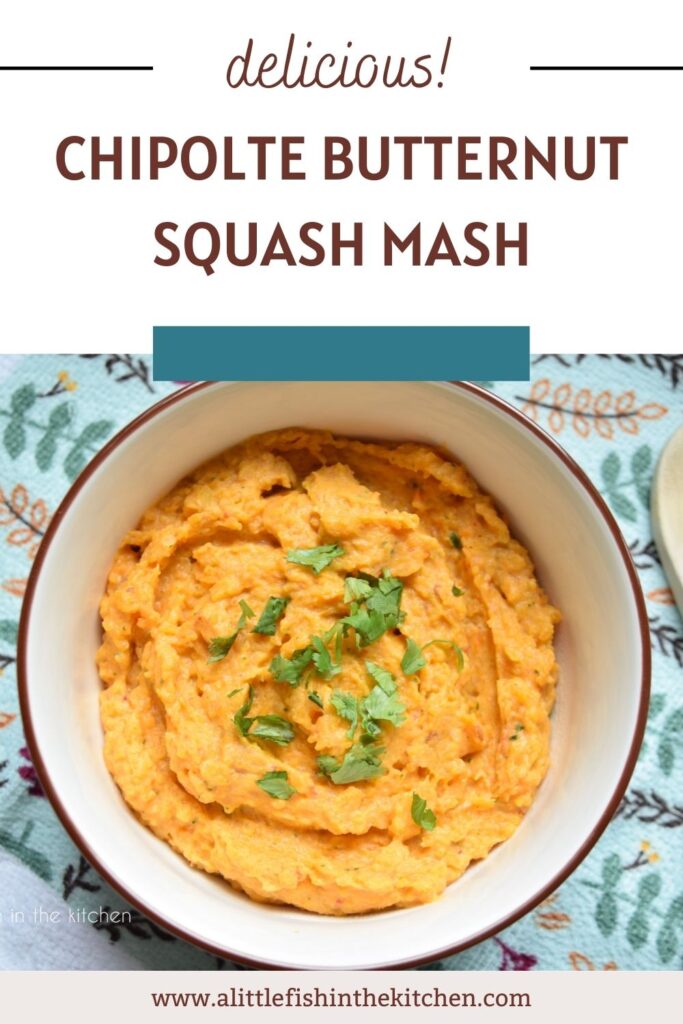 Please watch one of my latest videos on YouTube and Subscribe to my channel for more recipes and live streams!
Enter your email below to have all of my new posts sent right to your inbox! It's a free service!! Subscribe now so you'll never miss a recipe or an update!
Please check out the other autumn-inspired recipes shared today by some talented food bloggers!
Monday #FallFlavor Recipes
Beverages
Breads
Salads, Soups, and Sides
Main Dishes
Desserts
Follow the Favorite Fall Recipes Facebook group and follow the Favorite Fall Flavors Pinterest board for more fall inspiration!
Chipolte Butternut Squash Mash
Course: Sides
Cuisine: American
Difficulty: Easy
This Chipolte Butternut Squash Mash will bring new pizzazz to your side dish repertiore. This is a tasty gluten-free, low-carb option any time of the year, but the rich copper color of this side dish makes it especially festive for autumn meals.
Ingredients
For roasting the butternut squash

1 medium butternut squash (about 2.5- 3 lbs)

2 tablespoons olive oil

2 tablespoons light brown sugar

salt and pepper

For the mash

1/3 package reduced fat cream cheese, room temperature

1 can (7.5 oz) chipolte peppers in adobo sauce

1 – 2 tablespoon(s) lime juice

3 tablespoons fresh cilantro, coarsely chopped

1/2 teaspoon salt (to taste)

1/4 teaspoon ground black pepper
Directions
Pre-heat oven to 425°. Line a baking sheet with parchment paper and set the pan aside. Slice butternut squash open, lengthwise. Using a melon baller or a spoon remove the pulp and seeds from the cavity.
Use a pastry brush to coat both halves of the squash with olive oil. Lightly sprinkle each half of the squash with salt, pepper and one tablespoon of brown sugar. Roast for 35-40 minutes or until the squash is fork tender. Remove pan to a rack and allow the roasted the squash to cool completely.
While the squash is cooling, use a fork to remove 1 large chipolte pepper in adobe sauce from the can. Place the single chipolte pepper, cilantro and lime juice into the jar of a small blender (A Magic Bullet is perfect for this). Pulse the blender a few times (about 30 seconds) or until the contents are well blended. Pour the chipolte mixture into a small bowl and set it aside.
Peel the cooled, roasted squash and cut it into large chunks. Place the squash in a large mixing bowl and use a potato masher to mash it until reasonably smooth. Add salt, pepper, softened cream cheese, and the chipolte pepper mixture to the bowl with the mashed squash. Use a wooden spoon or and electric mixer to mix all of the ingredients together until completely combined.
Reheat the Chipolte Butternut Squash Mash in the microwave as needed before serving (typically about 1-2 minutes, stirring at least once). Garnish with extra, coarsely chopped cilantro leaves, serve warm and enjoy!
Notes
Recipe from A Little Fish in the Kitchen blog at www.alittlefishinthekitchen.com. All content is owned by Marcelle G. Bolton. Please contact the author for permission to republish.