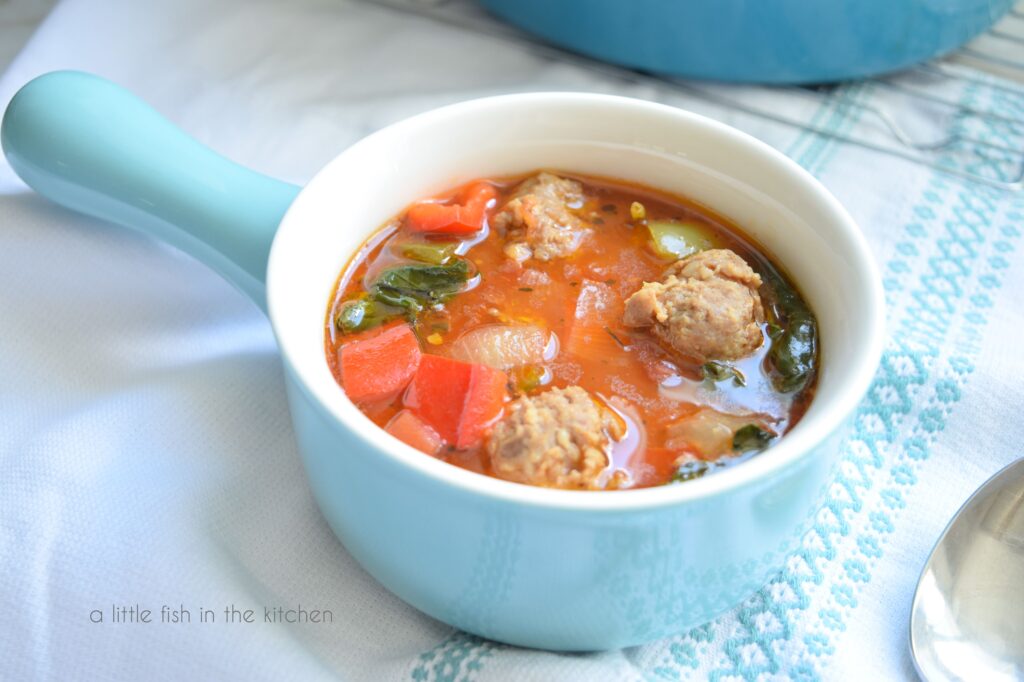 This intensely flavorful Italian Sausage and Pepper Soup is relatively new to our weeknight meal rotation, but boy howdy it's worth sharing about here on this blog sooner rather than later!
I've kept this soup recipe low-carb, but a bowl of this hearty soup is very likely to fill even the most dedicated carb lovers up in one serving. However, should the carb cravings get the best of anyone reading this post, it's worth mentioning that a serving of cooked white rice or rotini pasta would fit right into the mix of this recipe.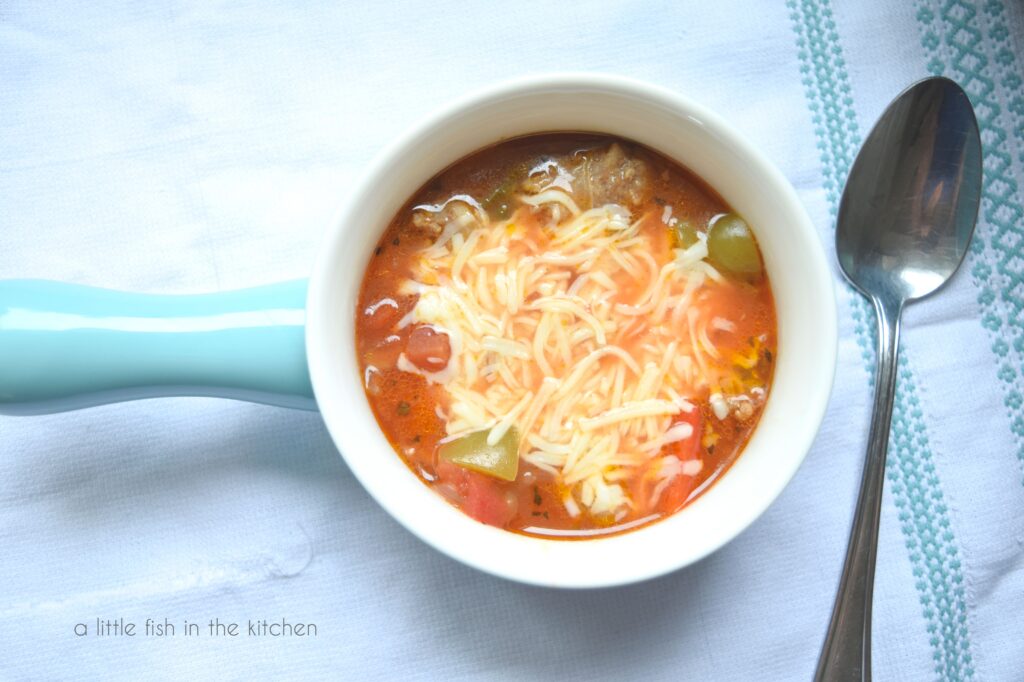 How to make Italian sausage and pepper soup
A pot of this comforting soup is chockful of fresh ingredients including fresh Italian link sausage, bell peppers, onions, spinach and garlic along with many pantry staple ingredients including canned tomatoes, chicken broth, Italian seasoning, crushed red pepper, salt and ground black pepper.
This soup is very simple to prepare and requires very minimal prep work which includes slicing the link sausages, chopping up the fresh veggies, and opening a can of diced tomatoes. After a few minutes of slicing and dicing, everything will be added into the pot in a couple of layers.
This substantial soup is also a quick meal to get on the table as it only needs about 25 minutes of cook time before it's ready to serve. As it is written, this recipe can be prepared quickly enough for a hearty weeknight meal, but if the veggies and the sausage were prepped the day before this recipe is on the meal plan, dinner could be ready in slighty less than thirty minutes!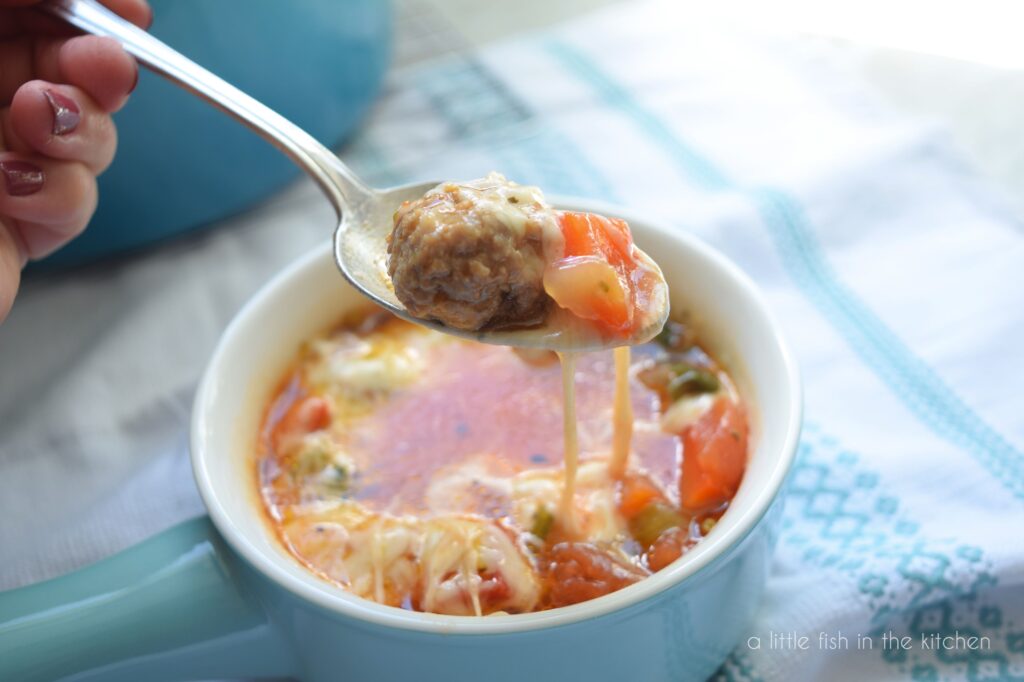 This soup is ready to serve in a snap, but it's packed with big flavors that will make anyone believe you slaved away for hours preparing a meal for them.
Thanks to Pinterest for recommending this gem of a satisfying soup recipe over, and over, and over again because Pinterest knows I'm stubborn as my version of Italian Pepper and Sausage Soup was heavily inspired by several suggestions that popped up in my Pin feed earlier this week. All of the recipes I read for soups by the same name were generally very similar, but I've adapted the comprehensive recipe theme only slighty to suit our tastes.
I omitted certain ingredients that were commonly suggested by other recipes such as vinegar, wine or heavy cream. I've also added a measure of crushed red pepper, prepared Italian seasoning, and tomato paste for flavor and body into the dish. I also strongly suggest topping the individual servings with the two types of cheese I have in the ingredients list because… cheese! 🧀
Happy eating, y'all! xo – M
Be sure to share this with your friends and family on Pinterest!!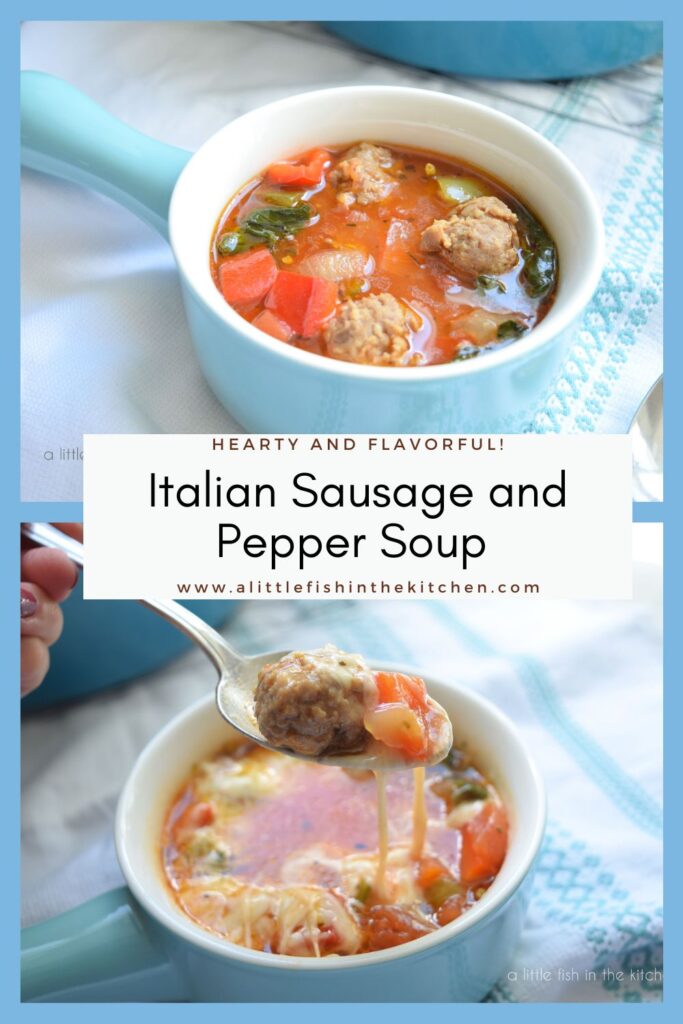 Please watch one of my latest videos on YouTube and Subscribe to my channel for more recipes and live streams!
Enter your email below to have all of my new posts sent right to your inbox! It's a free service!! Subscribe now so you'll never miss a recipe or an update!
Italian Sausage and Pepper Soup
Course: Main
Cuisine: American
Difficulty: Easy
The Italian Sausage and Pepper Soup is simple to make, but packed with big flavors. This is a hearty and satisfying soup that's perfect for a chilly autumn or winter supper!
Ingredients
Extra virgin olive oil

1.25 pounds Italian link sausage (sweet, mild or hot), cut into 3/4 in slices

2 cloves garlic, minced

1 large green bell pepper, seeded and chopped

1 large red bell pepper, seeded and chopped

1/2 of a large yellow onion, coarsely chopped

1 teaspoon Italian seasoning

1/4 -1/2 crushed red pepper (optional)

1/2 teaspoon salt, or to taste

1/2 teaspoon ground black pepper

1 can (28 oz) petite diced tomatos, undrained

5 cups chicken broth or 5 cups water with appropriate measure of chicken-flavored bouillion

2-3 tablespoons tomato paste, as much as you prefer

2 cups fresh baby spinach leaves

grated Parmesan cheese

Shredded mozzarella cheese
Directions
In a large Dutch oven, heat two tablespoons of olive oil over medium heat. Add the sliced sausage to the warm oil and brown the meat slightly, stirring very often. Next, add in the garlic, peppers and onions. Stir well and allow the meat and veggies to saute for about 3 minutes, stirring very often.
Add in the Italian seasoning, salt, black pepper and crushed red pepper. Stir well. Add the diced tomatoes with the liquid and the broth to the pot. Stir it all well and turn up the burner heat to high. Bring the pot just to a boil and then reduce the heat for the pot to just simmer. Add in the tomato paste and stir the soup well until it is incorporated.
Allow the soup to simmer, uncovered, over medium heat for at least 15 minutes. Turn off the burner and then add the fresh spinach to the soup. Stir the pot and allow the spinach to wilt (about 3 minutes).
Use a ladle to transfer soup to individual serving bowls, as needed. If desired, top each bowl with a generous sprinkle of grated Parmesan cheese and 1/4-1/3 cup of shredded mozzarella cheese.
Serve hot and enjoy!
Recipe Video
Notes
Recipe from A Little Fish in the Kitchen blog at www.alittlefishinthekitchen.com. All content is owned by Marcelle G. Bolton. Please contact the author for permission to republish.