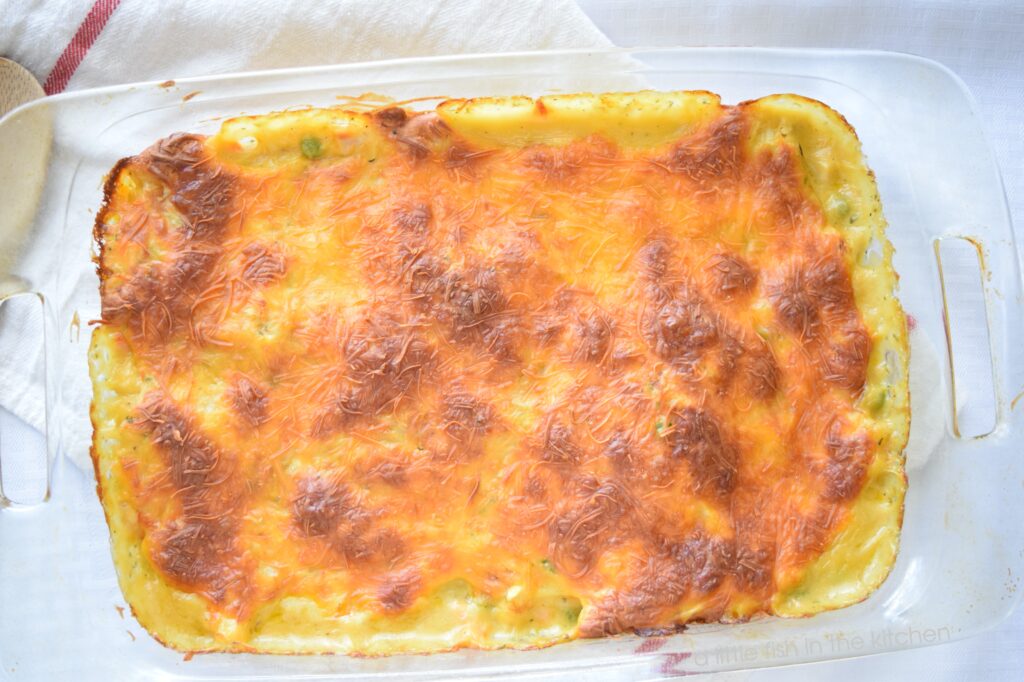 As recently as last fall, the bubble up casserole trend was brand new to us, although it seems to have been around for quite some time. This easy chicken pot pie-inspired version was the first bubble up casserole I ever made and it was a dinnertime sensation at my table!
We all love the creamy, comforting flavors in classic dishes such as chicken pot pie, chicken and dumplings, as well as homemade chicken noodle soup, and now this easy chicken pot pie bubble up has a permanent spot on that list too!
How to make easy chicken pot pie bubble up casserole.
All that you need to bake up a deliciously simple chicken pot pie bubble up the way I did it are a few pantry staple ingredients such canned cream of chicken soup, chopped onion, diced potatoes, frozen peas and carrots, a can of refrigerated crescent rolls, pantry staple spices and some shredded cheddar cheese.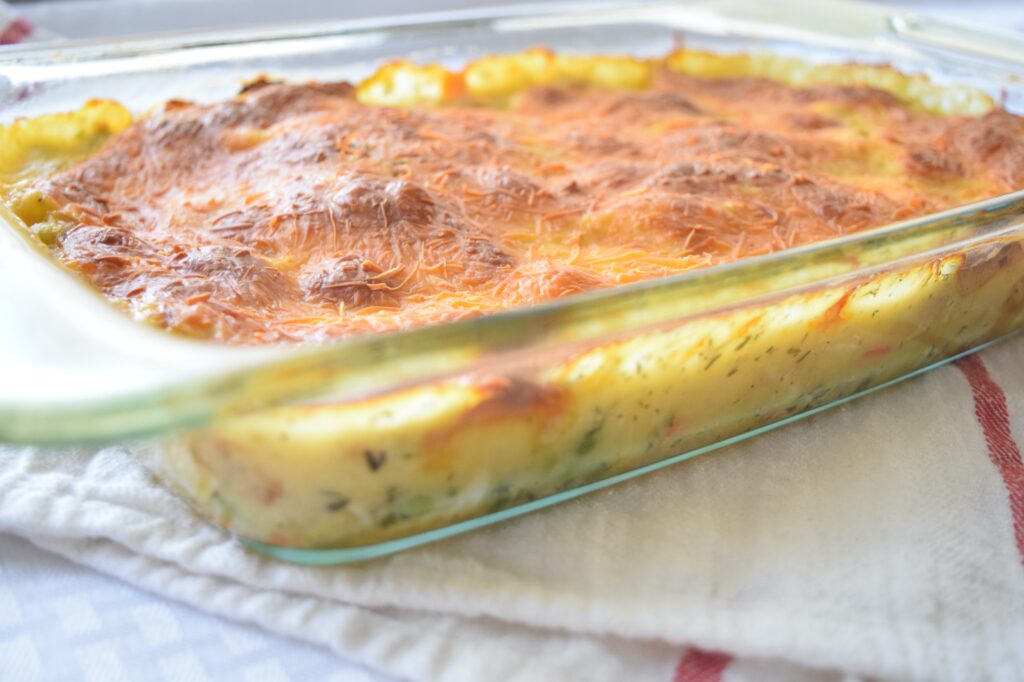 I've seen other recipes for this around the web that use refrigerated biscuits and a serving a frozen mixed vegetables, and those recipes are truly so simple. No slicing and dicing of vegetables at all were involved with those recipes. However, I've adapted this concept to suit our tastes and preferences by using a can of buttery, crescent rolls as well as adding in some chopped onion, diced potatoes and I use only use a mix of frozen peas and carrots instead of a serving from a bag of frozen mixed vegetables.
While a traditional frozen mixed veggie medley may seem like a shoe-in for a recipe like this, all of the frozen veggie mixes I've seen often include vegetables that don't make the cut at my place. Green beans, lima beans, corn, red bell pepper or some colorful mix of those tasty vegetables are usually mixed into those medleys as well as carrots, peas (a.k.a. the only acceptable vegetables for my kids!!). I happen to love every veggie on that short list above, … but my kids won't touch 'em with a 10-foot pole!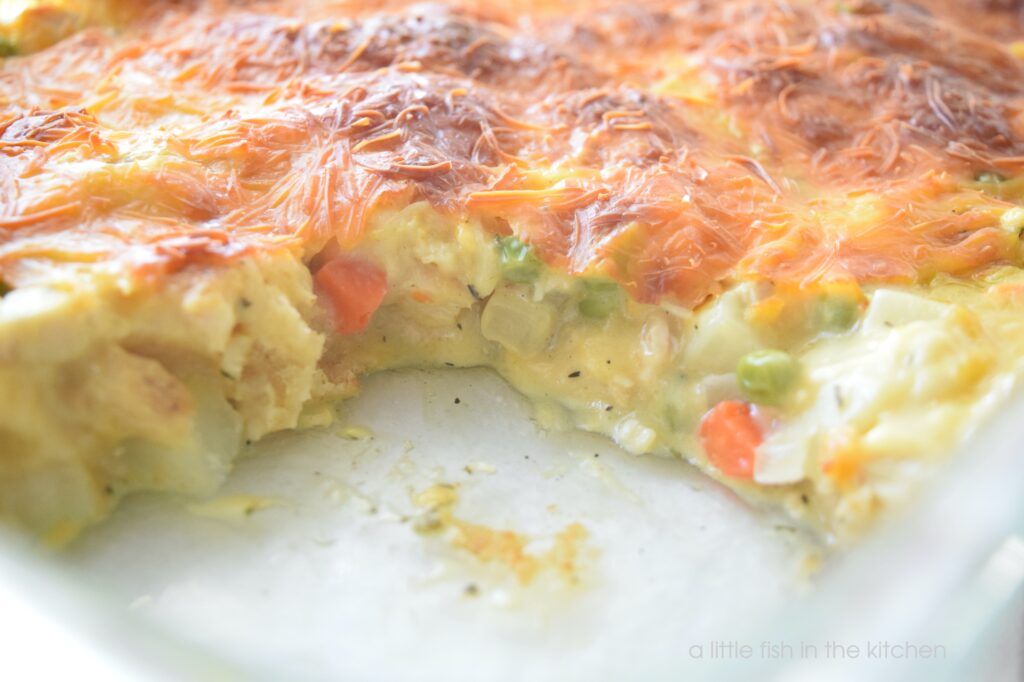 Y'all know by now that I'm all about peace, love and unicorns at dinnertime, so we just don't go there with this comfort food casserole! We'll just do it our way and I hope you enjoy it too!!
Happy eating, my friends!! — M
You'll definitely want to Pin this recipe for later!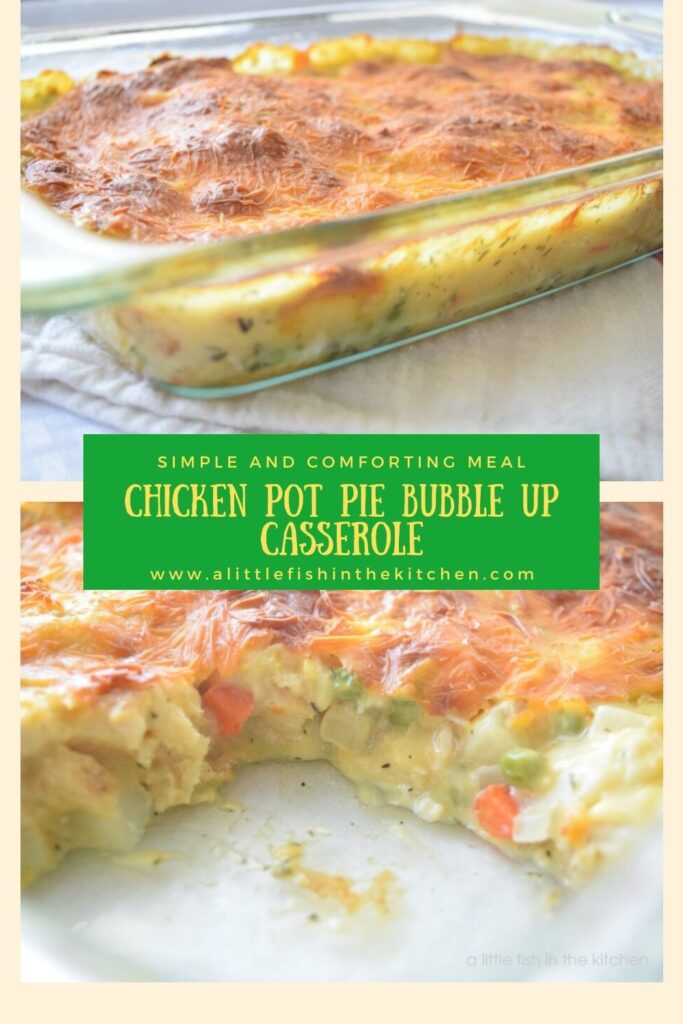 Please check out on of my latest recipe videos! I'm posting new videos every week, so be sure to subscribe to my You Tube channel so you'll keep up with all of my latest recipes!!
Subscribe here to have all of my new posts delivered right to your inbox! Sign up up now and never miss a recipe or an update!
Easy Chicken Pot Pie Bubble Up Casserole
Course: Dinner
Cuisine: American
Difficulty: Easy
This is a quick and comforting weeknight meal! It's also very versatile, change up the veggies to suit your family's preferences. Enjoy with a crisp side salad or totally on it's own!
Ingredients
1-1/2 cups peeled and diced potatoes

1-1/4 cups frozen mixed peas and carrots, slightly thawed

1/2 medium onion, chopped

1 family-size can (22 oz) cream of chicken soup (I used Campbell's brand)

1/2 teaspoon dried thyme

1 teaspoon dried parsley

1/4 – 1/2 teaspoon ground white pepper (to taste)

2 cups cooked chicken, coarsely chopped or diced

1 can refrigerated crescent rolls, sliced into one inch pieces

1-1/4 cup shredded cheddar cheese
Directions
Pre-heat the oven to 375°. Lightly grease a 13 x 9-inch casserole pan with non-stick cooking spray, and set it aside.

In a large bowl, mix the first 8 ingredients together. Fold the sliced crescent rolls into the soup mixture.

Transfer the soup and crescent roll mixture to the prepared baking dish and spread it out evenly. Top with shredded cheese. Bake for for 40-45 minutes or until the casserole is bubbly and any crescent rolls resting on top are visibly browned.
Cool on a rack for 15 minutes before serving. Enjoy!
Recipe Video
Notes
Recipe from A Little Fish in the Kitchen blog at www.alittlefishinthekitchen.com. All content is owned by Marcelle G. Bolton. Please contact the author for permission to republish.