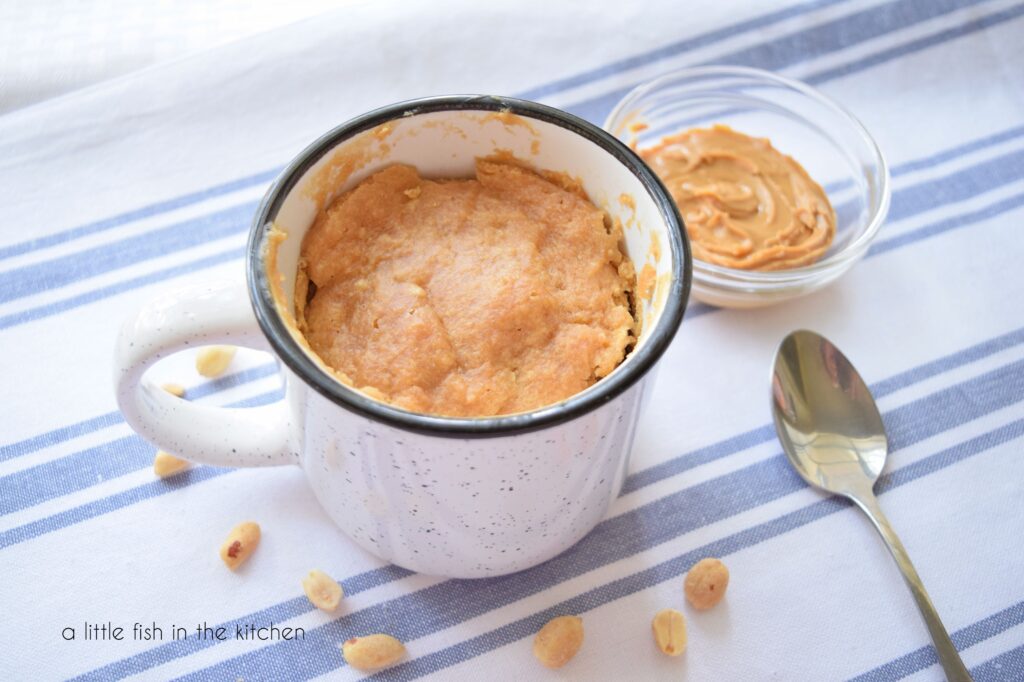 Guys, this two-minute peanut butter cake is here to steal your hearts… it's certainly stolen mine. I'm so hooked on it that I've seriously eaten one nearly everyday for the last week!! Sure, it's been a lot of work (not really) but it's all been done in the name of research and (delicious) recipe development!
Someone's gotta do it… might as well be me.
Mug cakes are such a wonderful single-serving treat and my whole family enjoys making them whenever a sweet craving strikes. The kids will make this double chocolate peanut-butter stuffed mug cake at least once a week and split it.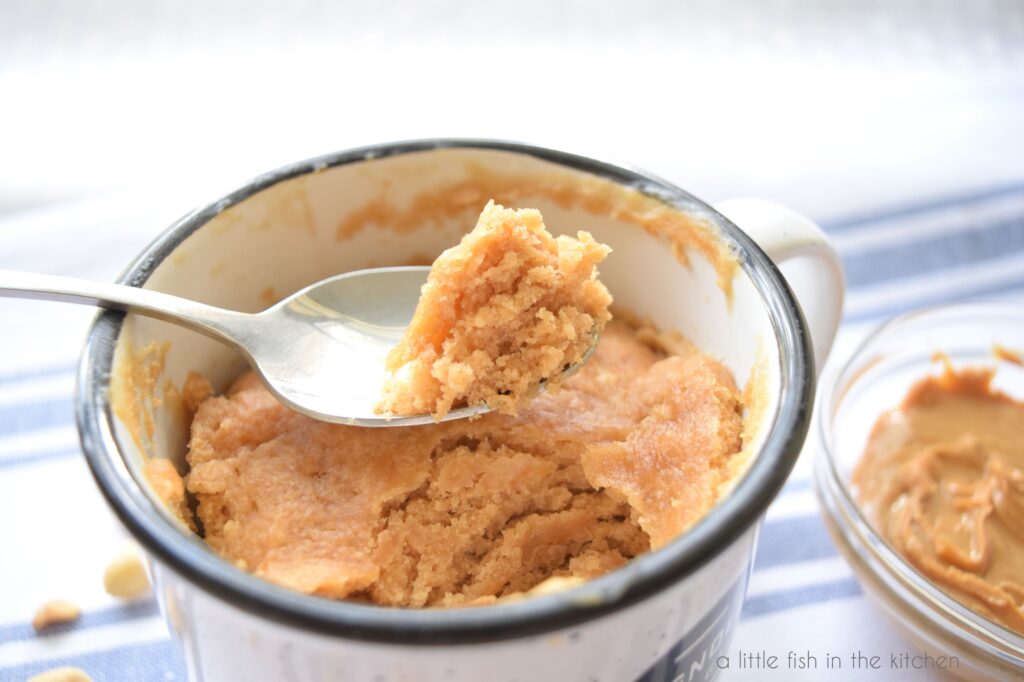 In my experience, many mug cake recipes make a cake big enough for two servings, but I'll be honest and admit that I don't always share!! I'll just take an extra few laps around the track the next morning to make up for a few extra bites of cake.
My bad.
That being said, lately I've had some success with my weight loss and health goals and I've felt inspired to create some tasty treats for myself that are somewhat lower in calories and fat. I'm also very proud to say I've had a decent run of recipe development successes and I created this moist, delicious, two-minute peanut butter mug cake recipe using no oil or eggs!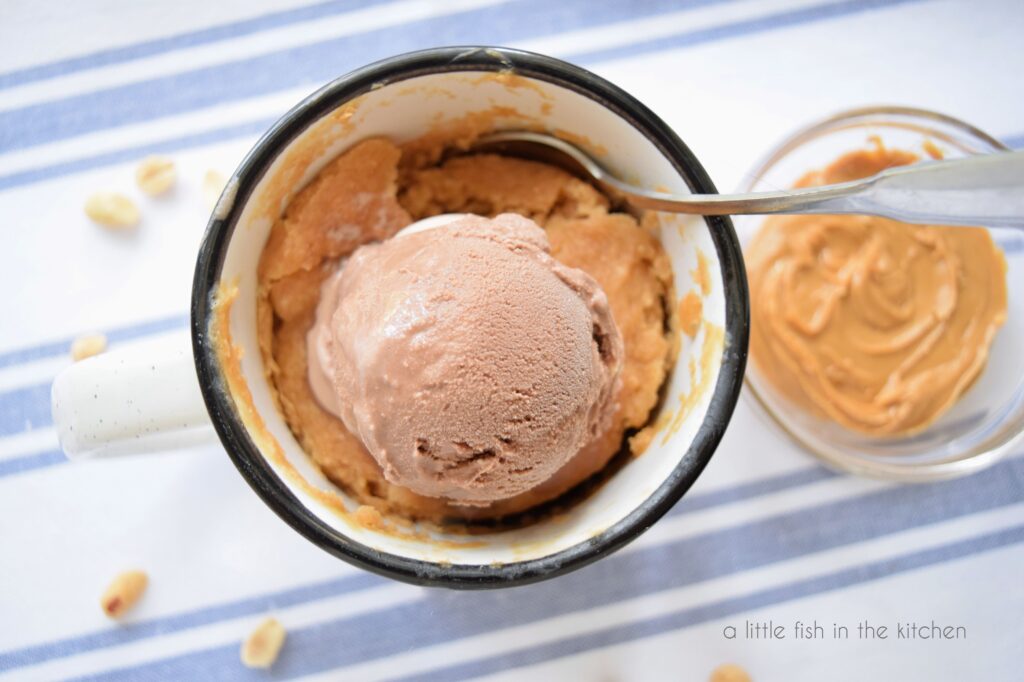 I substituted unsweetened applesauce for the oil or fat that would traditionally have been used in this recipe and it seriously takes a huge chunk out of the caloric bite from this sweet, little mug cake. Substituting unsweetened applesauce for oils and fats is an old baking hack I learned way back in the '90's when low-fat cooking was all the rage. Sometimes being a tad older and filled with random information come in handy, y'all.
Y'all, I'm not a dietician or a health expert by any stretch of the imagination, but for comparison purposes only I plugged my recipe into the nutrition label generator over at www.verywellfit.com and got these interesting numbers to share:
Peanut butter mug cake made with 3 tablespoons of unsweetened applesauce: (1 serving) 411 calories, 17.1 g total fat, 3.8 gram sat fat.
Peanut butter mug cake with 2 tablespoons of melted butter: (1 serving) 595 calories, 40.1 g total fat, 18.4 sat fat.
Disclaimer…by no means is this a health food recipe, it is a sweet treat meant to be enjoyed responsibly and occasionally. I strongly encourage everyone to do their own research into the nutrient counts of this recipe or any other recipe in order to accommodate their own health or weight loss plans. However, I wanted to highlight some of the research I did that made an impression on me when I was inspired to make this mug cake!
I've personally been loving this reduced-fat mug cake experiment served warm with a huge scoop of chocolate ice cream on top, or sometimes with a tablespoon or two of chocolate chips mixed right in with the batter (…and thereby ruining my caloric gains by the heathy substitutions…but that's how I roll). However, this cake has an amazing peanut butter flavor and it's also delicious topped with a bit of jam and whipped cream!
Happy eating, y'all! xo -M
Share this recipe on Pinterest!!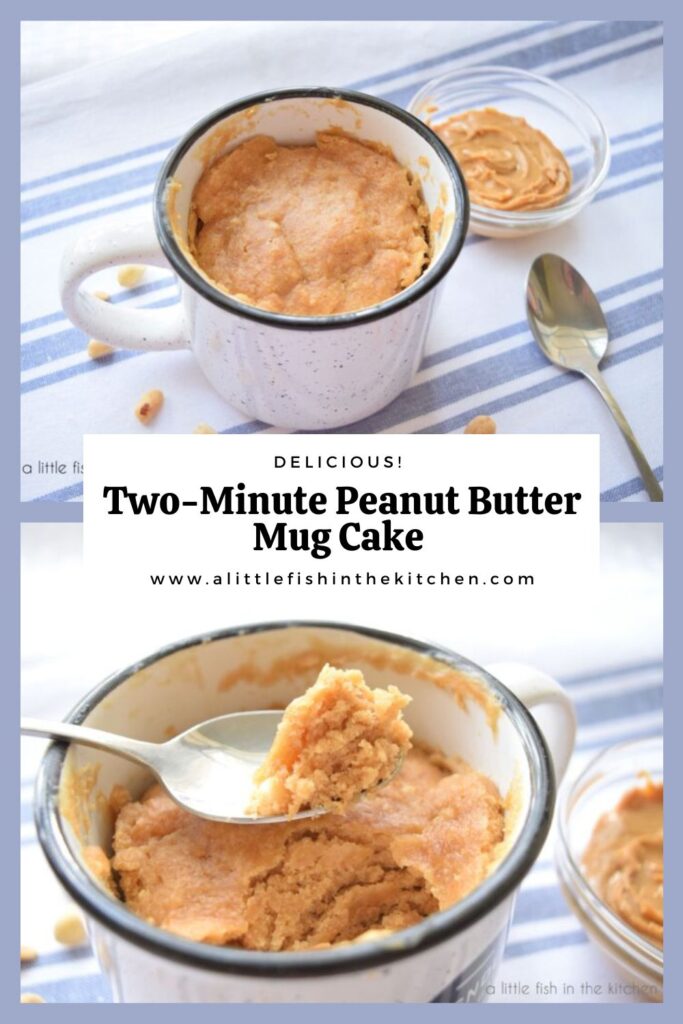 Be sure to visit my You Tube channel and check out my latest cooking and recipe videos!
Sign up here to have all of my new posts sent directly to your inbox! Subscribe now and never miss a recipe or an update!
Two-Minute Peanut Butter Mug Cake
Course: Dessert
Cuisine: American
Difficulty: Easy
This Two-Minute Peanut Butter Mug Cake is made from an egg-free, oil-free batter, and it packs some big peanut butter flavor! Unsweetened applesauce reduces the fat and calorie content, but keeps simple mug cake moist. ☕
Ingredients
1/4 cup self-rising flour

2 heaping tablespoons of regular peanut butter

2 tablespoons light brown sugar

3 tablespoons unsweetened applesauce

2 tablespoons low-fat milk

1/2 teaspoon vanilla extract

Optional ingredients for toppings or add-ins

two tablespoons chocolate chips
(fold into batter right before cooking)

ice cream (for topping)

fruit jam (regular or sugar-free, for topping)

whipped cream
(regular, fat free, or sugar free, for topping)

1-2 tablespoons toasted, chopped nuts
(for topping or add in)
Directions
In a microwave safe mug, mix all ingredients together until well-combined.
Microwave on high for 1-2 minutes or until the peanut butter mug cake appears done. You can also test the cake for doneness by inserting a toothpick into the center until it comes out clean. (see notes below regarding this step)
Enjoy!
Recipe Video
Notes
In a large-size microwave, this mug cake will cook in 1-2 minutes. In more compact microwaves, 3-4 minutes cooking time may be necessary for it to be completely done.
Recipe from A Little Fish in the Kitchen blog at www.alittlefishinthekitchen.com. All content is owned by Marcelle G. Bolton. Please contact the author for permission to republish.