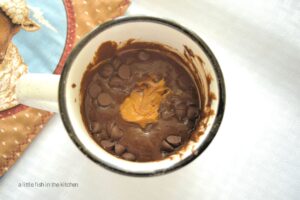 This double chocolate peanut butter stuffed mug cake has basically become an obsession in my house. It's really the only dessert anyone asks for when a sweet craving strikes these days.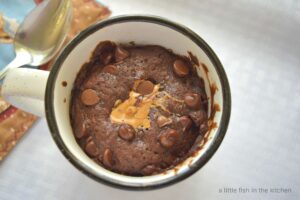 I'm actually totally okay with this because this mug cake makes a moist, decadent, fresh-baked dessert that is pretty darn impressive in my book. Fluffy, moist chocolate cake surrounds a warm, melty peanut butter middle and the flavors are second to none.
This little mug cake packs some big flavors and I'll just warn you that it's actually super addictive!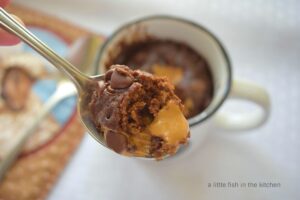 It also cooks in just 1-2 minutes depending on the size of your microwave, so it's just a win-win kinda treat in my book. This recipe makes a large mug cake, and it's a perfect dessert for two. If you don't want to share it, just cover the second half and refrigerate until the next day. This little cake reheats well too.
I hope you enjoy this no-fuss, double chocolate peanut-butter stuffed mug cake… and that you love it as much as we do! Remember, sharing is caring! Please share this recipe with your family and friends! xo -M
Wouldn't you like to stay awhile? Sign-up here to receive all of my new posts in your inbox! Subscribe now and never miss a recipe or an update!
You'll definitely want to Pin this one for later!!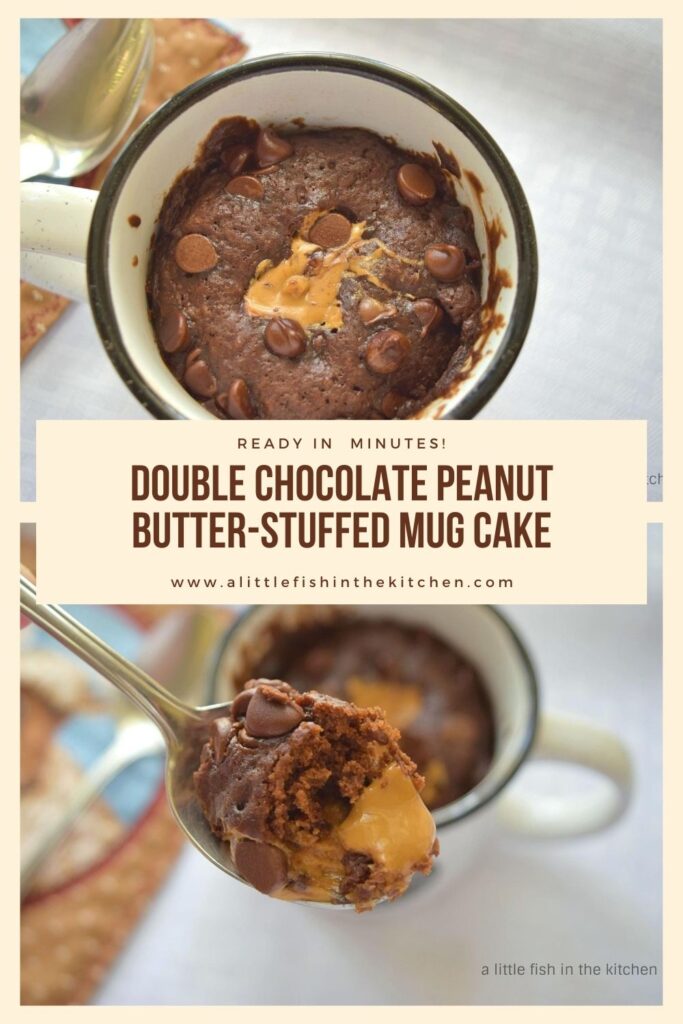 Double Chocolate Peanut Butter-Stuffed Mug Cake
Course: Dessert
Cuisine: American
Difficulty: Easy
This double chocolate peanut-butter stuffed mug cake is super simple to whip up in a hurry, but it's so decadent it will impress any guest!
Ingredients
1/4 cup all-purpose flour

1/4 teaspoon baking powder

2 tablespoons unsweetened cocoa powder

3 tablespoons light brown sugar

1/4 cup milk


2 tablespoons canola or vegetable oil

1/2 teaspoon vanilla extract

1 tablespoon milk chocolate chips

1 tablespoon creamy peanut butter
Directions
In a microwave safe mug, mix the flour, cocoa powder and baking powder
In another small bowl, mix together the milk, oil and vanilla. stir well. Pour wet ingredients into the dry ingredients in the mug. Use a spoon or a small whisk and mix well.
Pour the chocolate chips into the batter and lightly stir them into it. Take the tablespoon of peanut butter and place into the center of the batter. Lightly press it all the way down into the batter without stirring.
Place mug into the microwave and cook on high for 1 minute (if you have a small microwave, like me, you will have to cook for two minutes.
Allow the mug cake to cool slightly. Use a butter knife to swipe around the edge of the cake and transfer to a plate. Split the cake and share it with some one you love. OR, grab two spoons and enjoy with a loved one! OR, just eat it all yourself, I won't judge!
Recipe Video