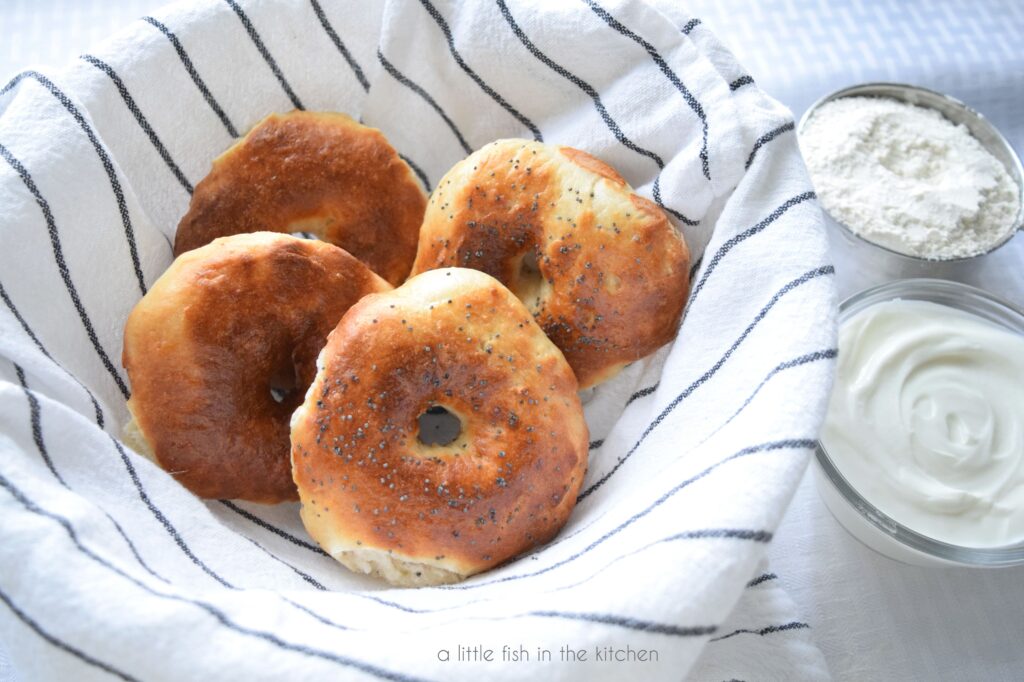 The recipe for these easy two-ingredient air fryer bagels is seriously one of my favorites at the moment… and it probably will be until the end of time! (I know, a perhaps wee bit dramatic…but seriously y'all this one is a keeper!) I know I often write about recipes that I get a little bit infatuated with here on Little Fish, but this recipe has become a legitimate life changer for me and the family. Now, allow me to explain just why that is!
For those of us who enjoy cooking or baking, there's nothing like slightly euphoric feeling we get when we watch our family and friends joyfully gobble up something we have made for them. And as a mom, I'm absolutely over the moon when I watch my little family nosh on something I made and that I feel it is healthier for them than anything I could have purchased from the store.
Enter the recipe for this amazing two-ingredient dough!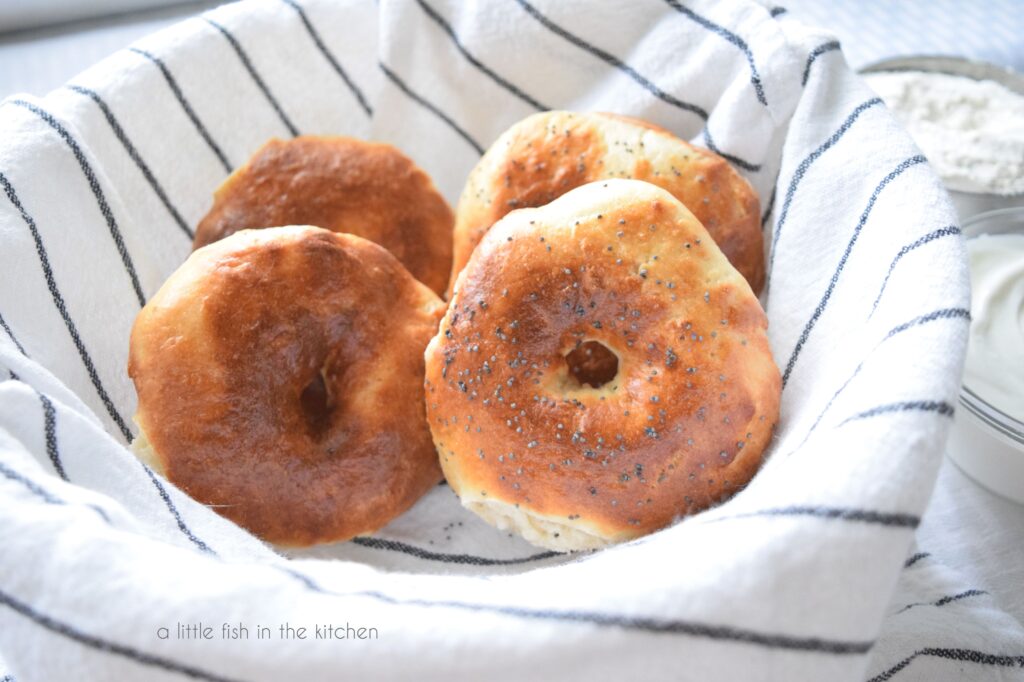 Ok, so I feel a little back story is necessary here and I've not written about it at all here on the blog, but a couple of months ago I re-joined WW (formerly known as Weight Watchers). I've been enjoying the amazing program app as well as some weight loss success, although I maybe haven't been as dedicated as I could be at times. Nonetheless, it was on their website that I discovered the recipe for this fantastical two-ingredient dough and I've used it exactly as it was written many, many times now.
In fact, I've used this very recipe to make delicious pizza dough, bagels (i.e. this post!), I've even made pretzel bites using this dough and it's all been met with rave reviews from the family (even that sassy 8-year-old girl of mine eats it!). The two-ingredient dough itself comes together in just minutes, and using a bag of store-bought, self-rising flour truly makes this recipe a breeze.
It's so easy, so good and it's become one of my favorite ways to prepare a version of fresh bread for my family on the fly! I just truly can't say enoughabout how much we've enjoyed this recipe.
How to make two-ingredient air fryer bagels
All you need to make the dough are self-rising flour, non-fat plain Greek yogurt, egg + water for a simple egg wash and any bagel toppings that you enjoy. I like to use my air-fryer to make these as it does not heat up my entire kitchen and the bagels are done in just minutes. However, if you don't have an air fryer or don't want to use yours to make a batch of these bagels, simply bake them in the oven at 400° for 12-15 minutes or until the bagels tops are golden brown.
Happy eating my friends, and I hope you enjoy this recipe as much as we do! xo– M
This recipe is slightly adapted from this 2 ingredient bagel recipe on the WW website. You can see the original recipe and instructions here.
Please watch my latest You Tube video and subscribe to my channel!!
Wouldn't you like to stay awhile? Sign-up here to receive all of my new posts in your inbox! Subscribe now and never miss a recipe or an update!
Easy Two-Ingredient Bagels
Course: breakfast, lunch, dinner
Cuisine: American
Difficulty: Easy
Air Fryer Cooking time
7
minutes
Ingredients
1-1/3 cup self-rising flour (*see notes below)

1 cup non-fat plain Greek yogurt

1 large egg

2 teaspoons water

1-2 tablespoons extra flour (for kneading)

optional toppings for bagels such as
poppy seeds, sesame seeds, everything bagel seasoning etc.
Directions
In a medium-size bowl, combine flour and yogurt with a wooden spoon or your hands until a shaggy dough forms.
Turn the dough out onto a lightly floured work surface and gently knead it until smooth (about 1 minute). Shape the dough into a 6-7 inch disk. Use a knife to cut it into four even pieces and shape each piece into a small disk shape.
Use the handle of a wooden spoon or spatula to pierce a hole into the center of each small disk to give the dough the appearance of a bagel. (See recipe video for guidance, if needed). Allow the dough to rest for 5 minutes while you make the egg wash.
In a small bowl, combine the egg and 2 teaspoons of water and whisk to combine. Use a pastry brush to evenly apply the egg wash to all four bagels.
Air Fryer Instructions
Lightly grease the basket of the air fryer with non-stick cooking spray. Place the bagels on the prepared basket.
Heat air fryer to 400° and cook bagels for 7 minutes *see notes below (check bagels for progress at the 4 – 5 minutes mark).
Bagels tops should be deliciously golden brown. Remove bagels from the air fryer basket and allow them to cool on a rack until ready to serve
Oven instructions
Pre-heat oven to 400° and line a baking sheet with parchment paper or a silicon baking mat.
Place bagels on prepared baking sheet and bake for 12-15 minutes or until the tops are golden brown
Transfer bagels to a rack to cool until ready to serve.
Recipe Video
Notes
Recipe from A Little Fish in the Kitchen blog at www.alittlefishinthekitchen.com. All content is owned by Marcelle G. Bolton. Please contact the author for permission to republish.