During my college years, I relied on three main food groups for survival: scrambled eggs, cold cut sandwiches, and microwaved baked potatoes! My dorm room baked potatoes were typically pretty plain Jane, however. I usually topped them very simply with a pat of butter, a dollop of sour cream and a sprinkle of salt and pepper. That's the way I had grown up eating them, and really it was all I knew.
I was introduced to the classic "loaded" baked potato in the early nineties on a visit to a Tony Roma's Steakhouse franchise in San Antonio and it's safe to say that I was immediately obsessed with the concept! In fact, it was truly a life changing moment for 23-year-old me when that server set down a freshly baked potato oozing with melted butter and spectacularly stuffed (sky-high!! )with cheese, bacon bits, sour cream and festively speckled with sliced green onions!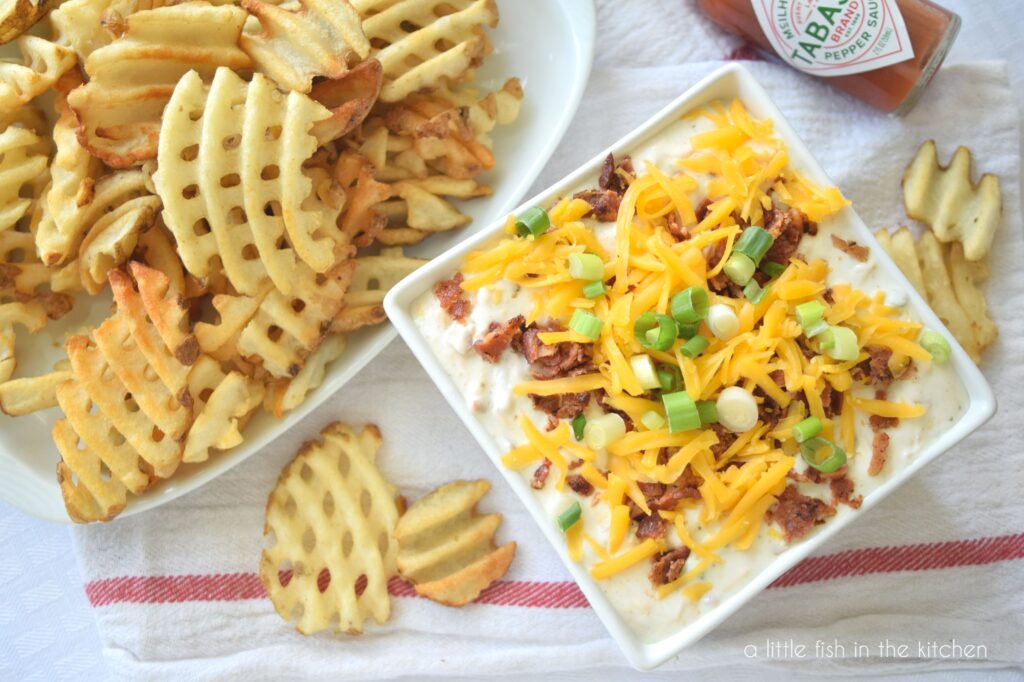 From there was was no going back, I mean, how could there be?! I just knew that every baked potato I would ever eat from that day forward would be a loaded baked potato!! And I gotta tell you, my friends that is a subconscious pledge I have kept for over 20 years (if that's not true commitment, I'm not sure I know what it is!!) OH, and there was that brief phase in the early 2000's where I had no interest in cooking real bacon and I bought those containers of the imitation bacon bits to use on the loaded baked potatoes…but we're not going to speak about those dark times in this post. Eh hem, I digress now back to talking about … this DIP.
Fast forward to 2021 and one recent, quiet morning I had to peruse the pages an old Southern Living cookbook and that's where I found this gem of a recipe for loaded baked potato dip. I was so excited because I had everything on hand to make it because I'm basically obsessed with the ingredients!!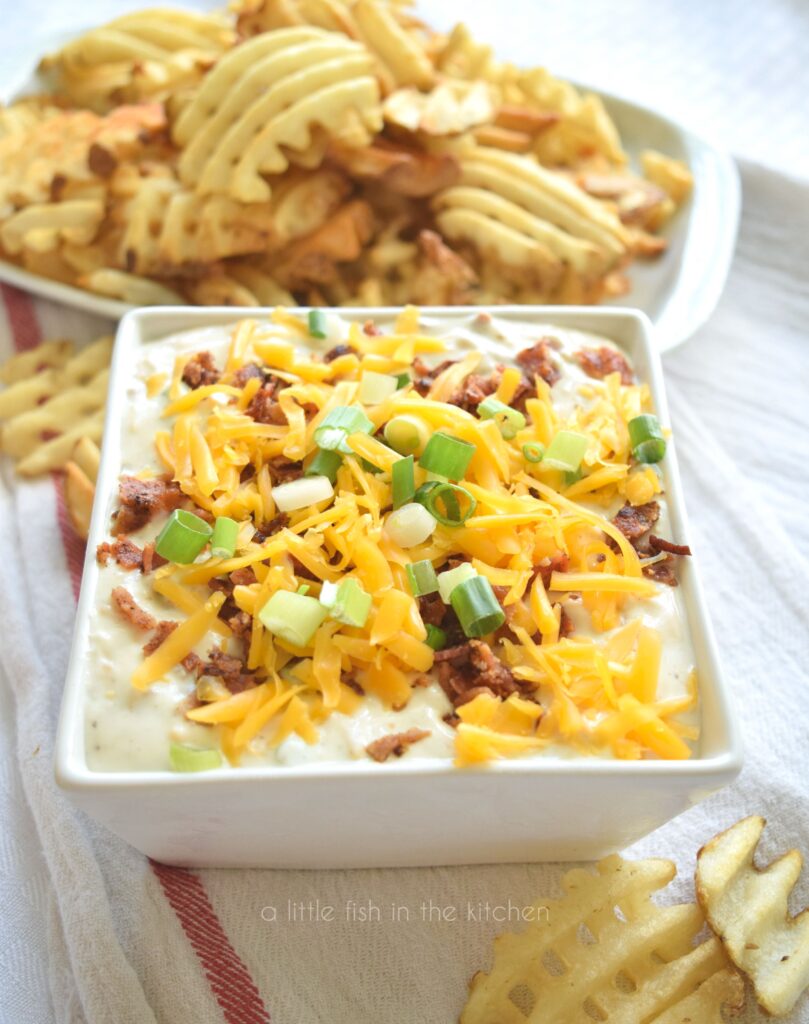 How to make loaded baked potato dip
This dip is made with sour cream, shredded cheddar cheese, bacon bits, sliced green onions, salt, pepper, just like the toppings of a classic loaded baked potato. A small measure of Louisiana-style hot sauce is also mixed in for flavor and unless you just have to, I don't recommend skipping it as it really adds something special to the overall flavor of the spread. This no-bake party dip is just teeming with rich flavors just like it's namesake side dish.
We love to eat this dip cold and serve it with warm, crunchy waffle fries, tater tots, or French fries. If we don't feel like fussing with warming anything up at all, it's also excellent served with plain, wavy potato chips. For anyone who wants to try this, but needs to keep things low-carb, an array of crisp, fresh veggies, especially celery, will make excellent dippers for this luscious loaded baked potato dip!
However, you eat it, I hope you enjoy it as much as we do! Happy eating, my friends! xo -M
Don't forget to Pin this recipe for later!!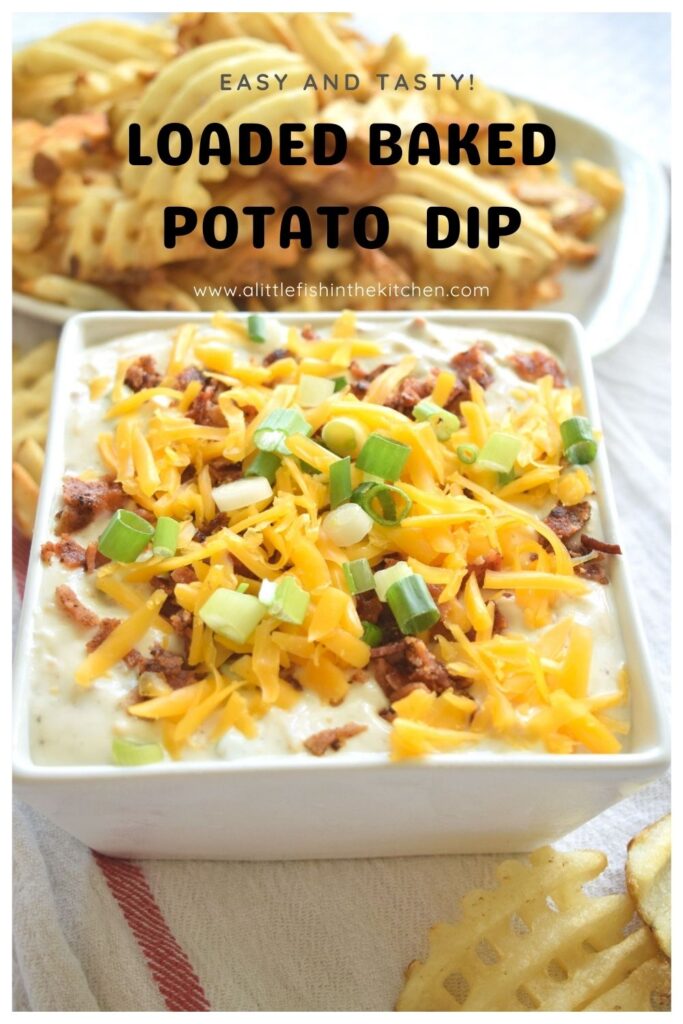 Please check out one of my latest videos and subscribe to my YouTube Channel!!
Wouldn't you like to stay awhile? Sign-up here to receive all of my new posts in your inbox! Subscribe now and never miss a recipe or an update!
Loaded Baked Potato Dip
Course: appetizers and snacks
Cuisine: American
Difficulty: Easy
This loaded baked potato dip has all the rich flavors of a classic loaded baked potato, but in a dip! This spread is excellent served with crispy waffle fries, French fries or wavy potato chips.
Ingredients
2 cups sour cream (light or regular)

1 cup bacon bits

2 cups shredded sharp cheddar cheese

3 green onions, thinly sliced

salt and pepper

1-2 teaspoon Louisiana-style hot sauce
(I used Tabasco brand)
Directions
Add all ingredients to a large bowl, reserving 1-2 tablespoons of each ingredient for garnish (watch recipe video to see how I plated up this dip!)
Stir all ingredients to mix them well. Transfer the prepared loaded baked potato dip to a serving dish, if desired. Top with layers with reserved bacon, cheese, and green onions, for a pretty garnish!
Serve with warm waffle fries, French fries or crispy potato chips and enjoy!
Recipe Video
Notes
Recipe from A Little Fish in the Kitchen blog at www.alittlefishinthekitchen.com. All content is owned by Marcelle G. Bolton. Please contact the author for permission to republish.