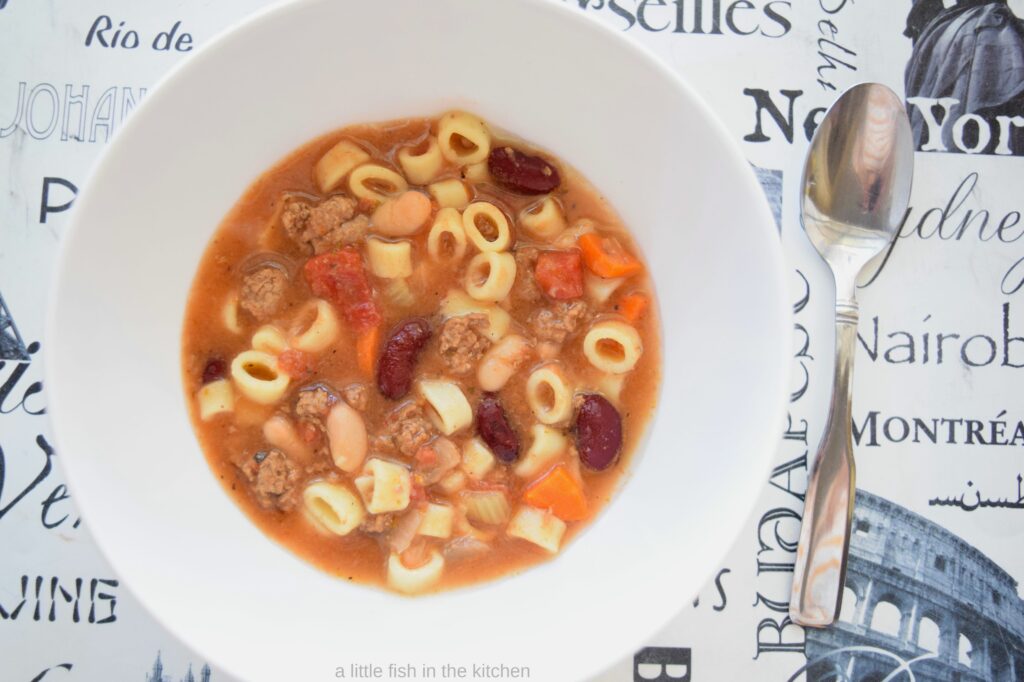 I hadn't made this classic Italian soup in years, but the craving for it was very real a few days back.
Pasta fagioli soup is known by a few different names and depending on family traditions or your locale, you may have heard it called pasta e fagioli (pasta and beans) or pasta fazool. I've always known it to be called pasta fagioli soup, so that's the name I'm rolling with for this post!
No matter the name you use for it, a bowl full of this simple soup is hearty, flavorful, and delicious. If this recipe is new to you, I believe you are in for a real treat when you make a batch of this classic soup. You can also adjust this recipe for the stovetop, however letting it cook low and slow for a few hours really makes the flavors in this recipe pop.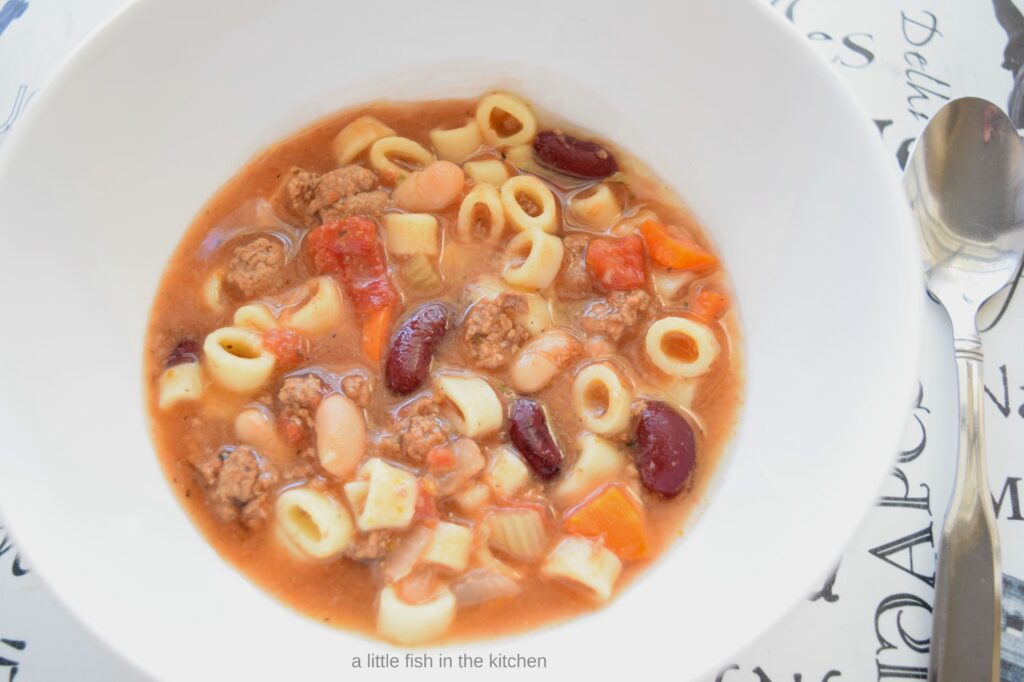 Be sure to serve this slow-cooker pasta fagioli soup with warm garlic bread or buttery breadsticks. They'll come in handy when you're ready to sop up the amazing amber-colored broth at the bottom of the bowl!
I'm sharing this recipe as part of a virtual soup swap with some of my amazing blogger friends! Please take a minute and check out their delicious recipes below, I just know you will be so happy you did!
Also, sharing is caring y'all so be sure to share this post with all of your soup-loving friends!🥣💕
Save this recipe on Pinterest!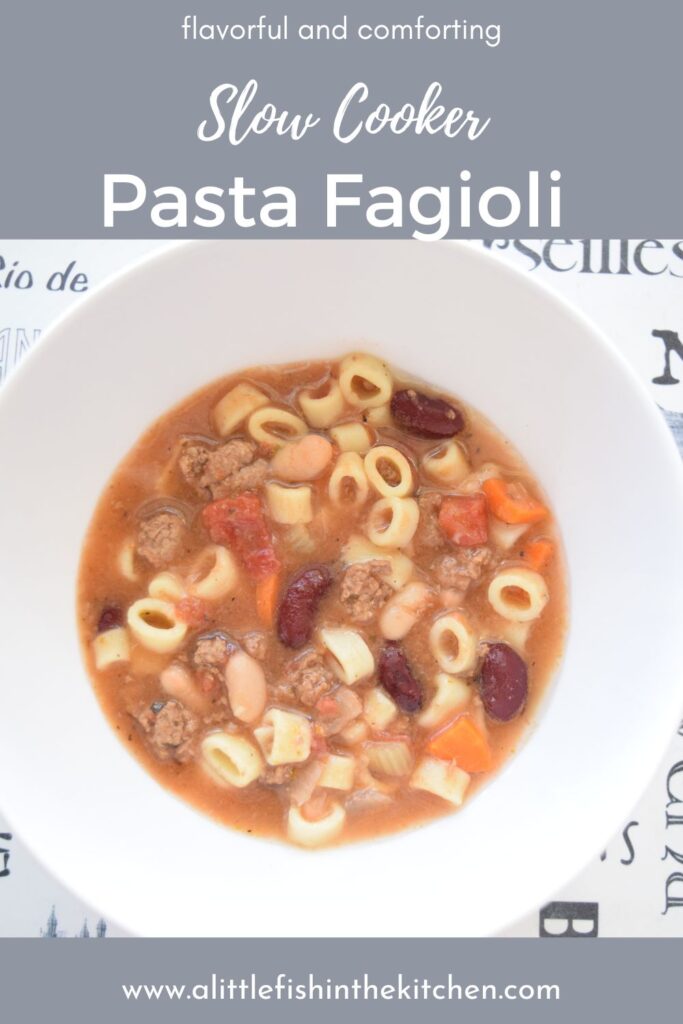 Check out one of my latest videos! Be sure to subscribe to my channel when you visit, I publish new cooking videos every week!
Wouldn't you like to stay awhile? Sign up here to have all of my new posts sent straight to you inbox! Never miss a recipe or an update, subscribe here!!
National Soup Swap Day 2021
Happy National Soup Swap Day! Today, I'm linking up with other bloggers for a virtual soup swap hosted by Kate's Recipe Box – and we're all sharing some tasty soup recipes to warm you up!
Slow-Cooker Pasta Fagioli Soup
Course: Lunch, Dinner
Cuisine: Italian
Difficulty: easy
This classic, simple Italian soup is sure to be a family favorite. It's a comforting soup for for a cold winter evening.
Ingredients
1 pound ground beef (I used ground sirloin)

1 half of yellow onion, coarsely chopped

2 medium cloves of garlic, minced

2 medium carrots, diced

2 medium stalks celery, sliced

1-1/2 teaspoon Italian seasoning (I used McCormick Perfect Pinch Italian)

1/2 teaspoon ground black pepper

1 – 2 teaspoons hot sauce, to taste (I used Tabasco brand)

2 (15 oz) cans fire-roasted tomatoes, undrained

8 cups beef broth or 8 cups of water with the appropriate amount of beef-flavored bouillion

1 can (15 oz) Great Northern Beans, rinsed and drained

1 can (15 oz) dark kidney beans, rinsed and drained

1-1/4 cups ditalini or elbow macaroni pasta
Directions
In a large skillet, brown the ground beef. Drain drippings if they are excessive, and then transfer the cooked meat to the slow cooker crock.
Next, add the onions, garlic, carrots, celery, spices, tomatoes and beef broth to the crock and stir to mix. Cover and cook on high for 3 hours.
At the 3 hour mark, add the rinsed beans and uncooked pasta to the crock and stir. Adjust spices if necessary, cover and allow to cook for an additional 30 minutes to one hour (until the pasta is tender).
Serve hot and enjoy! This soup is excellent with garlic bread or buttery bread sticks.
Notes
Recipe from A Little Fish in the Kitchen blog at www.alittlefishinthekitchen.com. All content is owned by Marcelle G. Bolton. Please contact the author for permission to republish.