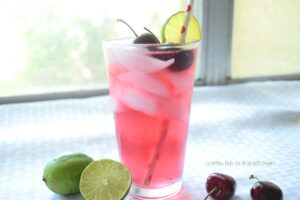 When it comes to making summertime drinks, I think that the flavors of cherry and lime are a pretty terrific team. This shimmering cherry-lime punch mocktail has a balance of flavors that I enjoy a whole bunch: sweet and tart.
It's also perfectly pink and festive. And I'll never complain about a festive, pink drink… with fruity garnishes, to boot.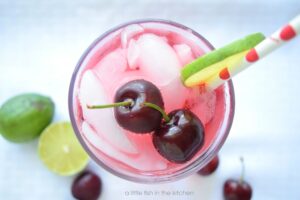 How to make a shimmering cherry-lime punch mocktail.
All you need to whip up a festive and cherry-lime punch mocktail are two little ingredients: store-bought cherry juice cocktail and some sparkling lemon-lime soda. It's really super easy to make and definitely a party punch that can be whipped up in a hurry.
I like to garnish the pint glasses with a slice of lime, and then toss in some whole, fresh cherries or maraschino cherries as well. I also like to use colorful paper straws with any sort of mocktail, especially when I have company. Polka-dotted paper straws turn any beverage into a party drink, don't you agree?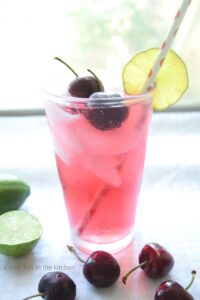 The lovely balance of sweet-tart flavors in this simple punch is made extra refreshing by the carbonated fizz from that comes from using lemon-lime soda. If you ask me, the time for fizzy soda drinks to shine is on hot summer days, y'all. And since there's no booze added into this sparkling beverage, a glass full of this shimmering cherry-lime punch is a summertime treat that the whole family can enjoy.
It's a no-fuss refreshment that's made with just two ingredients… unless you're a stickler and you want to count the ice…then it's made with three ingredients!
Guys, I can't tell you how many of these refreshing, simmering cherry-lime mocktails I've consumed in the last few weeks. It's quite possibly my favorite mocktail combination of summer 2020 so far. Although, I have been tinkering with a few others lately as well. I'll definitely keep you posted on those the progress of those mocktail creations.
Meanwhile, fill up your glass and cool off! Enjoy!
Other beverage recipe you might enjoy!!
You'll definitely want to Pin this one for later, y'all!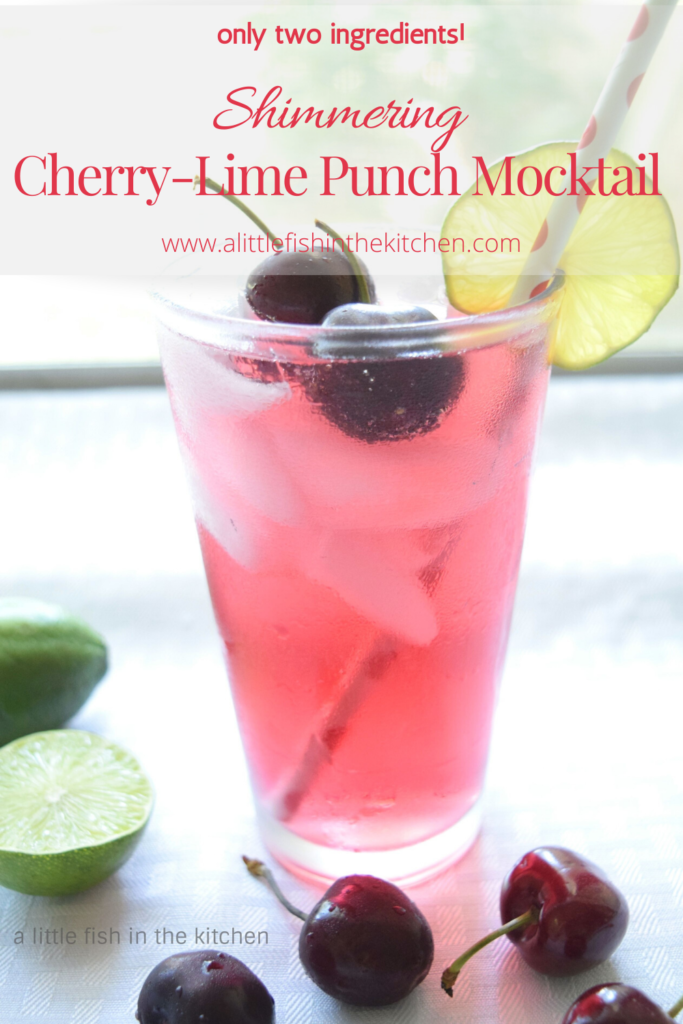 CHECK OUT MY LATEST VIDEOS
Subscribe here to have all of my new posts sent straight to your inbox! Sign-up now and never miss a recipe post or an update!
Shimmering Cherry-Lime Punch Mocktail
Course: Drinks
Cuisine: American
Difficulty: Easy
Ingredients
ice

cherry juice cocktail
(I used Old Orchard Diet Cherry Juice Cocktail)

lemon-lime soda (I used diet 7-Up)

slice of fresh lime, for garnish

fresh cherries or maraschino cherries, for garnish
Directions
Fill a pint glass with ice. Pour the cherry juice cocktail over the ice (enough to fill the glass about 2/3 or 3/4 full). Top with lemon-lime soda until the glass is full.
Garnish with a slice of lime and cherries, if desired. Enjoy!
Recipe Video
Notes
Recipe from A Little Fish in the Kitchen at www.alittlefishinthekitchen.com. All content is owned by Marcelle G. Bolton. Please contact the author for permission to republish.