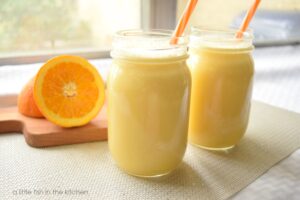 Well, here we all are in the dead heat of August just trying to stay cool. Earlier this week, the heat index in my neck of the woods was up to 112°… and don't even get me started on the humidity. It is off. the. charts, folks.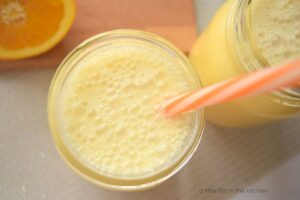 So, needless to say, my mind has been absolutely fixated on important things like shade, air conditioning, and hydration. My mind has also been distracted by constant thoughts of other sorts of really, really cold and/or refreshing things such as ice cream, swimming, the estimated time of sunset, and fruity, chilled drinks, like this frothy, delicious, copycat Orange Julius!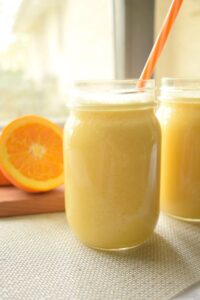 What is an Orange Julius?
With all it's fantastic orange flavor, it is sweet, citrus smoothie that tastes just like a dreamy, melted creamsicle.
According to the Orange Julius Company's website, the original recipe and name for the famous Orange Julius drink were created in the late 1920's when a man named Julius Freedman opened an entrepreneurial fresh orange juice stand in the Los Angeles area. Unfortunately, orange juice sales were initially quite stagnant for Julius. The trouble was that many people, including his close friend Bill Hamlin, had problems tolerating much orange juice because it was so acidic.
His friend Bill ultimately did some experimentation and developed a frothy, orange juice and milk-based drink that helped to lower the acidity and make the juice more tolerable for himself and other customers. This orange smoothie was a huge hit and customers would excitedly call out "Give me an orange, Julius!" when they placed their orders… and the name Orange Julius stuck.
How do you make a copycat Orange Julius?
All you need to make a copycat Orange Julius is a working blender and six little ingredients: concentrated orange juice, sugar, milk, water, vanilla extract and ice! In my recipe, I also include just a bit of almond extract as I think it adds a complementary pop of extra flavor.
I read somewhere that the original recipe included egg whites as well, but we aren't bothering with all that for our copycat version of this drink. Egg whites wouldn't add any flavor to this drink, but they would add some body and extra frothiness. In my opinion, it gets plenty frothy without them.
If you are wanting to try the original recipe, you can find an Orange Julius at your local Dairy Queen. Dairy Queen purchased the company back in the 1980's, and they now offer an expanded menu of these juice-based smoothies to choose from at Dairy Queen restaurants.
Be sure to check out my latest YouTube video below where you can watch me make a batch of this copycat Orange Julius for you! Don't forget to subscribe while you are there!
I hope you enjoy this ice cold, creamy drink and stay cool, everybody!
Don't forget to Pin this recipe for later!!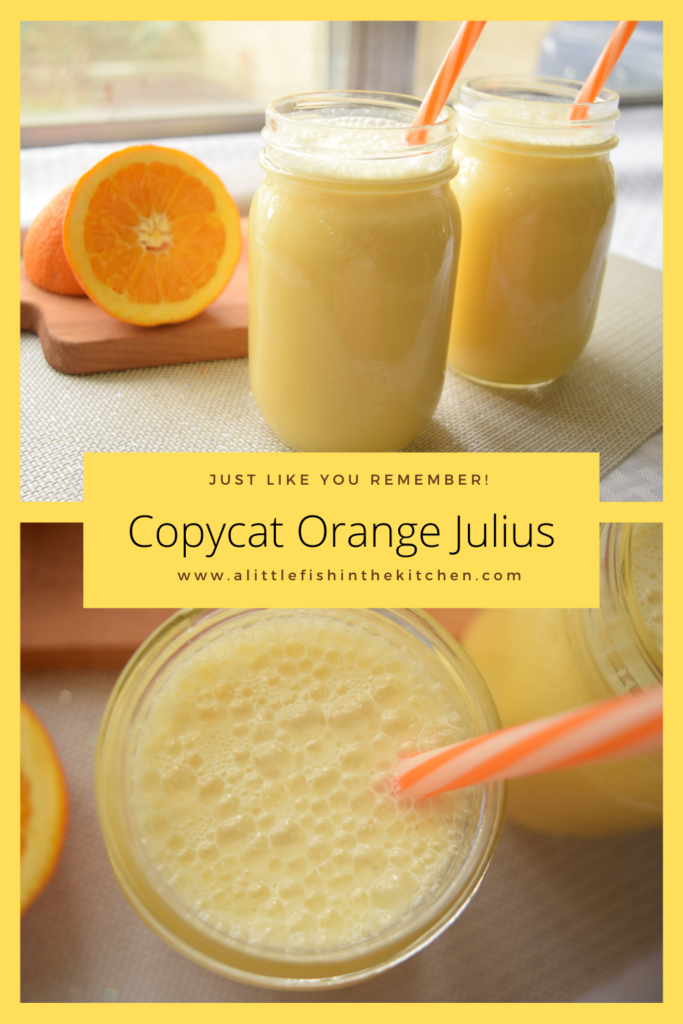 MY LATEST VIDEOS!
Wouldn't you like to stay a while? Subscribe to receive all of my posts right to your inbox! Sign up now and you'll never miss a delicious post!
Copycat Orange Julius
Course: Drinks
Cuisine: American
Difficulty: Easy
This famous blender drink tastes just like a creamsicle that melted in the sunshine! It's a delicious treat on warm summer days!
Ingredients
1 (12 oz) can frozen orange juice concentrate, thawed

1 cup water

1 cup milk (I used 1% milk)

1/4 cup sugar

1 teaspoon vanilla extract

1/8 teaspoon almond extract

2 cups ice cubes
Directions
Add, 6 ounces orange juice and the rest of the ingredients into the container of a blender. Blend on high for 30 seconds to 1 minute or until smooth and frothy.
Use the remaining 6 ounces of juice and repeat the process if a second batch is needed, otherwise reserve remaining juice concentrate and store in your refrigerator for another purpose.
Enjoy immediately or store in the refrigerator until ready to serve. If serving at a later time, whirl the mixture through the blender for another minute to restore the best, frothy consistency.
Enjoy!
Recipe Video
Notes
Recipe as published on A Little Fish in the Kitchen at www.alittlefishinthekitchen.com. All content is owned by Marcelle G. Bolton. Please contact the author for permission to republish.