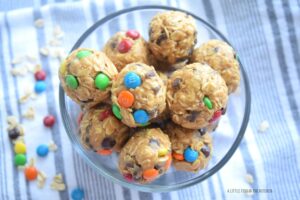 No-bake cookies and desserts are going to be where it's at for us this summer. At the moment, these monster cookie energy bites are high on our list of favorite eats. I've made them several times in the last couple of weeks and the requests for these sweet, little bites just keep on comin'. There are a few reasons we love this simple recipe, but I'll start this discussion with the most obvious reason of all: they are plain ol' delicious! 
The second reason we love these no-bake treats so much is that they are reasonably healthy. I certainly appreciate the vitalizing boost of protein and fiber that these little treats boast. These are also a gluten-free goodie that the whole family can enjoy. These energy bites are lighlty sweetened with honey and jazzed up with some little bits of semi-sweet chocolate and candy pieces… I mean, what's not to love people?? 
And lastly, I should mention that these no-bake monster cookie energy bites are really quick and easy to make!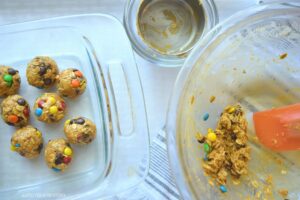 How to make no-bake monster cookie energy bites.
To whip up a batch of these tasty energy bites all you need are six simple ingredients: rolled oats, honey, peanut butter, vanilla extract, mini-chocolate chips, and (the star of the show in my children's opinion!) mini M&M's. 
Just combine all ingredients in a large bowl, roll the mixture into cute little balls, chill and then try your best not to eat them all in one sitting!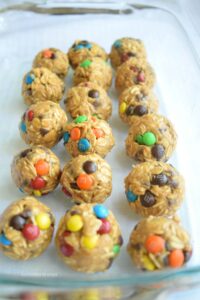 Save this recipe on Pinterest!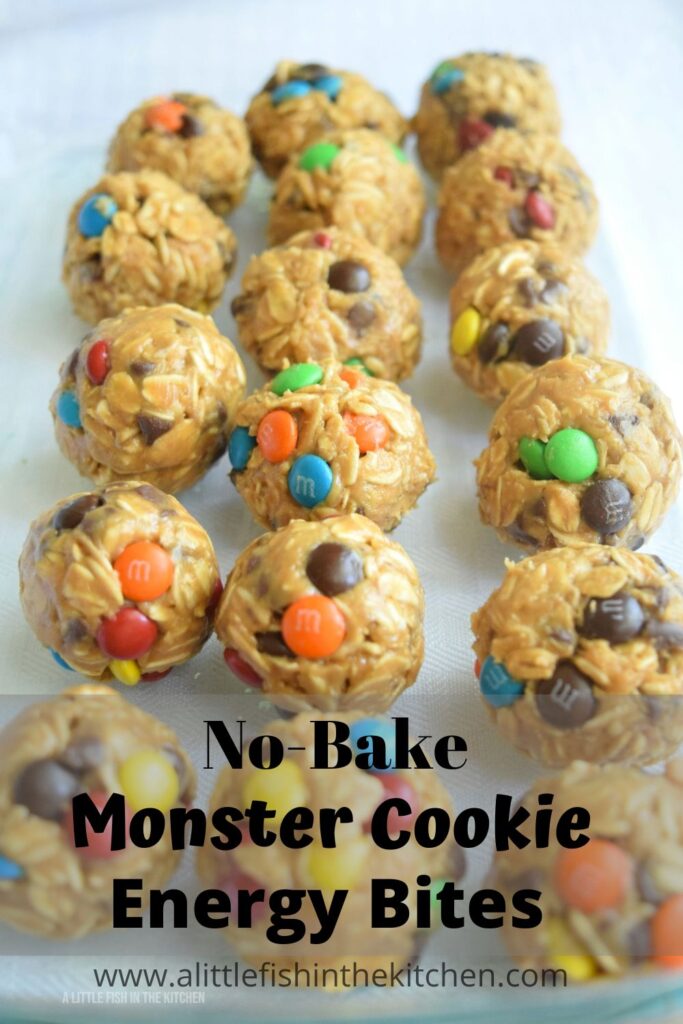 Check out one my latest videos and be sure to subscribe to my channel for more easy recipes and live streams!
Sign-up now to have all of my latest posts sent straight to your inbox. Subscribe now and never miss a recipe or an update!
No-Bake Monster Cookie Energy Bites
Course: Dessert, Snacks
Cuisine: American
Difficulty: Easy
These no-bake monster cookie energy bites are quick and easy to make, they are also a reasonably healthy treat to serve to friends and family! Use seasonal candy-coated chocolates and these can be a festive addition to any holiday table lending joyful pops of color. These are a little bit addictive, so just remember to share!
Ingredients
1-1/2 cups old-fashioned rolled oats

1/2 cup +2 tbsp peanut butter, creamy or crunchy

1/4 cup honey

1/2 teaspoon vanilla extract

1/4 cup semi-sweet or milk chocolate mini-chocolate chips

1/4 cup mini M&M's candy
Directions
Place all ingredients in a large bowl until. Mix until well-combined.
Using clean hands, shape mixture into 1- 1/2 inch balls. Place monster cookie energy bites onto a rimmed baking dish or a plate.
Refrigerate for 20-30 minutes before serving. Enjoy!
Recipe Video
Notes
Recipe as published on A Little Fish in the Kitchen at www.alittlefishinthekitchen.com. All content is owned by Marcelle G. Bolton. Please contact the author for permission to republish.