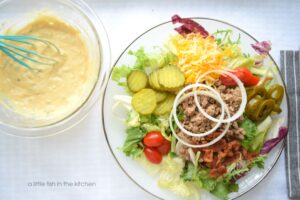 Dinner salads are officially my new favorite thing of 2020, y'all. I know fancy dinner salads have been hot items on restaurant menus for a long time, but now they're hot on our weekly meal plan. Especially the ones that don't require even an itty bitty bit of cooking!
It's crazy hot outside and I'll take every opportunity I'm given not to heat up the kitchen. Thank you very much!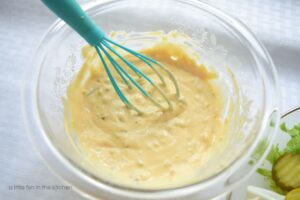 Even though this bacon cheeseburger salad with secret sauce salad dressing does require just a little bit of cooking, it gets a pass because it is so darn good! Honest to goodness, we are making this hearty salad once a weekly lately. This salad is especially welcome on our weekly grilling night where hamburgers are typically on the menu. I just crumble up a grilled patty or two to top my salad.
It's just mealtime magic, y'all.
Serving this bacon cheeseburger salad on the regular is a trend I'm completely fine with. It's an easy, tasty, versatile meal that can be tweaked to accommodate the whole family. I just set up a burger bar with some of our favorite fixings and let everyone build their own salad.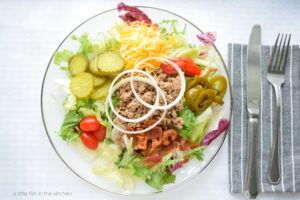 This bacon cheeseburger salad also makes a fantastic gluten-free and low-carb accommodation for any member of the family or the dinner guest list prefers to go bunless at your next barbecue. Believe me, nobody will even miss the bun!! I know I haven't yet.
The possibilities are endless with this bacon cheeseburger salad. Make it your way, folks!!
Enjoy and happy eating! 🍔
I'd love for y'all to stay awhile! Sign up here to receive all of my posts right to your inbox! Subscribe now and never miss a new recipe or update!
You'll definitely want to Pin this one for later, y'all!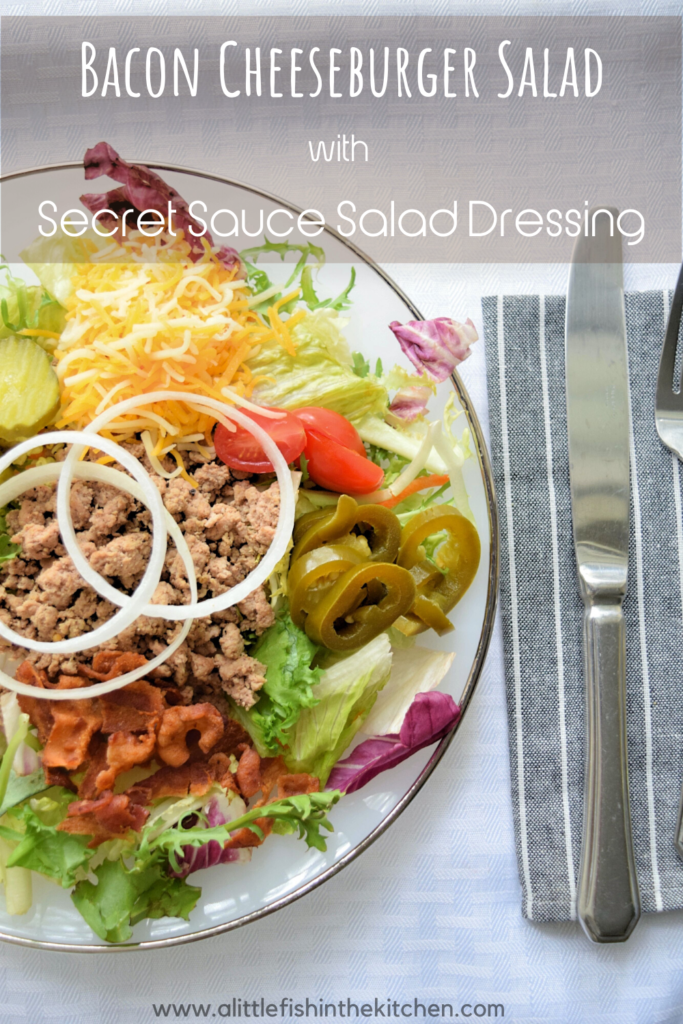 Check out one of my latest cooking videos!! Be sure to subscribe to my YouTube Channel so you don't miss out on more new recipe or live streams!!
Bacon Cheeseburger Salad with Secret Sauce Salad Dressing
Course: Main
Cuisine: American
Difficulty: Easy
This Bacon Cheeseburger Salad with Secret Sauce Salad Dressing makes a fantastic gluten-free or low-carb accommodation for anyone who prefers to go bunless at your next barbecue. Believe me, nobody will even miss the bun!
Ingredients
1 lb ground beef, turkey or chicken
(please see notes below for a serving suggestion)


Your favorite burger seasonings

For the salad

4 cups salad greens of your preference
(I used a bag of Romaine salad mix)

Jar of dill pickle hamburger slices

1/2 cup cherry tomatoes, rinsed
and sliced into halves

1/4 of an onion, thinly sliced

1 cup shredded cheddar cheese, or
other cheese of your choice

6 slices bacon, crispy cooked
and crumbled into bits

1 small avocado, peeled and cubed (optional)

pickled jalapeno slices (optional)

any other topping you love on your hamburger

Secret Sauce Salad Dressing

1/3 cup mayonnaise

1 teaspoon yellow mustard

3-4 teaspoons ketchup (to taste)

1 heaping teaspoon dill pickle relish

1 heaping teaspoon sweet relish

1/4 teaspoon garlic powder

1/4 teaspoon onion powder

1/4 teaspoon ground white pepper
Directions
Make your secret sauce salad dressing. In a small bowl, mix all of the ingredients together and stir well. Cover dressing and set aside or cover and place dressing in the refrigerator to chill, as you prefer.
In a large skillet over medium heat, cook ground meat until done. Drain drippings from meat and return to the skillet.. Season to taste with your favorite burger seasonings. (We often use a mixture of McCormick's Grill Mates Hamburger Seasoning and Worcestershire sauce). Set pan with seasoned meat aside.
Divide the salad greens evenly between two dinner plates. Place 3/4 cup burger meat mixture in the center of each bed of greens. Surround with your chosen burger toppings and top with onions slices, if desired (see picture above or please watch the video for further reference).
Store any unused ground meat for another use. Top with Secret Sauce Salad Dressing and enjoy!
Recipe Video
Notes
If you are cooking out or have hamburgers on the menu, simply crumble a cooked burger patty or two (depending on the size) onto your salad instead of cooking the crumbled ground meat!
Recipe as published on A Little Fish in the Kitchen at www.alittlefishinthekitchen.com. All content is owned by Marcelle G. Bolton. Please contact the author for permission to republish.