This post is sponsored by Imperial Sugar. All opinions are 100% my own.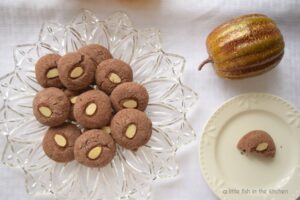 Chocolate cookies and cookies with chocolate chips are always a huge hit with my family.  Some of our favorites that I have previously posted about are these chocolate-cranberry granola bars, flourless peanut butter cookies with chocolate chips, cappuccino crinkles, and this chocolate chip skillet cookie . In general, we just love chocolate cookies and I could seriously just go and on with this list, y'all!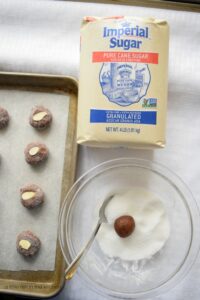 These chocolate-almond cookies are relatively new to the list of homemade cookies we love, but let me tell you they are here to stay.  These cookies smell like heaven while they are baking and my entire family was literally lying-in-wait for these to come out of the oven. So, it's a good thing that this recipe makes a large batch of these petite, little cookies because they were flying off of the cookie pan like hot cakes! 
Coating these cookies with sugar gives them a sweet, crunchy exterior, while the inside of the cookie is soft and cake-like. They are swoon-worthy, I tell you! I garnished them with a dainty sliver of almond, so they are pretty easy on the eyes too. (Just imagine them all dressed up for Christmas, y'all!!)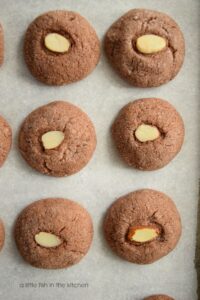 I always wonder how new recipes will go over with my family, and I'm happy to report that these cookies were a big hit.
However, when it comes to using quality products in my recipes, I have put my faith in Imperial Sugar for years. For me, the quality of their sugar products is tried and true. It is honestly the only sugar I bake with, and I use their entire line of products! I always have a stash of their granulated sugar, light brown sugar and dark brown sugar in my pantry for when the baking bug bites me… which is often, as I'm sure you know by now!
Granulated sugar, in particular, is a product we use in our household daily.  Not only do we cook and bake with it, but we also use it multiple times a day to sweeten our tea and coffee. I feel great knowing that all of Imperial Sugar's products are made from pure cane sugar and not the misleading beet sugar that some generic sugar products are made from. Also, all of their products are non-GMO and in this day and age, that's such an important consideration in how I feed my family. 
Needless to say, I think Imperial Sugar is the best, and when it comes to purchasing quality sugar to keep in my pantry, their products are always the first choice.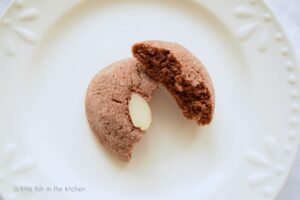 Imperial Sugar also has an amazing website that's  always up-to-date with seasonal and kid-friendly recipes to help little ones become excited about learning in the kitchen!  The site has lots of great entertaining and recipe suggestions and you should definitely check out their Halloween inspiration page! Right now, they have their Scary Scramble Contest going on where 25 individuals will win a cookie decorating prize pack from Wilton, vouchers for free Imperial Sugar and other prizes! Be sure to visit their website through the link above to play the Scary Scramble!
#Choctoberfest is still going strong this week, so please take a minute to check out all of today's amazing recipes from my blogging friends. Also, don't forget about the amazing prize-pack being offered by our sponsors, including Imperial Sugar!! Enter here for a chance to win and take advantage of the opportunities for multiple entries!!
Sign up here to have all of my blog posts sent to your inbox! Never miss a recipe, subscribe!
Pin this recipe for later!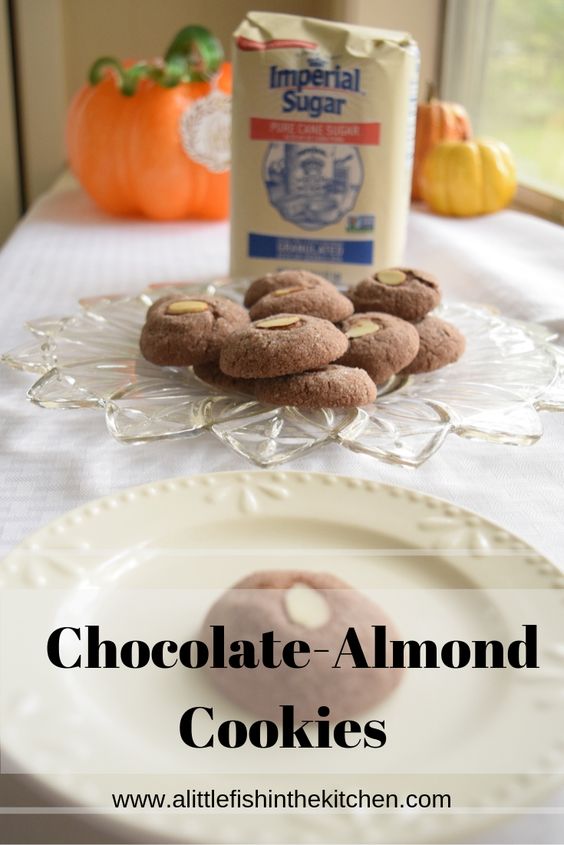 Chocolate-Almond Cookies #Choctoberfest
Course: Dessert
Cuisine: American
Difficulty: Easy
These dainty Chocolate-Almond Cookies are an elegant and delicious addition to a holiday cookie tray, but they are simple enough to make any day of the week!
Ingredients
1 cup salted butter, room temperature

1 large egg

1 cup sugar (I used Imperial Sugar)

1/2 teaspoon pure vanilla extract

1/2 teaspoon almond extract

2 cups all-purpose flour

1 teaspoon baking powder

1/2 cup unsweetened cocoa powder

extra 1/3 cup sugar (for coating cookie dough)

1/3 cup slivered almonds (you probably won't use the entire 1/3 cup)
Directions
Pre-heat the oven to 350°. Prepare a cookie sheet or baking sheet with parchment paper or a silicon baking mat and set aside. In a medium-size bowl, combine flour, baking powder and cocoa then set bowl aside.

In another large mixing bowl bowl using a wooden spoon or in the bowl of a stand mixer, cream butter and sugar until fluffy. Add in the extracts and the egg and mix well.
One half at a time, add the flour mixture to the butter mixture. The cookie dough will be thick. Cover the bowl with plastic wrap and place cookie dough and chill in the refrigerator for 20 minutes. While the dough is chilling, place 1/3 cup sugar into a small bowl and set it aside.
Form chilled cookie dough into one-inch balls and roll each one in the small bowl of sugar to coat. Place sugared cookie dough balls onto the prepared baking sheet, leaving at least 1 inch between each one. Gently press one slivered almond slice onto the top of each cookie dough ball.
Bake for 12-15 minutes. Remove from oven and allow chocolate almond cookies to cool on a rack. Serve with fresh-brewed coffee, tea or milk. Enjoy!
Recipe Video
Notes
Recipe as published on A Little Fish in the Kitchen at www.alittlefishinthekitchen.com. All content is owned by Marcelle G. Bolton. Please contact the author for permission to republish.
Check out today's delicious #Choctoberfest recipes from some talented bloggers!