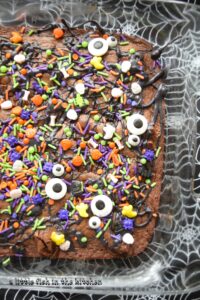 Brownies are always a solid choice for a chocolate dessert because they are easy to make and they are also incredibly versatile. A simple brownie is perfectly delicious served on it's own, however they are also fantastic with some complementary frosting, ice cream, or fresh fruit!
Now matter how you dress them up, you really can't go wrong when you serve a batch of of these rich, moist homemade brownies.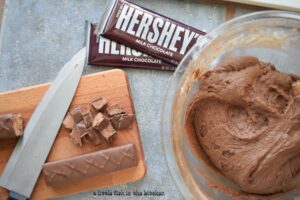 However, in this post I'm not talking about traditional, safe, conservative, ol' brownies. I'm being a bit devilish here (tis' the season!) and I'm talking about these fantastical candy bar brownies, y'all!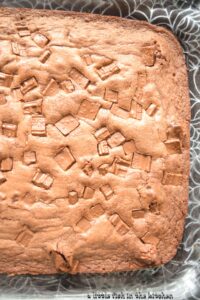 What are candy bar brownies?
Candy bar brownies are sinfully delicious brownies that have bits of chocolate and caramel candy baked into them.
Did you hear that?
I said, BITS OF CHOCOLATE AND CARAMEL CANDY ARE BAKED INTO THE BROWNIES!!
Sorry, I didn't mean to yell, but I really think this recipe is so frightfully exciting!
It's really just wickedly good.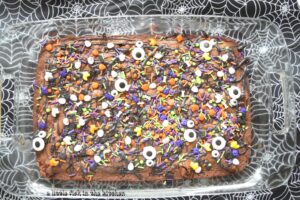 I'll just warn you all now that your kids might to go a bit batty when you mention these candy bar brownies. I know mine go absolutely boo-nkers over these spooktacular treats! As if baking candy right into these chocolate-ty brownies isn't sinful enough, we go on to top them with melted candy melts and all kinds of wild sprinkles!
The creepy eyeball sprinkles we used for these pictures had my little gremlins cackling with delight.
_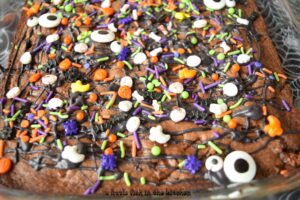 I typically use 3 Musketeers and classic Hershey bars in this recipe because those are two of our favorites, but feel free to substitute in other chocolate candies you love in the same amounts. Twix, Snickers, Heath Bars and Reese's cups are some others that would be great choices!
I hope baking a big batch of these creepy candy bar brownies will become your new favorite way to use up some Halloween candy loot! Happy baking, y'all!
I believe that it's been well established on the pages of this blog that I can be a little corny sometimes… ok, I'm pretty corny most of the time! So, here's a few of my fave corny Halloween jokes to celebrate the season (and you should know I laugh out loud every time I read these):
How did the skeleton know it was going to be a great Halloween?
He could feel it in his bones!
Why did the policeman ticket the ghost on Halloween?
He didn't have a haunting license!
Why do they put fences around graveyards?
Because people are dying to get in!
Why is a vampire no fun to take trick or treating?
Because they are a real pain in the neck!
#Choctoberfest 2019 is winding down, but it's not over yet! There are still more amazing chocolate recipes to see today! Be sure to check out the posts by the other #Choctoberfest bloggers below and pay them a visit!
Also, there's only a few more hours to enter for a chance to win the generous prize pack from our amazing sponsors!! Take advantage of the chances provided for multiple entries below. Best of luck!!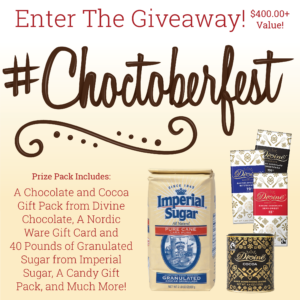 For the link to my #Choctoberfest Welcome Post and all the details about the giveaway click here.
Sign up here to receive all of my posts in your inbox! Never miss a new recipe, subscribe!
Y'all will definitely want to Pin this recipe for later!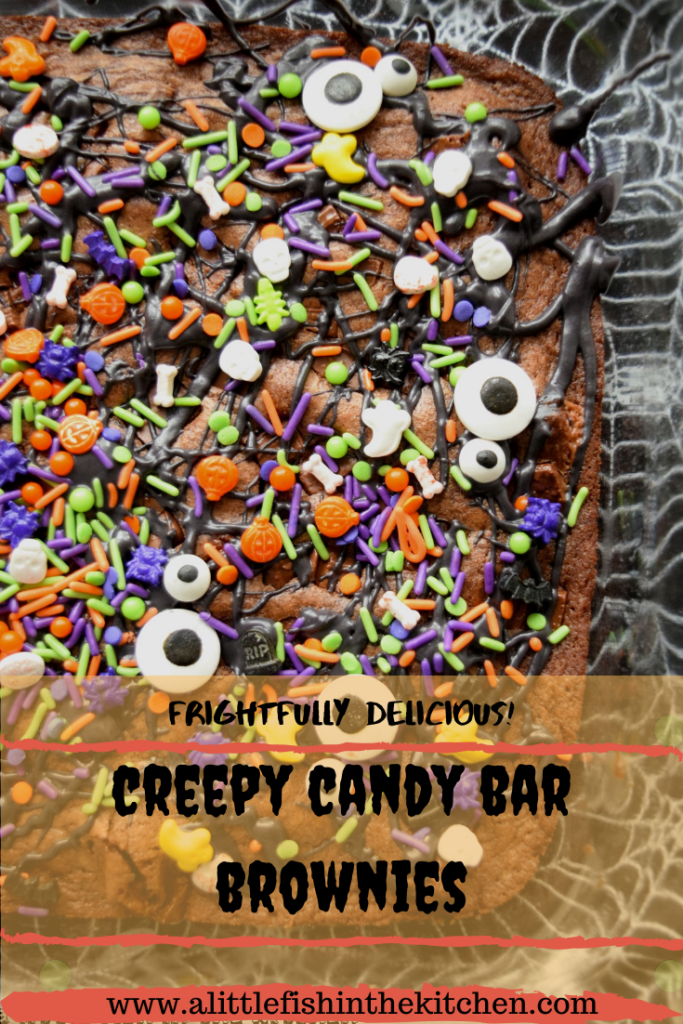 Creepy Candy Bar Brownies #Choctoberfest
Course: Dessert
Cuisine: American
Difficulty: Easy
These decadent, creepy candy bar brownies will be a sensation with guests and ghouls! I use a combination of 3 Musketeers and Hershey's bars, but feel free to sub your favorite chocolate candies in the same amounts!
Ingredients
1-1/2 cups all-purpose flour

1 teaspoon baking powder

1/3 cup cocoa powder

3/4 cup salted butter, room temperature

1-1/2 cups sugar (I used Imperial Sugar brand)

2 teaspoons pure vanilla extract

3 large eggs

2 (2.13 oz) 3 Musketeer Candy Bars (optional, sub in a chocolate candy))

2 (1.55 oz) Hershey's Milk Chocolate Bars (optional, sub in another chocolate candy)

3/4 cup Reese's Pieces (optional, sub in another candy)

Any other chocolate candy of your choice

Optional decorating ingredients

1/2 cup candy melts, the color of your choice, optional (I used black for Halloween, but pick a seasonal color)

Or use store-bought cookie decorator frosting in a festive Halloween color

Assorted sprinkles of your choice 
Directions
Preheat oven to  350°.  Coarsely chop both of the 3 Musketeers candy bars and set aside in a bowl. Coarsely chop both of the Hershey's bars and set aside in another small bowl (do not combine the two candies!) Mix flour, baking powder, and cocoa in mixing bowl and set aside.
 
In another large mixing bowl, beat butter with wooden spoon or electric mixer until creamy (about 1 minute). Add sugar to the butter and mix until fluffy (about 2 minutes) Add in extract, and eggs, mix until all ingredients are well combined.
Add the flour mixture, one half at a time, to the butter mixture. Stir just until a thick brownie batter forms. Fold all of the 3 Musketeers candy bar pieces into the batter.
Turn out brownie batter into a greased 13×9 baking dish and smooth it evenly into the pan. Sprinkle the Hershey bar pieces, as evenly as possible, over the top of the brownie batter. Bake brownies 35 minutes or until a toothpick inserted into the middle of the brownies comes out clean.
Place baking dish on rack and allow brownies to cool completely.


If you are decorating with candy melts, prepare candy melts according to package directions and until they a thick, yet pourable consistency. Pour in a random splatter fashion all over the cooled brownies.
While melted candy is still wet, top with sprinkles in a whimsical design. Allow candy melts to set for a about 15 minutes. Serve and enjoy!!
Recipe Video
Notes
Recipe as published on A Little Fish in the Kitchen at www.alittlefishinthekitchen.com. All content is owned by Marcelle G. Bolton. Please contact the author for permission to republish.
Check out today's #Choctoberfest recipes!!