If you're anything like us, we find ourselves looking for family-friendly ways to celebrate Valentine's Day. Having a babysitter available is a rare event for us, so date nights are pretty unusual events for us too.
That probably sounds depressing, but it's really not so bad. The hubs and I do our best to make time for each other on the weekends. We also love our weeknight "happy hours" on the patio, when time permits, after work.
Truth-be-told date nights are fun, but evenings in our backyard are really the best. We talk about life and work and the kids run around outside. It's a relaxed bit of downtime and there's no real "curfew". Most times, Evan talks me into letting him grill something… (insert loving, little eye roll here) I don't love bbq, but I do love him…and he loves to bbq! Oh well, saves us a mess in big mess in the kitchen usually (*bright side*).
When the winter weather finally arrives here, as a family, we miss our precious outdoor time the most.
Luckily, we've had a nice reprieve in the icy weather lately and we've been able to be outside again in the evenings. After just a few evenings outside, we're all dreaming of warm Spring days! But, in the meantime, we're staying busy as February is filled with family birthdays and of course, then there's Valentine's Day!
This deep dish skillet cookie has become a favorite request for dessert lately and it's got three qualities that this mamma loves: 1) it's quick and easy to make, 2) it's delicious, 3) it's adaptable for all occasions with sprinkles!
Number 3 just may be the most important one on the list.
I recently made one of these big skillet cookies for Evan's birthday (sans sprinkles), but here's how she'll look all dressed up for Valentine's Day!
It's up to you if you want to add the frosting and sprinkles, but I know your heart is sure to skip a beat when this deep dish chocolate chip skillet cookie comes out of the oven. It's a thing of beauty even without all the extra stuff. Plus, your house will smell just heavenly while it's baking. Talk about lovin' from the oven… okay, this could get so much more cheesy… but I'll stop now.
Happy Valentine's Day everyone!
Be sure to Pin this recipe for later!!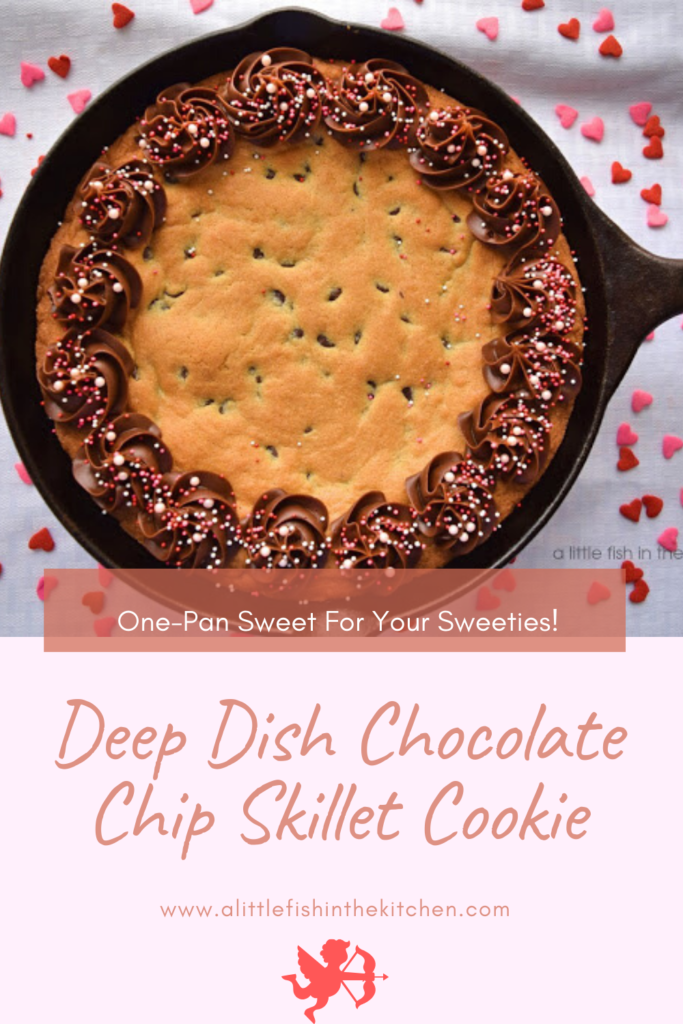 Sign up here to receive all of my posts right to your inbox! Subscribe now and never miss a new recipe or update!
Deep Dish Chocolate Chip Skillet Cookie
Course: Dessert
Cuisine: American
Difficulty: Easy
Ingredients
2 cups all-purpose flour

1 teaspoon baking soda

1.5 (3/4 cup) sticks salted butter, room temperature

1/2 cup light brown sugar

1/2 cup sugar

2 large eggs, slightly beaten

1-1/2 teaspoons pure vanilla extract

1 cup semi-sweet or milk chocolate chips (or a mixture of the two)

Store-bought milk chocolate frosting (optional, I used Duncan Hines brand)

sprinkles, optional

vanilla ice cream, optional for serving
Directions
Preheat the oven to 375°. Lightly spray a 10-inch cast iron skillet with non-stick spray and set aside. In a small bowl, mix the flour and baking soda together and set aside.
In a large bowl, use a wooden spoon or an electric mixer to stir the butter until it's creamy. Add in both sugars and stir mixture until it is creamy. Next, stir beaten eggs and vanilla extract to the butter and sugar mixture.
One half at a time, add the flour mixture to the butter mixture until all ingredients are just combined. The cookie dough will be thick. Fold in the chocolate chips and transfer the cookie dough to the prepared skillet. Spread the cookie evenly into the pan using a spatula, an off-set spatula or your hands.
Bake the cookie in the preheated oven for 25-30 minutes or until the surface and edges are golden brown and appear done. Place skillet cookie on cooling rack and allow it to cool completely.
Decorate with frosting or sprinkles, if desired.  Serve on it's own or with a scoop of vanilla ice cream. Enjoy!
Notes
Recipe as published on A Little Fish in the Kitchen at www.alittlefishinthekitchen.com. All content is owned by Marcelle G. Bolton. Please contact the author for permission to republish.