Recipe card was updated on 11/19/23. Instructions for using plastic wrap to cover hot pie filling were altered to recommend using parchment paper for this instead and other general instructions were clarified.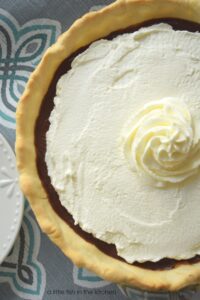 Chocolate pie was a staple on our holiday dessert table when I was growing up. It was my dad's all-time favorite dessert, and it was not to be left off of the menu! Back in the day, my mom and my older sisters made and baked the pies and cookies on the evenings before big holidays. All the goodies were then left in the refrigerator to chill overnight. Boy, do I remember watching my mom and my older sisters and all the toil going on in the kitchen the night before the big Thanksgiving or Christmas Day meals.
I also remember my mom meticulously calculating the thickness of scratch-made pie crusts, counting egg yolks and taking temperatures of various ingredients. However, the most stressful part of the holiday pie-baking marathon back in those days, by far, was whipping up the meringue for the pie topping. Holy cow, did my mom get mad if the meringue "broke" or "ran". I really didn't understand what that meant as a kid, but it sure did seem like making meringue was just a really bad idea!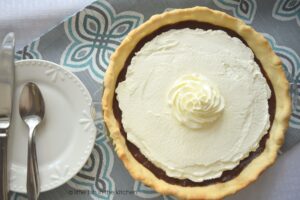 How to make an easy chocolate cream pie
I've always been a huge fan of homemade chocolate cream pie, but I've not always been a fan of how much work it takes to create a traditional version of the dessert. Truthfully, my mother's dramatic meltdowns over these sorts of cream pies back in the day may have scarred me forever. (Speaking of dramatic…) Just kidding, I will totally take on the challenge of making a meringue-topped chocolate pie one day, but I'll probably do some meditating first!
A few years ago, I was thrilled to be introduced to a far less complicated version of this classic pie. Remarkably, no egg yolks or traumatizing meringue are involved with the making of this chocolate cream pie! Honestly, I enjoy this pie being topped with sweetened whipped cream far more than I've ever enjoyed a meringue topped pie. Hands down, sweetened whipped cream is the perfect compliment to this rich, creamy chocolate-ty filling!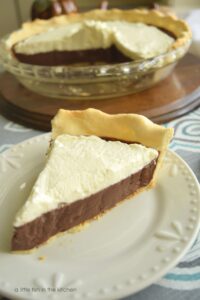 The simplified chocolate filling for this pie is rich in chocolate flavor and has a smooth, luscious texture. This is absolutely my go-to chocolate pie recipe and every time I make one, I happily take all the credit for serving a heavenly, homemade pie, but I'll just skip all that extra fuss. It's truly a straightforward process to make and (more importantly) to enjoy an easy chocolate cream pie.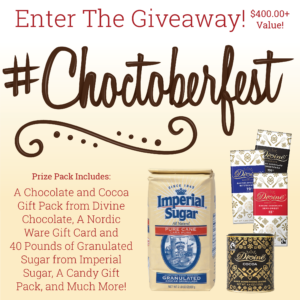 #Choctoberfest is still in full swing, y'all and this is my first chocolate recipe to put into the celebration this year. Please be sure to check out the delicious chocolate offerings by my talented blogger friends too! Their blog post links are below!
Also, don't miss your chance to win this amazing prize pack from our generous sponsors! I'd also like to offer a big "thank you" to the creator of this fantastic event, Allison from The Triple Chocolate Kitchen!! Be sure to enter below and there are opportunities for you to have multiple entries!! Best of luck!
Easy Chocolate Cream Pie
Course: Dessert
Cuisine: American
Difficulty: Easy
This delicious, scratchmade Chocolate Cream Pie is delicious enough to serve for special occassions, but simple enough to make for a weeknight dessert. This chocolate pie is a scrumptious way to treat the chocolate lover's in your life, it's sure to become a family favorite!
Ingredients
1 (9-inch) pie crust, baked and cooled

1/3 cup cornstarch

1/2 cup unsweetened cocoa powder (I used Tollhouse brand)

1 cup sugar (I used Imperial Sugar brand)

3 cups milk (I used 1% milk)

1-1/2 teaspoons pure vanilla extract

3 tablespoons salted butter

1- 1/2 cups sweetened whipped cream or whipped topping, for serving *see notes below
Directions
Prebake pie crust in pie dish and set aside.

Combine cornstarch, sugar and cocoa powder in a medium sauce pan. Add the milk one, cup at a time, and stir with a whisk until smooth. Heat the milk mixture over medium heat, Bring mixture to a boil and allow to simmer stirring constantly with a whisk for one minute.
Turn off the burner and remove the pan from the heat. Stir in butter and vanilla extract. Pour warm chocolate mixture into the prepared pie crust and spread evenly into pie shell. Carefully and completely cover the warm pie filling with a round of parchment paper (allow the parchment paper to rest directly on surface of the pie filling)
Allow chocolate cream pie to cool on a rack for about 30 minutes to one hour before placing pie in the refrigerator to chill. Chill in the refrigerator for at least 2 hours before serving.
Top with prepared whipped cream as you prefer. Enjoy!
Notes
If you plan to top the whole pie with whipped topping, I recommend using a stabilized whipped topping, such as Cool Whip or a homemade stabilized whipped cream. If you plan to serve whipped topping for individual servings, chilled homemade whipped cream can be used instead.
Recipe as published on A Little Fish in the Kitchen at www.alittlefishinthekitchen.com. All content is owned by Marcelle G. Bolton. Please contact the author for permission to republish.
Be sure to follow me by email so you'll never miss a post!!
Today's scrumptious #Choctoberfest Recipes!!