This recipe was posted orginally on October 14, 2019 and it was updated with a new Pin Image and typo corrections on September 10, 2023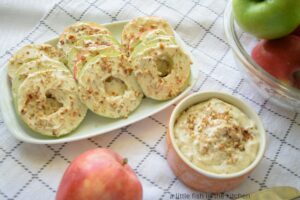 These simple snacks have been all the rage at my place for years, y'all. I love to whip up batches of these fresh apple snack cookies and I'll mix and match the toppings. Sometimes I top them with plain peanut butter, and other times peanut butter mixed with mini-chocolate chips is the only way to go. Mini-chocolate chips are usually the answer around here when we need a little more decadence in a dessert!
However, lately I've been enjoying these crisp apple cookies most with a good smear of a sweet, flavored cream cheese.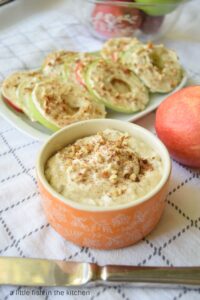 The recipe for this maple-pecan cream cheese I'm sharing with you all today is my d.i.y. answer to a  commercially-made, honey-pecan flavored cream cheese that you may have seen at the store. All on it's own, this homemade, spiced maple-pecan cream cheese is really good stuff.
Honestly…it's really good! In fact, you'll probably have to remind yourself  in some form or fashion to put the spoon down and walk away from it while it's still in the bowl. I'm speaking from experience here. In fact, my six-year-old daughter has suggested that I should put a sticky note on my head that says "it's not cheesecake",  the next time I make this! It just might happen, folks. 
It's okay to have a taste, but you'll definitely want to save most of this luscious, maple-pecan cream cheese for the apple cookies.  You'll soon understand that fresh apple slices and sweetened, spiced cream cheese were meant for each other!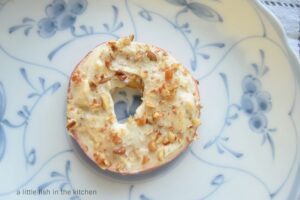 If you know me personally, or you have followed me for a while, you know that fall is the most magical time of the year for me.
Yep, that's right folks when it comes to commemorating  the glory of autumn at my house, it's on like Donkey Kong once October arrives! I break out all of my favorite fall and Halloween knickknacks to celebrate this enchanting, cool, breezy, colorful season. I usually decorate my fireplace mantle with a mixture of glass and ceramic pumpkins and little Halloween figurines. Most years, I'll also place an autumn-themed wreath on our front door and, by golly, I keep spice-scented candles burning in every room of the house!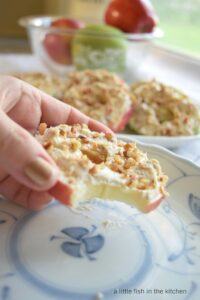 As it goes for all of us who love to cook, this mad love I've got for fall translates into my kitchen and into the food I serve. There are so many occasions to celebrate in the upcoming months, and it's worth it to mention (as I do every year!) that October is National Apple month and one of my favorite food holidays to observe. So naturally, there's been an deluge of apple-themed snacks and dishes being served up at my place.
These fresh, apple snack cookies topped with rich maple-pecan cream cheese have been at the top of the list of goodies for us to enjoy.  Stay cool, y'all and I hope you enjoy these sweet little treats as much as we do! 
Save this recipe on Pinterest!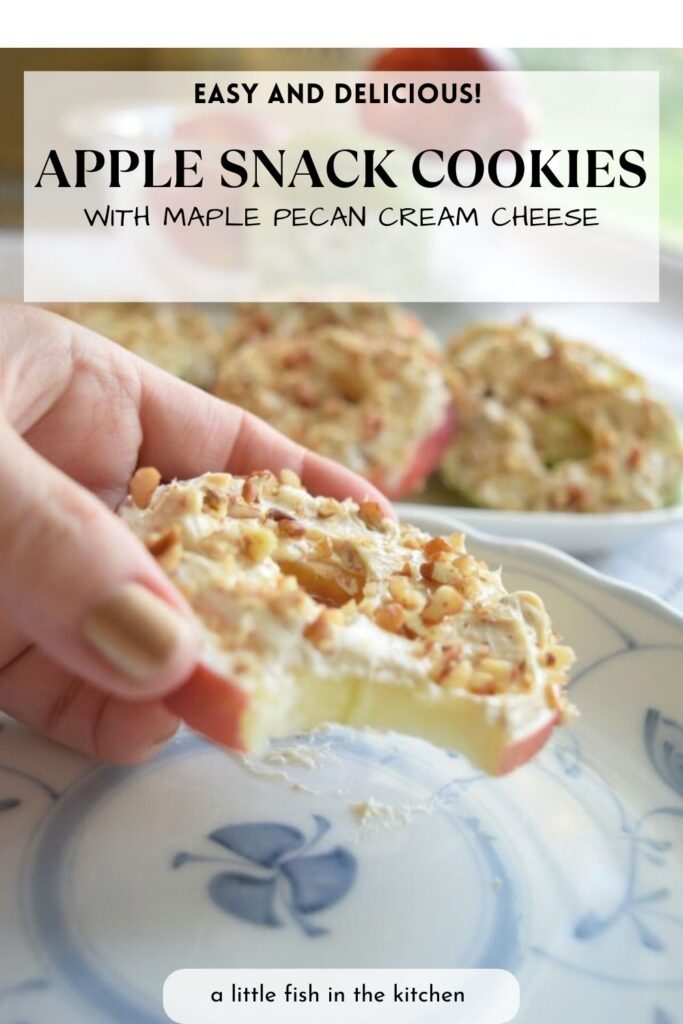 Check out one of my latest cooking videos on YouTube and subscribe to my channel for more easy recipes and live streams!!
Please enter your email address below to have all of my new posts delivered right to your inbox! It's a free service, sign up now and you'll never miss a recipe or updates!
Apple Snack Cookies with Maple-Pecan Cream Cheese
Course: Snacks
Cuisine: American
Difficulty: Easy
These fresh Apple Snack Cookies topped with rich Maple-Pecan Cream Cheese are a real treat and a great way to get kids to eat more fresh fruit. These are especially delicious during the autumn months when fresh apples are in abundance, but I encourage you to enjoy them all year round!

Ingredients
2 large apples ( I used one organic Granny Smith and one organic Gala)

3-4 tablespoons fresh lemon juice, (I usually juice half of one medium lemon)

8 oz cream cheese, room temperature (I used Neuchaftel cheese)

3-4 tablespoons pure maple syrup (sweeten to taste)

3 tablespoons, fresh, finely chopped pecans

1 1/2 teaspoons ground cinnamon

extra chopped pecans, for garnish, if desired

extra sprinkle of ground cinnamon, for garnish, if desired
Directions
Core apples and immediately slice them into 1/4 inch -1/3 inch slices. Place apple slices in a medium-size bowl and toss with the lemon juice. Allow apple slices to soak in lemon juice for about one minute. Transfer them to a colander and rinse with water. Allow treated apple slices to drain on paper towels.
While the apple slices are drying, make the maple-pecan cream cheese. In a small bowl, mix the softened cream cheese with maple, pecans and cinnamon. Stir until well-combined, cover and set aside.
Pat apple slices dry with paper towels (it's difficult to spread cream cheese on the apple slices if they are wet and slippery)
Spread maple-pecan cream cheese onto the apple slices. Garnish with extra chopped pecans or an extra sprinkle of cinnamon or both, if desired. Enjoy!
Recipe Video
Notes
Recipe as published on A Little Fish in the Kitchen at www.alittlefishinthekitchen.com. All content is owned by Marcelle G. Bolton. Please contact the author for permission to republish.