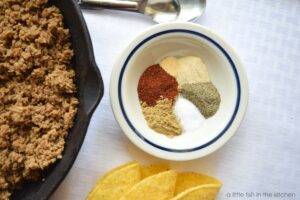 I used to pick up a handful of those convenient little taco seasoning packets whenever I shopped for groceries and then I'd store them in my  pantry.  Then one night, after we ate a much anticipated taco dinner, it happened.  I finally admitted (out loud) that I didn't really like how the store-bought spice packets made our tacos taste! Next, Evan admitted (out loud) that it wasn't his favorite either, but "it was good enough for tacos" (!). 
The spice mixture in those packets is just way too salty for my taste.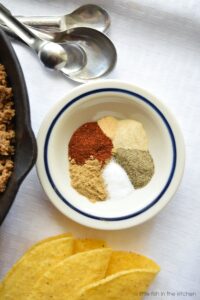 I also tried the reduced sodium variety of those same seasoning packets, and while that version was  lighter on the sodium delivery, in my opinion, it was just too garlick-y.  So, I did what I had to do, and I decided to start making my own taco seasoning mix!  It took me a few tries to get the balance of flavors just right for our taste buds, but this blend of spices is the end result of my homemade Tex-Mex taco seasoning trial and error sessions.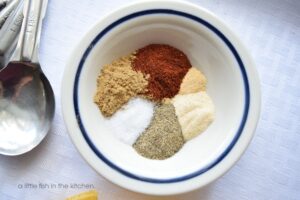 It is my honest-to-goodness, go-to taco seasoning combination as I seriously make two pounds of seasoned lean ground turkey each week for my taco-addicted family. We keep it in the fridge and my kids like to make nachos and tacos as protein-packed after school snacks.  All that good protein helps to keep them satisfied for while after a long day at school.
Make this homemade Tex-Mex taco seasoning your own. 
Making spices blends at home has it's benefits and one the biggest benefits is the ability to be creative with your recipes! My favorite Tex-Mex taco seasoning blend is perfect for us, but feel free to use this as a good base recipe and then make it your own. For instance, if you don't like onion powder, leave it out. If you like all the spices listed in the recipe, but want a few more, add them in! Other spices and herbs that would fit right in with this mix are a dash of spicy cayenne pepper, a teaspoon or two of Mexican oregano, or a healthy handful of chopped, fresh cilantro!
You do you! Happy eating! 
Here's is my latest YouTube video all about this easy Tex-Mex taco seasoning. Be sure to subscribe while you are there! 
Check out one of my latest videos!
Enter your email address below to have all of my new posts sent right to you inbox! It's free to subscribe, never miss a recipe or an update!!
You'll definitely want to Pin this recipe for later y'all!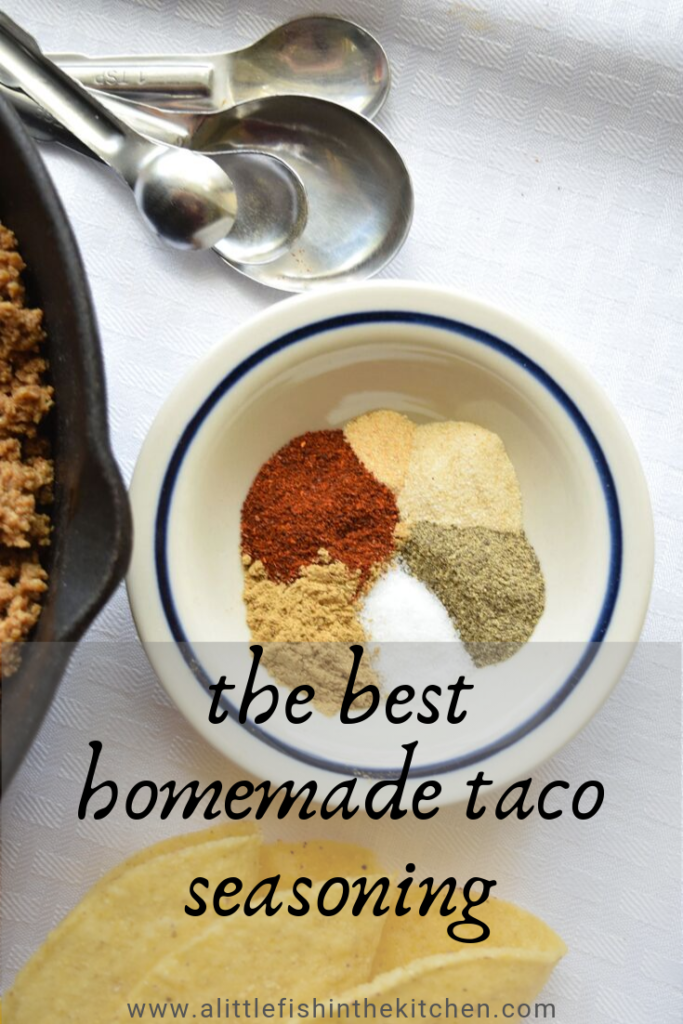 Homemade Tex-Mex Taco Seasoning
Course: Prep
Cuisine: Tex-Mex
Difficulty: Easy
Use this Tex-Mex taco seasoning to add plenty of flavor to two pounds of ground meat at your next Taco Tuesday celebration! You won't miss the packaged stuff!
Ingredients
1 teaspoon salt

1 teaspoon black pepper

2 teaspoons cumin

2 teaspoons Ancho chili powder

1/4-1/2 teaspoon garlic powder (to taste)

1 teaspoon onion powder
Directions
Mix all ingredients together in a small bowl.
Use this spice blend to perfectly season two pounds of ground meat of your preference. If using only one pound of meat, reduce the amount of ingredient by one half. If you are using more meat, adjust the spice measurements accordingly.

To use spice mix, brown and drain ground meat. Return drained meat to the skillet and add 1/4 cup water plus spice mix to meat. Stir well and heat skillet again until liquid is just absorbed. Stir one more time and serve. Enjoy!
Recipe Video
Notes
Recipe as published on A Little Fish in the Kitchen at www.alittlefishinthekitchen.com. All content is owned by Marcelle G. Bolton. Please contact the author for permission to republish.