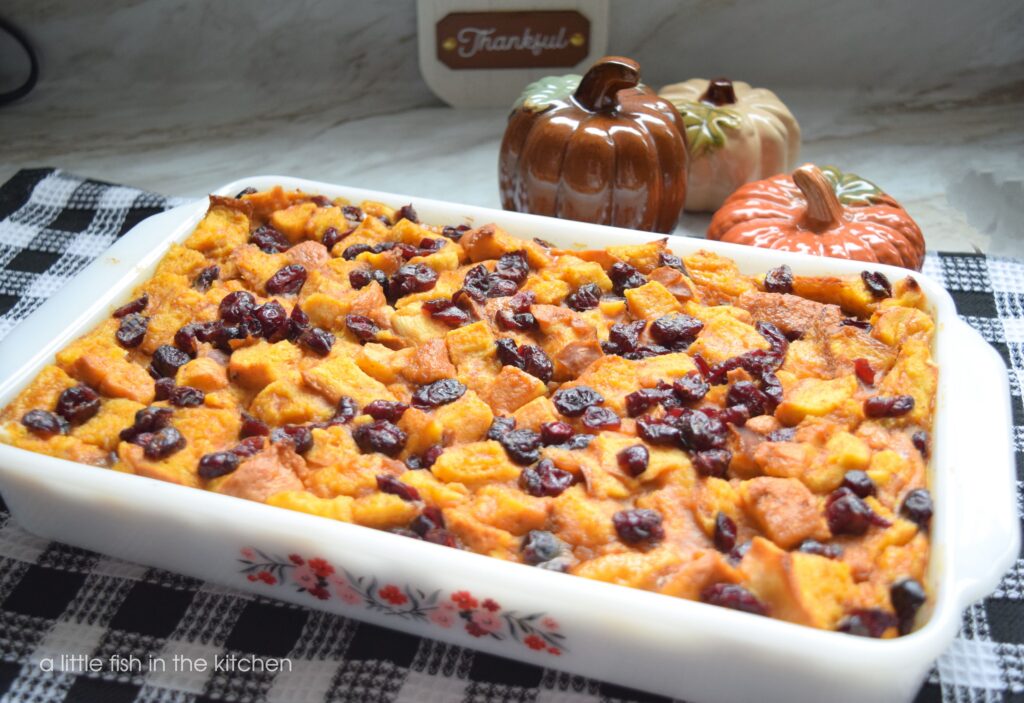 The other day I was shopping for seasonal graphic t-shirts online, and I came across a few of them that had the expression "Happy HalloThanksmas!" printed on them. The words were printed in various festive colors and fonts.
Happy HalloThanksMas… just wow.
It's cute verbiage, and I think it really sums up how many of us feel once September ends: the holiday season is coming like a freight train, y'all!! Yep. Once the holiday hub bub starts it's just plain old not stopping until it's over. And by then I'm usually too worn out to take my tree down until Valentine's day (not kidding).
For my family, all the merrymaking that comes with the holiday trifecta of Halloween, Thanksgiving, and Christmas really can all blur together if we allow our schedules to get too busy. So, I suppose having a single graphic t-shirt available to cover all the bases with the spirited catchphrase Happy HalloThanksMas does offer to seriously cut down on the fall/winter laundry pile!
Now, that is helpful.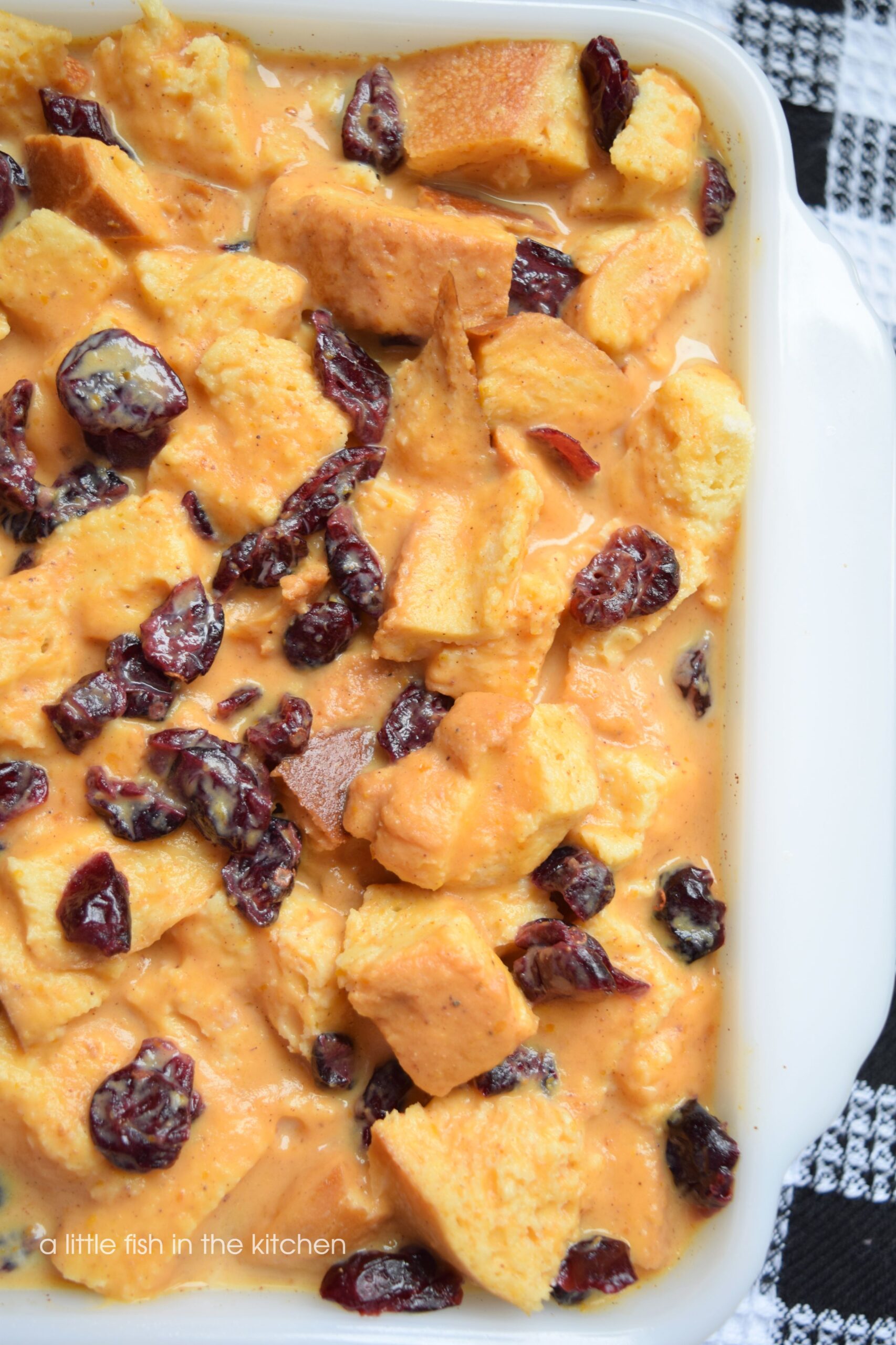 Honestly, I have yet to buy the t-shirt, but that one-size-fits-all train of thought made me think about holiday food (yes indeedy, I am always thinking about food!). More specifically, it made me think about recipes that could work for any of the upcoming holiday menus.
Thoughts of this scrumptious Pumpkin-Cranberry Bread Pudding immediately came to mind, and this dessert (or breakfast!) is now officially referred to as my go-to, HalloThanksMas dish!
Y'all, if you're in need of inspiration for a dish to share at any time and for any reason between September to January, this. is. your. recipe! This beautiful bread pudding feeds a crowd, and as a holiday dessert or breakfast it has it all: pumpkin, cranberries, warm spice, an autumnal amber color, charm, rusticness, it's flipping delicious, and gosh darn it, it looks fantastic served in a vintage baking dish!!!
I don't think one could ask a little casserole to do more.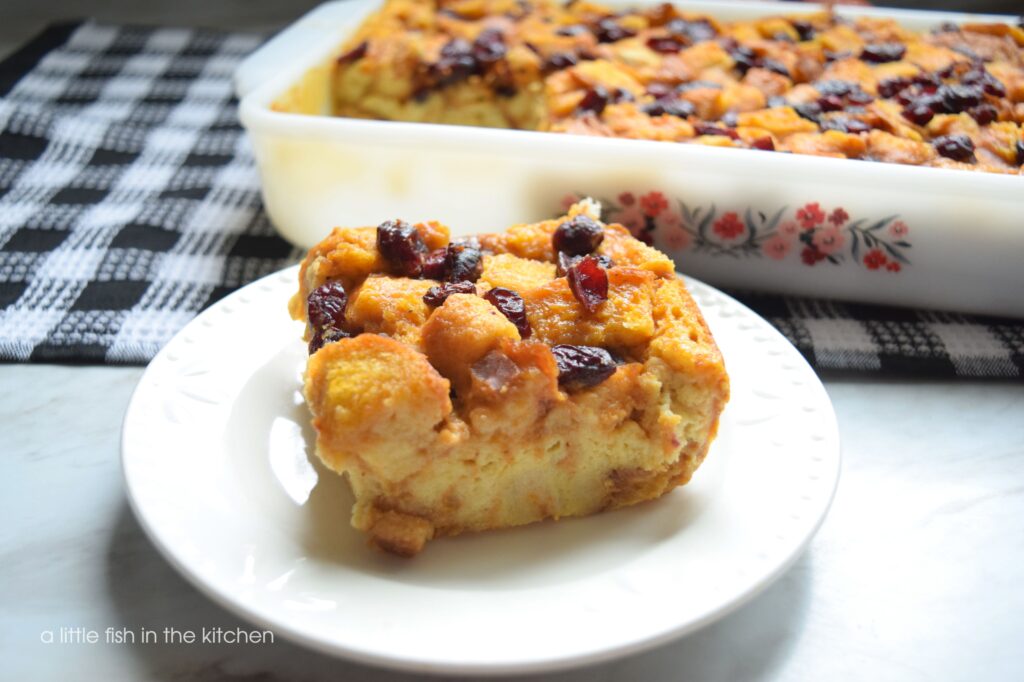 How to make pumpkin cranberry bread pudding
This bread pudding is made by combining good, crusty bread bits with dried cranberries and soaking it all in a ridiculously delicious custard sauce made with eggs, pumpkin puree, milk, half and half, measures of both brown and white sugar, salt, cinnamon, pumpkin pie spice mix, and vanilla extract. Adding in a measure of chopped pecans is also an option, for those that enjoy them.
Next, the custard-soaked bread needs to rest so it can absorb most of the liquid before being baked. The rest time aspect of this recipe is really flexible. If you need it in the oven quickly, let it sit for little as 30 minutes, or you can refrigerate it overnight (up to 8 hours).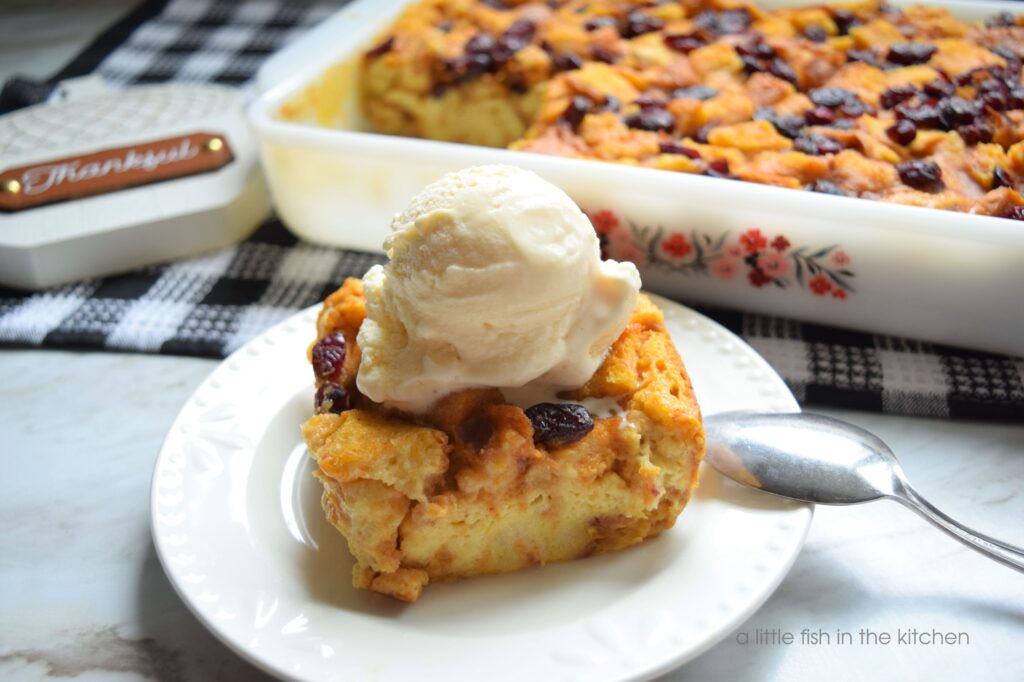 Generally speaking, bread pudding can be a convenient, pre-prepped breakfast (or dessert!) that works for any day of the year. However, as a make-ahead recipe, it's especially useful to free up valuable prep time and counterpace on hectic holiday mornings. It's truly such a time-saver to have a comforting breakfast casserole ready to bake and enjoy!! Just a tiny word of caution: if you want refrigerate this bread overnight and bake it early, just make sure you use a baking dish that can safely go from cold to hot in a hurry, or allow the baking dish to sit out at room temperature for a bit before popping it into a preheated oven. Holiday mornings sans exploding bakeware are almost always preferable!
Also, choose a good crusty bread from your favorite bakery for best results when making this or any bread pudding recipe, for that matter. Regular sandwich bread can work if you're in a pinch, but hearty French bread, brioche, baguettes or sour dough are some of my favorites to use for this comforting dish.
The heartier the bread, the better the bite when it come to bread pudding. Soggy bread pudding is a real bummer.
I hope you enjoy this comforting Pumpkin Cranberry Bread Pudding as much I we do! At which holiday meal will you serve this bread pudding? Or, will you make it for all three??
Happy HalloThanksMas, everybody!! 🧙‍♀️🎃🍂🦃🎄🎅xo – M
Save this recipe on Pinterest!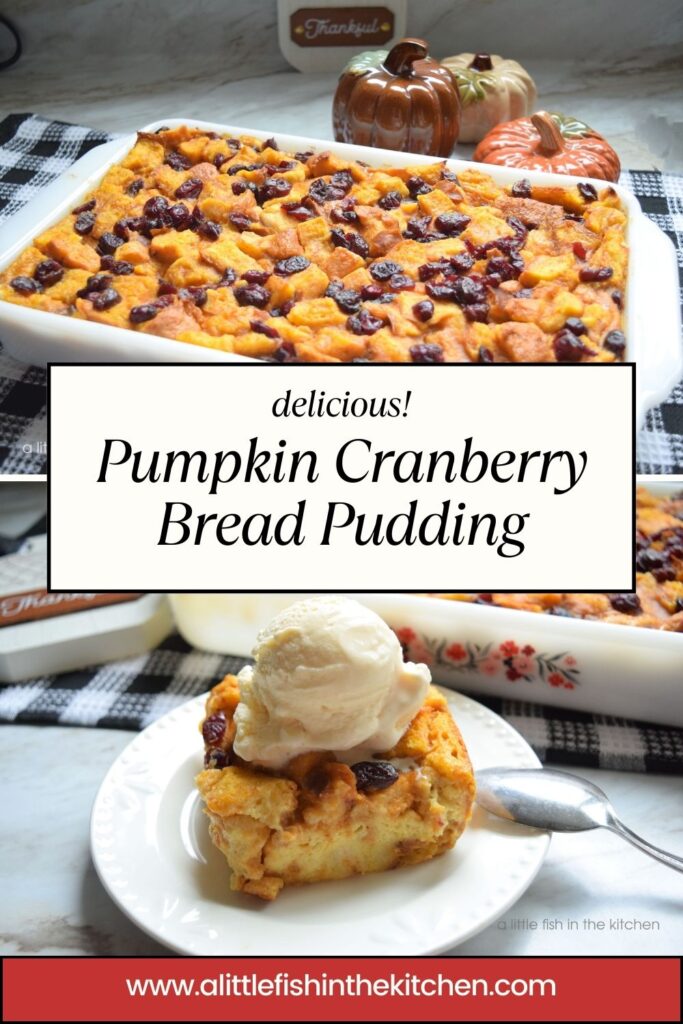 Check out one of my latest cooking videos and subscribe to my YouTube Channel for more easy recipes and live streams!
Enter your email address below to have all of my new posts sent right to your inbox! Subscribe now, for free and never miss a recipe or an update!!
Pumpkin season is here, and we are celebrating our love of pumpkin with #PumpkinWeek hosted by Christie from A Kitchen Hoor's Adventures. All week-long 11 bloggers will be sharing over 30 pumpkin-filled recipes for all your Autumn celebrations, including breakfasts, baked goods, savory pumpkin recipes, desserts, and drinks.
More #PumpkinWeek Recipes Below:
Pumpkin Cranberry Bread Pudding
Course: Dessert, Breakfast
Cuisine: American
Difficulty: Easy
This Pumpkin Cranberry Bread Pudding is a delightfully rustic sweet casserole, and it's perfect for any occasion that pops up between September throught January. This bread pudding is packed with seasonal favorites such as pumpkin, cranberries, warm spice and it bakes up with a firm texture that's bit creamy in the middle! It's sure to be a seasonal favorite!
Ingredients
8 cups (3/4 inch) bread cubes (I use crusty French bread from the supermarket bakery)

3/4 cup dried cranberries

1/2 cup chopped pecans (optional)

1 (15 oz) can pure pumpkin puree or 1-3/4 cup homemade pumpkin puree

6 large eggs

2 cups half and half

1 cup milk (I used 1% milk)

3/4 cup white sugar

1/4 cup light brown sugar

1 teaspoon ground cinnamon

1 teaspoon pumpkin pie spice mix

1/4 teaspoon salt (regular table salt)

1-1/2 teaspoons pure vanilla extract

Optional toppings for individual servings

vanilla ice cream

whipped topping or whipped cream

drizzle of warm maple syrup
Directions
Lightly grease a 9 x 13 inch baking dish with non-stick cooking spray. Spread bread cubes out in an even layer inside the prepared baking dish. Evenly sprinkle the dried cranberries (and pecan pieces, if using them) over the top of the bread cubes. Leave the baking dish uncovered and set it aside.
In a large mixing bowl, beat the eggs. Add in the pumpkin, spices, half and half, milk, sugars, salt, and vanilla extract. Stir or whisk until all ingredients are smooth and well-incorporated.
Pour the liquid custard evenly over the cubed bread mixture in the baking dish. The pan will seem very full of liquid and that's okay, most of it will be absorbed by the bread very quickly. Allow the dish it to rest at room temperature for 30 minutes (*see notes below). While the bread pudding mixture rests, preheat the oven to 350°.
Bake pumpkin cranberry bread pudding for 40-45 minutes or until the edges are lighly golden and the bread pudding looks set. The bread pudding might rise up in the dish while it's baking, don't panic. It's supposed to do this!! It will deflate as it cools.
Transfer dish to a rack and allow it to cool for at least 20 minutes before serving. Serve with vanilla ice cream for dessert or whipped cream or maple syrup for breakfast! Enjoy!
Notes

Need fewer servngs of this recipe? Cut the ingredients in the list in half and bake bread pudding in a 8 x 8 inch baking dish instead.
You can make this recipe the day before and refrigerate it overnight. Be sure to use a baking dish that can safely go from cold to hot temperatures, otherwise your dish could crack. Best practice is to allow the chilled baking dish to sit out on the counter for at least half an hour before transferring it to a hot oven.
Recipe from A Little Fish in the Kitchen blog at www.alittlefishinthekitchen.com. All content is owned by Marcelle G. Bolton. Please contact the author for permission to republish.