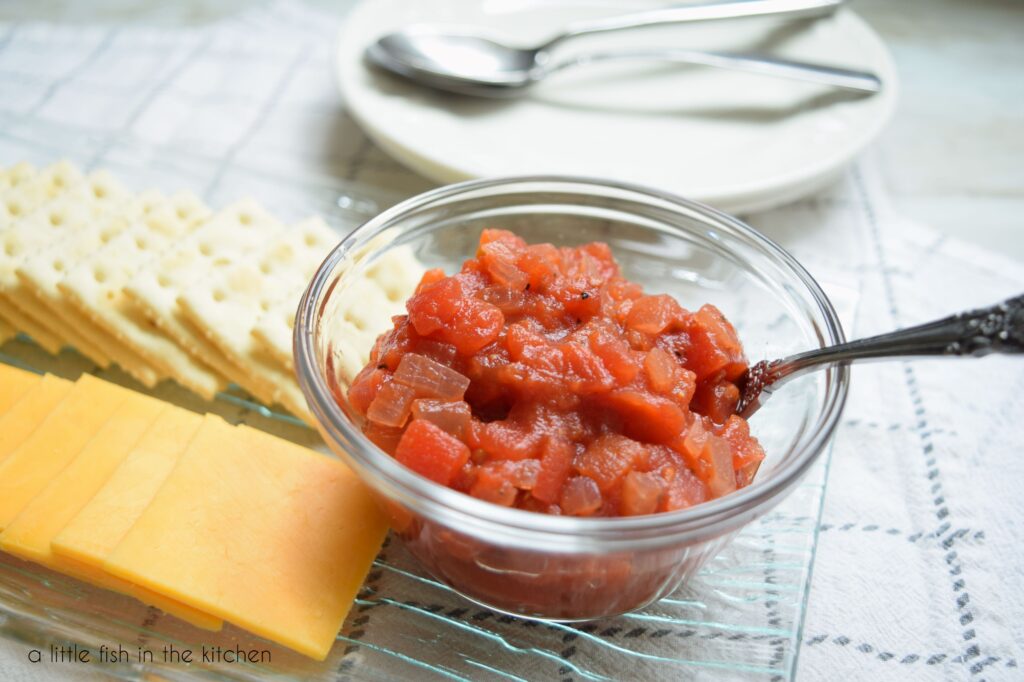 This Easy Tomato Chutney is so flavorful and versatile, it's literally my new favorite condiment for everything!
Guys, I knew I was on to something good with this recipe when it quickly replaced our old stand-bys, barbebue sauce and ketchup with grilled chicken. I've also used this chutney in place of a traditional brown sugar sauce the last few times I've made old-fashioned meatloaf, and it was a delicious twist on a family favorite. The change up was met with rave reviews.
Okay well, I have to be 100% honest here, no one complained about the replacement of the brown sugar sauce except for the nine-year old girl. She complained, alot. But, we're just gonna focus on the very satisfied grown ups for the purpose of this post!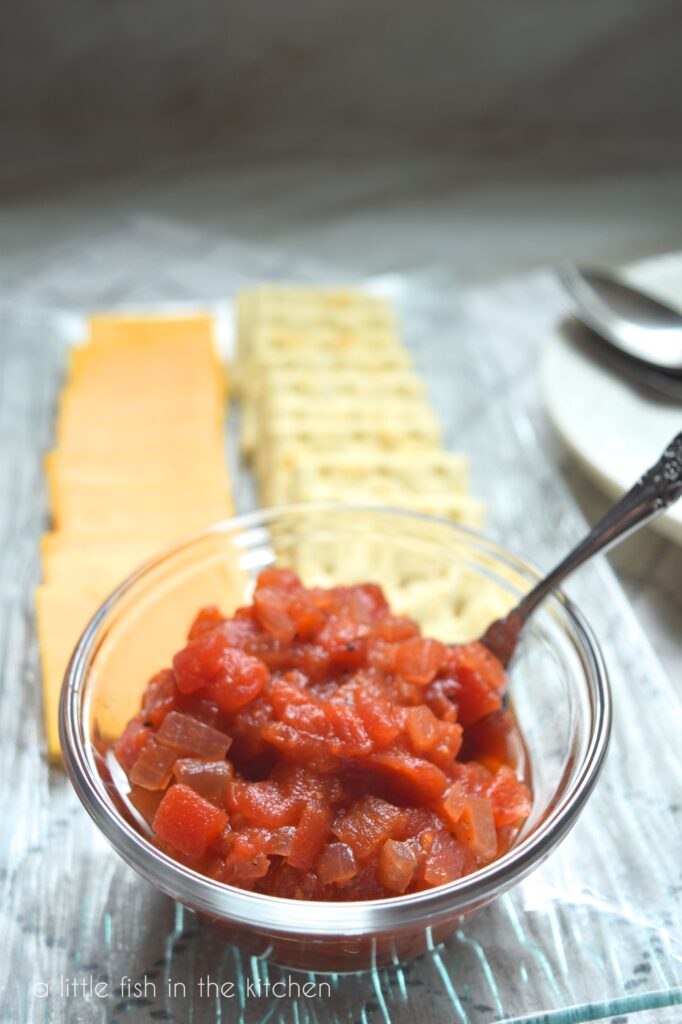 This chutney will pair well with any protein on the planet, however, I must share that my favorite way to eat this stuff is with cheese and crackers! I personally love it with sliced sharp cheddar, but this versatile tomato chutney will work well with many cheeses.
The holidays are nearly here and in my opinion, this Easy Tomato Chutney should be on all the charcuteries boards created in the upcoming weeks… it certainly will be included on ours!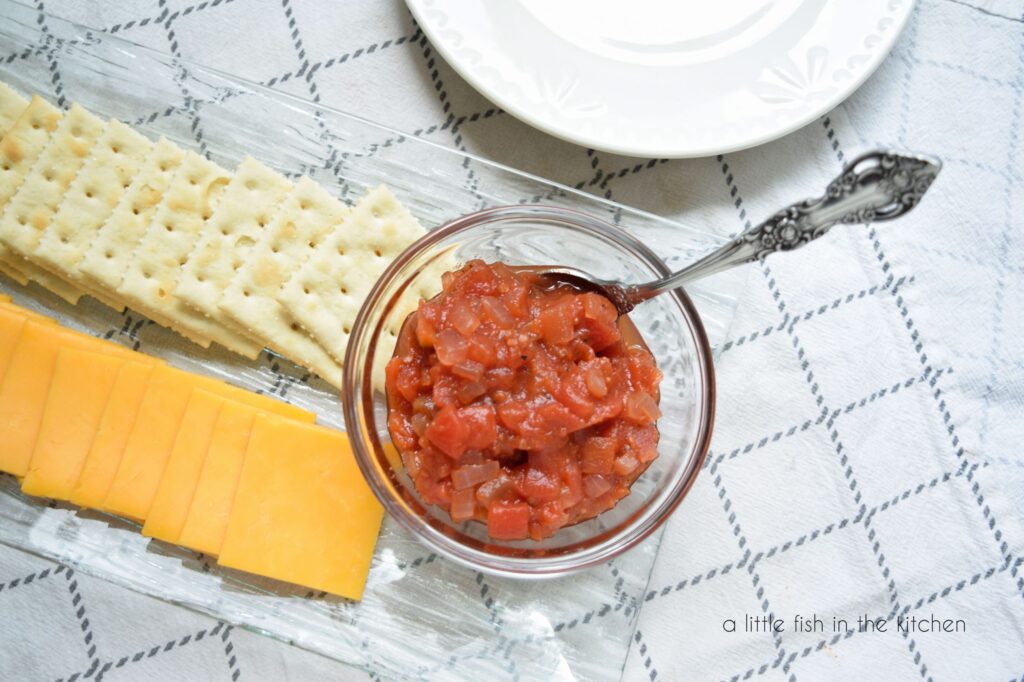 How to make easy tomato chutney.
I use pantry staple ingredients and spices to make this recipe for savory tomato chutney very quick and straightforward. All you will need to make a batch of this goodness for yourself is a can of diced tomatoes, chopped red onion, cinnamon, light brown sugar, red pepper flakes, salt, black pepper, and a bit of apple cider vinegar. Once all of the ingredients are in the sauce pan, it only takes about 20 minutes to have it ready to serve.
Traditionally, the method for making tomato chutney is only slightly more complex and would involve chopping and/or seeding fresh tomatoes, using more exotic sugars, and perhaps the addition of dried fruits such as raisins. I prefer to skip the extra time and expense of using fresh tomatoes and use a quality can of diced tomatoes to make tomato chutney. Also, using canned tomatoes makes it possible for me to whip up a batch of this delicious relish any time I want without having to make a special trip to the store for fresh tomatoes!
I live in the boonies, y'all. and as it turns out I'm a terrible gardener.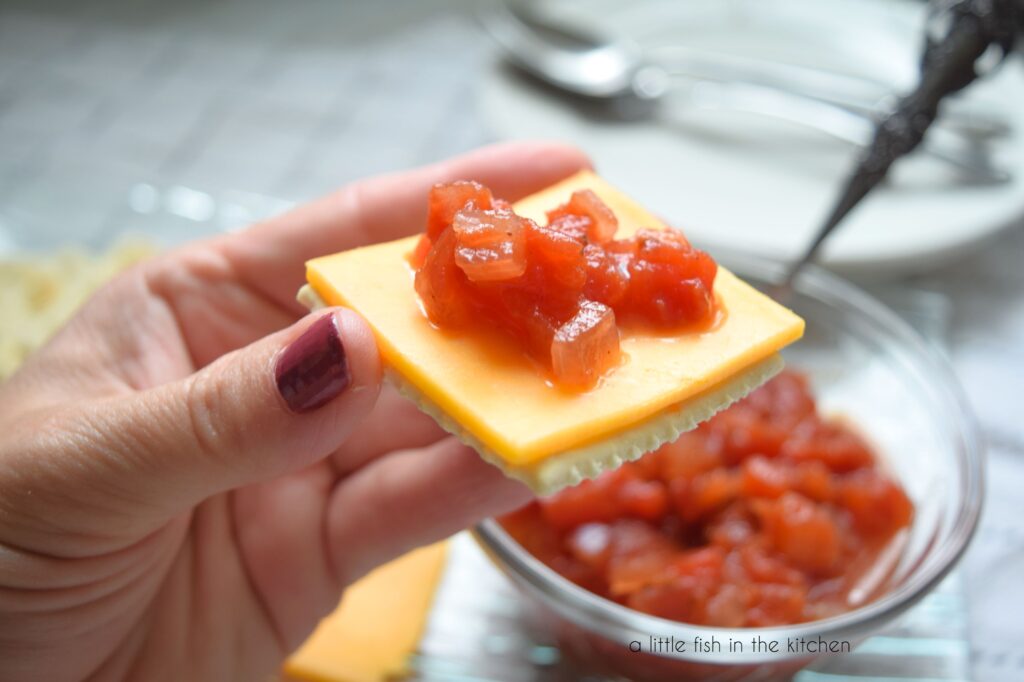 I truly love recipes like this one that are easy enough for everyday enjoyment, but are also delicious enough serve to company! This Easy Tomato Chutney definitely meets that description. This colorful chutney is tangy, rich and just a little bit sweet and I really do think it's a bonus that it's so quick and easy to make.
Everyone deserves a treat without a crazy amount of effort involved to make it sometimes. I hope you all try this uncomplicated, yet amazingly flavorful relish and treat yourself too!
Happy eating, y'all!! xo -M
Pin this recipe!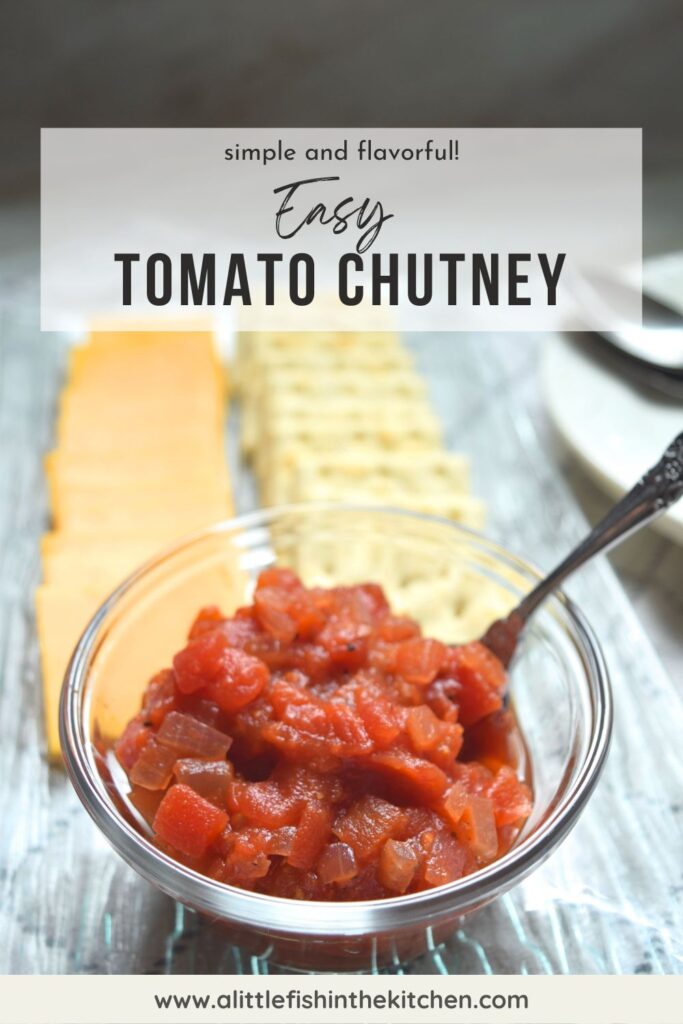 Check out one of my latest videos and subscribe for more recipes and live streams!
Be sure to enter your email address below to have all of my new posts sent straight to your inbox! Subscribing is free! Never miss a recipe or an update, subscribe now!
Easy Tomato Chutney
Course: Sides
Cuisine: Indian
Difficulty: Easy
This flavorful tomato chutney is easy to make using pantry staple ingredients and spices. It's wonderful served as a condiment with grilled or roasted meats or as a complement to a cheese board!
Ingredients
1 (14.5 oz) can of diced tomato, undrained

3 tablespoons finely diced red onion

1/8 teaspoon of salt

1/4 teaspoon ground black pepper

pinch of red pepper flakes (to taste)

generous dash of ground cinnamon

1 heaping tablespoon light brown sugar

1 -2 tablespoons apple cider vinegar (to taste)
Directions
Add all ingredients to a medium-sized sauce pan and bring it to a boil. Reduce heat to medium-low and allow to simmer uncovered, stirring very often.
Simmer for 15-20 minutes or until liquid is reduced and thickened. Transfer sauce pan to a rack to cool.
Chutney is most delicious served warm or room temperature.
Enjoy!
Recipe Video
Notes
Serve this simple chutney to complement grilled or roasted meats, meatloaf, or any number of vegetarian entrees. Easy Tomato Chutney is also a perfect addition to any charcuterie boards or cheese and crackers
Recipe from A Little Fish in the Kitchen www.alittlefishinthekitchen.com. All content is owned by Marcelle G. Bolton. Please contact the author for permission to republish.