Today is the last day of our Holiday Side Dishes sharing event and this is my second recipe! We will be sharing new recipes on Monday, Wednesday and Friday this week!! We hope you find some delicious inspiration for your holiday meals this season! Be sure to check out all the recipes linked below by several other talented food bloggers! Enjoy!
I do believe one of the world's most perfect potato finger foods is served in the form of these adorable little Deviled Potatoes. These bite-sized goodies are flavorful, festive and in my opinion, completely irresistible!
At first glance, these stuffed mini potatoes bare a striking resemblance to their very famous cousins, deviled eggs and some may even be surprised by how much they taste like them too. These make a wonderful menu alternative to deviled eggs at holiday gatherings as well as any other occasions where deviled eggs might typically be served.
Deviled Potatoes are a delicious gluten-free and vegetarian small bite. They can also be an egg-free, vegan side dish or appetizer by using an egg-free, vegan mayonnaise in this recipe. It's really a great recipe to have on stand-by, especially when entertaining anyone with an egg or gluten intolerance or who follows a meatless diet.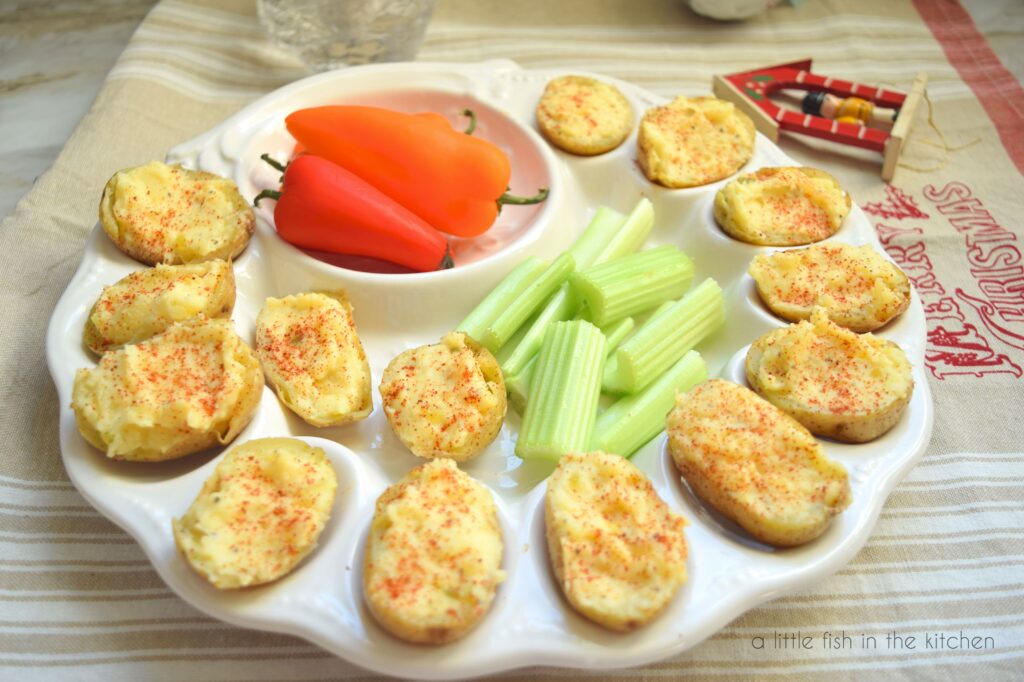 Honestly, they don't have to be an alternative dish, you could serve them in addition to deviled eggs on your relish table. In fact, these little babies just might be the talk of the party as they're such a fun twist on a holiday classic!
This recipe has been in our side dish rotation for some time at my house, so for us it's a bit of an oldie, but a goody. However, once I began excitedly talking to friends and family about this pending recipe post, I swiftly realized how many people I know had never even heard of this dish! I felt as though I had been holding out on everyone when it comes to this cute and quirky potato recipe. My bad.
In all of those conversations each person asked me the same questions (nearly verbatim!), "Did you say deviled potato? hmmmm. What's a deviled potato?!" So, I offered a very no-fuss answer and got right to the point: deviled potatoes are creamy potato salad-stuffed mini potatoes! Yes, you did read that right.
Now, you may not think you need a potato salad-stuffed potato in your life, but I can confidently assure you that you do!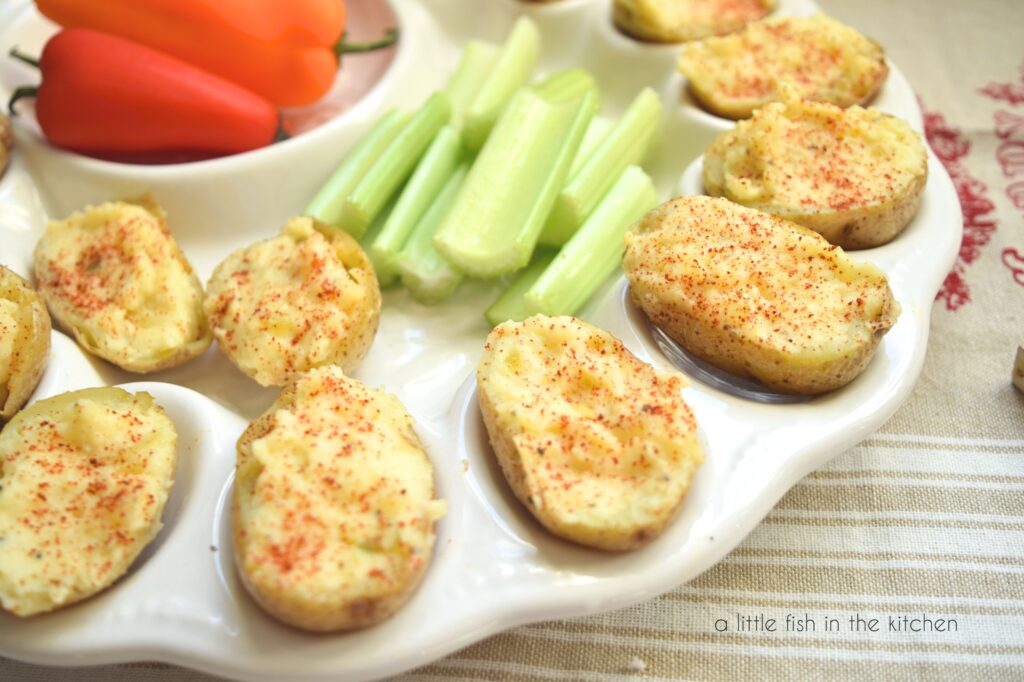 How to make deviled potatoes
Although a little bit of prepwork and time is required to make deviled potates, it is really a very straightforward recipe. Petite potatoes are coated in oil and baked until tender. The potato pulp is then carefully removed leaving the potato skins or shells intact. The pulp is then mashed and mixed with condiments and spices that are traditionally used in creamy potato salad such as mayo, sweet pickle relish, mustard, salt and pepper. In this recipe, a small measure of apple cider vinegar, hot sauce and smoked paprika are also added for a bit of flavorful pizazz.
If you're not a fan of any spice or condiment used here, this recipe is very forgiving and you can substitute, or add and substract ingredients to the filling as you prefer. For example, you could add in a bit of Asian flair and extra spice to these potatoes by mixing in some finely chopped jalapeno and a drizzle of sriracha! (Note to self…to do this next time!)
If you are short on time, you can do a little bit of the prep work ahead of time to speed up the assembly process for this recipe. The baby potatoes can be roasted the day before and refrigerated until you are ready to use them. However, if you choose to roast them ahead of time, do take a few minutes to crisp up the potato skins in your air fyer or in the oven prior to assembling the potatoes. A nice, crisp potato shell really adds something special to these Deviled Potatoes and they won't be nearly as impressive as they should be with soggy, cold skins.
These can be served chilled, but I do think Deviled Potatoes taste their best when served slightly warmed or at room temperature.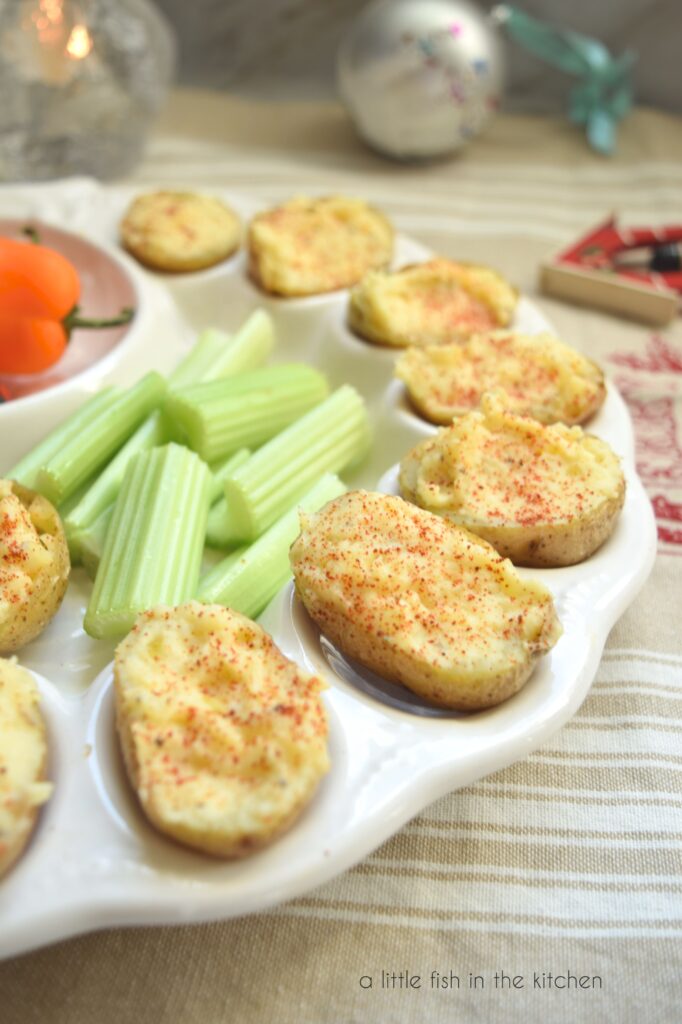 I also think these little babies sure look sharp when served on a classic deviled egg plate, in fact they might even look a little bit fancy. But, honestly this recipe is easy enough to prepare on any weeknight when a little change of pace or joy is needed. Serve them as a side dish and they will pair up nice with any protein, however these can also be a meatless main dish that's made a meal when served with a bowl of soup or a crisp, green salad!
Deviled potatoes are one of my absolute favorite finger foods, and I think there's a pretty good chance they will be one of yours too. There are just so many reasons to love this recipe! How will you serve them???
Happy eating, y'all and remember sharing is caring!! ⭐🎄xo -M
Share this recipe on Pinterest!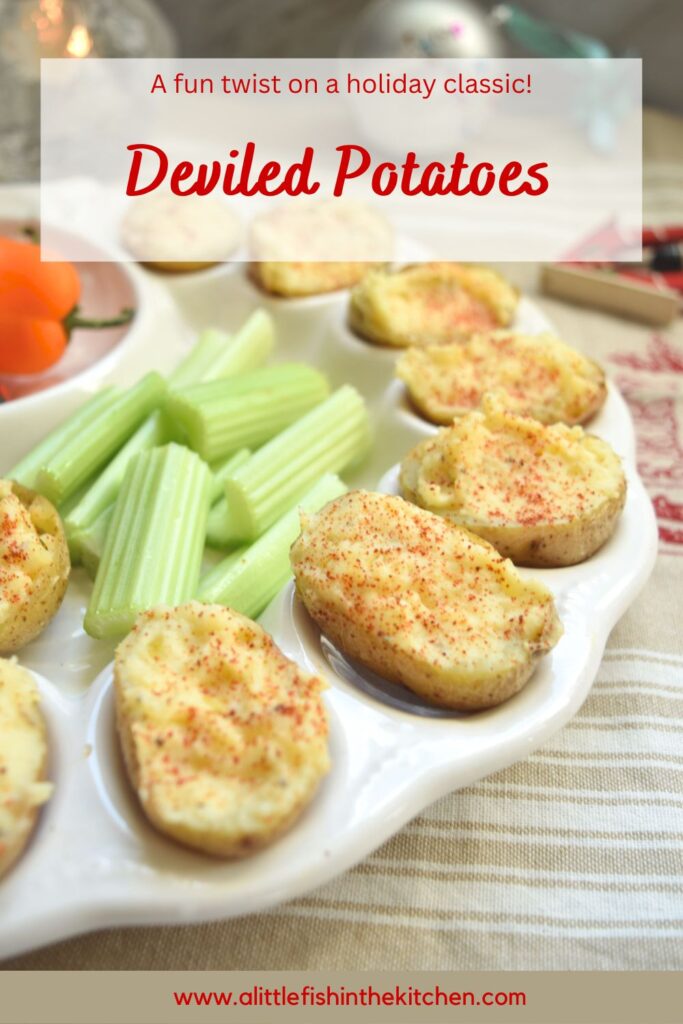 Check out one of my latest cooking videos and subscribe to my You Tube channel for more recipes and live streams!
Be sure to enter your email address below to have all of my new posts sent straight to your inbox! Subscribing is free! Never miss a recipe or an update, subscribe now!
Welcome to Holiday Side Dish Week 2022 hosted by Heather from Hezzi-D's Books and Cooks. This year we have over 45 side dishes to help you plan your holiday meals.
Friday Holiday Side Dish Recipes:
Deviled Potatoes
Course: Appetizers, Sides
Cuisine: American
Difficulty: Easy
These flavorful stuffed mini-potatoes are perfect to serve for any occasion as appetizers or as a side dish. This recipe makes 30 Deviled Potatoes and assumes three per person for ten servings.
Ingredients
15 Gold Baby Potatoes (choose the most oval-shaped potatoes)

1 tablespoon olive oil

1/4-1/2 teaspoon salt (to taste)

1/4 cup reduced fat or regular mayonnaise

2 tablespoons sweet pickle relish

1 teaspoon apple cider vinegar

1 teaspoon spicy brown mustard

1/4-1/2 teaspoon ground black pepper (to taste)

1/4 teaspoon salt

2-3 dashes of hot sauce (I used Tabasco brand)

1/2 – 1 teaspoon of paprika or smoked paprika, for garnish if desired
Directions
Preheat oven to 350°. Place the whole baby potatoes in a large bowl and drizzle with the oil. Lightly sprinkle the salt over the potatoes and toss them to coat evenly. Transfer prepared potatoes to a lightly greased baking sheet and cover the baking pan with foil.
Bake for 30 minutes and remove baking sheet from the oven and remove the foil. Return the potatoes to the oven, uncovered and bake for an addition 15 – 20 minutes. You can insert a toothpick into the very top of the mini potatoes to check for doneness (the insides need to be very tender so they can be mashed easily, but be careful not to damage the shells/skins too much) Once potatoes are tender, transfer the baking pan to a rack and allow potatoes to cool down enough to be handled.
Slice each potato in half lengthwise. Using a melon baller or a 1/4 teaspoon measuring spoon, gently scoop out the cooked insides being careful to leave the potato skins in tact. Transfer potato pulp to a medium bowl. Mash the cooked potato pulp with a potato masher or a fork until mostly smooth.
Add mayo, relish, vinegar, mustard, salt, pepper, and hot sauce to the bowl with the mashed potato. Mix the ingredients until well combined. Taste and adjust seasoning to your preference. Fill potato shells with spoonfuls of the potato mixture.
If desired, lightly sprinkle the Deviled Potates with smoked or regular paprika to garnish. Serve warm or room temperature. Enjoy!
Notes
Recipe from A Little Fish in the Kitchen www.alittlefishinthekitchen.com. All content is owned by Marcelle G. Bolton. Please contact the author for permission to republish.