Welcome to #ChristmasSweetsWeek!! We have 12 bloggers sharing over 30 recipes to satisfy your sweet tooth cravings this holiday season. There are some giftable recipes, breakfast recipes, and delicious dessert recipes. Make sure to follow #ChristmasSweetsWeek on social media to see all of our delicious sweets.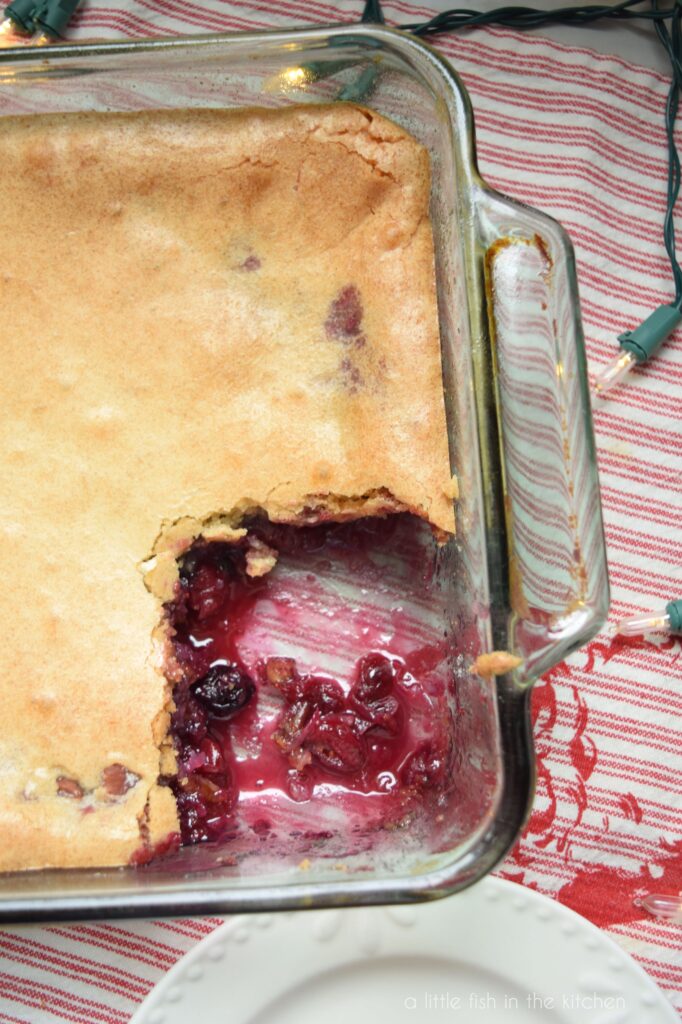 When it comes to fresh cranberries, there are only a handful of recipes that I make regularly using them. Like most people, I start to think about cooking with fresh cranberries when they come available at the grocery store during the months of autumn and in to December. As they are a very Christmas-y ingredient, I love to make homemade cranberry sauce, a spiced Christmas jam and cranberry orange scones during the holiday season. I haven't shared any of my recipes for those treats here on the blog just yet, but I have every intention of correcting this oversight very soon!
However, this delicious Cranberry Christmas Cobbler is a brand new addition to my short list of favorite recipes using fresh cranberries, and I wasn't about to waste any time sharing about it! Nope, not wasting any time at all because, y'all I honestly think this easy dessert is absolutely rave worthy.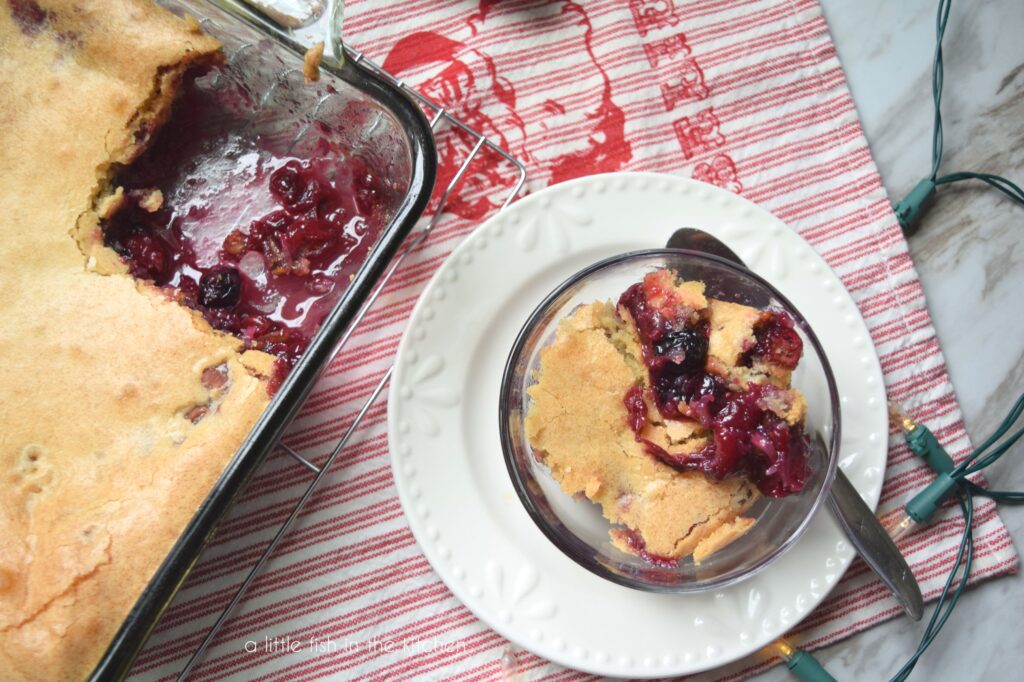 How to make cranberry Christmas cobbler
This recipe for Cranberry Christmas Cobbler has two delicious parts: a flavorful fruit filling and a flaky, cake-like topping. The star of the colorful fruit filling is a measure of tart, red cranberries that are combined with sugar, blueberries, sweetened coconut, and toasted nuts. The simple scratch-made cobbler topping is made with self-rising flour, egg, oil, sugar, and vanilla extract.
Chopping the cranberries is a little bit labor intensive, but otherwise this recipe is very quick and easy to put together. The combination of cranberries and blueberries in this filling creates a perfect balance of sweet-tart flavors and the coconut and toasted nuts add an earthy richness and some wonderful texture to every bite.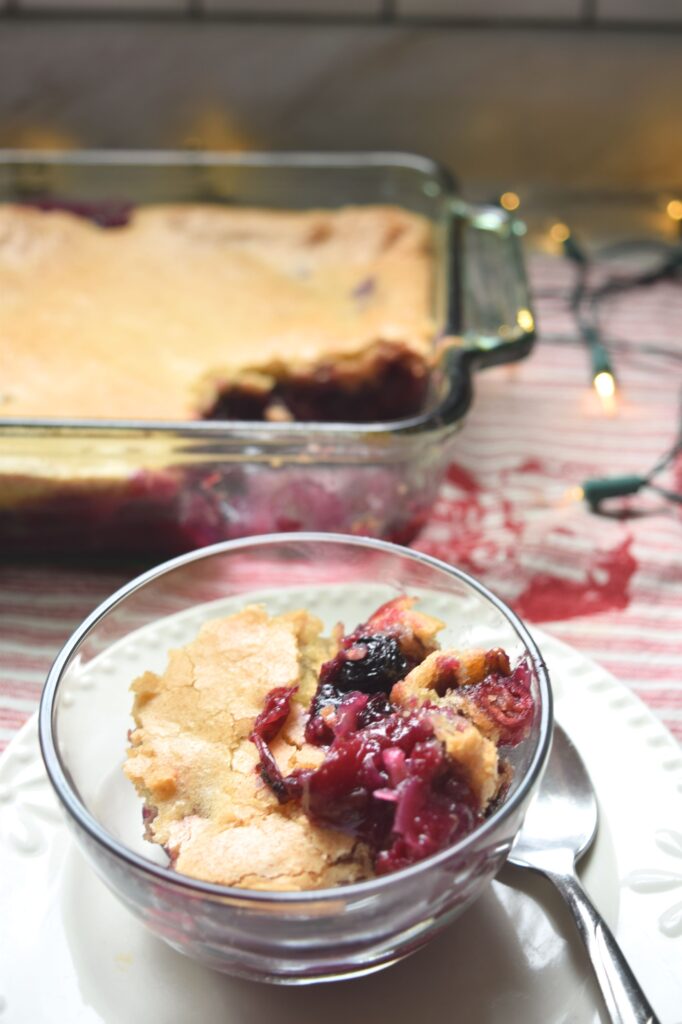 It's hard to believe I'm actually typing these words, but no warm spice is needed in this recipe. I've made this cobbler a few times for taste-testing purposes, but only once did I add in a measure of cinnamon. Y'all, I adore all things cinnamon, however this is one recipe I think is better without it. Flavor-wise, this cobbler is right where it needs to be, in my opinion.
In fact, this cobbler is crazy delicious… and with the deep red color of the filling it's SO pretty.
Cranberries are good for much more than just sauce; this Cranberry Christmas Cobbler is definitely a delicious way to celebrate the season and showcase this beautiful fruit. I'm certain this recipe is destined to be an annual holiday treat at our house from this year forward.
We mostly enjoyed eating this cobbler just as it is, but a scoop of vanilla ice cream or a healthy dollop of whipped cream would add even more pizzazz to a serving of this dessert!
Christmas Sweets Week 2022 is here and I'm so fortunate to be sharing festive holiday-inspired recipes with some fantastic food bloggers this week! Be sure to check out our full list of delicious recipes below!
Pin this recipe!!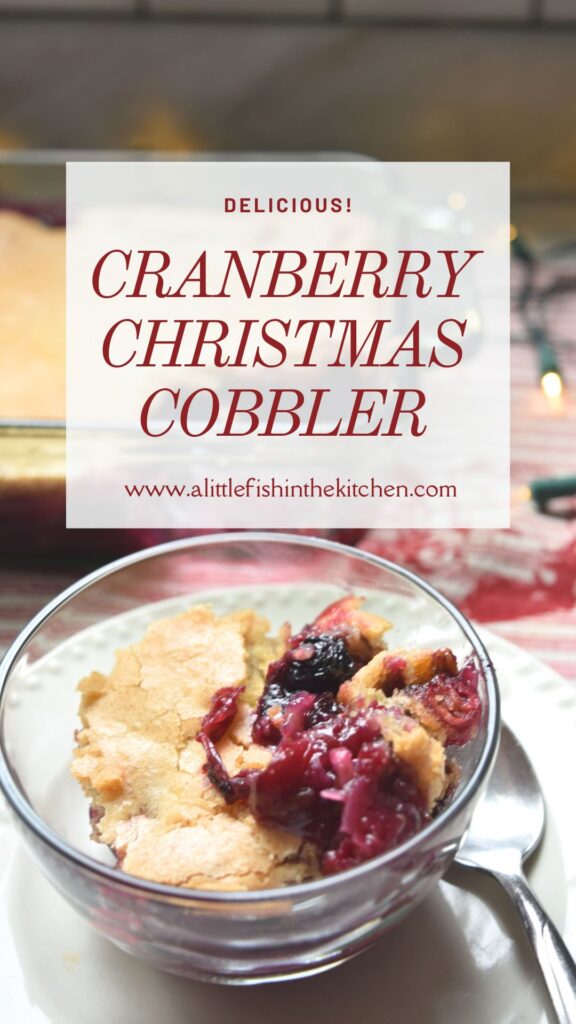 Check out one of my recent recipe videos and subscribe to my You Tube channel for more recipes and live streams!
Be sure to enter your email address below to have all of my new posts sent straight to your inbox! Subscribing is free! Never miss a recipe or an update, subscribe now!
.
Monday's Christmas Sweets Recipes
We will be pinning all recipes to the
#ChristmasSweeetsWeek
Pinterest board. Follow it to see all the delicious recipes!
Cranberry Christmas Cobbler
Course: Dessert, Sides
Difficulty: Easy
This Cranberry Christmas Cobbler is tangy, sweet and festively colorful! It will make an unexpected and delicious addition to your holiday dessert table.
Ingredients
For the fruit filling

3 cups fresh cranberries, coarsely chopped (*see notes below)

1/2 cup fresh blueberries (*see notes below)

2 tablespoons all-purpose flour

1/2 cup coarsely chopped toasted pecans or sliced almonds

1/2 cup sweetened coconut

1 cup sugar

For the cobbler crust

1/2 cup sugar

1/ large egg

1/2 teaspoon vanilla extract

1/3 vegetable or canola oil

1/2 cup self-rising flour
Directions
Pre-heat oven to 325° Combine chopped cranberries and blueberries in lightly greased 8 x 8 inch baking dish. Sprinkle all-purpose flour over fruit and gently toss to coat everything evenly with the flour. In a separate small bowl, combine the coconut and nuts and then evenly sprinkle the fruit mixture. As evenly as possible, sprinkle 1 cup of sugar right over the top of the fruit/coconut filling.
In a medium-size bowl, combine 1/2 cup sugar, egg. vanilla extract and oil. Mix with a whisk or a hand-held mixer until ingredients are fluffy (about 2 minutes). Add the self-rising flour into the bowl with the egg mixture. Stir until ingredients are just combined and a loose batter forms.
Evenly pour batter over the cranberry/coconut filling and gently spread it over the top with with a silicon spatula, if necessary. Bake cranberry cobbler for 50 minutes to 1 hour or until the top of the cobbler is golden brown. Allow cobbler to cool completely on a rack before serving.
Enjoy! Store any leftovers in the refrigator for up to 4 days.
Notes
Frozen cranberries and blueberries can be used in place of fresh. However, for best results, the fruit should be completely thawed and drained on paper towels to remove excessive moisture before using it in this recipe.
Recipe from A Little Fish in the Kitchen www.alittlefishinthekitchen.com. All content is owned by Marcelle G. Bolton. Please contact the author for permission to republish.