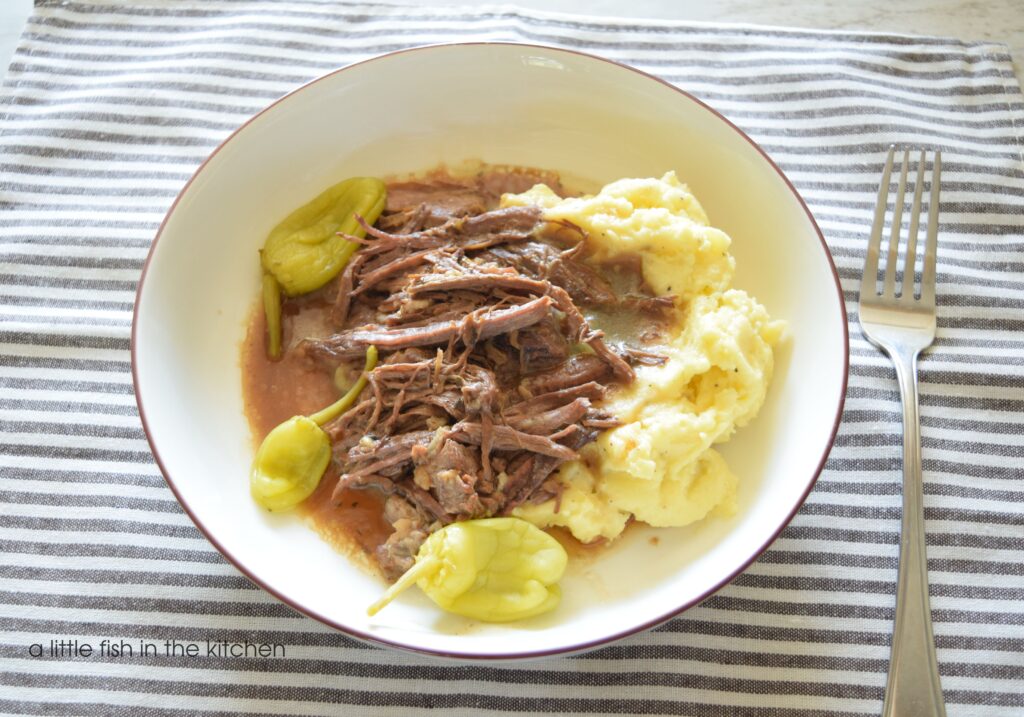 There's a good chance that the brilliant reputation of this recipe precedes my post about it because it's been around a while. Scrumptious-looking Pinterest Pins for Mississippi Pot Roast have been popping up in my feed for years (not sarcasm, seriously…years!! 😆) and many of my food blogging friends have written all about it before. However, I don't know why, but I just didn't feel compelled to try it.
Folks, I was really missing out. As usual, I'm late to the trendy recipe party (a mere 15 years late, but who's counting, right?), but I'm so glad I finally arrived because this Slow Cooker Mississippi Pot Roast is absolutely delicious!!
I finally made this for my family for the first time about 6 months ago and it was an instant smash hit with everyone. I have made it several times since then, and the love we have for this hearty, comforting dish has not faded one little bitty bit.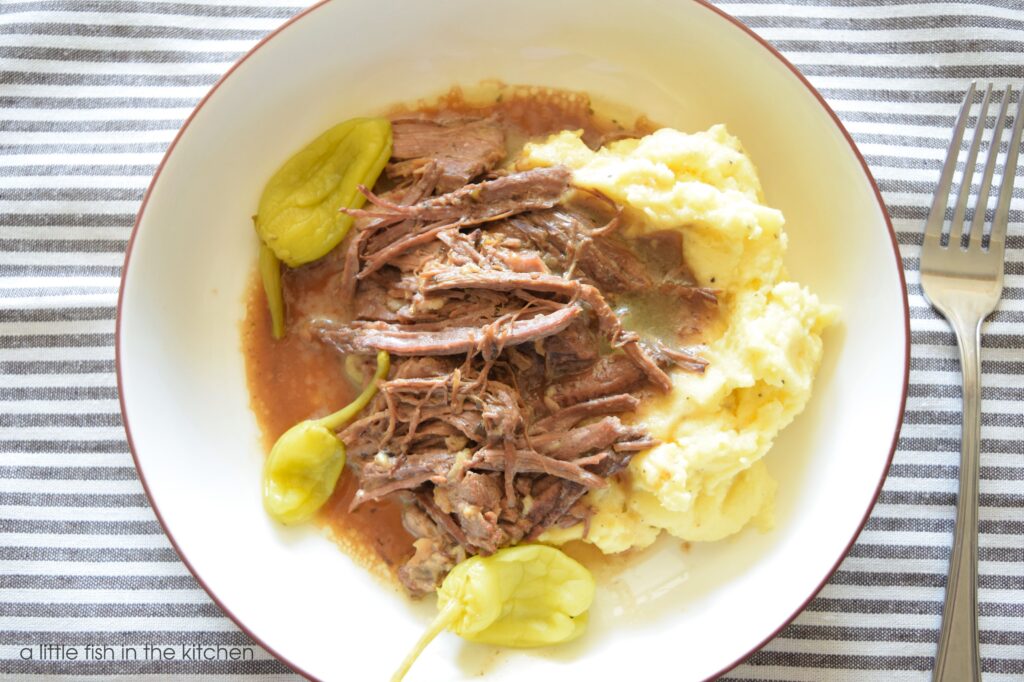 How to make a Mississippi Pot Roast
A Mississippi Pot Roast is made with a combination of ingredients that I doubt I would have ever put together on my own, but boy howdy, does this simple recipe work! The most common ingredients used to make this recipe are a beef shoulder roast (2-4 pounds), whole pepperoncini peppers, dry au jus gravy mix, dry ranch dressing mix, and butter.
In my recipe for Slow Cooker Mississippi Pot Roast, I add one cup of water and a bit of juice from the pepper jar into the mix. Many recipes for this dish do not add water, but I prefer to add it because I feel the gravy is just a bit too salty without it. I also like to add a small portion of juice from the pepper jar in to the pot. I think this little twist really adds a nice pop of extra tang and flavor.
A Mississippi Pot Roast is best cooked low and slow to allow for both the rich flavors in the gravy to marry and for the meat to become very tender as it simmers. Also, by the time this roast is all done, it's swimming in a mouthwatering pool of gravy, so it's best to serve this dish along side a large bowl of hot, buttered rice or mashed potatoes to help sop up the gravy goodness. And, it's just my opinion, of course, but I believe that serving a steamed green vegetable, and some dinner rolls on the side will round this meal out to comfort food perfection!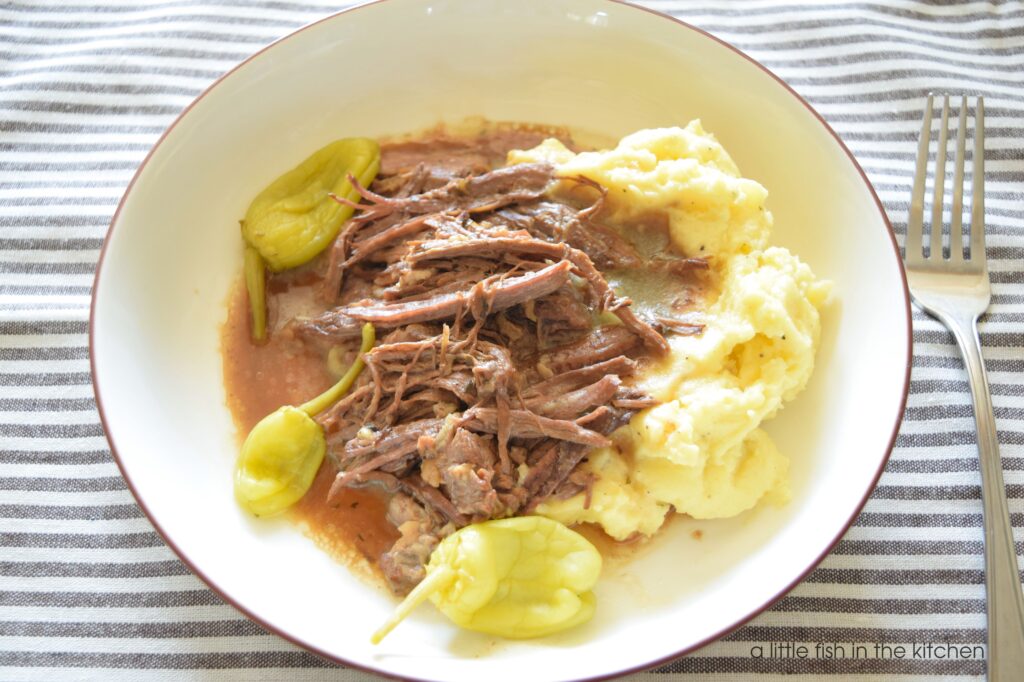 If you are a pot roast fan, I can't recommend this comforting recipe for Slow Cooker Mississippi Pot Roast enough. There's seriously nothing not to love about this dish: it's easy to make, feeds a crowd, it's zesty and super comforting. In fact, the only thing I regret about making this recipe is how long it took me to jump on the fan wagon!!
This ultra-flavorful slow cooker supper is perfect for a family weeknight meal or for Sunday dinner company. Best of all, your slow cooker (or multi-function pressure cooker, like mine) does all of the hard work, that's just one more reason this Mississippi Pot Roast a true treat for everyone!
Happy eating, my friends! – M🍲 Who else is so ready for fall flavors this year?? 🍂🧡
Be sure to share this with your friends and family on Pinterest!!
Check out on of my latest videos and subscribe to my YouTube channel for more recipe and live streams!
Enter your email below to have all of my new posts sent right to your inbox! It's a free service!! Subscribe now so you'll never miss a recipe or an update!
Mississippi Pot Roast
Course: Dinner
Cuisine: American
Difficulty: Easy
This Slow Cooker Mississippi pot roast is loaded with rich flavors and is a comforting supper any time of the year! Serve with mashed potatoes or rice and a green vegetable.
Ingredients
1 (1 oz) package dry Ranch dressing mix

1 (1 oz) packet dry Au Ju gravy mix

Olive oil cooking spray

1 (2-4 lb) beef chuck roast

3 tablespoons juice from the pepperoncini pepper jar

1 cup water

8 whole pepperoncini peppers

1/2 (4 tablespoons) stick salted butter
Directions
In a small bowl, mix au jus and ranch dressing seasoning mixes together and set the bowl aside. Spray your slow cooker crock generously with non-stick cooking spray.
Heat a large skillet or Dutch oven and spray generously with non-stick cooking spray. Brown the beef roast on all sides and transfer to the prepared slow cooker crock (**see notes below)
Sprinkle 1/4 (ish) cup of the season mixture onto the exposed side of the roast and then flip it over and add the rest of the seasoning mixture to the crock. Add the water, juice from the pepper jar, peppers and finally the butter to the crock. (See cooking video below for a detailed cooking tutorial for this recipe)
Cover and let cook for at least four hours, but it can simmer as long as 6 hours, if necessary. I like to flip the roast at least once during the cook time, but it's not a necessary step.
Shred the roast slighty with forks and return the meat to the crock.
Serve hot and enjoy!
Recipe Video
Notes
**If using a multifunction pressure cooker (i.e. Instant Pot or Power Cooker, etc.), just use the appliance's "brown function" to brown the roast and then proceed on to step 3 in the recipe.
Recipe as published on A Little Fish in the Kitchen at www.alittlefishinthekitchen.com. All content is owned by Marcelle G. Bolton. Please contact the author for permission to republish.