This post is sponsored in conjunction with #BBQWeek. The sponsors, Rainier Foods and Intensity Academy generously provided samples to participants to aid in the creation of the #BBQWeek recipes and prize packages to give away to the readers. However, all opinions are mine alone.
Welcome to the third annual #BBQWeek hosted by A Kitchen Hoor's Adventures. We are excited to have 15 bloggers sharing over 50 recipes this week as we head toward grilling season. The amazing sponsors have donated some great prizes for the #BBQWeek giveaway. The giveaway is below, but make sure to read about the prize packages and our generous sponsors!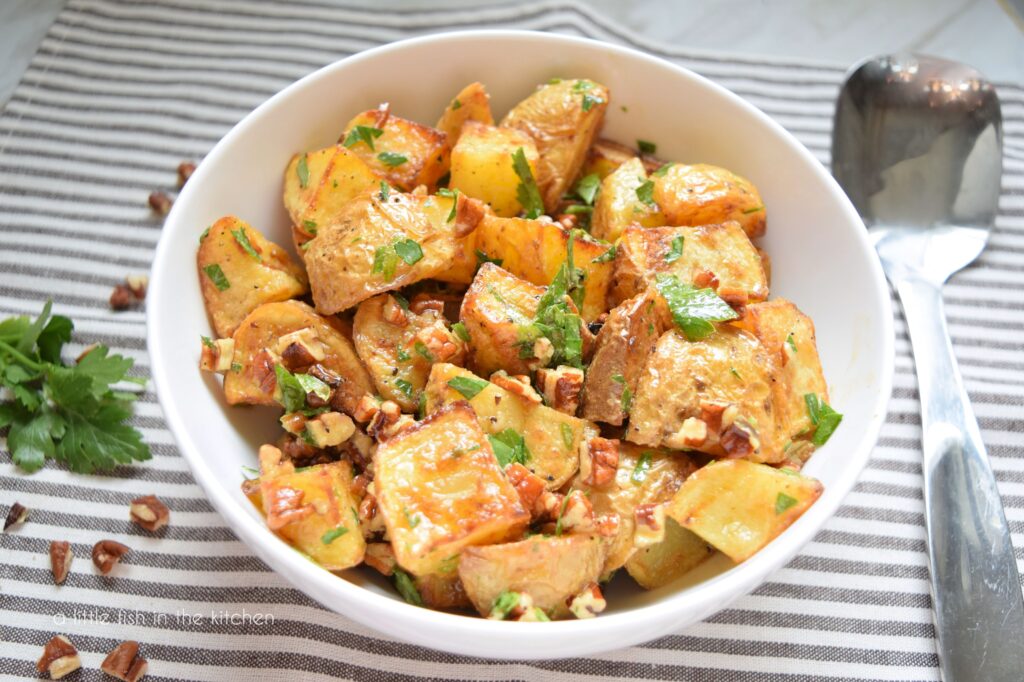 Okay, y'all I'm not gonna lie, when this Texas girl goes to a barbecue, I'm really just there for the side dishes!! Yes, you read that right! I'm not a huge meat eater so for me it's usually about the sides and desserts when I go to a bbq and I'm always hoping that the pot luck attendees have brought their side dish A-game! I look forward to the classic sides like baked beans, charro beans, macaroni and cheese as well as homestyle potato salads. I honestly I never thought another dish could turn my affection away from a creamy potato salad, but then I discovered roasted potato salads!
This Lemon-Garlic Roasted Potato Salad is a tasty little number I've added to my side dish rotation recently, and it was an instant sensation with my meat-atarian husband. It's very light, yet packed with bright flavors as it's dressed with a zesty, homemade lemon-garlic vinaigrette.
It has become one of my absolute favorite side dishes to accompany anything from the grill.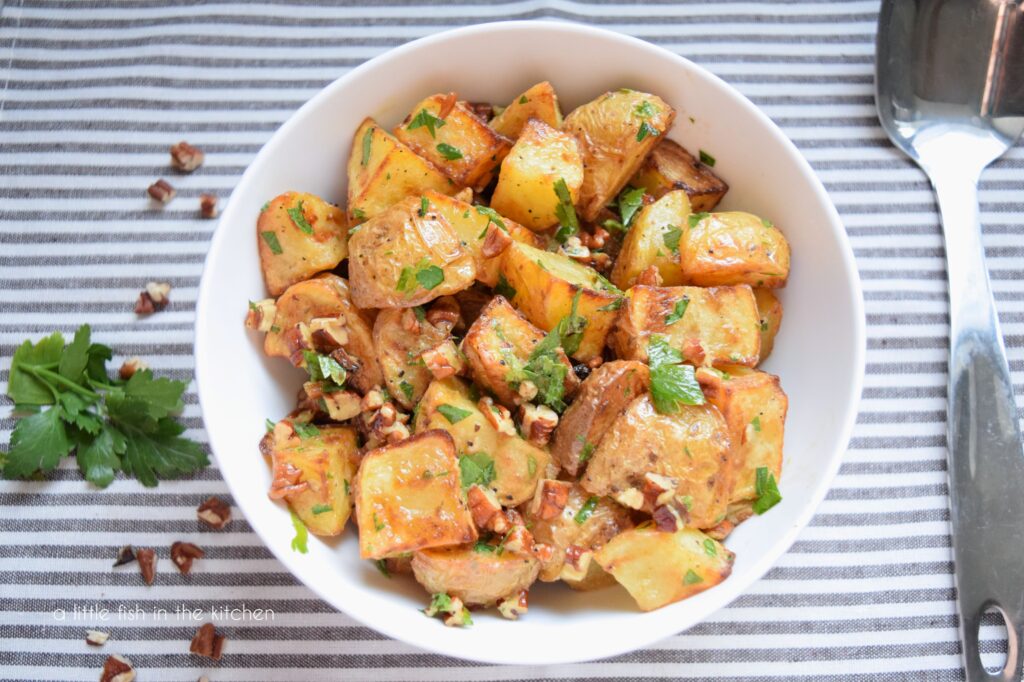 How to make lemon-garlic roasted potato salad
Earthy Yukon gold potatoes are lightly seasoned, roasted until crisp and then tossed with toasted pecans, fresh Italian parsley and a zesty lemon-garlic vinaigrette. The potatoes can be roasted in the oven, but more often I roast them in the basket of my air fryer so I don't have to heat up my kitchen.
This roasted potato salad is versatile and it's a wonderful match for any protein from eggs to seafood to steak! It's also delicious served warm or chilled so it can be conveniently made ahead to be served at a later time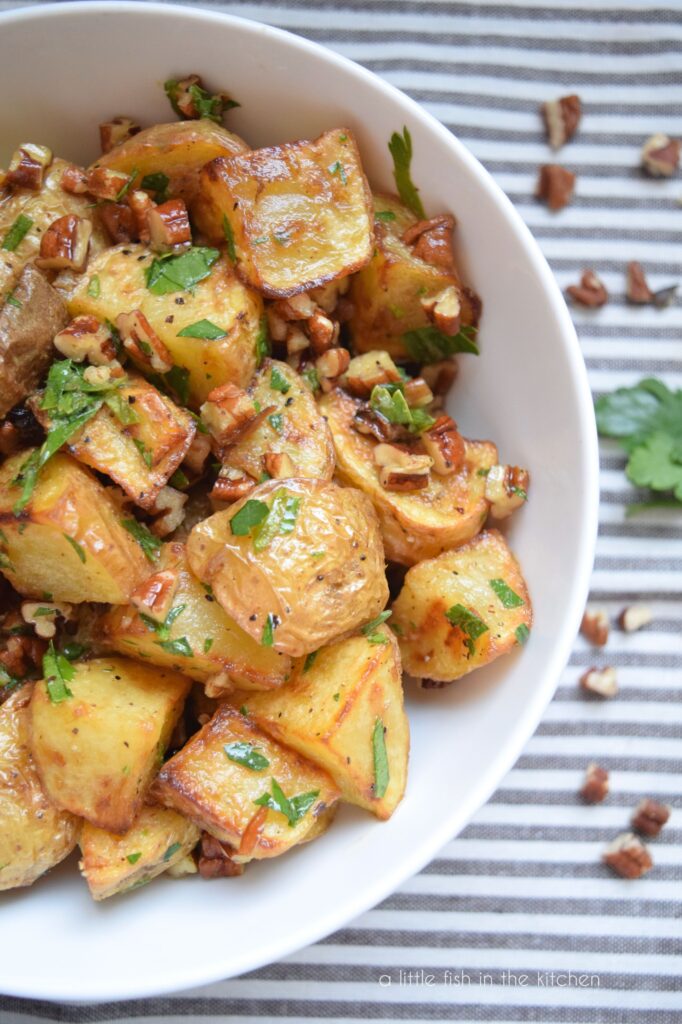 If you've been looking for a way to shake up your barbecue side dish repertoire, a serving bowl full of this no-fuss lemon-garlic roasted potato salad will definitely perk up your buffet table!
I hope you enjoy the recipe as much as we do! -M
Please keep scrolling to check out more BBQ Week giveaway details and more #BBQWeek recipes from some talented bloggers!!
Please check out one of my latest cooking videos and subscribe to my You Tube channel for even more recipes and live streams!
Don't forget to share this recipe on Pinterest!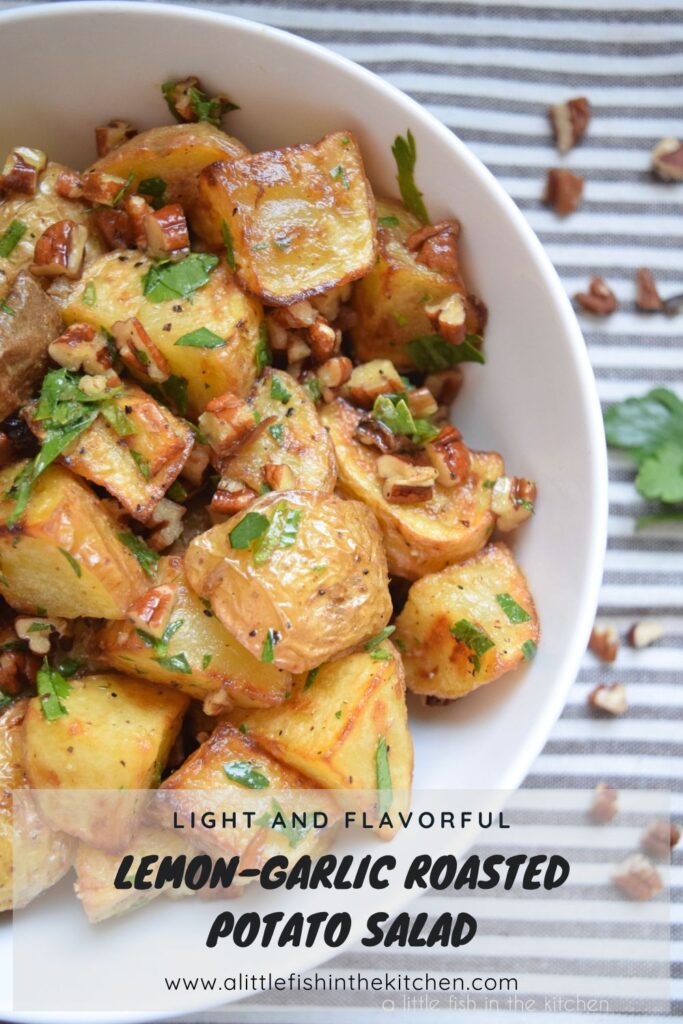 Please enter your email address below to have all of my new posts sent right to your inbox! Subscribe now and never miss a recipe or an update!
Lemon-Garlic Roasted Potato Salad
Course: lunch, dinner
Cuisine: American
Difficulty: Easy
This flavorful, Lemon-Garlic Roasted Potato Salad is a tasty alternative to traditional, creamy potato salad! We think it's the perfect side dish for roasted meats, sandwiches or anything hot off the grill.
Ingredients
For the lemon-garlic dressing

1/3 cup extra virgin olive oil

2-3 tablespoons lemon juice (to taste)

1 small cloves garlic, finely minced

1/2 – 1 tablespoon Dijon mustard (to taste)

1/2 teaspoon salt

1/4 teaspoon ground black pepper

For the potato salad

1-1/2 pounds Yukon gold potatoes, cut into 1.5 inch chunks or quarters


2 tablespoons olive oil

salt and pepper

1/3 cup toasted pecans, coarsely chopped

2-3 tablespoons fresh Italian parsley, coarsely chopped
Directions
Make the dressing. Combine the olive oil, lemon juice, garlic, mustard, salt and pepper in a mason jar and stir. Secure the lid and ring onto the jar and shake dressing to mix thoroughly. Set dressing aside and allow it to sit for at least 30 minutes before using.
Place cut potatoes in a large mixing bowl and coat with 2 tablespoons of olive oil. Lightly season them salt and pepper.
Spray the basket of an air fryer with non-stick cooking spray. Transfer the prepared potatoes to the basket, just covering the bottom of the basket with potato pieces. Don't overcrowd the basket. (**For instructions on how to roast these potatoes in the oven, please see notes or watch the full recipe video below).
Roast potatoes in the air fryer at 390° for 10 minutes or until the potatoes are golden brown and look done. Be sure to stop and shake or stir the potatoes at the 5 minutes cooking mark to ensure even cooking and color. Depending on the size of your air fryer, you may have to roast the potatoes in two or more batches.
Return roasted potatoes to the large mixing bowl. Toss with the toasted pecan pieces, herbs and the lemon-garlic dressing.
This potato salad is tasty served warm or chilled, however we really love it when it's slightly warmed. Enjoy!
Recipe Video
Notes
Recipe from A Little Fish in the Kitchen www.alittlefishinthekitchen.com. All content is owned by Marcelle G. Bolton. Please contact the author for permission to republish.
Monday #BBQWeek Recipes
Starters and Sides
Main Dishes
Let me introduce you to some amazing companies and products from Intensity Academy and Rainier Foods! Be sure to enter below for your chance to win these fantastic prize packs offered by our generous sponsors!
Intensity Academy Saucy Queen Prize Package
The Intensity Academy Saucy Queen has competed in the fiery food industry for over 15 years. Her all-natural gourmet hot sauces have more than 55 national awards. In 2019, the Saucy Queen earned the Tampa Bay Businesswoman of the Year in Manufacturing, Business Leader's Woman Extraordinaire and Working Women of Tampa Bay's! Not only does she sell amazing sauces, spice mixes, and dips, but she has anchored her career in service and non-profit organizations and helping local companies take their products from recipe to store shelves.
A prize package of 4 popular sauces:
Carrot Karma – A mild hot sauce made from a blend of carrots, habaneros, and a touch of lime.
Garlic Goodness – An essential garlic hot sauce! Each batch contains over 100 pounds of slow roasted garlic.
Honey Hype – A blend of crystalized honey natural rub. The crystalized honey melts perfectly over meats and veggies.
Chai Sweet Chili – A light sauce made with peppers and organic Chai tea that won the 2012 Golden Chile award.
Rainier Foods Prize Package
Life's too short for boring food, spice it up with Rainier Foods. Rainier Foods is a family company located in the shadow of Mt. Rainier. They have a dedication to provide premium quality food products. Rainier Foods can source the best ingredients available to help you create delicious meals which sets them apart from other companies. All their products are made locally ensuring their products are the best that the Pacific Northwest has to offer. A portion of all sales are donated to the Washington National Park Fund.
A prize package of a meat thermometer and trio of spice mixes:
Meater+ wire-free meat thermometer – monitor your cooking from a phone or tablet. Monitors internal and ambient temperature at the same time.
The Essentials Seasoning – Salt, garlic, and pepper are the essentials of most seasonings. Three different types of sea salt blend with garlic and pepper in this delicious seasoning.
Smoky Honey Seasoning & Rub – Made with Pacific Northwest clover honey, Cherrywood Smoked Sea Salt, and Smoked Paprika. This seasoning blend creates a deliciously sticky and sweet flavor on anything you grill.
Gochu (Go-Choo) Seasoning & Rub – Gochugaru Chilis combine with sea salt and pepper along with a few other spices makes this blend unique adding an unmatchable flavor profile to everything you cook.
a Rafflecopter giveaway
DISCLAIMER:
Thank you #BBQWeek sponsors Saucy Queen and Rainier Foods for donating the prizes for this event. The #BBQWeek giveaway is open to U.S. residents, age 18 & up. All entries for the winner are checked and verified. By entering you give the right to use your name and likeness. The number of entries received determines the odds of winning.
Two (2) winners are selected at random from entries received. The prize packages are fulfilled by and sent directly from the giveaway sponsors. #BBQWeek bloggers are not responsible for the fulfillment or delivery of the prize packages. Bloggers hosting this giveaway and their immediate family members in their household are not eligible to enter or win the giveaway. No purchase necessary. Void where prohibited by law. This promotion is in no way sponsored, endorsed or administered by, or associated with Facebook, Instagram, Pinterest, Twitter or any other social channel mentioned in the #BBQWeek posts or entries.