This post is sponsored in conjunction with #BBQWeek. The sponsors, Rainier Foods and Intensity Academy generously provided samples to participants to aid in the creation of the #BBQWeek recipes and prize packages to give away to the readers. However, all opinions are mine alone.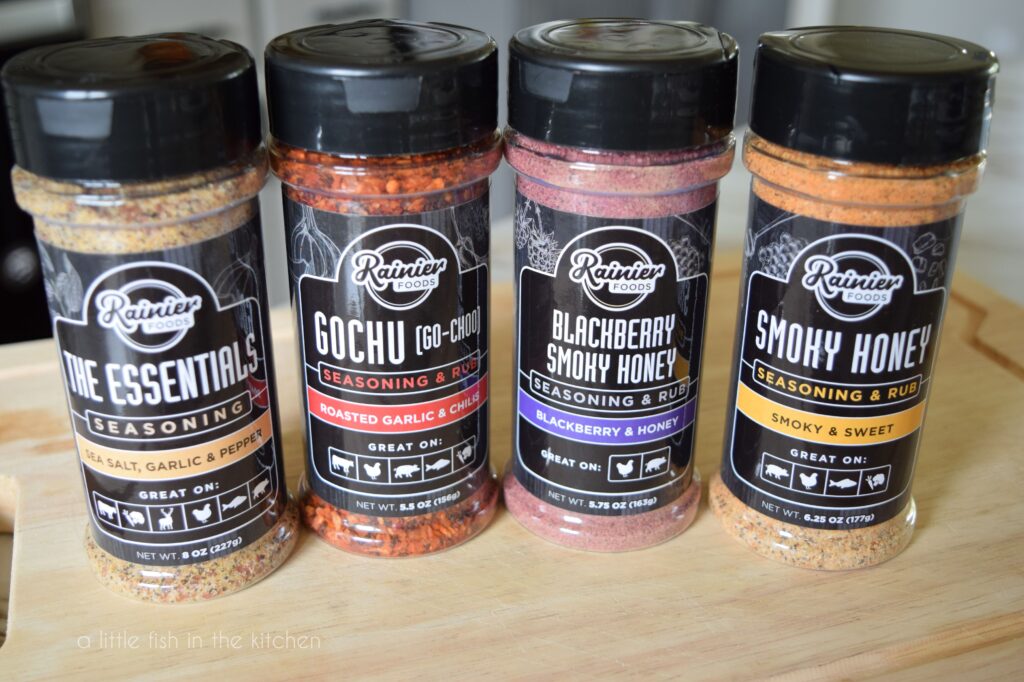 #BBQWeek continues and my second recipe for the event features two of the four fantastic seasoning blends I was sent to sample from Rainer Foods. They sent me their seasoning and rub blends named: The Essentials, Gochu, Blackberry Smoky Honey, and Smoky Honey, and they have many more to choose from on their website.
The Essentials and Gochu are flavorful savory blends and they will be good to use in so many ways. However, I was immediately smitten with the two smoky and sweet blends and I knew wanted to feature them in this post. The Blackberry Smoky Honey and the Smoky Honey each have a wonderful balance of sweetness, saltiness and smokiness, as well as strong fruity notes in the bottle of Blackberry Smoky Honey.
Both have really intriguing flavor combinations!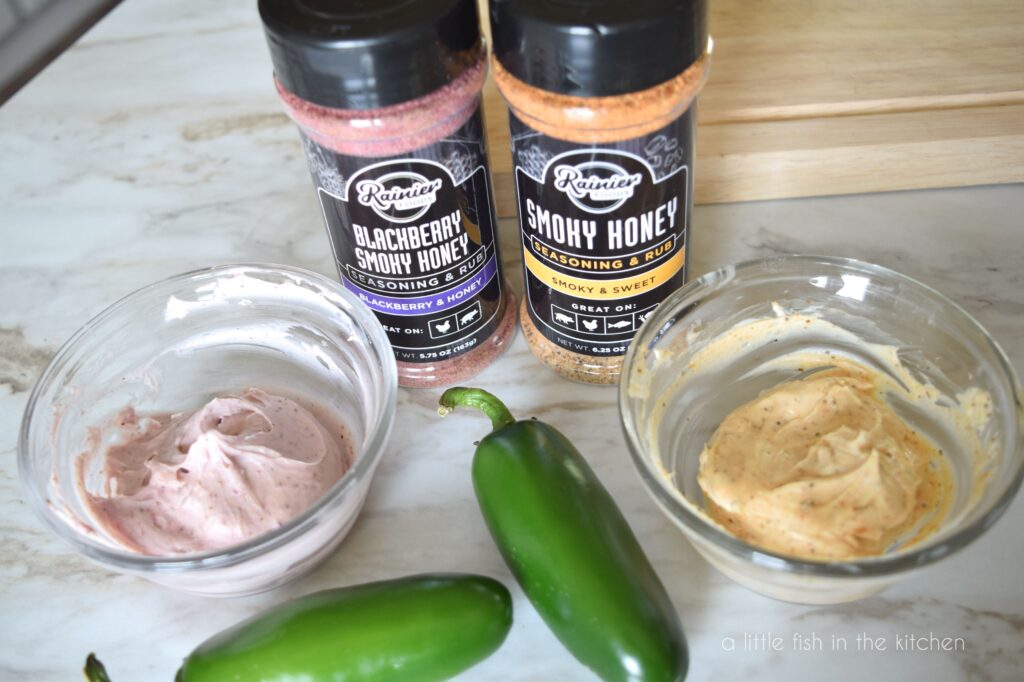 So, I was brainstorming about desserts or dips I could make to mix these two sweet rubs into, but then I thought about another flavor profile that has my heart: spicy!! Soon after that, I had visions of bacon-wrapped jalapeno poppers stuffed with flavored cream cheese dancing in my head!
Bacon-wrapped jalapeno poppers have been a family favorite appetizer for a really, really long time. Mostly we keep things pretty classic when we whip up a batch. Sometimes we grill them, and sometimes we bake them. We always use fresh jalapeños, cream cheese, reduced-sodium bacon, and occasionally we mix in some shredded cheddar cheese, when the mood strikes.
However, my brand new collection of spice blends had me feeling inspired to experiment a little bit.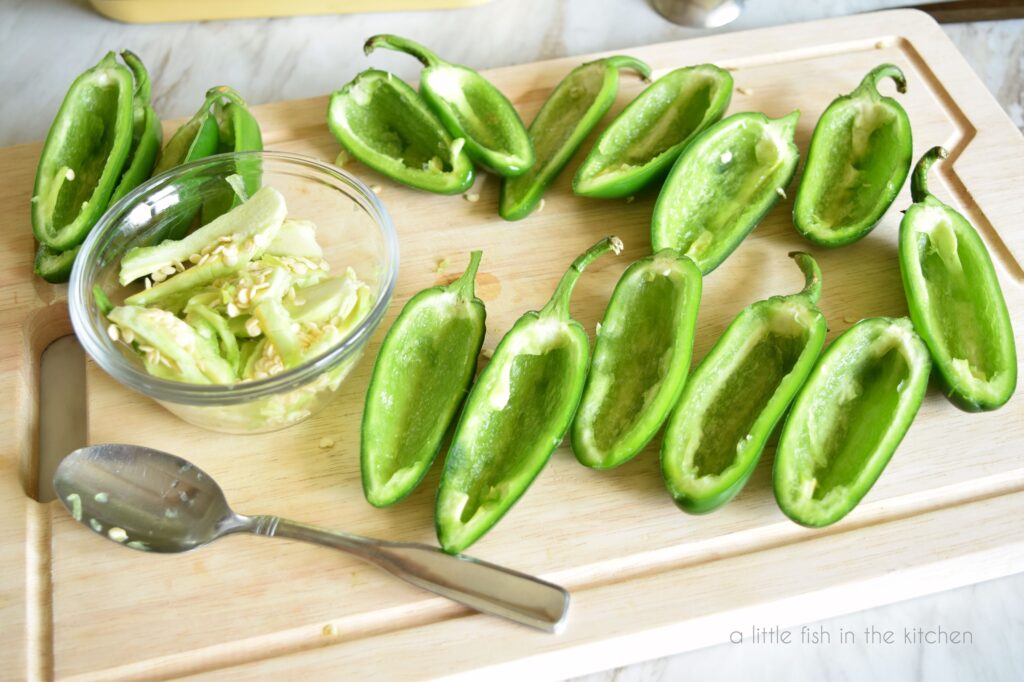 I had a sneaking suspicion that mixing in just a little smoky sweetness with the cream cheese filling of a salty, bacon-wrapped jalapeño popper would work.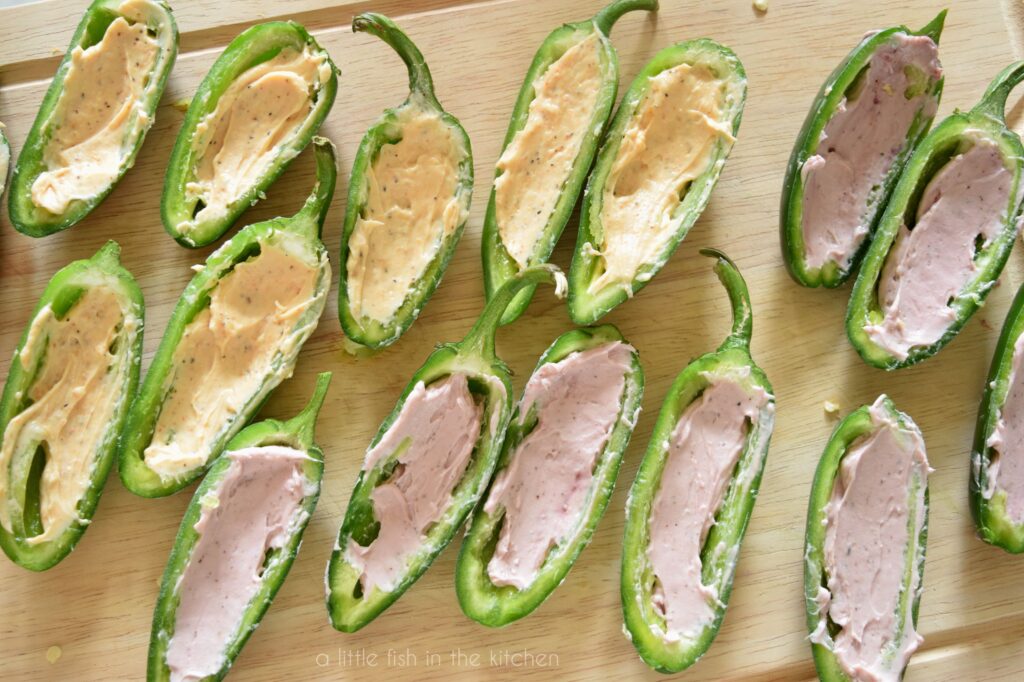 By golly, they were so good and they were all gobbled up in a hurry (which was irrefutable proof of their tastiness!).
As an added bonus, it turns out they are also eye-catching little treats as the sweet and smoky seasoning mixes created pops of pastel colors once they were combined with the cream cheese!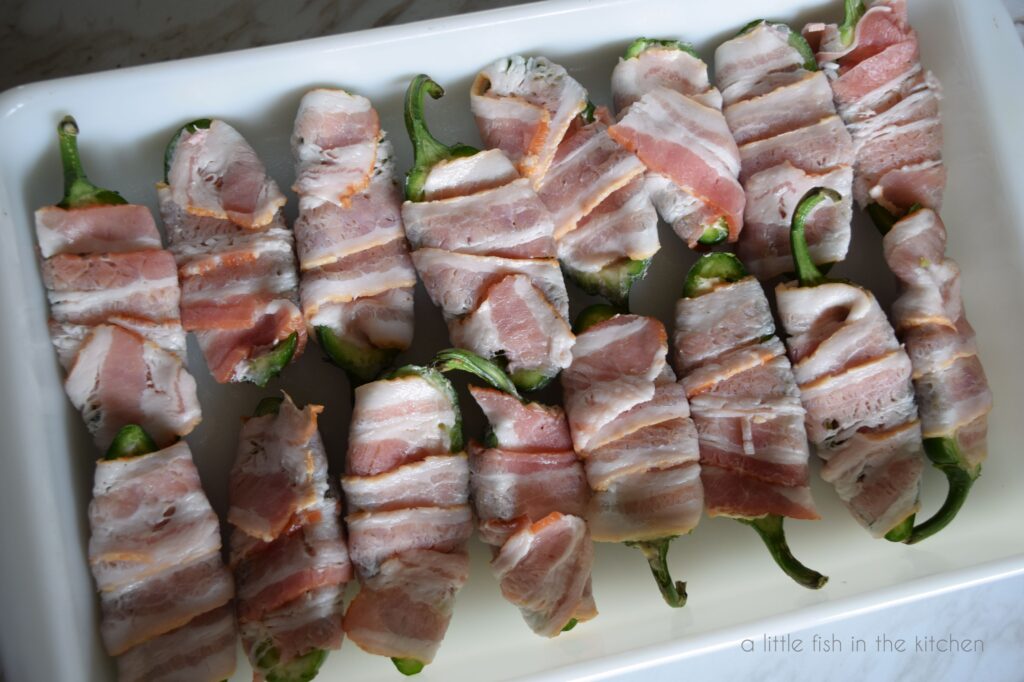 I have to confess that Evan was not initially sold on my concept of mixing sweetness into the jalapeño popper filling, but I decided to make a small batch to give this idea a go anyway.
For the trial-run of these Sweet and Smoky Jalapeño Poppers I made a small batch of eight of them (4 peppers split in half). After I took them out of the oven to cool a bit, I left the room (…and left the poppers unsupervised!!). However, I returned to the kitchen about 20 minutes later, anxious to taste test the goodies, but someone had beaten me to it!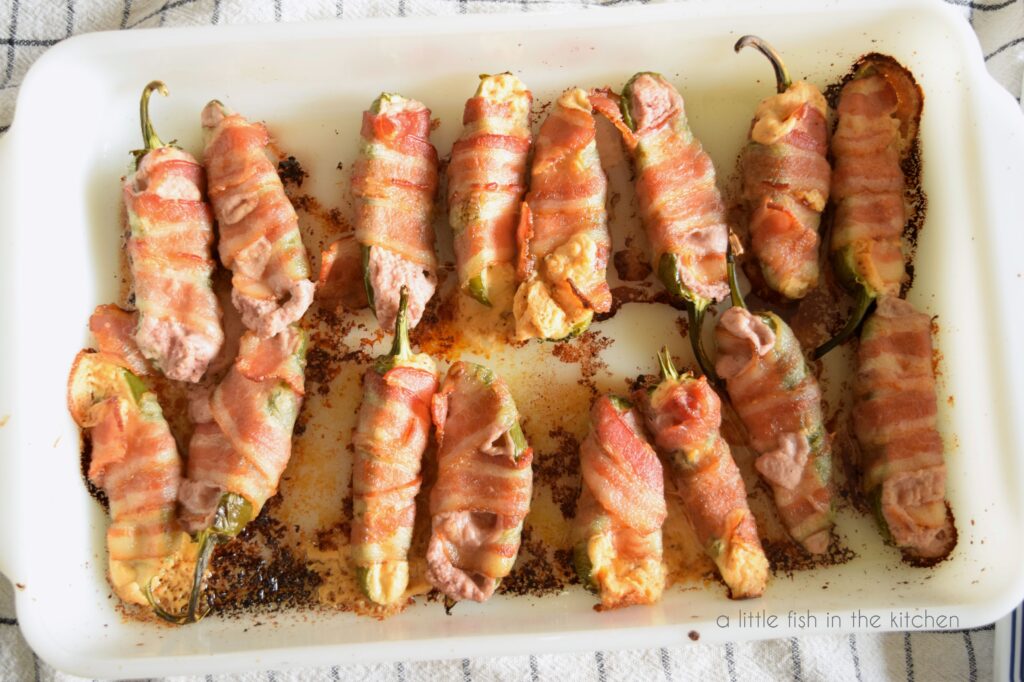 Evan had taste-tested five (FIVE!!) of the eight on the plate, so I was quite happy to get to sample three! I'll take that as a meat-atarian stamp of approval, y'all. We made another small batch the very next night, just to make sure this initial taste test wasn't a fluke! 😉 Just f.y.i., that batch didn't last long either!!
I hope you all love the sweet and smoky poppers as much as we did if you try them!! Happy eating! – M
Please keep scrolling to enter the BBQ Week giveaway for a chance to win some fantastic prize packs from out sponsors Intensity Academy and Rainier Foods! There are also more amazing recipes from some talented bloggers below!!
Be sure to Pin this post for later!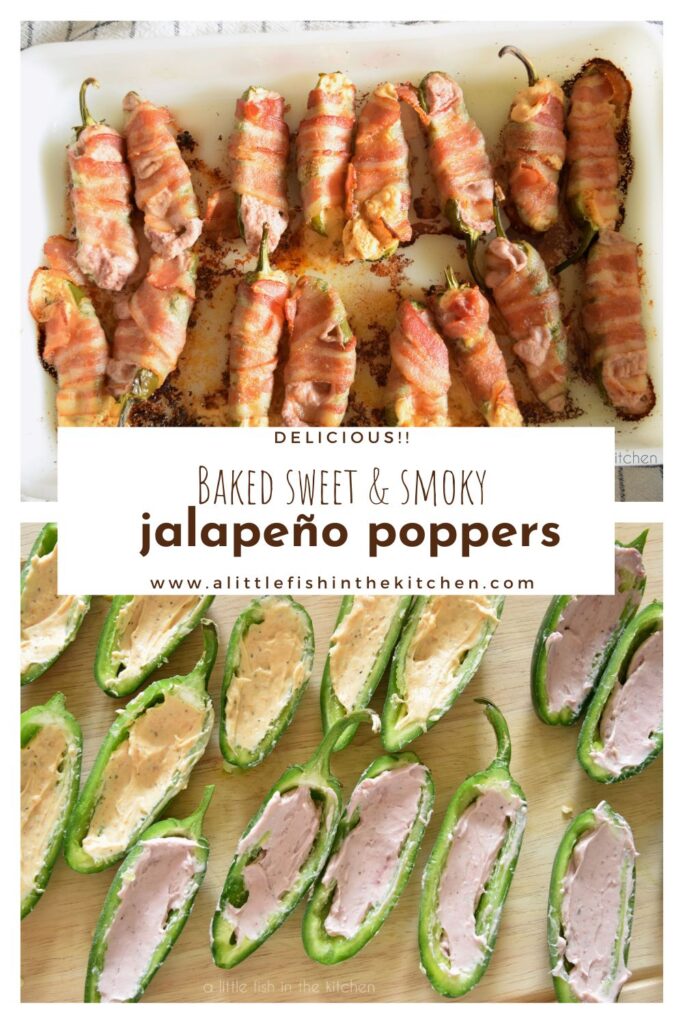 Please check out one of my latest You Tube videos and subscribe to my channel for even more recipes and live streams!
Please enter your email address below to have all of my new posts sent right to your inbox! Subscribe now and never miss a recipe or an update!
Wednesday #BBQWeek Recipes
Starters and Sides
Dinners
Desserts
Baked Sweet and Smoky Jalapeño Poppers
Course: Appetizers
These Sweet and Smoky Jalapeño Poppers are a fiesta of flavors with hints of sweetness!! These will be the talk of the appetizer table.
Ingredients
4 ounces of cream cheese, room temperature

2 teaspoons of each, Blackberry Smoky Honey
and Smoky Honey Seasoning & Rub

6 medium fresh jalapeño peppers,
halved, seeds and membranes removed

12 slices of bacon
Directions
Pre-heat the oven to 400°. Spray a 9×13 inch baking dish with non-stick cooking spray and set it aside. Separate the softened cream cheese into two ounce servings and place the portions in separate small bowls.
Season one serving of cream cheese with two teaspoons of the Blackberry Smoky Honey Seasoning Mix & Rub then stir until well-combined. Repeat the process for the remaining 2 ounce serving of cream cheese, but using two teaspoons of Smokey Honey Seasoning Mix & Rub.
Stuff each cleaned jalapeno section with a heaping 1/2 teaspoon of seasoned cream cheese. There is enough cream cheese to fill 8 sections with each flavored cream cheese for a total of 16 poppers (see notes below)
Wrap each popper with one slice of bacon. Arrange the bacon-wrapped poppers into two rows in the prepared baking dish. Bake for 35-40 minutes or until the bacon is browned and crisp!
Remove the baking dish from the oven and allow to cool on a rack for 15 minutes. Serve warm and enjoy!
Notes
Of course, you can also cook these on the grill, if you prefer. Just prepare your grill as you would to cook a small meal and flip the poppers at least once to get the bacon crisp on all sides.
Do not over stuff the jalapeno cavities as the cream cheese will expand as it cooks causing it to spill out! Using the recipe recommended amount of filling for each popper will reduce how much cream cheese will ooze out as they cook.
Recipe from A Little Fish in the Kitchen www.alittlefishinthekitchen.com. All content is owned by Marcelle G. Bolton. Please contact the author for permission to republish.
a Rafflecopter giveaway
DISCLAIMER:
Thank you #BBQWeek sponsors Saucy Queen and Rainier Foods for donating the prizes for this event. The #BBQWeek giveaway is open to U.S. residents, age 18 & up. All entries for the winner are checked and verified. By entering you give the right to use your name and likeness. The number of entries received determines the odds of winning.
Two (2) winners are selected at random from entries received. The prize packages are fulfilled by and sent directly from the giveaway sponsors. #BBQWeek bloggers are not responsible for the fulfillment or delivery of the prize packages. Bloggers hosting this giveaway and their immediate family members in their household are not eligible to enter or win the giveaway. No purchase necessary. Void where prohibited by law. This promotion is in no way sponsored, endorsed or administered by, or associated with Facebook, Instagram, Pinterest, Twitter or any other social channel mentioned in the #BBQWeek posts or entries.