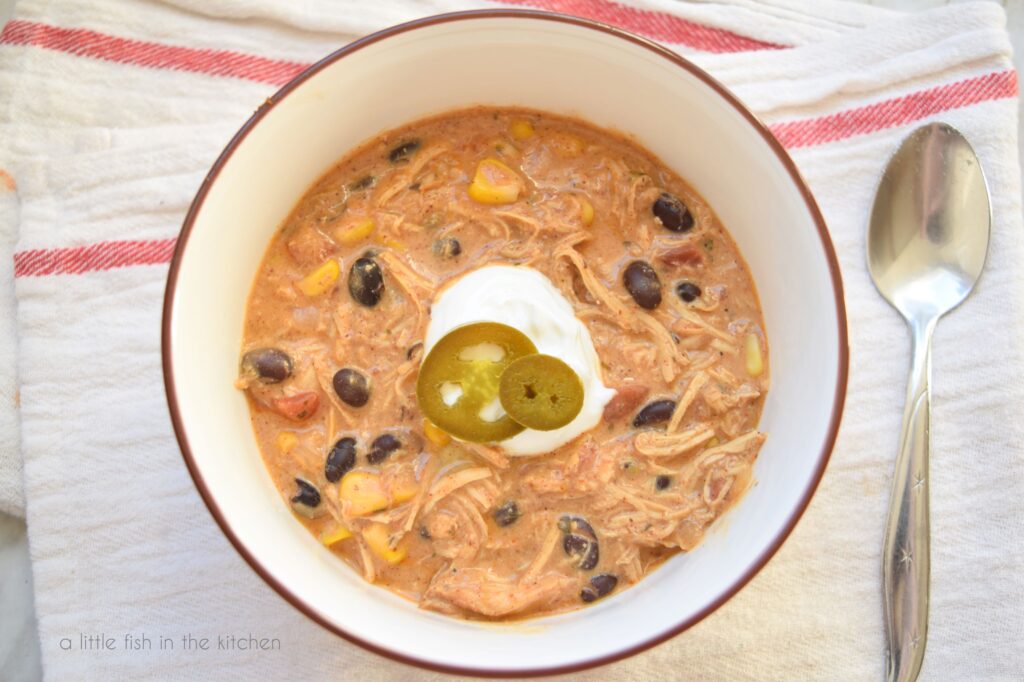 After multiple recipes for this chili were relentlessly recommended in my Pinterest feed a few weeks ago, I just had to make a pot of Cream Cheese Chicken Chili for myself. I'm so thankful the power of suggestion broke me down, because this dish is a cinch to make and it's really tasty too. My whole crew seriously enjoyed this crockpot supper… even the ultra-picky nine-year old girl liked it. That impressive fact alone warrants the recipe for this cream cheese chicken chili being memorialized in a blog post!
Versions of the recipe for cream cheese chicken chili are posted on several other websites out there and based on the recipes I read on the handful of websites I visited (thanks Pinterest!), they are all very, very similar. I wouldn't know who to credit for posting a recipe for this delicious style of chicken chili first, but now that I've tried it myself, it's popularity is totally understandable.
We certainly found a pot of this chili to be a very comforting meal on a chilly night, and I'm happy to share my slightly adapted version of this flavorful chicken chili with you all today.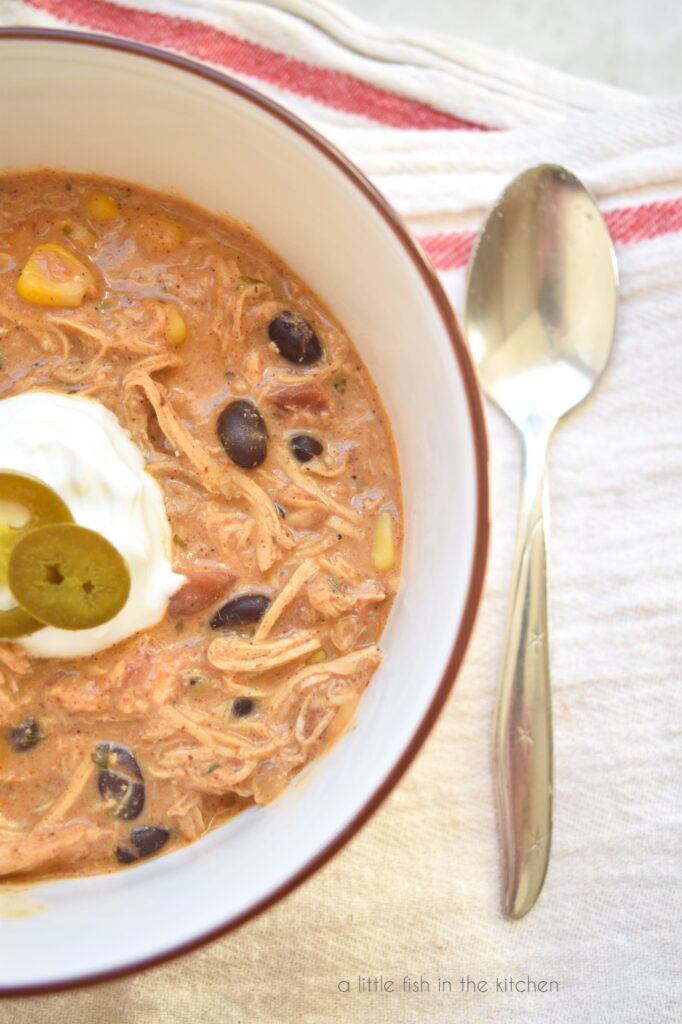 How to make slow-cooker cream cheese chicken chili
The short list of ingredients commonly used to make a pot of this luscious cream cheese chicken chili include boneless, skinless chicken breast, a packet of ranch seasoning, taco seasoning, canned black beans, canned corn, canned tomatoes and green chilies, and cream cheese.
In my adapted version, I replace the taco seasoning with a packet of store-bought chili seasoning and I add a measure of chicken broth, fresh cilantro and fresh onion. I think the additions in my recipe, especially the chicken broth, add just a little more depth to the dish… plus, I'll never miss an opportunity to add cilantro and onions into a pot. They are two of my favorite things!
This recipe is commonly prepared using a slow-cooker, although it could be prepared on the stove top, if need be. After all of the ingredients (except for the cream cheese, it's added closer to the time of serving), are loaded into the crock of a slow cooker, this chili conveniently crocks away for four hours until it's ready to serve. The recipe only requires a bit of additional effort with shredding the cooked chicken and addition of the cream cheese into the pot at the three-hour cooking mark.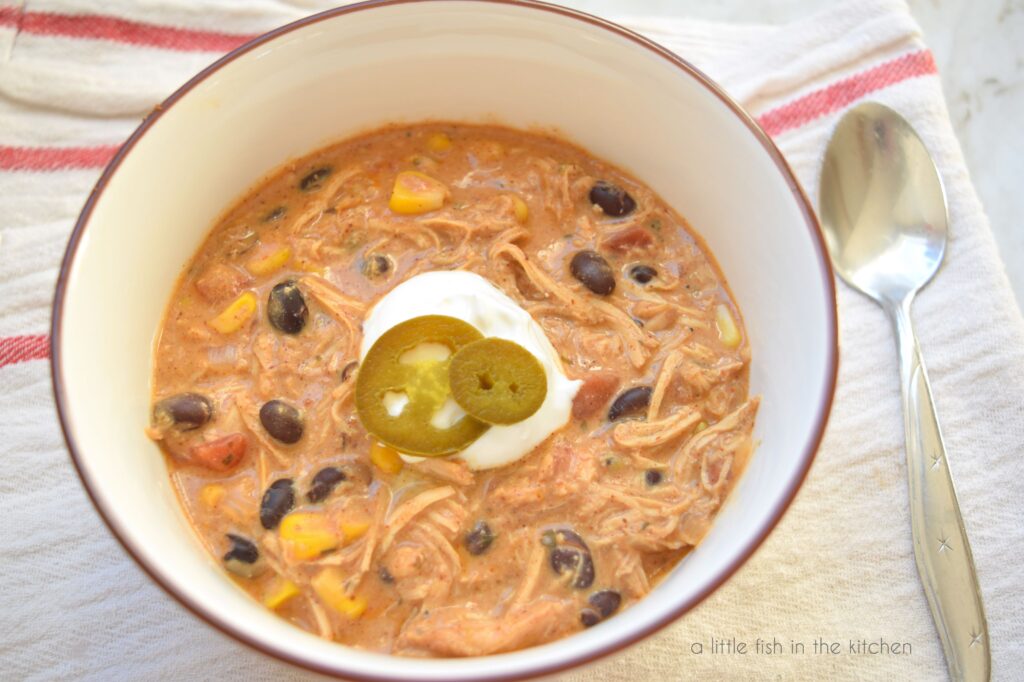 This chili is loaded with the smoky spices that we adore in my house, and the tang of the buttermilk from the ranch seasoning comes through in each bite as well. The corn, black beans, cilantro and onions add a little bit of texture and earthiness to the pot. I think what I'm really trying to say here is, if you are in the market for a comforting, slow-cooker supper with oodles of Southwestern flavor, then this is the recipe for you!
This no-fuss Slow-Cooker Cream Cheese Chicken Chili is one of the latest additions to my favorite "fix it and forget it" suppers, and this dish is easy enough to prepare any day of the week! I hope you all enjoy as much as we do.I've served this with corn bread and biscuits on separate occasions, but if you are trying to keep the carbs low, a crisp, green salad on the side will pair up nicely with a bowl of this too!
Happy crocking, y'all! – xo M
Be sure to save this recipe on Pinterest!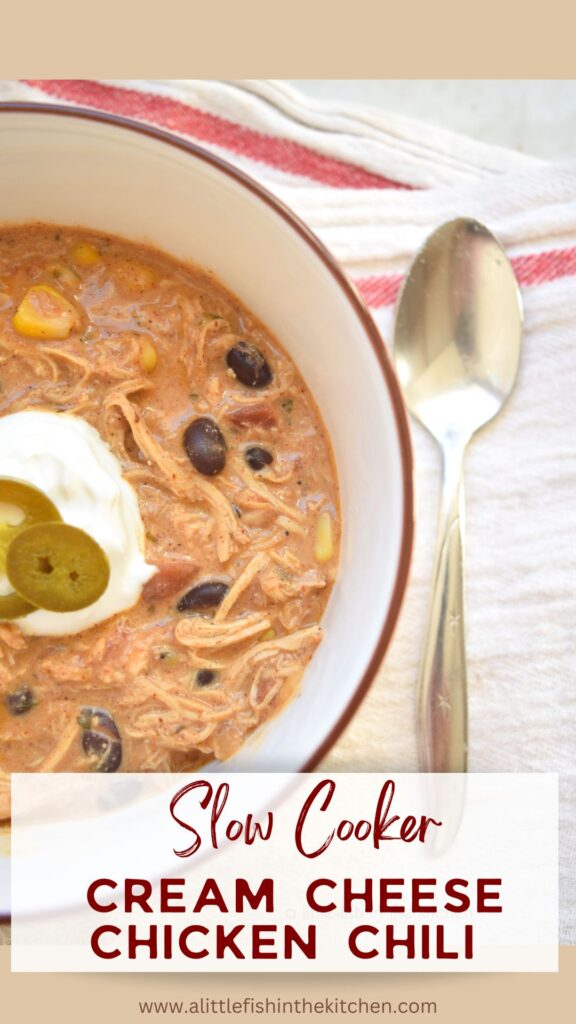 Please check out one of latest videos on YouTube and subscribe to my channel for more recipes and live streams!
Please enter your email address below to have all of my new posts sent right to your inbox! Subscribe now and never miss a recipe or an update!
Slow Cooker Cream Cheese Chicken Chili
Course: Dinner
Cuisine: American
Difficulty: Easy
This flavorful cream cheese chicken chili is made with simple pantry ingredients, but it packs some big Southwestern flavors. Serve with corn bread, biscuits and/or a crisp, green salad on the side!
Ingredients
3 boneless, skinless chicken breasts

1 (1 oz) ranch dressing seasoning packet

1 (1.25 oz) chili seasoning packet

1 (15 oz) can black beans, rinsed and drained

1 (15 oz) can of corn, undrained

1 (10 oz) can diced tomatoes and chilis (heat level as you prefer, I used Original heat)

1/3 cup yellow onion, coarsely chopped

1/2 cup fresh cilantro, coarsely chopped

1-1/2 cups chicken broth or water with corresponding amount of chicken bouillion

1 brick cream cheese (I used Neuchaftel cheese)
Directions
In a small bowl, combine the ranch seasoning packet with the chili seasoning packet. Generously sprinkle a few tablespoons of the seasoning mixture over the chicken breasts on both sides. Place the seasoned chicken into the crock of the slow cooker.
Next, add the rest of the ingredients, except the cream cheese, as well as the remainder of the seasoning mixture into the crock pot. Give it all a quick stir, cover and allow to cook for 3 hours.
At the 3 hour mark, add the cream cheese to the crock pot and let the chili simmer for 30 more minutes. Use a slotted spoon to remove the cooked chicken. Shred the chicken with two forks or using a hand mixer and return the shredded chicken to the chili.
Allow the chili to simmer for another 30-60 minutes and then turn off the heat. Serve cream cheese chicken chili warm.
Top individual servings with any of your favorite add-ins such as pickled jalapenos, sour cream, shredded cheddar cheese, cilantro, chopped onions or fresh avocado slices and enjoy!
Recipe Video
Notes
Recipe from A Little Fish in the Kitchen www.alittlefishinthekitchen.com. All content is owned by Marcelle G. Bolton. Please contact the author for permission to republish.