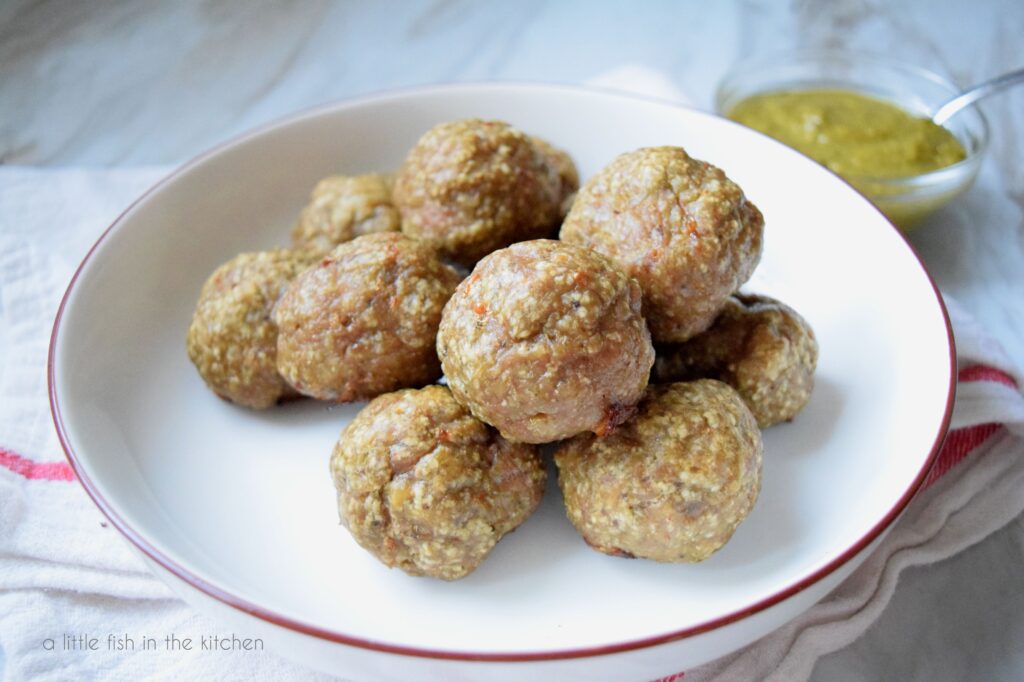 These Turkey Pesto Meatballs fell into the instant-family-favorite category once they were served up at my house. This recipe was a serious, dinnertime slam-dunk and it was requested for me make batches of them 3 times in one week!
These flavorful, little meatballs stole everyone's hearts.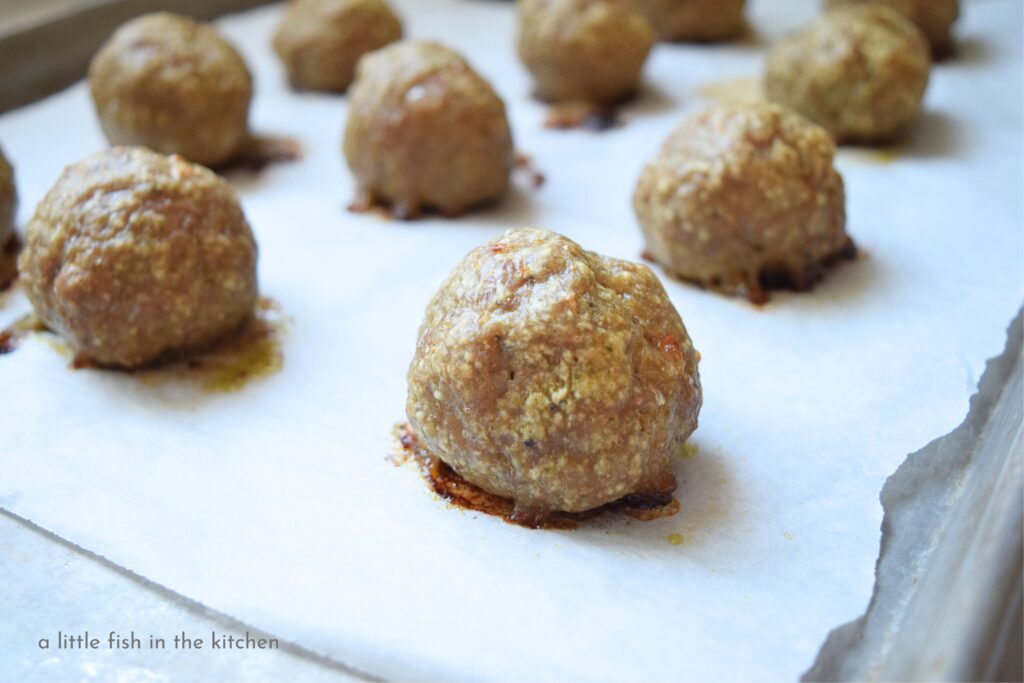 These turkey pesto meatballs come together so quickly and they pack the most fantastic combination of flavors. In my opinion, the addition of pesto into the meat mixture lends them any flavor you could ever possibly want in a meatball. In every bite the flavors of basil, garlic, and olive oil come shining through. If you use a creamy variety of pesto like me, the richness of parmesan cheese is detectable in this little flavor party too!
I absolutely love the Creamy Genovese Pesto by Barilla, it's my favorite store-bought pesto. If you haven't tried it, I highly recommend it.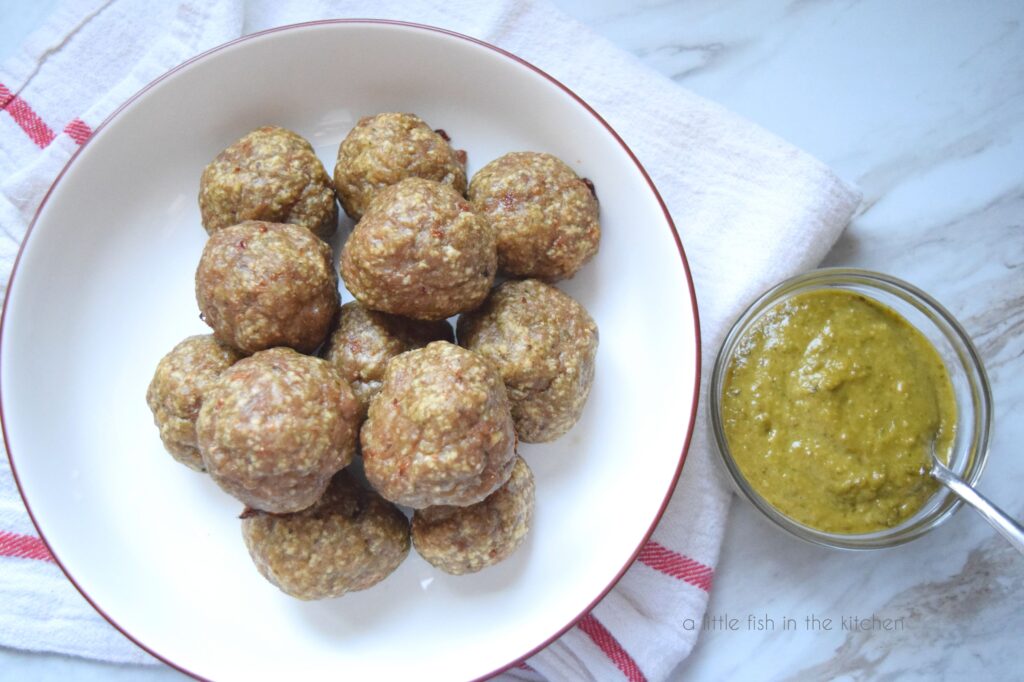 I love how versatile a batch of these delicious and simple meatballs are. My kids loved them nestled in a bed of buttery mashed potatoes or served with a side of hot, buttered rice. However, as most meatballs are, they perfectly paired with a plate of pasta topped with marinara or cheesy Alfredo sauce. By the third batch, Evan was making meatball sub sandwiches with them topped with melted provolone and sautéed peppers and onions!
We love this recipe so much, I can certainly see many more uses for it coming up in our foreseeable future! I hope you love it too, however you serve them!
Happy eating, y'all! xo – M
Please check out one of my latest videos and subscribe to my YouTube channel for more recipes and exclusive content!
Save this recipe on Pinterest!!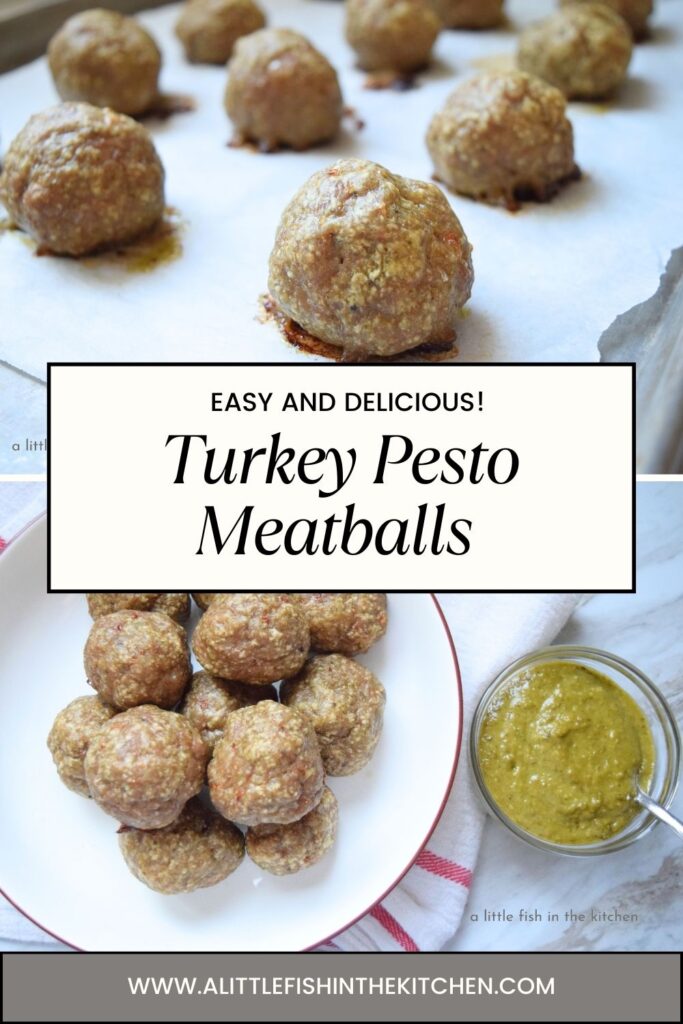 Enter your email address below to have all of my new posts sent directly to your inbox! Never miss a new recipe or an update, subscribe now!
This recipe was adapted slightly from www.weightwatchers.com
Turkey Pesto Meatballs
Course: Lunch, Dinner
Cuisine: American
Difficulty: Easy
A batch of these flavorful, versatile Turkey Pesto Meatballs comes together in just minutes. Enjoy them with mashed potatoes, pasta and marinara, or as a tasty sub sandwich topped with melted provolone cheese!
Ingredients
1 pound lean ground turkey

1/3 cup plain bread crumbs

1 teaspoon salt

1/2 teaspoon ground black pepper

one large egg, beaten

3 tablespoons basil pesto, store-bought or homemade (I used Barrilla Creamy Genovese)
Directions
Pre-heat the oven to 400° and line a cooking sheet with parchment paper and set it aside.
In a large mixing bowl, combine all of the ingredients and mix well to combine. Shape the mixture into 12 evenly sized meatballs and transfer to the prepared cooking sheet.
Bake for 20 -25 minutes or until the tops are golden brown and the meatballs appear done. If you prefer to use a thermometer to check for doneness, turkey should be cooked to 165°
Serve warm and enjoy!
Recipe Video
Notes
Recipe from A Little Fish in the Kitchen www.alittlefishinthekitchen.com. All content is owned by Marcelle G. Bolton. Please contact the author for permission to republish.