Muesli cereal eaten with vanilla-flavored yogurt has long been one of my favorite breakfasts. Eating muesli with yogurt is something I adopted in my time as an honorary Swede back in the nineties. Pre-Sweden, I'd only experienced any kind of cereal eaten with milk, but muesli and yogurt were just made for each other, y'all.
The primary ingredients in most commercially sold muesli are rolled oats, dried fruit and nuts. About a year ago, I was staring down into my breakfast bowl and having a conversation with myself over what else I could add into my cereal. I wanted to add in some of my favorite things like toasted almonds, pumpkin seeds and dried cranberries and apples. So, I just took the bull by the horns and made my own muesli mixture!
The cereal base I use for every batch is made with old-fashioned rolled oats, boxed raisin bran cereal, nuts and I alternate between unsalted sunflower seeds and pumpkin seeds. I've also played around with a variety of dried fruits, but I always come back to dried cranberries and apples, they're just my favorites. I was out of dried apples at the time of this post, so they're not pictured, but they are usually part of the mix!
For this muesli, I like to pan-toast the nuts to draw out more flavor and recently I began toasting the oats and pumpkins seeds in the pan with the nuts too… and what a difference that makes! The oats feel more substantial when they are a bit crisp and I believe they take on a little flavor from the toasted nuts and seeds as well.
I make a batch of this muesli every Sunday and store it in a large mason jar on my countertop for as long as it lasts, which is usually just a few days for us. Evan likes to eat this cereal mix with yogurt too, but usually as an evening snack. This homemade muesli can also be separated into smaller mason jars as a grab and go breakfast to help you get you through the week! Just pack a small individual yogurt or bit of milk to add into the jar when you are ready to eat.
The possibilities are wide-open with the cereal base of this recipe and you can personalize it with dried fruit or nuts as you prefer. I tend to eat it as is, but adding fresh fruit to your bowl of muesli will add extra pops of flavor and nutrition to your breakfast too. Happy eating!
Check out on my latest cooking videos and subscribe to my YouTube Channel for more recipes and live streams!
You'll definitely want to Pin this one for later!!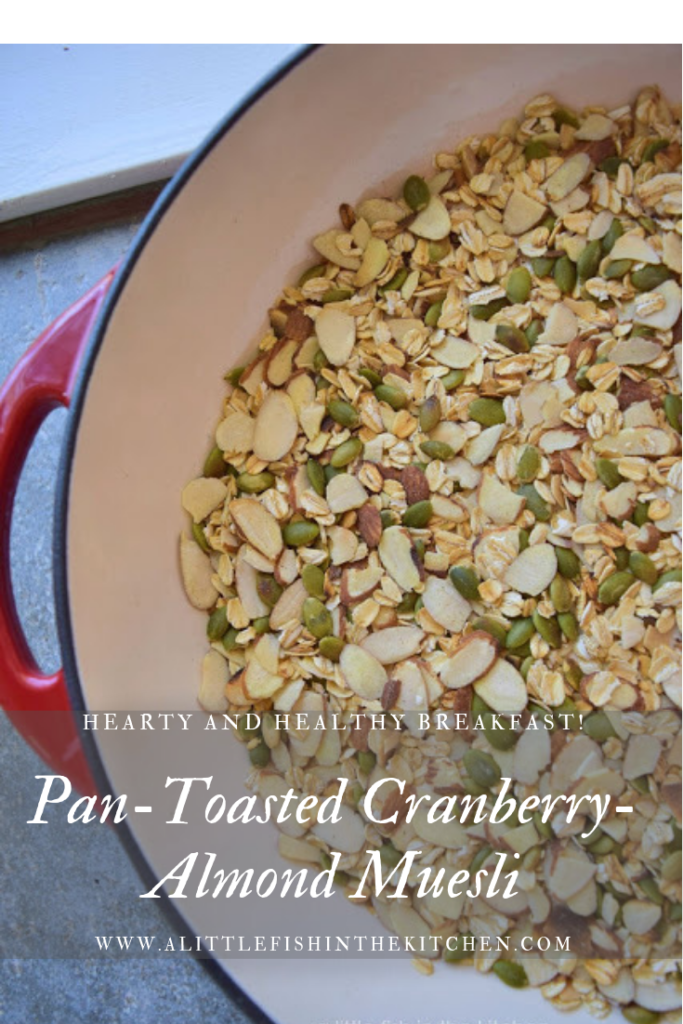 Wouldn't you like to stay a while? Subscribe to receive all of my posts right to your inbox! Sign up now and you'll never miss a delicious post!
Pan-Toasted Cranberry Almond Muesli
Course: Breakfast
Cuisine: Other world cuisine
Difficulty: Easy
This simple homemade muesli will be your favorite quick breakfast. It's delicious with milk, but a serving of this with sweetened vanilla yogurt is really the way to go!
Ingredients
1/2 cup old fashioned rolled oats, toasted

1/2 cup slivered almonds, toasted

1/4 cup unsalted pumpkin or sunflower seeds, toasted

3/4 cup dried apples, coarsely chopped (optional)

3/4 cup dried cranberries

1 cup raisin bran cereal (I used HEB Organics Raisin Bran Cereal)
 
Directions
Preheat a large skillet on stove top to medium heat. Spread the oats, almonds and seeds out evenly in the warm skillet. Stirring the oat mixture often, allow to toast until the nuts and seeds become fragrant and all ingredients are a very light golden brown (5-6 minutes). Transfer warm, toasted oat mixture to a plate, spread out and allow to cool completely.
In a large mixing bowl, combine cooled oat mixture with raisin bran cereal and dried fruit. Stir with a wooden spoon until well-mixed. Store muesli at room temperature in a mason jar or airtight covered container for up to three weeks.
Serve with your favorite milk or yogurt. Enjoy!
Recipe Video
Notes
This recipe makes 7 (3/4 cup) servings
Recipe as published on A Little Fish in the Kitchen at www.alittlefishinthekitchen.com. All content is owned by Marcelle G. Bolton. Please contact the author for permission to republish.