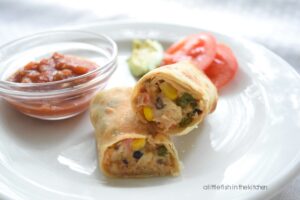 When it comes to new twists on old flavors, these cheesy southwestern chicken egg rolls are high on our list of recent favorite dishes! These egg rolls are jam-packed with flavor and they come together quickly making them a fantastic choice for a busy weeknight meal.
Y'all should know by now how much I love a deliciously quick weeknight meal!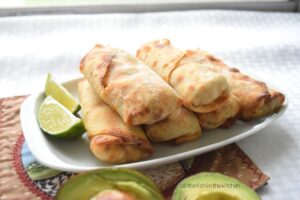 How to make cheesy southwestern chicken egg rolls.
In this recipe, I took some of our most-loved ingredients and wrapped them up in convenient, store-bought egg roll wrappers for a fun fusion recipe. The spicy filling is made with a mixture of cream cheese, shredded Monterrey Jack cheese blend, corn, black beans, cilantro, red bell pepper, red onions, and a combination of smoky spices including some cayenne pepper for little heat! Don't forget to add in a healthy squeeze of fresh lime juice to round out all of the rich flavors in this cheesy filling.
This recipe makes six egg rolls, so if you are feeding a crowd you will need to double the filling recipe!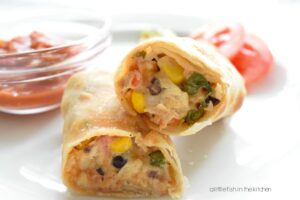 If you are like my husband and typically come home from work completely famished, you may not look at a plate of cute, little egg rolls and believe they're going to fill you up. Please believe me when I tell you that these cheesy southwestern chicken egg rolls are very satisfying small bites and chances are you won't be able to eat more than two. When served with side dishes such as a green salad, Mexican-style rice, or refried beans, you may only need one egg roll to get you by!
Enjoy and happy eating, y'all! xo – M
Wouldn't you like to stay awhile? Sign-up here to receive all of my new posts in your inbox! Subscribe now and never miss a recipe or an update!
You'll definitely want to Pin this recipe for later, y'all!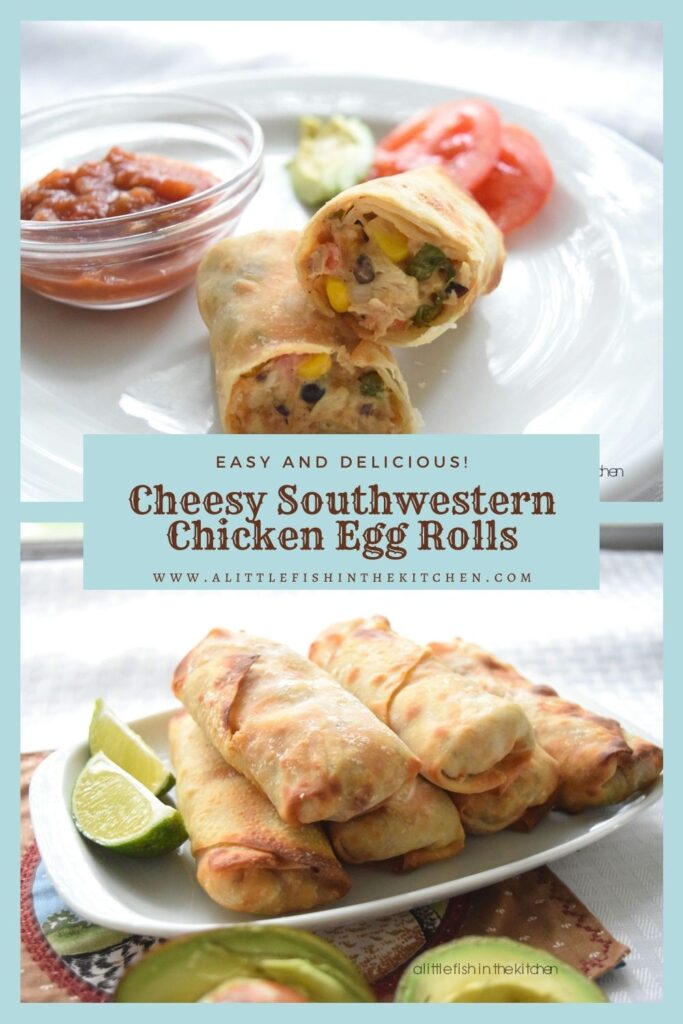 Check out one of my latest videos!
Cheesy Southwestern Chicken Egg Rolls
Course: Appetizers, Main
Cuisine: American
Difficulty: Easy
These cheesy southwestern chicken egg rolls will be the talk of the appetizer table! They can also be served as a main course and pair perfectly with a side of tortilla chips and homemade guacamole.
Ingredients
4 oz cream cheese, room temperature

1/4 teaspoon ground cumin

1/4 teaspoon chili powder

1/8 – 1/4 teaspoon cayenne pepper (to taste)


1/8 teaspoon garlic powder

1/4 teaspoon ground black pepper

1/8 – 1/4 teaspoon salt (to taste)

1-2 tablespoons lime juice

1 cup cooked chicken shredded or finely diced

2 tablespoons red onion, finely diced

1/4 cup red bell pepper, finely diced

1/3 cup cooked black beans


1/3 cup sweet corn kernels

1/3 cup shredded cheddar cheese

3 tablespoons fresh cilantro or fresh Italian parsley

1 (16 oz) package of egg roll wrappers, room temperature
Directions
In a medium bowl, combine the softened cream cheese with the spices and mix well. Next, mix in the corn, chicken, cilantro, red bell pepper, onion. Gently fold the the shredded cheese and black beans. Gently stir until the chicken and cheese mixture is well-combined.
Carefully remove an egg roll wrapper from the package and lay it on a flat surface with a corner pointed toward you (in a diamond shape).
Place 2 heaping tablespoons of the chicken mixture into the center of the wrapper and lightly spread it out leaving a one-inch edge around the wrapper. Gently fold the right and left sides of the wrapper over the chicken mixture. Next, Take the corner of the wrapper pointed toward you and fold it over the chicken mixture. Gently tuck the wrapper around the chicken mixture and begin to roll it over. Roll tightly and use a little water to seal the final corner of the wrapper (Please see recipe video for an example of how to put these egg rolls together)
Cooking Methods
Air Fryer: Place the egg rolls into the basket of the air fryer and spray with cooking spray. Use the default temperature (390°) and fry on one side for 3-4 minutes or until the egg roll begins to brown. Flip egg rolls and spray the second side with oil. Continue cooking for an addition 2-3 minutes or until egg rolls are crispy and golden brown.
In Oil: Use an appropriate amount of clear cooking oil and heat in a skillet to 350°. Fry eggs rolls on both sides until crisp and golden brown.
Serve the cheesy southwestern chicken egg rolls warm with salsa, sour cream and guacamole (and any other fixing you prefer!) Enjoy!
Recipe Video
Notes
Recipe from A Little Fish in the Kitchen blog at www.alittlefishinthekitchen.com. All content is owned by Marcelle G. Bolton. Please contact the author for permission to republish.