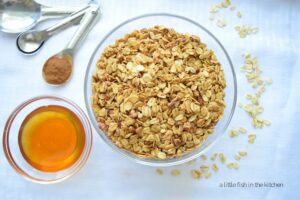 Allow me to introduce to our newest addiction, a.k.a this simple honey-cinnamon granola. It's a member of my favorite recipe category, you know the ones that are described as ridiculously easy and shamelessly delicious. 
This crunchy, sweet granola is a certified family favorite at this point and we think it's a fantastic way to start the day.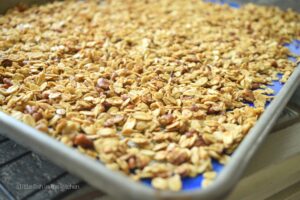 How to make simple honey-cinnamon granola.
All you need to whip up a batch of this wholesome granola are ingredients that are very likely  sitting in your pantry as you read this post. As long as you have old-fashioned rolled oats, honey, ground cinnamon and a small measure of your favorite nuts on-hand, you have everything to make this unpretentious treat. 
If you are a nut-free household and you want to try this granola recipe, feel free to substitute in pumpkin seeds, unsalted sunflower seeds or pepitas for the pecans in this recipe. Any of those would be a perfect addition to add just a little bit of extra crunch to this cereal.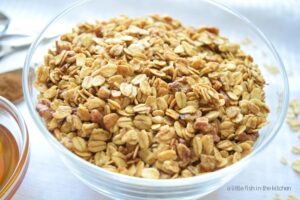 When you make a batch of this honey-cinnamon granola, just be sure that you have a some of your favorite yogurt in the fridge to pair up with it. Topping vanilla or strawberry-flavored yogurt with a scoop of this sweet, crunchy mixture is my favorite way to enjoy it. However, if you like apples slathered in peanut butter, do top them with a bit of this granola for a new twist on an old fave. That is also a crazy-good snack!
We also use this honey-cinnamon granola as the base for homemade trail mix. We've been whipping up several batches of that good stuff lately too. I'll share more about that trail mix and our favorite sweet and salty combination of goodies with y'all soon. 
Happy eating, y'all!
Please check out one of my latest YouTube videos Be sure to subscribe to my channel while you are there, lots more recipe videos and vlogs are coming up!
Wouldn't you like to stay awhile? Sign-up here to receive all of my new posts right to your inbox! Subscribe now and never miss a recipe or an update!
Simple Honey-Cinnamon Granola
Course: Breakfast
Cuisine: American
Difficulty: Easy
This sweet, crunchy granola is a treat on it's own or as a topping for yogurt or ice cream!
Ingredients
1/2 cup coarsely chopped pecans (or another nut)

2 cups old-fashioned rolled oats (not quick oats)

2 tablespoons salted butter, melted

1/3 cup + 1 tbsp honey (see notes below )

1-1/2 – 2 teaspoons ground cinnamon

generous pinch of table salt
Directions
Pre-heat oven to 300°. Line a rimmed baking sheet with either a silicon baking mat or parchment paper.
In a medium-size bowl, mix all ingredients together and transfer to the prepared baking sheet. Bake for 15 minutes and remove pan to stir granola. Return to the oven for 15 minutes more.
Remove pan to a rack to cool. Enjoy!
Recipe Video
Notes
If you prefer a granola that is less sweet, use 1/4 cup + 1 tbsp honey in this recipe instead.
Recipe as published on A Little Fish in the Kitchen at www.alittlefishinthekitchen.com. All content is owned by Marcelle G. Bolton. Please contact the author for permission to republish.