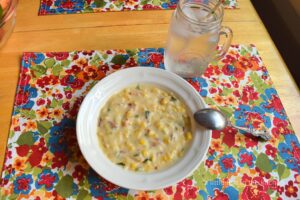 Some days it's just necessary to take it easy.
Yesterday was one of those days for me. And I knew I wanted soup. Or stew. Or chowder. Ya know, some kind of dish in the "soup" neighborhood.
Yesterday's mood was tired with a large side order of lazy.
Yes, the downside to wanting any of those dishes was that, under no circumstances, was I interested in a bunch of effort to make any of them. I was game for a little bit of effort, but definitely not a whole, big bunch of it.
It's been quite a busy week around here and I'm so ready for no alarm clock this weekend. (oh wait, we have soccer playing children. Nevermind…)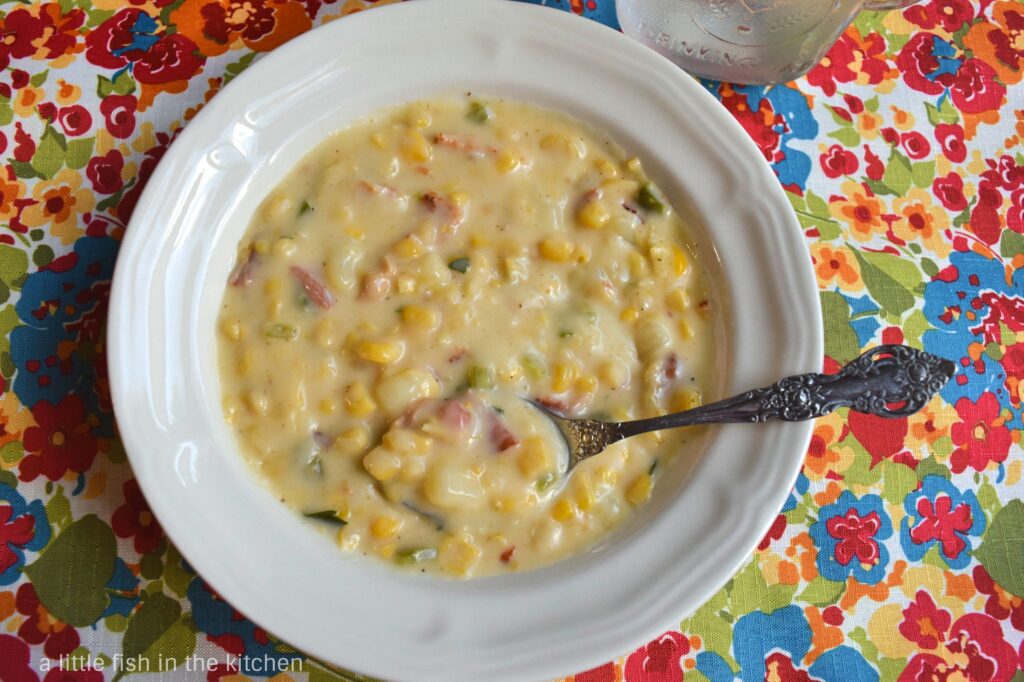 So, when I peeked into my pantry, the first thing I saw was the collection of canned vegetables that we keep around for occasions just like this one.
Okay, so they're actually meant for weeknights that are short on time, but that's just a technicality, really. Right?
A low-energy weekday is basically crisis situation too, if you think about it.
I love all kinds of soup and it's variations too, but a creamy chowder is my favorite guilty pleasure.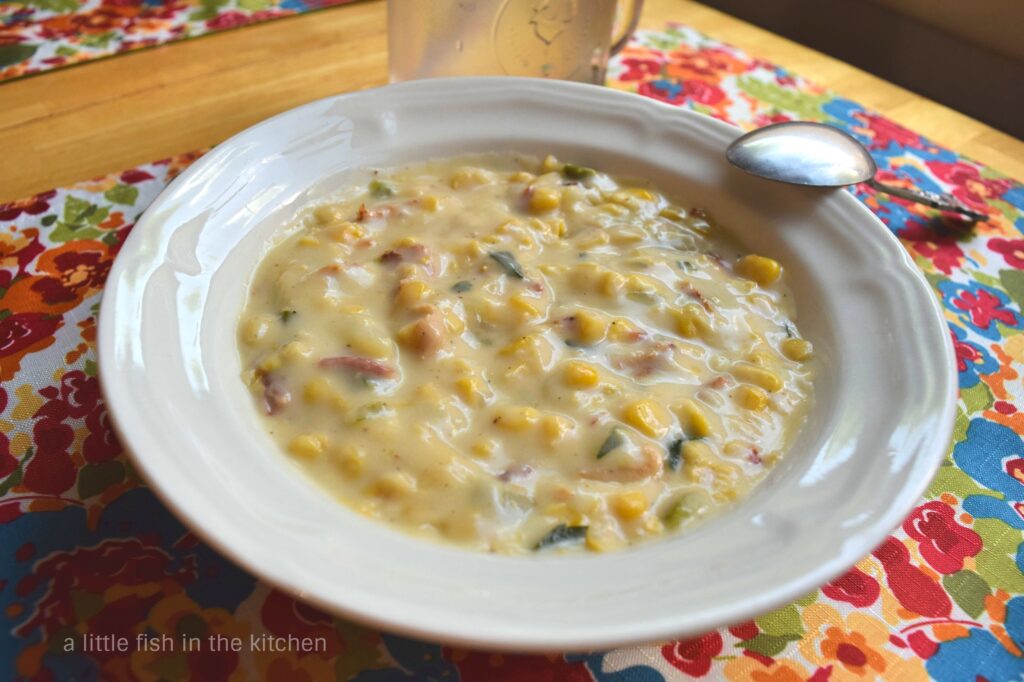 I'm so happy I had the bare essentials around to make this easy corn and bacon chowder. If i had some on hand, I would have used some chopped celery in the dish and stirred in some shredded cheddar cheese at the very end.
Some other day when I'm feeling a bit more frisky, I'll make this again with fresh corn, right off of the cob.
But, as it was yesterday this dish sure hit the spot.
Wouldn't you like to stay awhile? Sign-up here to receive all of my posts right to your inbox! Subscribe now and never miss a recipe or an update!
Be sure to check out my latest videos, y'all!
You'll definitely want to Pin this recipe for later!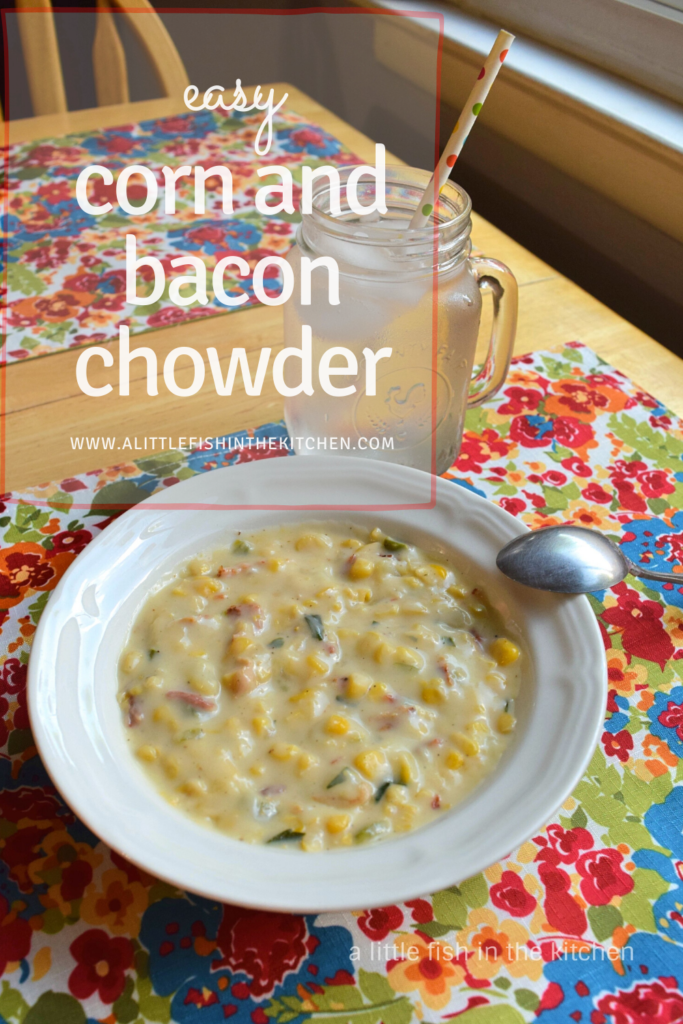 Easy Corn and Bacon Chowder
Course: Soups, Main
Cuisine: American
Difficulty: Easy
Ingredients
5 pieces of bacon, fried crisp and chopped into bits (reserve drippings)

2 tablespoons of bacon drippings or butter or another light cooking oil (your preference)

1/2 cup bell pepper, finely chopped

1/3 of a yellow onion, coarsely chopped

1 medium potato, peeled and diced

2 tablespoons all-purpose flour

2 cups chicken broth

1 can (15 oz) cream-style corn

1 can (15 oz) whole kernel corn, drained

1/4 cup of fresh, flat-leaf parsley, coarsely chopped or 1 teaspoon dried parsley

1/2 teaspoon salt (to taste)

1/2 teaspoon ground black pepper (to taste)

1/2 teaspoon sugar (optional)

1/3 cup heavy cream or 1/2 cup milk
Directions
In a Dutch oven, saute the bell pepper, onion and potato in the bacon drippings (or other oil) for about 5 minutes. Sprinkle the flour over the vegetables and coat the vegetables with it. Stir in the chicken broth.
Bring the pot to a boil and then reduce the heat and simmer for about 15 minutes or until all the veg are tender. Now add both cans of corn, bacon bits, parsley, salt and pepper. Bring the pot back to a boil, reduce the heat and simmer for another 15-20 minutes.
Stir in the sugar and cream. Bring the pot back just to a boil and remove the pot from the heat.
Serve the easy corn and bacon chowder hot with crackers or bread sticks and a green salad! Enjoy!
Recipe Video
Notes
Recipe as published on A Little Fish in the Kitchen at www.alittlefishinthekitchen.com. All content is owned by Marcelle G. Bolton. Please contact the author for permission to republish.