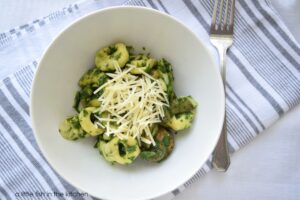 If you are in need of a quick dinner idea that is satisfying and packed with veggies, look no further than this post! This recipe for tortellini with veggies and spinach pesto is healthful, satisfying and pretty easy on the eyes too.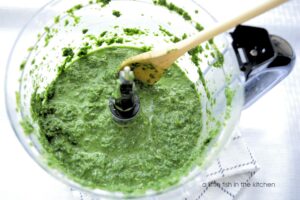 How to make spinach pesto.
This dish for tortellini with veggies and spinach pesto uses store-bought, frozen tortellini and combines it with freshly sauteed zucchini, mushrooms and onions. It's then topped with a super flavorful and delightfully green spinach pesto!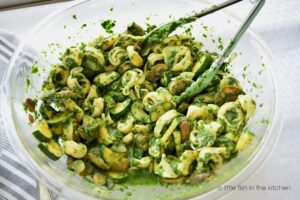 This easy version of spinach pesto is made with fresh baby spinach, fragrant fresh basil and a small measure of bottled Ceasar vinagrette for an amazing extra pop of flavor. The Ceasar vinaigrette conveniently adds notes of Parmesan cheese, garlic as well as other wonderful, briny flavors into this simple supper!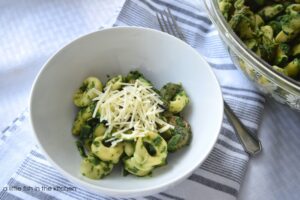 This dish is light, yet hearty and trust me, it will fill you up quick! This colorful vegetarian main dish is also packed with nutrient dense fresh veggies. You're bod will thank you for the added layers of iron, folic acid, ands vitamin C, B6, B9, as well as the many other antioxidants you'll be consuming when your eat this rustic-looking meal for dinner.
This is yet another post in which I will mention how perfect this dish pairs up with garlicky, fresh-baked breadsticks!
Happy eating, y'all!
Here's my latest YouTube video where I make a a skillet of the tasty tortellini with veggies and spinach pesto for you! Be sure to subscribe to my channel and join me for all of my videos! New posts in my Meatless Main Day series will be out next week!
Wouldn't you like to stay a while? Sign up here to receive all of my posts by email! Subscribe now and never miss a recipe or and update!
Tortellini With Veggies & Spinach Pesto
Course: Main
Cuisine: American
Difficulty: Easy
Ingredients
Bag (9 oz) of frozen cheese tortellini

2 medium zucchini, sliced and halved

8 oz button mushrooms, rinsed and sliced

1/2 cup sweet yellow onion, coarsely chopped

1/2 teaspoon each, salt and pepper, or to taste

8 oz fresh baby spinach, rinsed and drained

1/3 cup fresh basil


2 tablespoons water

1/4 -1/3 cup Ceasar vinaigrette dressing (I used Ken's Steakhouse brand)


Shredded parmesan cheese, for garnish
Directions
Cook tortellini according to package directions, drain and set it aside.

In a large skillet, saute the zucchini, mushrooms and onions until onions are transluscent and the veggies are just tender. Remove skillet from the heat and set aside.
Place spinach, basil, water and Ceasar dressing into a food processor or blender and pulse until pesto sauce becomes smooth. Start with the lesser amount and add as much as is needed to reach a smooth consistency. (Depending on the size of your equipment, you may have to do this in two batches).
In a large bowl, combine the cookied tortellini and the vegetables. Fold in the pesto and stir until the pasta and veggies are evenly coated with the sauce.
Transfer tortellini and veggie mixture to individual serving bowls and top with shredded Parmesan cheese. This dish is great served warm or at room-temperature.
Enjoy!
Notes
Recipe as published on A Little Fish in the Kitchen at www.alittlefishinthekitchen.com. All content is owned by Marcelle G. Bolton. Please contact the author for permission to republish.