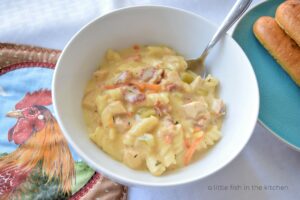 Like so many folks in the world, I really enjoying sitting down with a warm bowl of soup on chilly days. Well, one of out two isn't bad, right? At the moment, I've got a big pot of this creamy, comforting cheesy bacon chicken noodle soup on the stove, but it's a balmy 70°outside here.
It's so warm, that I sent my kids to school in shorts this morning and I have to keep reminding myself that it's only January. Two years ago, right about this same time, we had a backyard full of SNOW! That surprise blanket of snow was definitely extreme weather for us in January 2018 and equally as weird as it is for the temperature to be quite this warm in January 2020!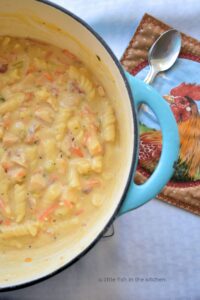 Please bring our allotted handful of brisk, 50° days around this winter, Mother Nature. I dislike the inevitable, infernal summer heat so much, that I'm afraid my sanity depends on them. Plus, my scarves and boots need to get out for some exercise while they are still in fashion! (I know, melodramatic much? Humor me, I hate shopping for clothes!)
Oh well, that's enough moaning and groaning for one post. I'm going to go take solace in a big bowl of this cheesy bacon chicken noodle soup and some bread sticks… on my patio with a fly swatter handy and the mosquito lanterns burning. (It's just not right, y'all!)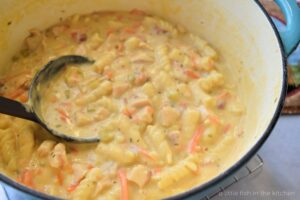 Well, whatever the weather at your place, I hope you'll enjoy a big bowl of this luscious soup. It's a family favorite and truth be told, I've made it in the middle of summer too and I received rave reviews!
I'll just have to call this one a soup for all seasons.
Here's my latest YouTube video! Come hang out with my in my kitchen and watch me make a batch of this comforting soup for you! I've got loads of cooking and travel videos coming up for 2020 and I'd love to have you with me for it all. Click that red subscribe button when you watch so you won't miss a thing!
Sign up here to receive all of my posts right to your inbox! Subscribe now and never miss a new recipe or update!
Cheesy Bacon Chicken Noodle Soup
Cuisine: American
Difficulty: Easy
This soup is A+ comfort food, y'all. Creamy, cheesy and packed with all the comforting flavors of traditional chicken soup, it's a fantastic choice for a quick meal on a chilly night. It's excellent served with a simple green salad and garlicky bread sticks.
Ingredients
2 tablespoons extra virgin olive oil

2-1/2 cups cooked chicken, cut into bite-size cubes or shredded

5 pieces crispy cooked bacon, crumbled into bits

5 oz packaged matchstick carrots or two medium carrots, thinly sliced or diced

2 large ribs of celery, thinly sliced or diced

1/3-1/2 cup coarsely chopped onion (to taste)

1/2 teaspoon dried thyme

1-1/2 teaspoon dried parsley


1/2 teaspoon ground white pepper

6 cups chicken broth

8 oz uncooked pasta of your choice (I like to use Rotini or egg noodles)

1 (10.5 oz) can cream of chicken soup

4 oz cream cheese, room temperature

1 cups shredded sharp cheddar cheese

1 cup milk
Directions
In a large Dutch oven, combine carrots, celery, onions, and bacon bits. Saute for 3 minutes then add in cooked, cubed chicken, white pepper, parsley and thyme.
Pour in all of the broth and bring the pot back to a rolling simmer. Stir in the cream of chicken soup and then add the pasta. Bring the pot back to a boil and simmer for another 1o minutes or until pasta is tender.
Stir in the cream cheese, shredded cheese and the milk. Bring the pot back to a boil, stirring often to break down any remaining clumps of cream cheese. Allow to boil for 1-2 minutes and remove the pot from the heat. Stir a few more times to make sure the cream cheese is completely broken down and that the soup is nice and smooth.
Serve hot and enjoy!
Notes
Recipe as published on A Little Fish in the Kitchen at www.alittlefishinthekitchen.com. All content is owned by Marcelle G. Bolton. Please contact the author for permission to republish.