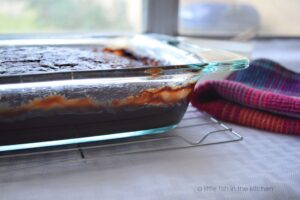 Y'all, I went out for a little shopping at a few thrift stores recently and I think I hit the vintage cookbook jackpot. There are really just two second-hand stores that are my favorites and I frequent them more than I care to admit. Whenever I visit those establishments, I head to one of two sections immediately upon arrival: the glassware/serving dishes and the bookshelves. Yep, that's where you'll find me while I'm in either store, no question about it.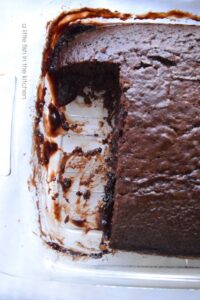 As I arrived on this particular day, this large collection of hard-cover bound Southern Living cookbooks instantly caught my eye. They were just sitting there, in all their glory, taking up an entire shelf…just waiting for me! With very little hesitation, I bought them all (just a lil ol' stack of 12 large, hard-cover books, no one will even notice, right!). I mean, at a mere $2 a piece was there any question of what to do in that situation? Besides, I'm sure they were a family (wherever they came from!) and there was no way I could have just picked one and broken up the gang!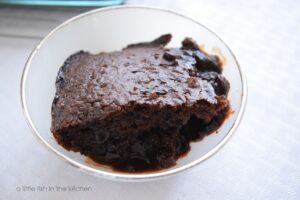 I don't know who cleaned out their attic and donated that amazing collection of books, but I do thank you, whoever you are. I promise, they are living in a really good new home and I still can't believe my luck. Seriously, some of these books still smelled brand new and I don't think they were ever even opened! It was truly like finding treasure for me and I will study them and treat them with lots of love.
Each of the volumes contains a few recipes for jazzed up cakes made from boxed mixes. You all have to know by now that I love these types of simple desserts. The recipe for Old-Fashioned Hot Fudge Cake practically jumped off of the page at me and it sounded so fun and simple to make that I went right to it!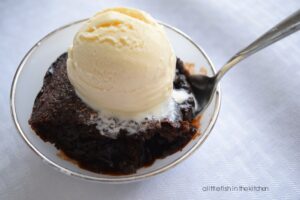 I've whipped this easy treat up for my family twice now to rave reviews, and I really can't say enough about this oldie, but goodie recipe for an easy hot fudge cake!
The original recipe called for it to be made with a box of devil's food cake mix, but I've subbed in a chocolate fudge-flavored mix and I prefer it. The cake makes it's own thick, delicious hot fudge sauce as it bakes, so there's no need to make any frosting or glaze. It's fabulous! Just be sure to serve this warm with a big scoop of vanilla ice cream or whipped cream (or both) if you are into that kind of thing! And, um, sprinkles… why not!?
This cake will be a fun dessert choice for simple birthday parties, a weekend barbecue or a family reunion! Or, if you are like us, it's just pretty darn good on a regular Tuesday night too!
I hope you all enjoy it if you make it! Happy eating, friends! xoxo
Don't forget to Pin this recipe for later!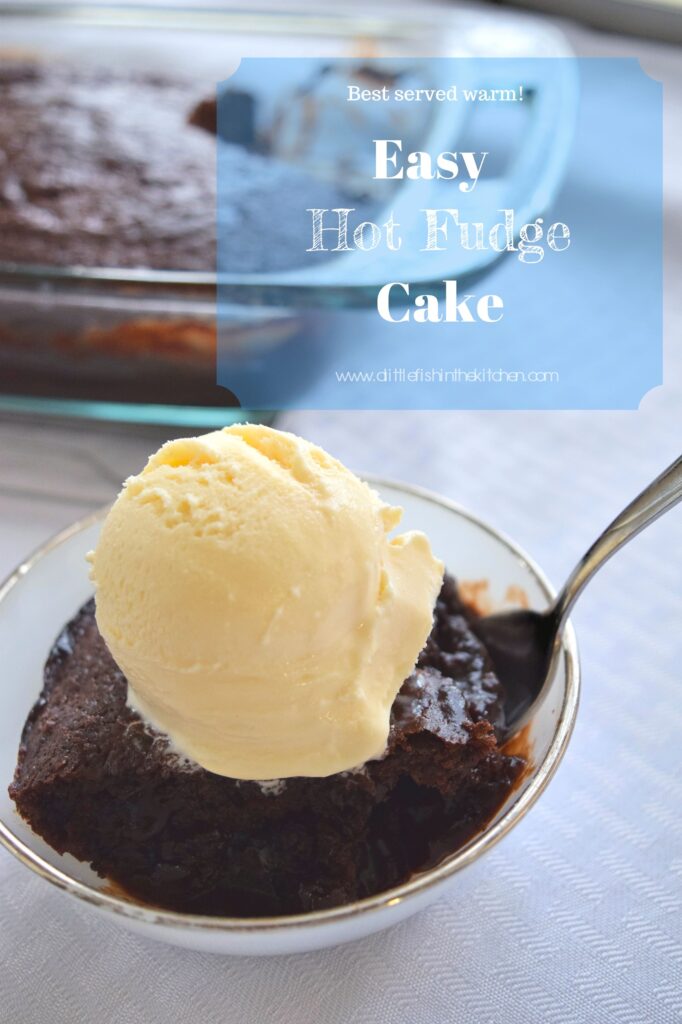 Here's my latest recipe video, please subscribe to my You Tube Channel!
Wouldn't you like to stay a while? Subscribe to receive all of my posts right to your inbox! Sign up now and you'll never miss a delicious post!
Easy Hot Fudge Cake
Course: Dessert
Cuisine: American
Difficulty: Easy
This old-fashioned hot fudge cake is sure to be a hit with the chocolate lovers in your life. It's uses a boxed cake mix for convenience, but with one extra step it makes is own rich, hot fudge sauce as it bakes. No need for making frosting or glaze, just serve this cake warm with ice cream or whipped cream!
Ingredients
Box (15.25 oz) of chocolate fudge or devil's food cake mix (I use Betty Crocker brand chocolate fudge mix)

1 cup sugar

1/2 cup unsweetened cocoa powder

2 cups hot water

1-1/2 teaspoon pure vanilla extract

Suggestions for serving:

vanilla ice cream

whipped cream

toasted, chopped nuts (pecans, walnuts)
Directions
Pre-heat your oven to 350°. Prepare cake mix according to package instuctions. Pour batter into a greased 13×9 inch baking dish.
Mix sugar and next 3 ingredients together in a bowl or a large measuring cup. Pour the hot cocoa mixture all over the top of the batter in the baking dish (it will sink to the bottom of the pan).
Bake for 45 minutes. Remove the cake from the oven and let it cool on a rack for 15-20 minutes before serving.
Serve warm topped with vanilla ice cream, nuts or whipped cream, if desired. Enjoy!
Recipe Video
Notes
Recipe as published on A Little Fish in the Kitchen at www.alittlefishinthekitchen.com. All content is owned by Marcelle G. Bolton. Please contact the author for permission to republish.