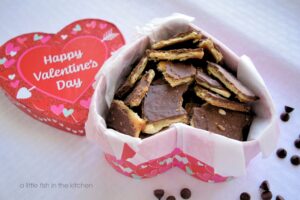 This saltine cracker toffee is super simple to make and it's crazy delicious, y'all. For folks who love snacks with a combination of sweet and salty ingredients, like myself and the hubs, this is a treat that's seriously hard to stop eating. It's just that good!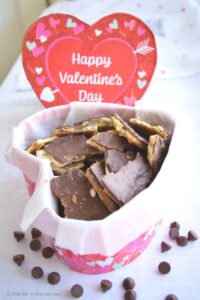 How to make saltine cracker toffee.
How delicious this semi-homemade candy is is only one-upped by how gosh darn easy and fun it is to make! There are only four ingredients in this recipe: store-bought saltine crackers, dark brown sugar, butter and some semi-sweet chocolate chips. I'm not sure about you, but the items on that very short list are pantry staples in my house. However, even if you have to pick up an item or two, that's all you need and you're in business to make a batch!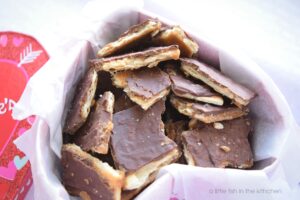 This saltine cracker toffee is one of my favorite gifts from the kitchen to share with neighbors, friends and family around the holidays. However, I decided to dress this batch up for Valentine's Day instead of Christmas in this post! We honestly make this for a few occasions throughout the year. It's truly an amusing, conversation-starting menu item that's terrific all year long!
I know from personal experience that the kiddos in your life will enjoy making this recipe with you. This is fun and kid-friendly sweet treat to put together!
And if you are feeling frisky and would prefer to make this saltine cracker toffee with homemade crackers, click here to print my recipe for homemade saltine crackers
Happy eating, my friends and Happy Valentine's Day! xoxo- M
Check out my latest You Tube video below where I make a batch of this saltine cracker toffee for you! Come cook with me and be sure to subscribe while you are there! I've got lots more recipe videos coming up soon!
Wouldn't you like to stay awhile? Sign up here to receive all of my posts right to your inbox! Subscribe now and never miss a new recipe or update!
Saltine Cracker Toffee
Course: Dessert, Snacks
Cuisine: American
Difficulty: Easy
This saltine cracker toffee comes together in just minutes and it's sure to be a conversation starter on your party table! It's a terrific make-ahead sweet for the week, gift from your kitchen or potluck dinner contribution!
Ingredients
2 sleeves of store-bought saltine crackers, salted top or unsalted tops, your preference

1 cup dark brown sugar

1 cup (2 sticks) butter, I use one stick of each, salted and unsalted

1-3/4 cups semi-sweet chocolate chips
Directions
Pre-heat oven to 400°. Prepare a rimmed baking sheet by covering with foil and topping with parchment paper. Line the entire covered baking sheet with a single layer of saltine crackers. Set baking sheet with crackers aside.
In a medium-size sauce pan, make the toffee sauce. Melt the brown sugar and butter together over medium heat. Increase the heat and bring toffee sauce mixture to a boil. Reduce heat and allow sauce to simmer, stirring constantly. Once butter and sugar are completely incorporated and a smooth, thick caramel-colored sauce develops (about 3 minutes) remove the pot from the heat.
Immediately (and carefully!) pour the hot toffee sauce over the crackers on the prepared baking sheet. Use a silicon spatula to evenly spread the sauce over the layer of saltines, covering them completely.
Place the toffee-covered crackers into the pre-heated oven and allow to bake for 6 minutes. Remove pan from the oven and place on a cooling rack. Immediately sprinkle chocolate chips evenly over the bubbling toffee sauce.
Place the baking tray back in oven for 2 minutes to help the chocolate chips soften. Remove tray from the oven and place back onto the cooling rack. Using use an offset spatula or a silicon spatula,
immediately spread the soften chocolate chips evenly over the toffee-covered crackers.
Allow the pan of saltine cracker toffee to come to room-temperature, then transfer the pan to the refrigerator for at least 30 minutes to allow the candy to become crisp. Break the candy into pieces bite-size pieces.
Transfer saltine cracker toffee pieces to a covered storage container or parchment paper-lined gift tins. Store in the refrigerator for up to 2 weeks. Enjoy!
Recipe Video
Notes
Recipe as published on A Little Fish in the Kitchen at www.alittlefishinthekitchen.com. All content is owned by Marcelle G. Bolton. Please contact the author for permission to republish.