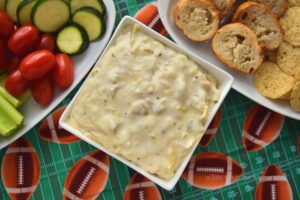 This chicken and artichoke alfredo dip is one of our all star recipes for entertaining! It's easy to make, it's cheesy and delicious and it feeds crowd!
It's also a perfect, low-carb party food option when served with a variety of fresh vegetables. Pairing this luscious dip up with fresh, crisp zucchini slices is my favorite enjoy this appetizer. However, if you are not following a low-carb diet, this chicken and artichoke alfredo dip is totally amazing served with slices of fresh baguette, crackers or tortilla chips!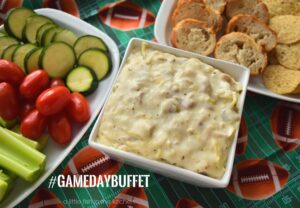 I'm sure this dip will be a MVP at your game day party or any other party too! I hope you all enjoy it as much as we do!
Y'all, I shared this recipe as part of collaboration with a few other talented food bloggers and vloggers who primarily post on YouTube! I'm spending quite a bit of time on YouTube these days, I hope you'll subscribe to my channel and join me for all of the fun! Here's the video I shared for this chicken and artichoke alfredo dip. The links to all the other food channels and recipes are in the information section of this video post! Enjoy!
Don't forget to Pin this recipe for later!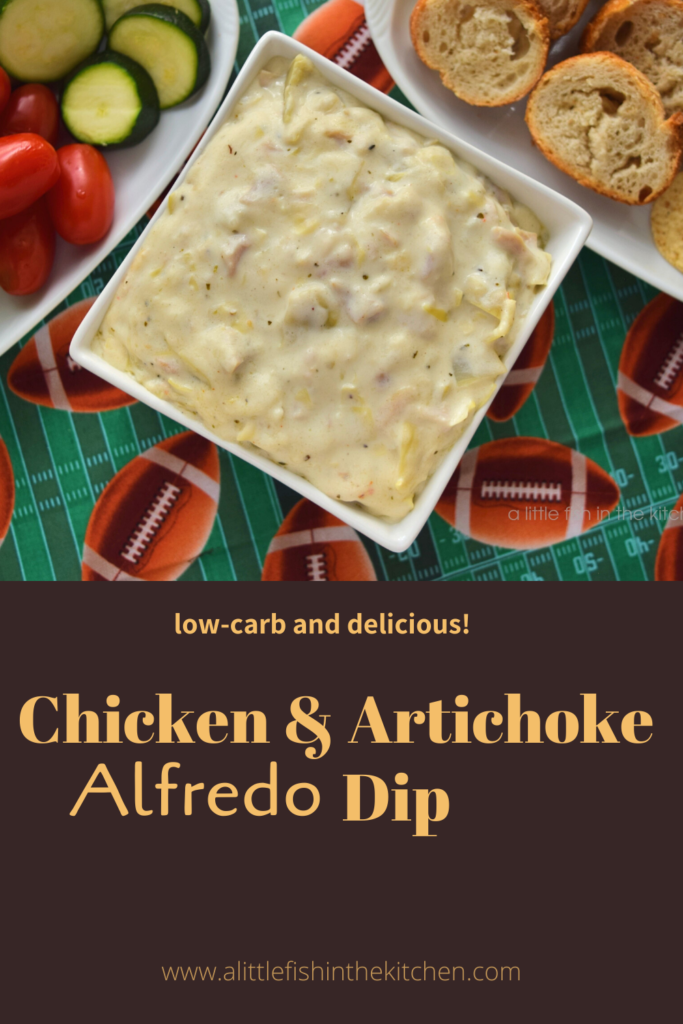 Sign up here to receive all of my posts right to your inbox! Subscribe now and never miss a new recipe or update!
Chicken and Artichoke Alfredo Dip
Course: Appetizers
Cuisine: American
Difficulty: Easy
Ingredients
1/4 cup (4 tablespoons) salted butter

1 brick (8 oz) cream cheese, room temperature

1/2 teaspoon dried oregano

1/8-1/4 teaspoon garlic powder or 1 clove of garlic, finely minced

1/4-1/2 teaspoon ground white pepper

1 cup milk

3/4 cup (6 oz) shredded Parmesan cheese

1-1/2 cup cooked chicken, chopped

1 jar (12 oz) marinated artichoke hearts, drained and coarsely chopped
Directions
In a Dutch oven, melt the butter over medium heat. Add in the softened cream cheese and use a whisk to combine it with the butter until smooth.
Add in the spices and the milk. Bring the pot back to temperature and whisk until a creamy sauce forms.
Fold in the chicken, artichokes and parmesan cheese. Bring the pot back to a low boil just until the cheese is melted and the dip is warmed through.
Transfer to a serving dish and serve warm. (see notes)
Recipe Video
Notes
This dip is excellent served with a variety of fresh vegetables, slices of fresh baguettes, crackers or tortilla chips!
Recipe as published on A Little Fish in the Kitchen at www.alittlefishinthekitchen.com. All content is owned by Marcelle G. Bolton. Please contact the author for permission to republish.