Around here, brownies make the top five list of "World's Most Comforting Things". A fresh baked pan of fudgy brownies comes equipped with a gorgeous crackled top, a moist middle, and a rich chocolate flavor that is second to none.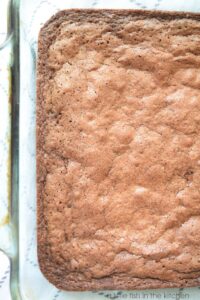 For obvious reasons, brownies are a popular baked treat and if you have a craving, they are pretty easy to find. Seriously, out there in the world somewhere, there's a pan of brownies just waiting for you to buy it (yes, right now!). Chances are you don't even have to go very far or even step foot into a privately-owned bakery to find some. In fact, I bet you can just swoop by and pick up a pan of chocolate-ty brownies at your supermarket's bakery as you're running for the checkout line.
And you can definitely pick up a convenient box of brownie mix in the baking aisle of any grocery store to bake some at home. But, I'm writing this post to let you know that you can make them from home with hardly any fuss at all… and with stuff you (probably) have in your pantry as you read this blog page.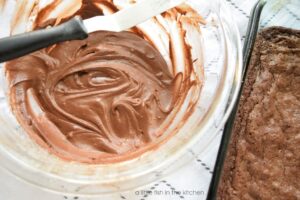 If you have unsweetened cocoa powder, flour, sugar, a couple of eggs, light cooking oil and some vanilla extract in your pantry at the moment, you can hop right off of here and go bake up a scratch-made pan of these absolutely delicious, cocoa powder brownies. In fact, you can have a batch of heavenly brownies all ready to brag about in just about 35 minutes!
No special trip to the store required to pick up any old box.
No. Sir. E. Bob.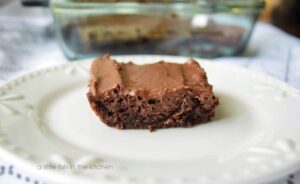 If you want to make a bit of chocolate frosting like I did, it will take a few minutes longer, but I think that little bit of extra effort is definitely worth it. However, if you aren't in the mood to make frosting, no worries. These easy, classic cocoa powder brownies are terrific all by themselves or with a simple dusting of powdered sugar!
Now matter how you serve them, I hope you all enjoy them if you try them! xoxo – M
Here's my latest YouTube video where you can watch me make this entire recipe. Please subscribe while you are there, I've got lots of tasty summer recipes coming up!
Don't forget to Pin it for later, y'all!!
Wouldn't you like to stay a while? Sign up here to receive all of my posts right to your inbox! Subscribe now and never miss a recipe or an update!
Classic Cocoa Powder Brownies with Quick Chocolate Frosting
Course: Dessert
Cuisine: American
Difficulty: Easy
There is nothing better than a moist, chocolate-ty pan of brownies made entirely from scratch! This is a foolproof, classic, crowd-pleasing dessert recipe.
Ingredients
1/2 cup canola oil (or another light cooking oil)

1 cup sugar

2 large eggs, slightly beaten

1 teaspoon pure vanilla extract

1/2 cup all-purpose flour

1/3 cup unsweetened cocoa powder

1/2 teaspoon baking powder

1/4 teaspoon salt

1/2 cup finely chopped nuts (optional ingredients, but pecan and walnuts are so good here!)

For the quick chocolate frosting

3 tablespoons unsalted butter, room temperature

3 tablespoons unsweetened cocoa powder

1 tablespoon light corn syrup

1/2 teaspoon pure vanilla extract

1 cup powdered sugar

2 tablespoons milk
Directions
Pre-heat the oven to 350°. Grease an 8×8-inch glass baking dishing with butter or non-stick cooking spray and set it aside. In a medium-size bowl, combine the flour, cocoa powder, baking powder and salt,  stir and set the bowl aside. In another small bowl, mix together the eggs, sugar, oil, and extract.
Make a well in the center of the dry ingredients and pour the egg mixture all into the large bowl.  Use a wooden spoon to mix it all together and soon a thick batter will form. If you are adding chopped nuts, fold them in to the batter now.
Transfer the batter into the prepared baking dish and place in the preheated oven. Bake for 20-25 minutes or until top of brownies looks done and the edges are lightly browned. Remove brownies from the oven and cool completely on a rack.
While the brownies are cooling, make the chocolate frosting. In a medium-size mixing bowl, lightly cream butter with a whisk or a wooden spoon. Add in the cocoa powder and corn syrup and mix well. Whisk in the oil, milk and extract until a creamy chocolate frosting forms. Cover bowl with frosting until ready to use. Spread chocolate frosting evenly over the cooled brownies.
Serve with with coffee, tea or a big glass of ice cold milk and enjoy!
Recipe Video
Notes
Top the frosted brownies with festive sprinkles for special occasions…or just because, you know… SPRINKLES! 🙂
Recipe from A Little Fish in the Kitchen blog at www.alittlefishinthekitchen.com. All content is owned by Marcelle G. Bolton. Please contact the author for permission to republish.