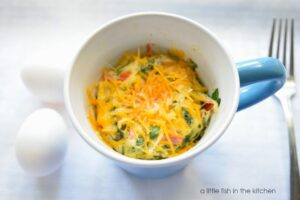 This easy peasy omelette in a mug has been an absolute lifesaver for my family this summer. It's versatile, easy, quick, reasonably healthy and (perhaps best of all) you don't have to heat up the kitchen to make it! The microwave does all the work and in just 2-3 minutes.
Of course, this brief description of a mug meal prepared in the microwave will now segway into my annual, August-gripe-about-the-heat post! I will just keep my rant super brief this year and y'all just know that I'm dreaming of cool, breezy days and pumpkin spice-scented everything… every single night for the rest of this miserable month though. Seriously.
That being said, it's crazy hot here y'all and if you don't have to heat up the kitchen, well my advice is … don't! Make it in a mug instead.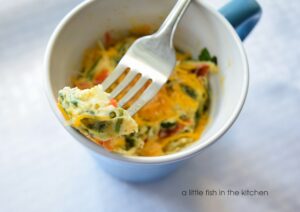 How to make an omelette in a mug.
You can make this simple mug meal just about anywhere, even in a hotel room. Well, assuming your hotel room has a kitchenette with a microwave and mini-fridge and that you have a microwave safe mug or bowl handy. We love inexpensive, yet nourishing travel meals such as this one and when we travel, we are sure to take along some supplies.
All you need are four basic ingredients: two larges eggs, a splash of milk and a pinch salt and pepper. However, if you would like a bit more pizzazz with your omelette in mug, just add in a teaspoon or two of your favorite fixings. We personally like to add in some cheese, ham, mushrooms, sliced cherry tomatoes, bell pepper, green onions and precooked breakfast meats when we have those little extras available.
My son is quite the whiz in a the kitchen at age 12, and he can whip up some pretty awesome scrambled eggs on the stove top, but all kids just love making things in a mug. My 6-year old daughter loves that she gets to be so hands-on and make this one for herself!
Other perks.
This is a great recipe for busy mornings, and if you eat it from the mug you cook it in, it really saves you time on dishes too. Really, what's not to love?
I hope you enjoy this simple dish!
Check out one of my latest videos!!
You'll definitely want to Pin this recipe for later, y'all!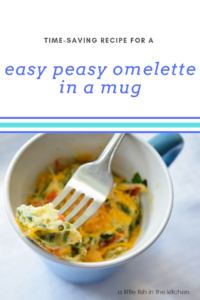 Easy Peasy Omelette in a Mug
Course: Breakfast, Brunch, Dinner
Cuisine: American
Difficulty: Easy
Ingredients
2 large eggs

1-2 tablespoons milk or water

dash salt and pepper

Add-In Suggestions

2 teaspoons finely diced ham

2 teaspoons diced green or red bell pepper

1-2 teaspoons diced onion

2 teaspoons diced button mushrooms

2 teaspoon diced tomato, seeded and free of pulp

1 tablespoon finely shredded cheddar cheese + more for topping

1-2 teaspoons sliced green onions
Directions
In a large (12 oz), microwave safe mug combine eggs, milk or water, salt and pepper. If desired, add in a couple of teaspoons of your favorite ingredients (such as ham, bell pepper, onion, mushroom, cheese, as your prefer.) and stir.
 
Place mug in microwave oven and cook on high for 2-3 minutes (check it out the 2 minute mark to see if it needs more time). The eggs may need more time depending on the size of your microwave oven. (see note below). Continue to cook one minute at a time if eggs do not appear to be done. Remove mug from the microwave and allow it to cool for about 5 minutes. Top with extra cheese and sliced green onions or other garnish.
 
Enjoy!
Recipe Video
Notes
Making an omelette in a mug using a small 700 watt microwave oven will take 3 minutes. Using a larger microwave will take 1-2 minutes of cook time.
Recipe from A Little Fish in the Kitchen blog at www.alittlefishinthekitchen.com. All content is owned by Marcelle G. Bolton. Please contact the author for permission to republish.