When I think of quick breads I almost always immediately think of spiced, sweet little loaves of bread that make for terrific breakfast or a dessert.  Most of my favorite quick breads are made with fruit and sometimes even chocolate, like thisclassic apple quick bread or my kid's favorite banana bread with chocolate chips!
However, lately I've been making some savory quick breads to go with our suppertime meals and this flavorful beer bread has quickly risen to the top of the list of favorites around here (pun totally intended)!
This recipe is an adaptation of a classic recipe for beer bread that was printed in a local newspaper a few years ago. When I saw the recipe simply titled "Beer Bread" I was completely intrigued and I knew I had to try it. But when I finally baked some up, I was completely disappointed. Although the texture of the end product was great, I found that particular recipe to be a bit bland, and at the very least it needed a pinch more salt.
So, the next time I baked a loaf of this bread, I added a bit more salt and well… I tripled the amount of butter that was listed in the original recipe (my bad, but you will thank me later)!
This basic beer bread recipe is really versatile and I think it's such a fun recipe because it will take on the essence of whatever type of beer you used to make it. For instance, if you use a dark craft beer, a lemon-flavored summer brew, or a spiced holiday beer, the flavor and color of the beer can be subtly detected in the bread.
For this loaf, I used a can of Coor's Light because that's what the husband had on hand, and the mild flavor and certainly the crisp, golden color of that light brew is evident in this loaf of beer bread. For descriptive purposes, I'll just add that it's was also pretty scrumptious and I'll use Coor's Light again to bake this!
How to make beer bread. 
Not only is this buttery beer bread delicious, y'all but when I say this is a quick bread, I really mean it. This little loaf comes together in no time at all and it only requires five pantry staple ingredients plus one, little can of beer to make it. It will need to bake for about an hour, and your house is going to smell absolutely amazing while it's in the oven!
Also, there's no need to worry about much alcohol content lingering in the bread as most, if not all, of the alcohol in a single beer will evaporate as the bread bakes.
I hope you all will tag me with pictures if you make a loaf! I'd love to hear about what type of beer you use. Happy baking, y'all!!
Be sure to Pin this one for later, y'all!!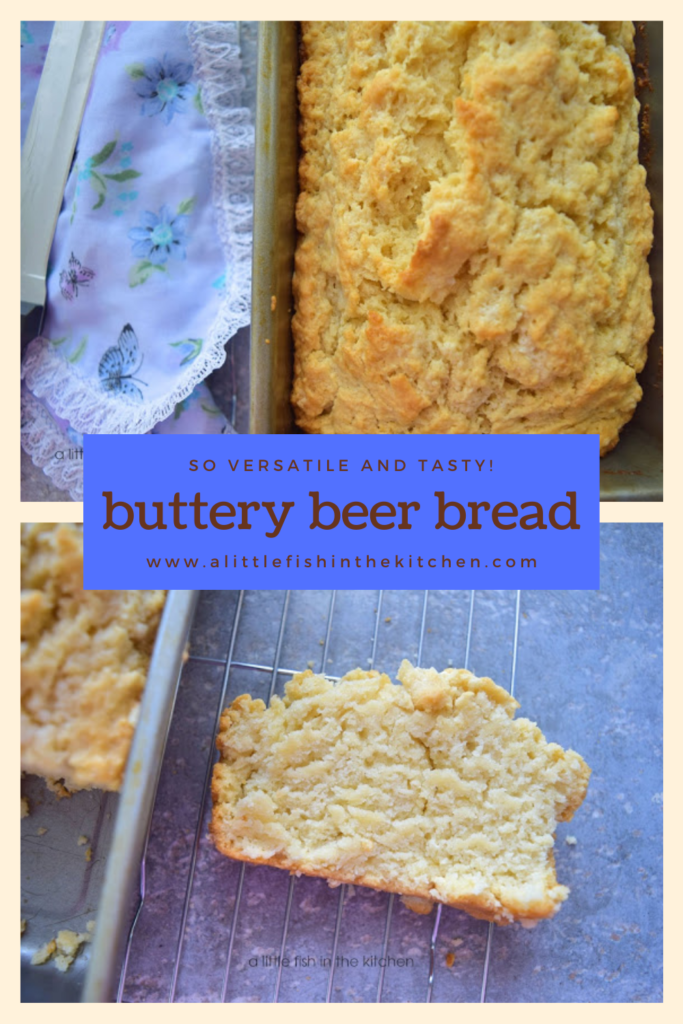 Wouldn't you like to stay a while? Sign up here to receive all of my new posts straight to your inbox! Subscribe now and never miss an update or recipe post!
You'll definitely want to Pin this recipe for later, yall!
Buttery Beer Bread
Course: breads and rolls
Cuisine: American
Difficulty: Easy
Ingredients
3 cups all-purpose flour

3 teaspoons baking powder

1/3 cup sugar

1 teaspoon salt

1/3 cup (5 1/2 tablespoons) salted butter, melted and slightly cooled

1 (12 oz) can or bottle beer ( I used Coor's Light because it was in the fridge, but your fave beer will work!)
Directions
Pre-heat the oven to 350° and grease a 9×5 inch loaf pan with non-stick cooking spray, set it aside.  Combine all dry ingredients in a large mixing bowl and stir well with a wooden spoon.
Pour beer and 3 1/2 tablespoons of melted butter into the dry mixture. Stir until beer bread batter is just combined. Turn out batter into the prepared loaf pan and gently press it evenly into the pan. Pour the remaining 2 tablespoons of butter evenly over the bread batter.
Bake for 50-60 minutes or until the top of the loaf is lightly browned and it appears done. Remove pan from oven and allow to cool for 15-20 minutes on a rack.
Serve warm and enjoy!
Notes
Recipe as published on A Little Fish in the Kitchen, www.alittlefishinthekitchen.com. All content is owned by Marcelle G. Bolton, please contact the author for permission to republish.