Well, the first day of fall is almost here!! In fact, it's on the calendar for September 22, 2017. I know that's still a month away, but based on the way this year is just flying by, that date will be here in no time at all!
This summer has flown by for us and as I've shared with you all, it's been really hectic! In a sense, we are super ready to move on to a brand new season. Hopefully, we can slow down and better appreciate the holidays and family events that the rest of the year has to offer.
So, bring on the cozy autumn colors and gorgeous warm spices. They are kind of my favorite things anyway.
My kids love this simple spiced apple quick bread. One little loaf is a snap to make and it definitely disappears in a flash too! I baked this single loaf of bread late last night. It was meant to be a special breakfast treat for what should have been my son's first day of fifth grade this morning. But, due to the unpredictable weather conditions lately here in our local area, his first day of school has been postponed.
At least we had one last leisurely breakfast together to round out summer 2017, and we're hoping for clear skies tomorrow…clear skies for all of Texas!
Happy fall baking y'all and enjoy! -xo M
Check out one of my latest videos!
Wouldn't you like to stay awhile? Sign-up here to receive all of my new posts in your inbox! Subscribe now and never miss a recipe or an update!
Y'all will definitely want to Pin this recipe for later!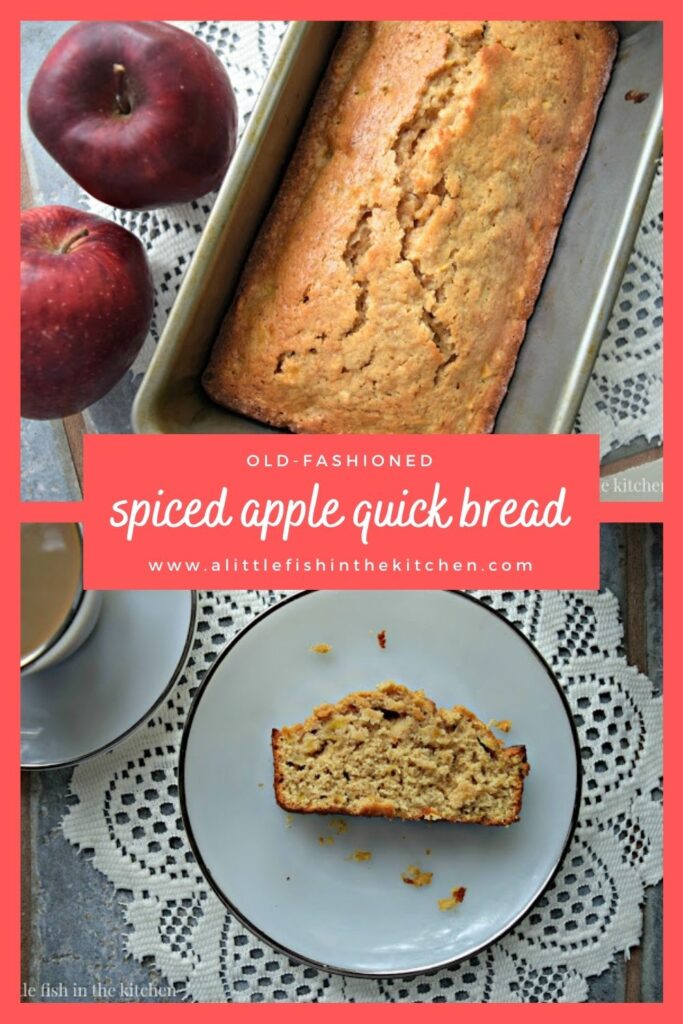 Old-Fashioned Spiced Apple Quick Bread
Course: Breakfast, Brunch, Dessert
Cuisine: American
Difficulty: Easy
This old-fashioned, spiced apple quick bread is a perfect sweet treat for any time of the day. It's simple and delicious.
Ingredients
1-1/2 cups all-purpose flour

1/2 cup sugar

1/4 cup packed light brown sugar

1 teaspoon baking powder

1 heaping teaspoon ground cinnamon

1/4 teaspoon ground ginger

1/4 teaspoon ground nutmeg

1/8 teaspoon of salt

1/4 cup salted butter, room temperature

2 tablespoons vegetable or canola oil

1/2 – 1 teaspoon pure vanilla extract (to taste)

1/2 cup milk

1 large egg, beaten

1 large apple, peeled, seeded and finely chopped (1 cup chopped apple)

1/3 cup toasted pecans or walnuts, finely chopped
Directions
Preheat the oven to 350°. Mix flour, sugars, baking powder, spices, and salt together in a medium bowl. Set bowl aside. In another small bowl, mix the egg, butter, oil, vanilla and milk together with a whisk. 
Make a well in the center of the dry ingredients and pour in the milk mixture. Mix with a wooden spoon until the batter is just combined. Fold the chopped apples and toasted pecans into the batter.
Transfer batter into a greased 9 x 5-inch loaf pan (or use an 8×4-inch pan for a taller loaf of bread). Bake for 35-40 minutes or until a toothpick inserted into the center comes out clean.  Cool on a rack for about 15 minutes before slicing and serving.
Enjoy with extra butter, coffee or your favorite hot tea!
Recipe Video
Notes
Recipe from A Little Fish in the Kitchen blog at www.alittlefishinthekitchen.com. All content is owned by Marcelle G. Bolton. Please contact the author for permission to republish.