Fresh corn on the cob has always been one of my favorite things and it's one ingredient I don't make time for nearly enough. I use canned or frozen corn as quick substitutions in lots of our family favorite recipes. Truthfully, no one seems to mind the shortcut, and the dishes typically turn out just fine and tasty. But, there's just something so satisfying about using fresh produce instead the easy alternatives every time I get the chance.
So, for the first time in way too long, I picked up several ears of fresh corn a couple of weeks ago. It just sounded so good and it looked so pretty in it's big bin at the store. We grilled some of it the same day I brought it home, and boy, was that a serious treat! I was happy to see that the kids ate it so well, but who could blame them? After all, grilled corn on the cob is seriously delicious with a good smear of butter and a light sprinkle of salt and pepper. We have all been enjoying it being on our dinner plates so often this month.
Corn on the cob and all of it's golden, yellow glory is pretty much the perfect summertime side dish, if you ask me!
I had about four large ears of corn left, and I decided to make fresh corn salad to use them up. I've seen all kind of corn salad recipes shared on social media lately and most them have been bathing in luscious-looking, tempting creamy sauces and dressings.However, I couldn't stop thinking about pairing the rest of my fresh corn up with hearty black beans and dressing it with a smoky, cumin-infused honey-lime dressing. So I did just that!
The smoky honey-lime dressing turned out to be a big hit and it compliments the flavors of this earthy salad perfectly. This has become one of our favorite side dishes in the last few weeks and I know I'll be making lots more of it before summer's over.This corn and black bean salad is light yet satisfying and with all of it's bright colors, it's pretty easy on the eyes too!
Wouldn't you like to stay awhile? Sign-up here to receive all of my new posts in your inbox! Subscribe now and never miss a recipe or an update!
You will definitely want to Pin this recipe for later, y'all!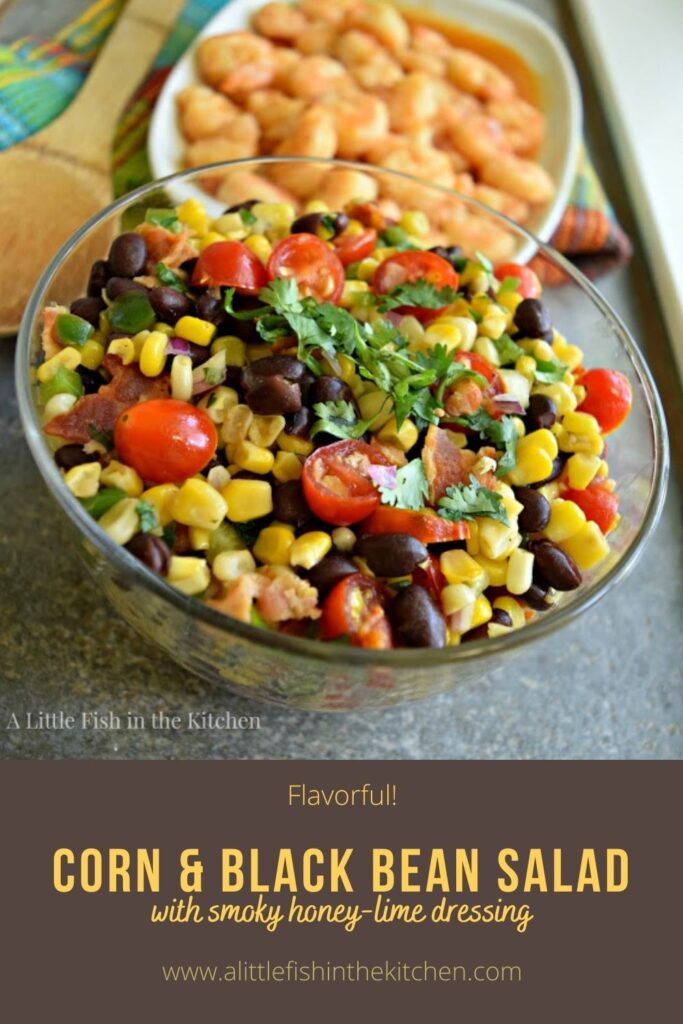 Corn & Black Bean Salad with Smoky Honey-Lime Dressing
Course: vegetables and salad
Ingredients
4 large ears of fresh, sweet corn, husks and silk removed or sub one can (15 oz) of sweet corn kernels, drained

1 can (15 oz) black bean, rinsed and drained

1 small green bell pepper, seeded and finely chopped

1 cup cherry tomatoes, rinsed, sliced or halved

1 large stalk celery, finely chopped

4 pieces bacon, crispy cooked and crumbled into bit (reserve at least 2 tablespoons drippings)

2 tablespoons reserved bacon drippings or another light cooking oil

2-3 tablespoons fresh cilantro, or Italian parsley, coarsely chopped

1 small avocado (optional)

3/4 cup Mexican cotija cheese (optional)

Extra teaspoon chopped fresh herbs for garnish

Smoky-Honey Lime Dressing

2 tablespoons extra-virgin olive oil

2 tablespoons lime juice

2 tablespoon honey

1/8 teaspoon ground cumin

dash or two of both salt and pepper (to taste)
Directions
Make the smokey honey-lime dressing first. Combine all the dressing ingredients on the list in a small bowl. Stir, cover and set aside.
Rinse and clean corn cobs and pat dry with paper towels. Over a large bowl, carefully use a sharp knife to remove the corn kernels from the cob. Discard the corn cobs.
Heat one tablespoon of the reserved bacon drippings or another light cooking oil in a large skillet. Add the fresh corn kernels and cook until just tender (about 2-3 minutes). Remove the pan from the heat and transfer corn kernel back to a large bowl. Allow to cool for about 15 minutes.
Add the bean, chopped veggies and chopped jalapeno to the corn and mix well. Fold in the chopped cilantro and bacon bits.

Just before serving, peel, pit and chop the avocado. Gently fold the avocado and crumbled cotija cheese into the salad. Give smokey honey-lime dressing a quick stir and pour evenly over the salad. Toss lightly with spoons to coat.
Garnish with extra chopped herbs and serve immediately. Enjoy!
Notes
Two cans (15 oz) of sweet corn kernels (drained), or 4 cups frozen corn kernels, thawed can be substituted for fresh corn, if preferred
If using avocado and cheese in this recipe, be sure to add those ingredients just before serving for best results.
from A Little Fish in the Kitchen at https://www.littlefishinthekitchen.com. Please contact the author for permission to republish.