Welcome to #ChristmasSweetsWeek!! We have 12 bloggers sharing over 30 recipes to satisfy your sweet tooth cravings this holiday season. There are some giftable recipes, breakfast recipes, and delicious dessert recipes. Make sure to follow #ChristmasSweetsWeek on social media to see all of our delicious sweets.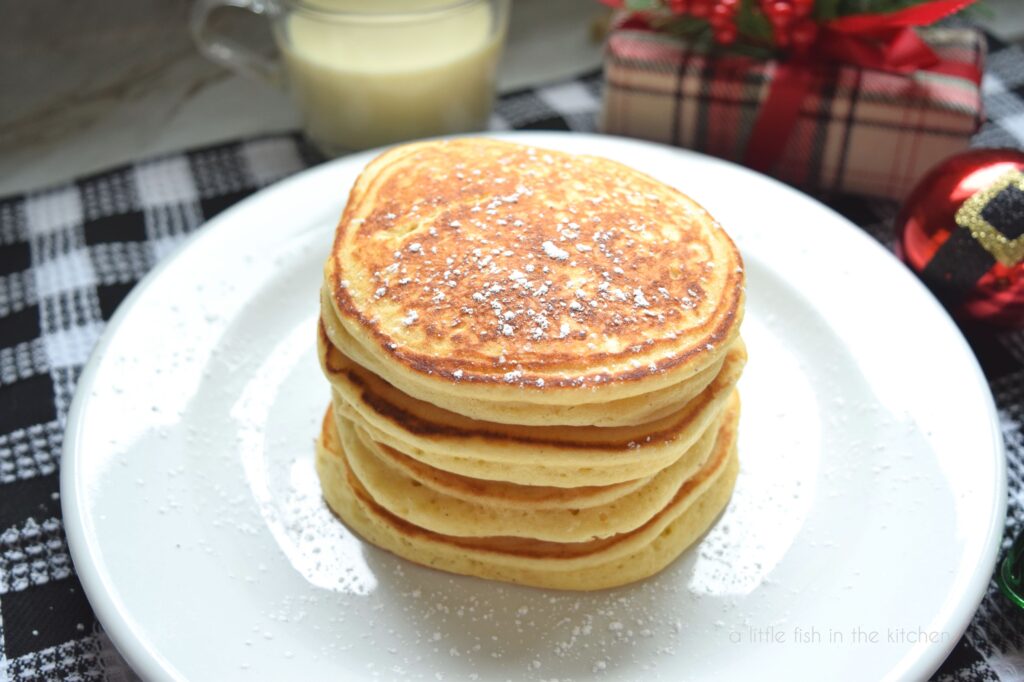 We are a pancake-loving family and we honestly make a batch of of traditional buttermilk pancakes or waffles every single week. In general, pancakes are so simple to make and they are always a staple on my weekly make-ahead breakfast menu.
We love seasonal spins on our old favorites too, and I'm always sure to mix in a few batches of these flavorful pumpkin pancakes during the autumn months. We always enjoy those nicely spiced pumpkin pancakes with their warm, amber hue. I've also been wanting to mix in some winter-themed pancakes in to our breakfast rotation this year, and I've been anxious to try eggnog or gingerbread pancakes for quite some time.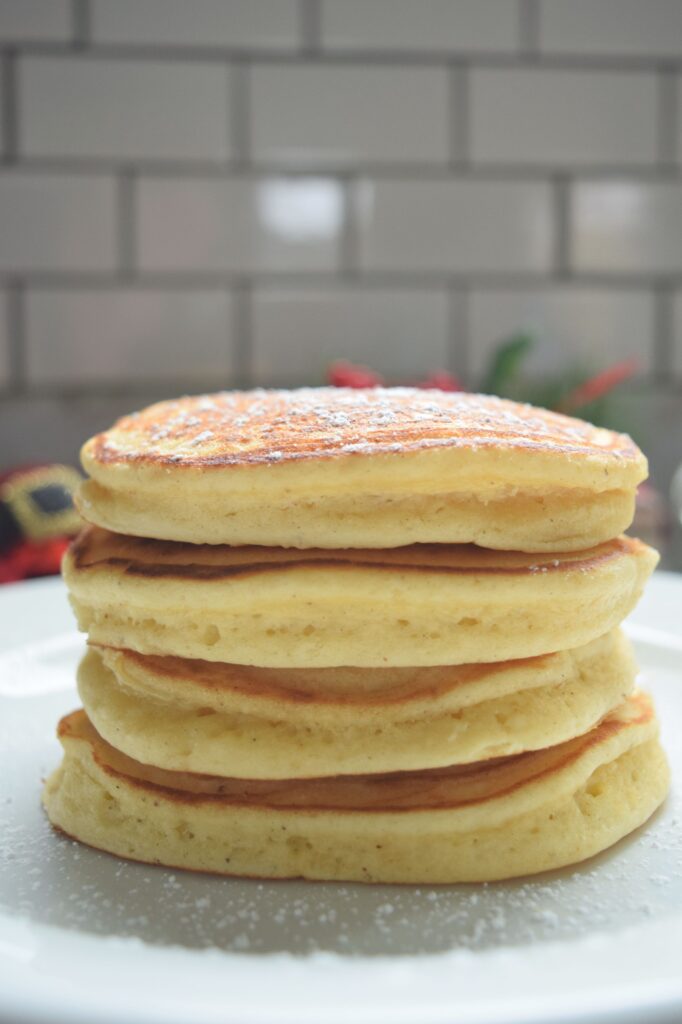 Since I need my kids to help me devour an entire batch of pancakes, I decided to get their input on which seasonal flap jack delight we should try first. Eggnog or gingerbread, that was the question! My daughter and I are the eggnog lovers in my house, and we agreed that gingerbread pancakes sounded good, but eggnog pancakes sounded dreamy. My teenage son was completely abivalent about the big decision and just wanted us to let him know when breakfast was done. The meatatarian husband was only interested in whether or not we were making bacon to go with the pancakes.
So…eggnog pancakes for the win!
We finally made our first batch of these fluffy, Eggnog Pancakes very recently and… we were right, they are downright delicious! That first batch was very quickly followed up by a second. The eggnog flavor really does shine through in these pancakes, and there is a hint of warm spice is in every bite too.
By golly, they're Christmas cheer on a plate, y'all!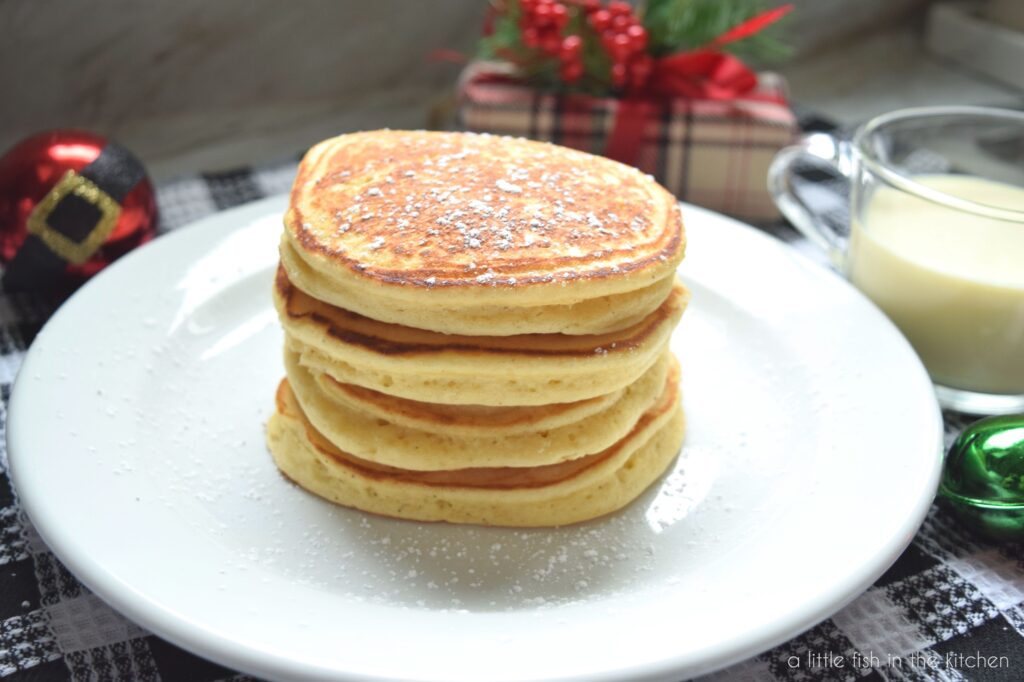 How to make eggnog pancakes
I make these flavorful eggnog pancakes using self-rising flour, cinnamon, nutmeg, sugar, eggnog, rum-flavored or vanilla extract, eggs, and oil. They are made just like traditional pancakes, but the milk in the recipe is replaced with eggnog for a delicous holiday twist. In this recipe, I use commericially prepared eggnog, but if you want to make your own feel free to substitute it into this recipe in the same quantity.
At my house, we all enjoy topping our individual servings just a little bit differently. I like my stack of pancakes topped with a healthy sprinkle of powdered sugar, a swirl of whipped cream, and fresh berries on the side. My husband and kids like theirs with butter and maple syrup and of course, bacon on the side.
I think strawberry jam and whipped cream are delicious topping combination for these as well.
I'm definitely penciling in a few more batches of these fluffy Eggnog Pancakes into our December meal plan. I'm also keeping this recipe mind for holiday entertaining and even Christmas morning too. If we have company, I think these pancakes will be a wonderful addition to any winter breakfast or brunch we plan. It's easy to feed a crowd with pancakes!
How will you top your eggnog pancakes? Happy eating, y'all 🥞🌟🎁🎄
Check out one of my latest videos and subscribe to my YouTube channel for more recipes and live streams
Y'all don't forget to Pin this recipe!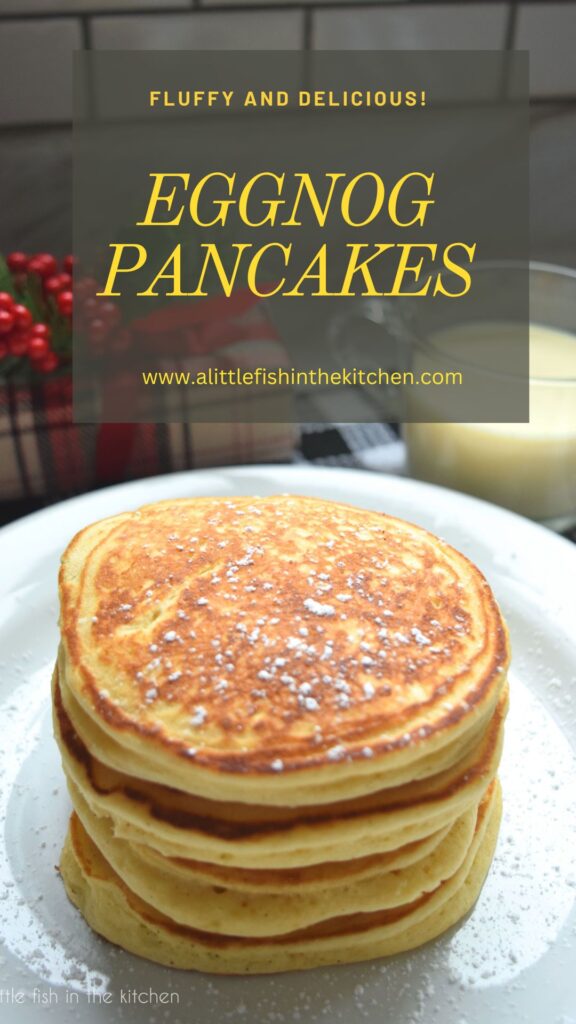 Be sure to enter your email address below to have all of my new posts sent straight to your inbox! Subscribing is free! Never miss a recipe or an update, subscribe now!
Friday's Christmas Sweets Recipes
We will be pinning all recipes to the
#ChristmasSweeetsWeek
Pinterest board. Follow it to see all the delicious recipes!
Eggnog Pancakes
Course: Breakfast, Brunch
Cuisine: American
Difficulty: Easy
A stack of these golden, fluffy Eggnog Pancakes will add some delicious flavor and a bit of Christmas cheer to your next breakfast!
Ingredients
2 cups self-rising flour

1/2 tsp cinnamon

1/4 teaspoon nutmeg

1 tablespoon sugar

2 large eggs

2 cups commercially prepared eggnog (I used Borden brand)

1/2 teaspoon rum extract or vanilla extract

3 tablespoons vegetable or canola oil

Optional ingredients for topping eggnog pancakes

powdered sugar

whipped cream

strawberry jam

maple syrup

fresh mixed berries
Directions
In a large bowl, combine the flour, cinnamon, nutmeg, and sugar. Stir and set the bowl aside. In another medium-size bowl, add the eggs and beat them slightly with a whisk or a fork. Mix in the eggnog, extract and oil into the beaten eggs and stir well.
Make a well in the center of the dry ingredient and pour in the eggnog mixture. Use a wooden spoon to mix until all ingredients are just combined and a thick batter forms. Be careful not to over mix the batter.
Heat a large skillet or a griddle to medium heat. Lightly grease the cooking surface and use a 1/4 cup measuring cup to pour pancake batter on to the warm skillet.
Cook on one side until bubbles are seen on the top and then flip the pancakes with a spatula. Cook for one more minute or until the bottoms are golden brown. Transfer prepared pancakes to a plate and repeat the process until all batter is used.
Serve eggnog pancakes warm and top individual servings with any combination of the optional toppings listed above. Enjoy!
Notes
Recipe from A Little Fish in the Kitchen www.alittlefishinthekitchen.com. All content is owned by Marcelle G. Bolton. Please contact the author for permission to republish.