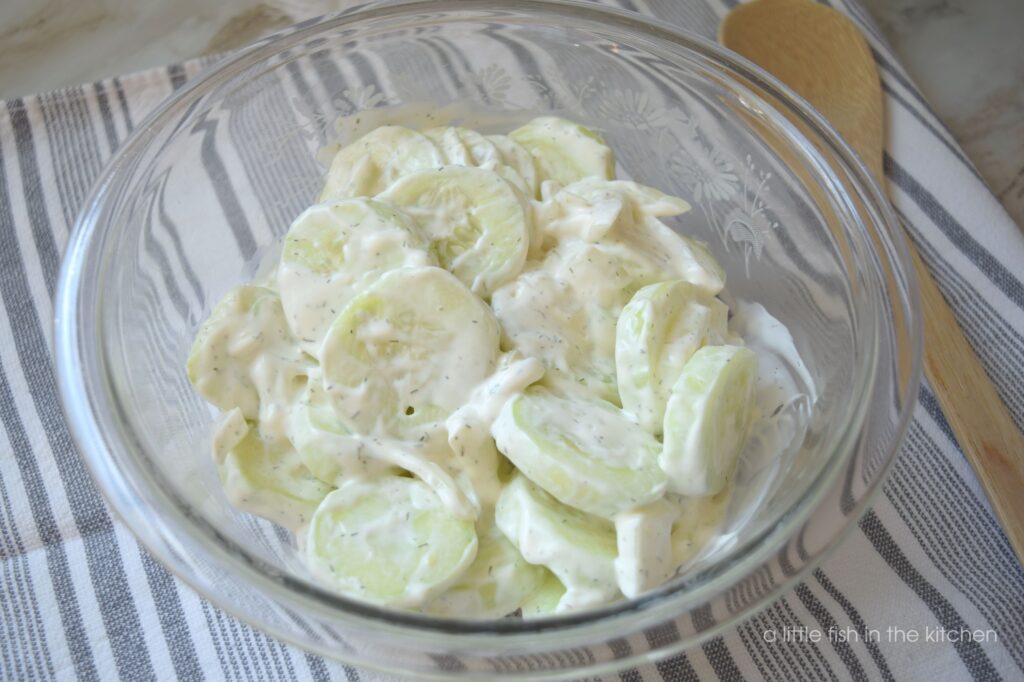 This Creamy Cucumber Salad is a relative newcomer to our side dish repertoire, but it's a dish we have been enjoying a whole bunch. I've made in at least four times in the last three weeks and I've served it on the side with a few summer-ific mains.
It's worked perfectly plated up with grilled hamburgers, grilled chicken quarters, tuna salad sandwiches, and for a twist, meatloaf!! I really don't think there are many mains that wouldn't be a good match for this simple salad.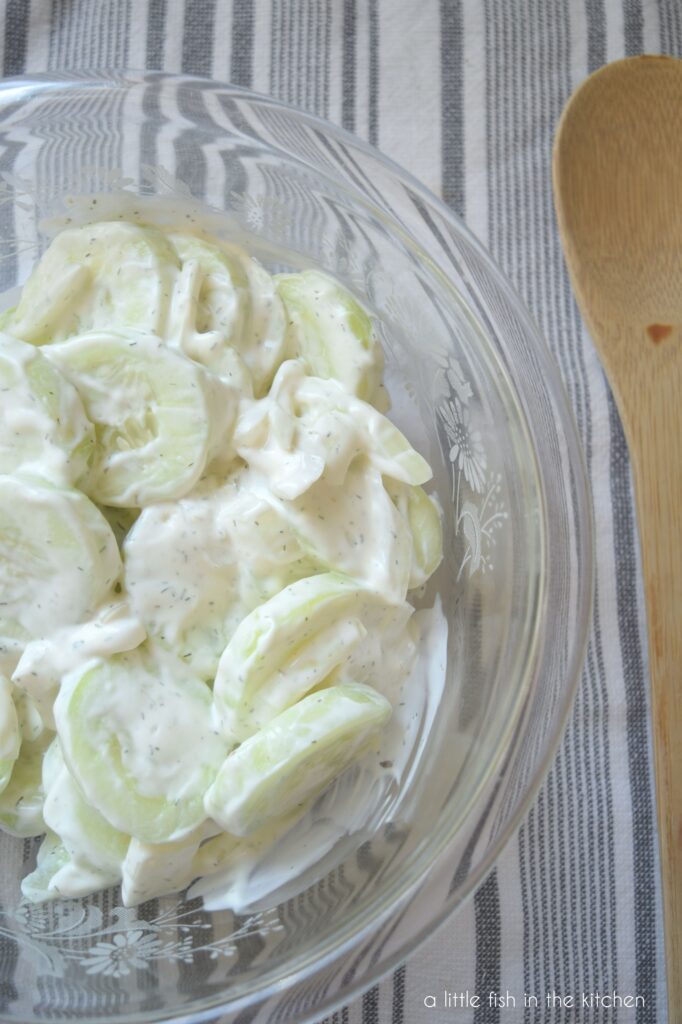 How to make creamy cucumber salad
This easy cucumber salad comes together in minutes and is made with peeled, sliced cucumbers and sliced sweet onion. It's tossed with a simple, tangy dressing that's made with sour cream, mayo, white pepper, apple cider vinegar, monkfruit sweetener, salt, and dried dill weed.
I often use regular cucumbers to make this salad, but some folks find the skins to be bitter and tough, so I peel them when I do. However, if you use English cucumbers (often called seedless cucumbers) the skin is much thinner and there is no need to peel them. Just give them a nice scrub, slice them up and you'll be good to go.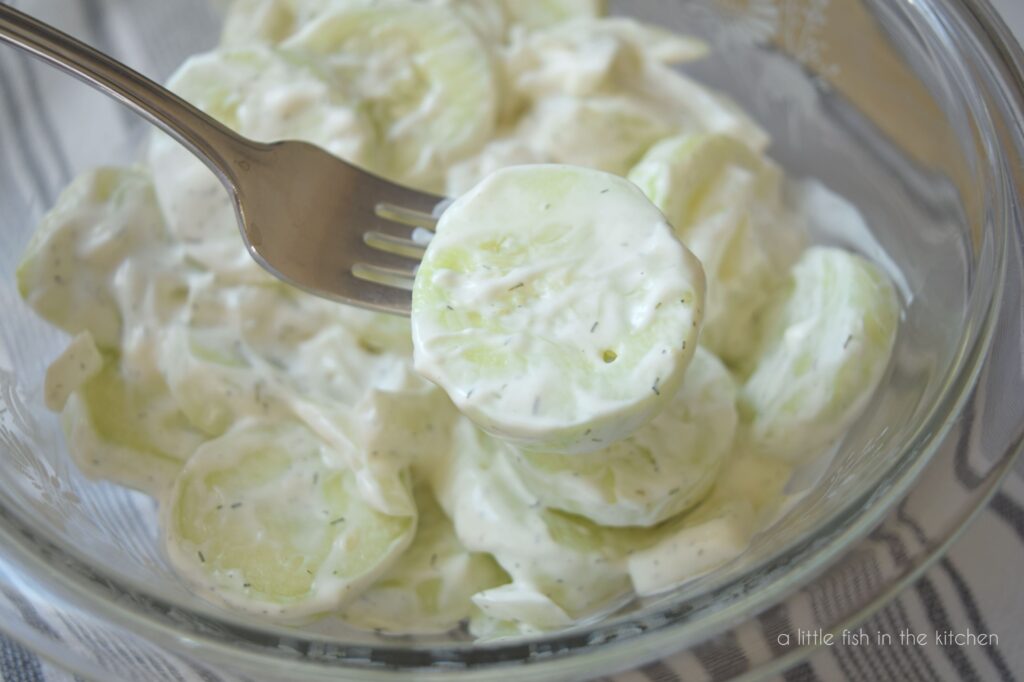 Summer is always my least favorite season as the heat is just a real drag. Every year I have a gripe-about-the-heat post in August. However, the summer heat has been so palpable this year, that post is coming a bit early!! Flavorful, no-cook dishes are where it's at for me for the next few weeks, and this easy side salad is now a go-to for supper on scorching days.
What will you serve this Creamy Cucumber Salad with?? Enjoy and stay cool (and hydrated!!), y'all! xo -M
Share this recipe on Pinterest!!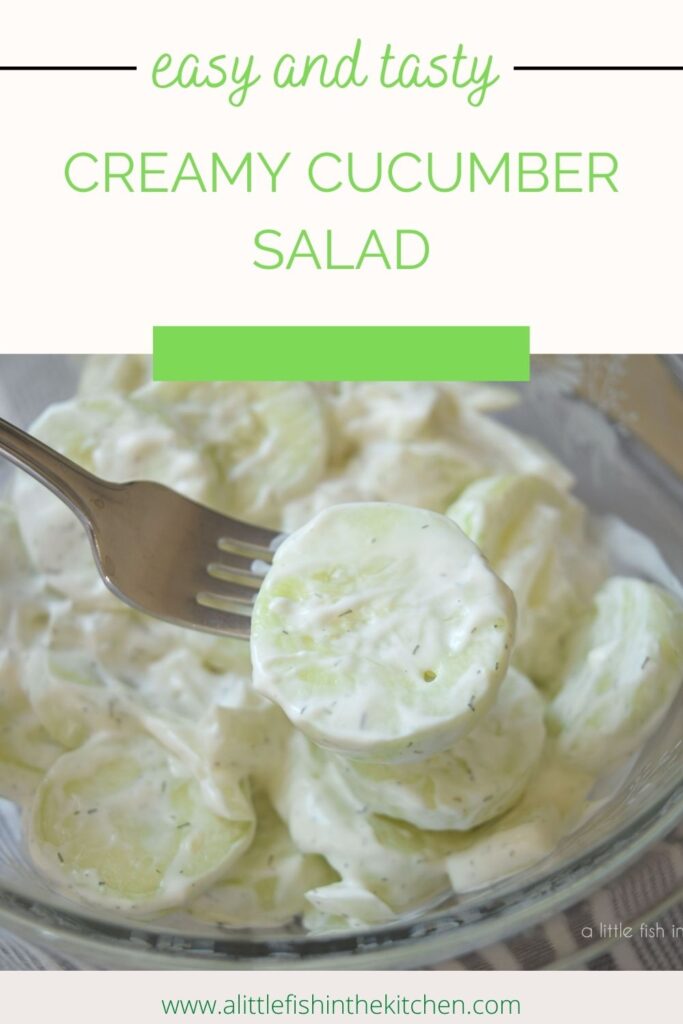 Enter your email below to have all of my new posts sent right to your inbox! It's a free service!! Subscribe now so you'll never miss a recipe or an update!
Check out on of my latest videos and subscribe to my YouTube channel for more recipe and live streams!
Creamy Cucumber Salad
Course: Sides
Cuisine: American
Difficulty: Easy
This Creamy Cucumber Salad is a no-cook side dish that will help beat the heat on summer days! It's good with everything and delicious all year round!
Ingredients
For the dressing

1/3 cup sour cream

1-2 tablespoons apple cider vinegar

2 tablespoons light mayonnaise

1/8 teaspoon monkfruit sweetener (or sweetener of choice)

1/8 teaspoon dried dill weed

1/8 teaspoon salt

hearty pinch of ground white pepper

For the salad

2-1/2 cups peeled cucumbers, sliced

1/3 cup sweet onion, thinly sliced and chopped
Directions
In a small bowl, mix together all ingredients for the dressing and set aside.
In a medium-size bowl, combine the sliced cucumbers and onions. Toss with the creamy dressing to coat the vegetables evenly.
Cover and refrigerate the Creamy Cucumber Salad for 20 minutes before serving.
Enjoy!
Recipe Video
Notes
Recipe as published on A Little Fish in the Kitchen at www.alittlefishinthekitchen.com. All content is owned by Marcelle G. Bolton. Please contact the author for permission to republish.