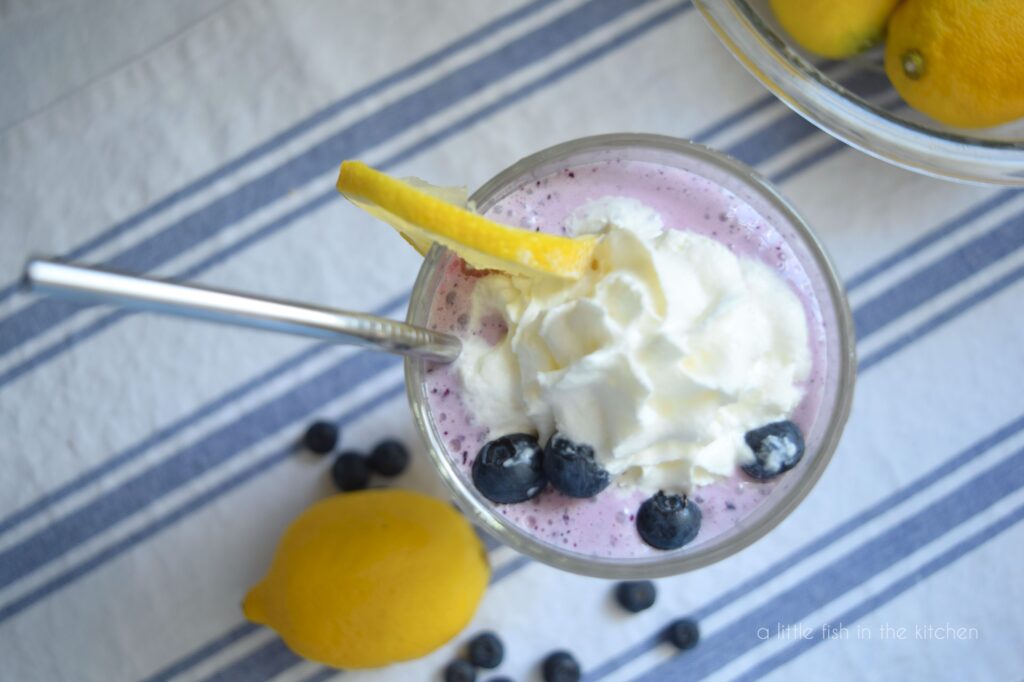 We love homemade milkshakes and lately cheesecake shakes are where it's at for us! We make several versions of these easy cheesecake shakes, and they are simple enough that every member of the fam can have one their way.
My son loves chocolate chips and graham cracker crumbs mixed into his, my daughter just likes hers plain with whipped cream and graham crackers crumbs sprinkled on top. However, Evan and I like mixing in fruit and this bright, fruity Lemon-Blueberry Cheesecake Shake is one of my absolute favorite flavor combinations (fresh strawberries slide into a strong second place!).
It combines the rich flavor of a cheesecake with the brightness of lemon and blueberries, and I truly think it's just scrumptious. It's definitely dessert in glass!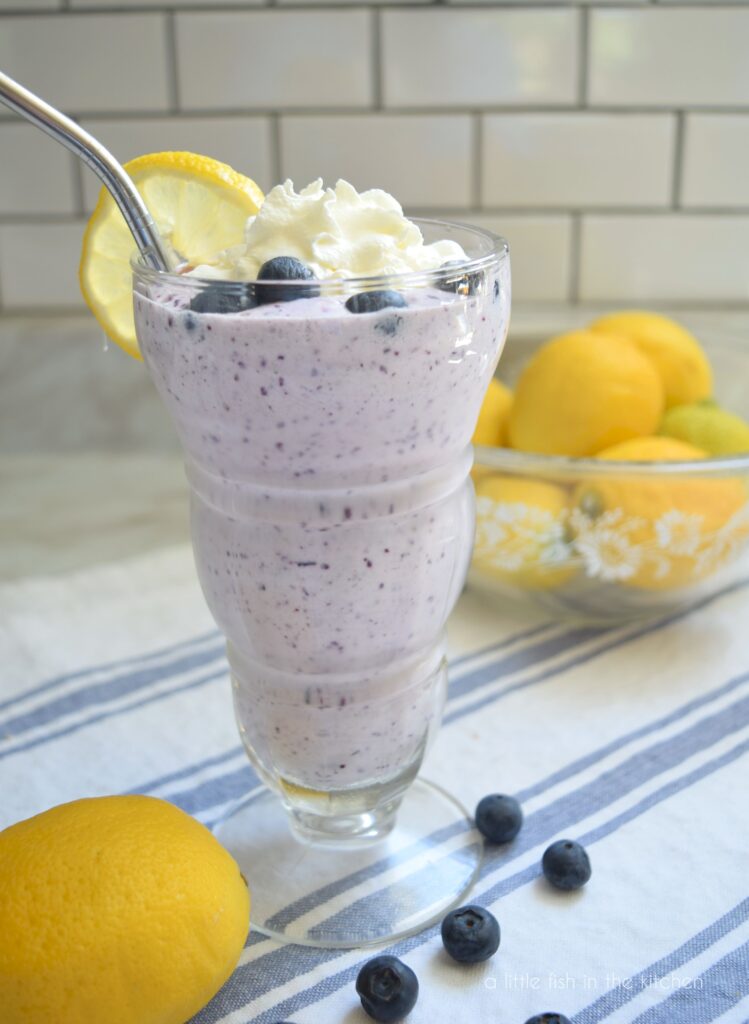 We first fell in love with cheesecake shakes years ago when they were popularized at a famous fast food drive in. But, the romance I had with those evil tasty ice cream treats ended rather swiftly after I took an ill-fated moment to read the estimated calorie count for one medium cheesecake shake on the menu.
According to the menu, every version of the fast food cheesecake milkshakes contained over 800+ calories per medium shake. Even if I ordered a smaller size, it wouldn't have made enough difference for me to feel good about it with such a high caloric price tag.
Yikes. Yeah, no. Drinking one of those so often just wasn't going to work out as a regular thing anymore. So, as those of us who love to cook often do, I looked for ways to recreate those luscious cheesecake shakes at home, but lightened up a bit.
how to make a cheesecake shake
For a basic cheesecake shake you'll need two scoops of vanilla ice cream, one-ounce of cream cheese, 1/3 cup of milk, 1/2 teaspoon vanilla extract and whipped cream for topping. Yes, five ingredients for the basic cheesecake shake! However, for optional garnishes and add-ins, the sky is the limit. Just add them in one or two tablespoons at a time.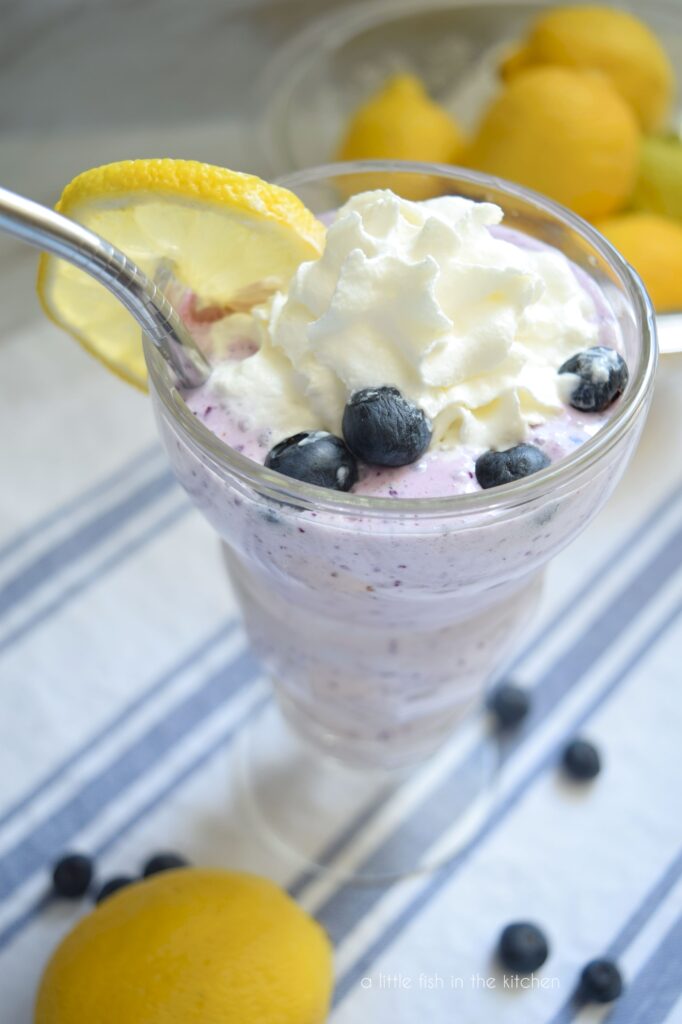 In the recipe below, I suggest the lighter ingredient choices I often use to make cheesecake milkshakes. By using reduced fat and reduced sugar options to make this recipe, it cuts down on the overall calorie count and it's easier on any nutritional budget one may have. I've been watching my weight and feeling great, so trimming sweet treats like this one down to more respectable nutritional numbers is important to me. Plus, by doing so I can enjoy one of these delicious Lemon-Blueberry Cheesecake Shakes more often than I would otherwise!
I used the free recipe nutrition calculator over at VeryWellFit.com to total up the calories for my lightened up Lemon-Blueberry Cheesecake Shake. It's one of my favorite, free online tools for creating healthier recipes for my family (I'm not sponsored or affiliated with that site, I just really like that feature!) I'm happy to report that this recipe, using the lighter products and serving sizes I suggest, totaled up at a mere 254 calories. That number is much more doable for my personal nutrition plan budget.
I am not a nutritionist or a dietician, so please do your own research for this and any other recipe to make sure it works with your own personal nutrition and/or diet plans.
What will you add into your cheesecake shake?? Stay cool, y'all – M
I'll be celebrating National Dairy Month this week along with several other creative food bloggers! Thank you to Jolene over at Jolene's Recipe Journal for getting us all organized for this fun, recipe-sharing event! This week I'll be sharing two new recipes with the first being this Lemon-Blueberry Cheesecake Shake recipe! I hope you'll follow along and be sure to check out all of their recipes below!
Please share this recipe on Pinterest!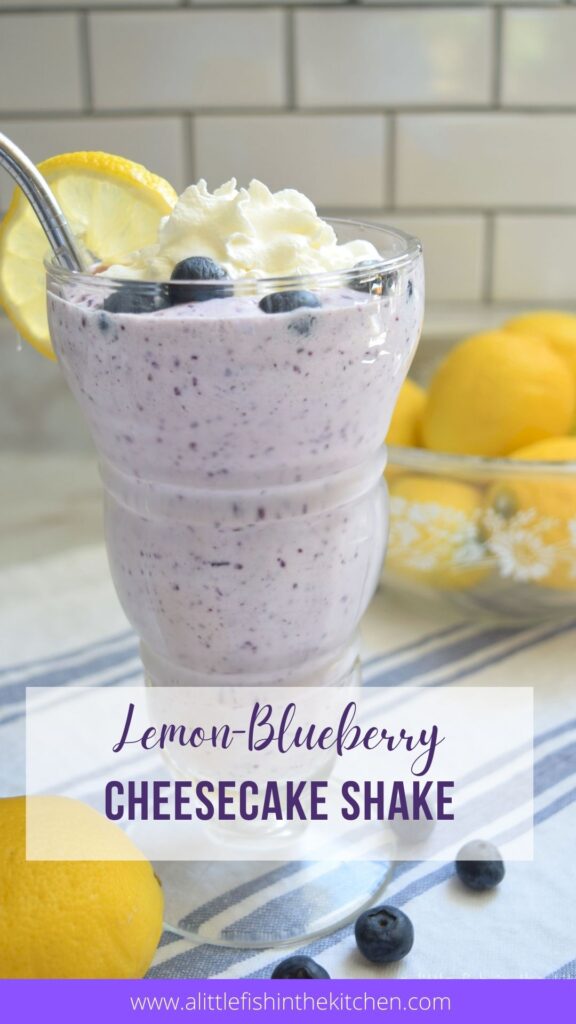 Please check on of my latest videos and subscribe to my YouTube Channel for more recipes and live streams!
Sign up here to have all of my new posts sent right to your inbox! Subscribe now and never miss a recipe or an update!
Lemon-Blueberry Cheesecake Shake
Course: Dessert
Cuisine: American
Difficulty: Easy
This Lemon-Blueberry Cheesecake Shake is rich, creamy, and teeming with some fruity summer flavors! Be sure to read the notes below for serving suggestions.
Ingredients
2 heaping scoops of vanilla ice cream
(I used Breyer's Carb Smart Vanilla)

1 ounce cream cheese, softened (I used reduced fat Neuchaftel cheese)

2 tablespoons lemon juice

3 tablespoons fresh or frozen blueberries

1/3 cup milk (I used 1% milk)

1/2 teaspoon pure vanilla extract

optional garnishes

whipped cream (I used Reddi Whip Keto Sugar Free Whipped Cream)

crushed graham cracker crumbs

fresh blueberries

lemon wedge
Directions
Place all ingredients into the jar of a blender and pulse until milkshake is smooth and creamy. Or select the milkshake function on your blender, if it has one. Stop and wipe down the sides of the blender, as necessary. Blend for 1-2 minutes or until smooth and creamy.
Top with whipped cream, extra blueberries or graham cracker crumbs, as you desire, and enjoy!
Notes
You can keep the calorie count a bit lower by choosing reduced fat or sugar free ingredients to make this delicious shake, or simply substitute in regular fat/sugar ingredients in the same quantities, as you prefer.
This recipe makes one milk shake, double or triple the ingredients as needed for serving family and friends.
Recipe as published on A Little Fish in the Kitchen at www.alittlefishinthekitchen.com. All content is owned by Marcelle G. Bolton. Please contact the author for permission to republish.