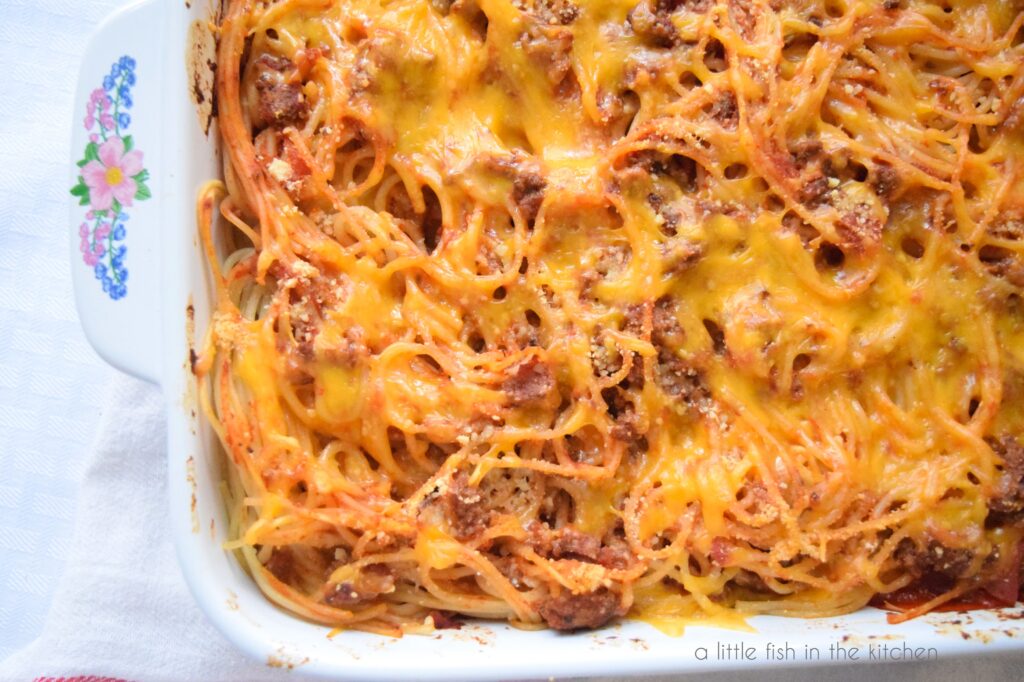 The school year is winding down and I've seen so many lovely pictures in my social media feeds of excited children graduating from school and other kids enjoying some fresh, new summer bliss! You know the sort of photos I'm talking about… caps being thrown into the air, happy grads walking the stage, or smiling kids splashing in a pool or curiously looking at exhibits at theme parks!!
Well, sadly you won't see those sorts of pics here today! Nope, not yet anyway. My kids are still in school and will be until the middle of June!! (thank you, COVID world!). Their campus started the school year at a super late date back in mid-September 2020, and so therefore they will finish late!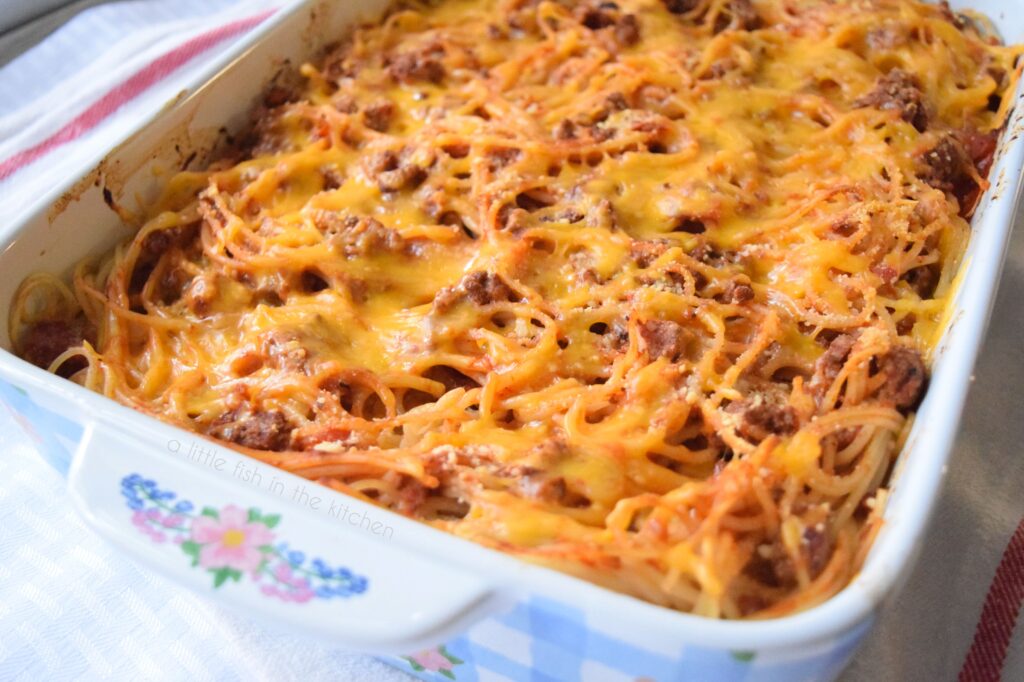 Needless to say, make-ahead meals like this comforting baked spaghetti casserole, are still very much a thing for us at the moment. We still have the [dreaded math] homework going on at my place and early mornings to plan for and very little time to cook stuff every night. This baked spaghetti recipe makes a large 9×13 inch pan full of this simple, but super cheesy casserole and we are quite happy to eat this paired up with garlic bread and a green salad for a few nights!
However, our time to relax by backyard bonfires, chase fireflies, and swim late into the evening will be here soon! We are even gonna try to squeeze in a road trip or two in the next couple of months. We'll also be busy packing as we'll be moving into the new house as soon as the new school year starts (leave it to us to always have the best move date planned!).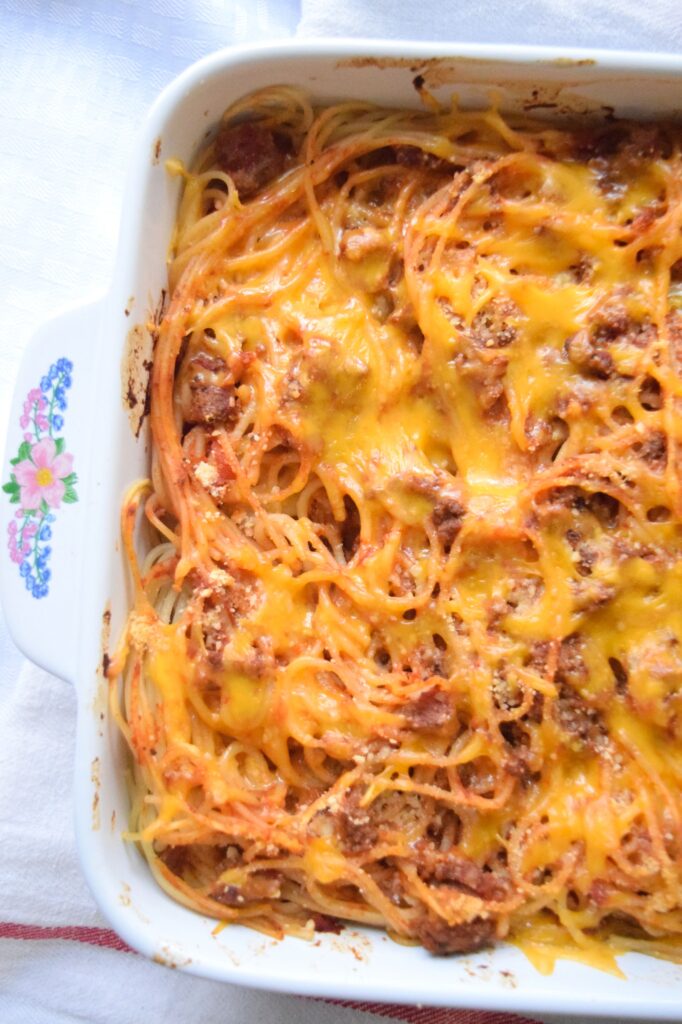 For the first half of the school year, these two beautiful souls were enrolled in distance learning and I got to spend precious time with them during the weekdays that I would not have gotten otherwise. So, we may have less time to do the summer-y things in 2021, but for those several months of slow-paced breakfast conversations, arts and crafts I got to plan for them, long fall walks on beautiful country trails for our weekly "P.E." outings, I am forever thankful. The last two school years for all kids and parents everywhere have certainly been unprecedented and memorable ones, in one way or another.
My big boy is leaving middle school this year and bound for a high school campus… and hopefully four years full of successes, friends, and great memories. He is officially way taller than me now and he sure comes in handy when this shorty mom needs to reach high places. 🤗 My sassy baby girl is leaving second grade and is being promoted be the bossy kid in a third grade classroom somewhere soon! 😁
I did not take them to get standard school pictures this year, I took these shots of them out on our property instead.
Time. Slow. Down. 🤩
In other news, my 9-year blog-aversary recently passed. 9 years, y'all… and counting, just wow!! So many of my amazing readers have been with me since way back in the beginning, back when these two were very small. I remain so thankful for you all and for the blessing of your friendship. Being able to share my precious gifts and some good recipes with you all has always meant the world to me and it continues to be an incredible source of joy for me. I thank you from the bottom of my heart for these many years of support. 💕
Happy Summer and happy eating, y'all!!
Y'all should definitely Pin this easy recipe for later!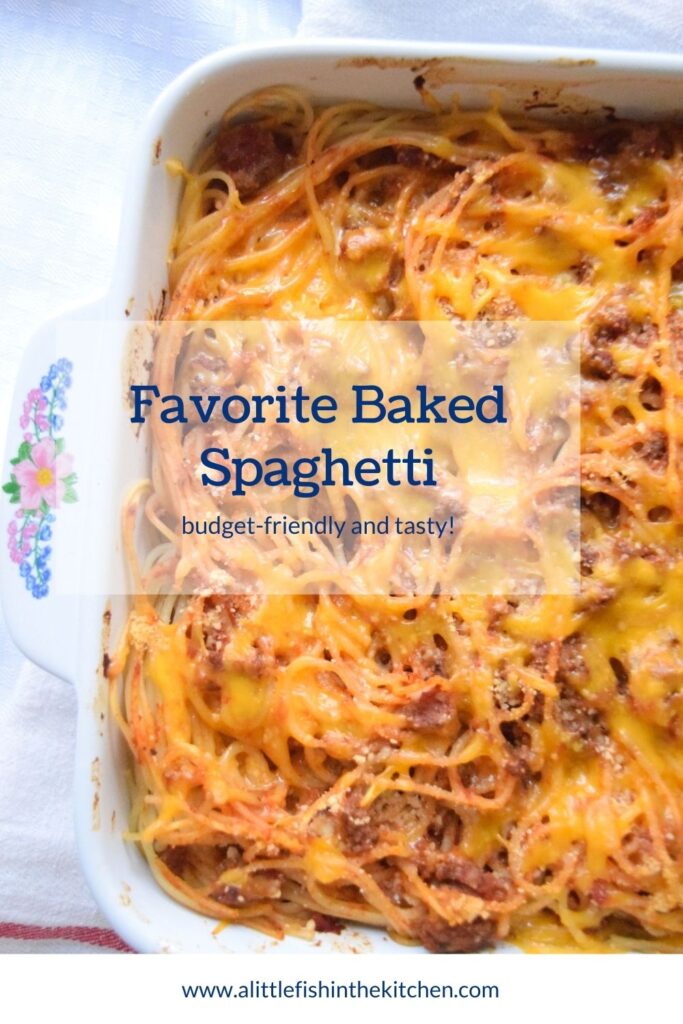 Be sure to sign up here to have all of my new posts sent right to your inbox! Subscribe now and never miss a new recipe or an update!!
Please check out one of my latest videos and subscribe to my YouTube channel!
Favorite Baked Spaghetti
Course: Dinner
Cuisine: American
Difficulty: Easy
This baked spaghetti is one of my family's favorite make-ahead meals for busy week nights.
Ingredients
16 oz uncooked spaghetti

1 pound ground beef or turkey

salt and pepper

1 jar (24 oz) marinara sauce

2 cups shredded cheddar cheese (I used reduced fat sharp cheddar)

1/2 cup parmesan cheese
Directions
Pre-heat the oven to 350°. Cook the pasta according to package directions, drain and set aside. In a medium-size skillet, brown the ground beef. Drain the cooked beef of excess drippings and return to the skillet. Lightly season the meat with salt and pepper to taste.
Next, pour the jar of marinara sauce in to the skillet with the meat and stir well. Take 1/3 of the meat sauce and spread it on the the bottom of a 13×9 inch baking dish. Top with one half of the cooked spaghetti noodles. Spread the pasta out as evenly as possible over the meat sauce (I used a fork and a spoon to do this, see video below for a reference).
Evenly sprinkle one cup of the shredded cheddar cheese over the the layer of pasta. Top with another 1/3 of the meat sauce and use the back of your ladle to spread it out as evenly as possible. Top meat sauce layer with all of the remaining cooked pasta, spread out as evenly as possible.
Top with the remainder of the meat sauce and again spread it out as evenly as possible. Evenly sprinkle the Parmesan cheese over the top of the casserole and then top with the remaining cup of shredded cheese.
Bake uncovered for 25-30 minutes or until the baked spaghetti is heated though and the cheese is melty! Enjoy!
Recipe Video
Notes
Buttery garlic breadstick and green vegetable or garden salad pair go great with this comforting baked spaghetti!
Recipe from A Little Fish in the Kitchen at https://www.alittlefishinthekitchen.com. All content on this website is owned by Marcelle G. Bolton, please contact the author for permission to republish.