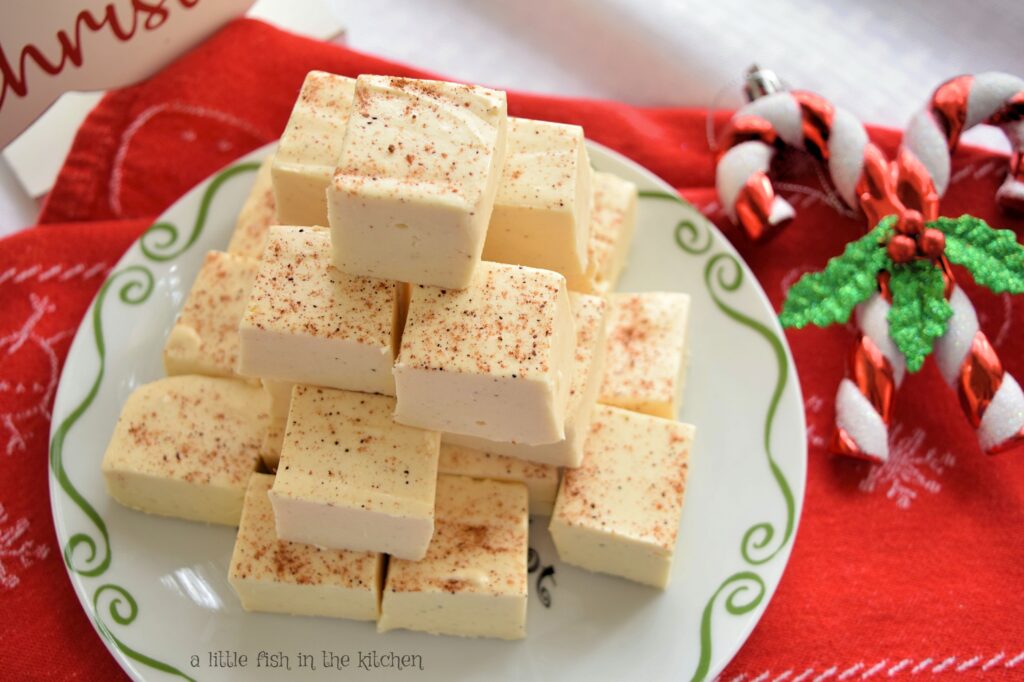 Dainty cubes of this eggnog fudge are sure to be a wonderful addition to your holiday dessert table. This eggnog fudge is true treat, it's so pretty on the plate and each bite is packed with eggnog flavor. You could also pack this festive confection up in a shiny holiday tin, and it will make a super delicious gift from your kitchen.
I found this recipe for eggnog fudge on a YouTube channel years ago, and more recently I've seen various adaptations of it on several food blogs. However, this was my first attempt at making a batch myself. This is definitely a Christmas sweet I will make again…and I'll probably make it soon as we can't stop eating it!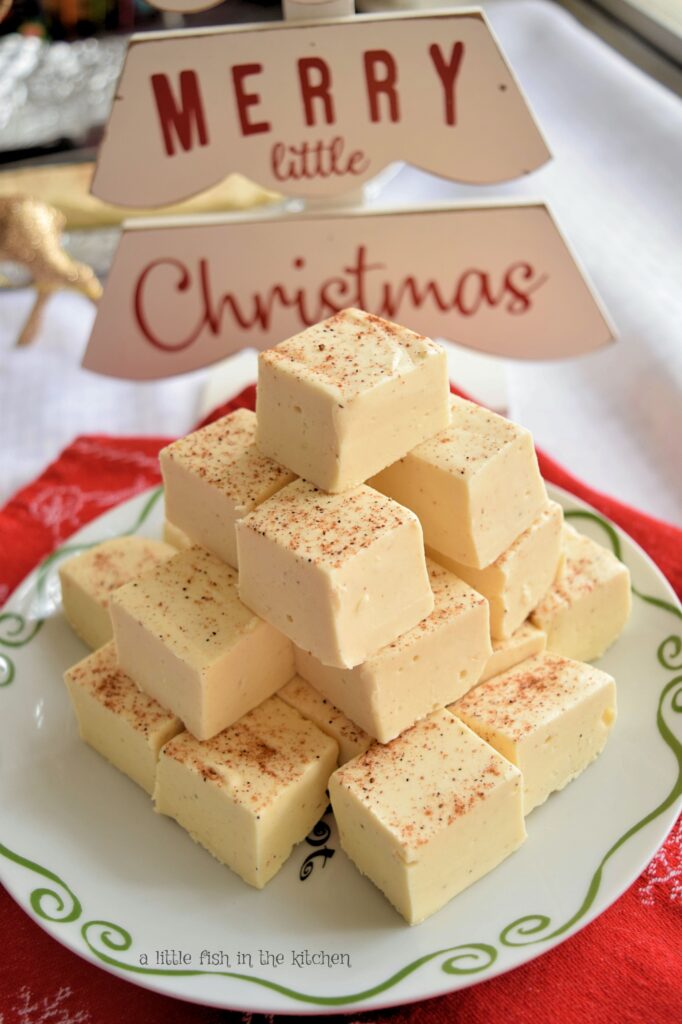 How to make eggnog fudge.
To make a 9×9 inch pan of this crazy delicious candy you will need some eggnog, salted butter, sugar, white chocolate chips, marshmallow creme, and rum extract. When it comes to making this or any fudge, I also highly recommend using a candy thermometer to ensure you get this just right.
I speak from personal experience when I say using a candy thermometer will increase your chances of making this recipe (or any other candy recipe) turn out right. The photos in this post are of the second batch of this delectable fudge I made in one day. When I made the first batch I tried to wing it and just let the syrup simmer and reduce for about 5 minutes, and well, my guesstimation technique did not fly that time. Even after some time in the refrigerator and the freezer, the first batch never set up properly. It tasted great, but it was soft and more like eggnog taffy! However, the second time around I incorporated a bit more patience and used my candy thermometer to make sure the eggnog syrup reached the soft-ball consistency at 230°.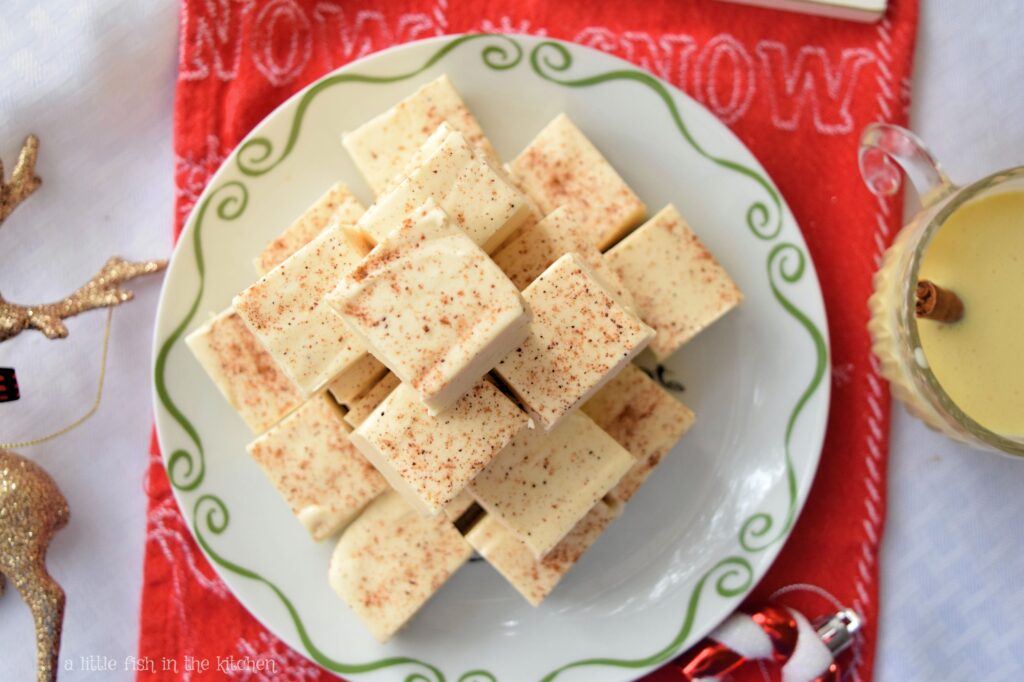 And, well, friends the proof is in the pudding as we have fudge!! I hope you enjoy this Christmas sweet if you try it, and I do highly recommend it! It is really very simple to make.
Today is the last day of #ChristmasSweetsWeek 2020, so please be sure to scroll down and check out the other delicious recipes posted today by the talented bloggers participating in this event!!
Here are some other LFIK holiday recipe posts you might enjoy:
Cappucino Crinkles:

https://alittlefishinthekitchen.com/2017/12/cappuccino-crinkles/

Easy Chocolate Cream Pie:

https://alittlefishinthekitchen.com/2019/10/easy-chocolate-cream-pie/

Cream Cheese Sugar Cookies with Easy Buttercream Frosting:

https://alittlefishinthekitchen.com/2018/09/cream-cheese-sugar-cookies-with-easy-vanilla-buttercream-frosting/

Santa's Whiskers:

https://alittlefishinthekitchen.com/2017/12/santas-whiskers/
Y'all will definitely want to Pin this post for later!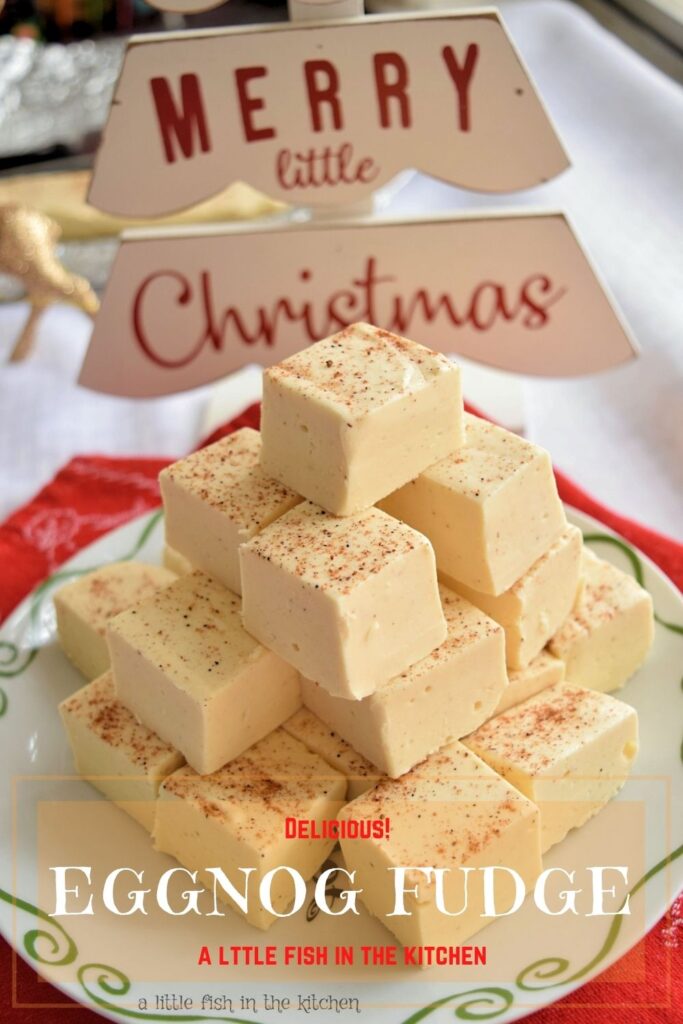 Hey friends, please check out one of my latest videos!
Happy Holidays and happy eating, y'all!
I'd love to have you stay awhile! Sign up here for my email list and receive all of my posts straight to your inbox! Subscribe and never miss a post!!
Eggnog Fudge
Course: Dessert
Cuisine: American
Difficulty: Easy
This eggnog fudge is a perfectly festive sweet for the holidays. It's brimming with eggnog flavor and makes a delightful gift from your kitchen!
Ingredients
2 cups sugar

1/2 cup (one stick) salted butter

3/4 regular eggnog (not the light version)

1/2 teaspoon ground nutmeg (plus more for sprinkling on the top)

1 (11 oz) package white chocolate morsels (I used Nestle brand)

1 (7 oz) container marshmallow creme

1-1/4 teaspoons rum extract (I used McCormick brand)

Special Equipment Needed

candy thermometer

hand held mixer
Directions
Line a 9×9 in baking dish with parchment paper or nonstick foil so that the liner hangs over the sides of the pan. Set prepared baking dish aside.
Place sugar, butter, and eggnog in a medium size sauce pan. Bring pot to a rolling boil and then reduce heat to medium-high. Insert tip of the candy thermometer into the eggnog mixture and heat to 230° Please see notes below about this step
Once the temperature of 230° has been met, immediately remove the pot from the heat and stir in the package of white chocolate chips. Fold in with a silicon spatula and then switch to a handheld mixer to breakdown the chocolate chips all the way.
Stir in the marshmallow creme and stir until it is completely incorporated into the eggnog-chocolate mixture (this will take a bit of elbow grease!)
The fudge should already be starting to set up, so immediately transfer it to the prepared pan. Pat the fudge down evenly into the pan and smooth the top with a silicon spatula or wooden spoon. Lightly sprinkle the top with extra ground nutmeg and set the pan on a rack to cool completely.
After the eggnog fudge is completely cooled, allow it to chill in the refrigerator for one hour before sliced to serve. Enjoy!
Notes
Getting the candy mixture to 230° will take between 6-8 minutes. Also, don't allow the thermometer to rest on the bottom of the pan!
Recipe from A Little Fish in the Kitchen blog at www.alittlefishinthekitchen.com. All content is owned by Marcelle G. Bolton. Please contact the author for permission to republish.
Welcome to #ChristmasSweetsWeek 2020! Co-hosted by Terri from Love and Confections and Christie from A Kitchen Hoor's Adventures! What better way to celebrate the holidays than with food and fun? 21 bloggers from around the country have come together to share some of their favorite sweet Christmas recipes!! Deck the halls and get ready for very merry sweet treats, like fudge, cookies, Christmas morning breakfasts, layer cakes, cocoa, and more! Follow along on social media with our #ChristmasSweetsWeek hashtag. Happy Holidays!
Enjoy these #ChristmasSweetsWeek recipes from our bloggers:
Beverage Recipes
Easy Cranberry Mojito Recipe by Love & Confections
Frozen Eggnog Cocktail by A Day in the Life on the Farm
Breakfast and Baked Goods Recipes
Peppermint Mocha Muffins by Making Miracles
Orange Sweet Rolls by Sweet Beginnings
Candy and Fudge Recipes
Butterfinger Potato Chip Cookies by Palatable Pastime
Peanut Butter Truffles by A Kitchen Hoor's Adventures
<Easy Homemade Christmas Crack Toffee by Blogghetti
Egg Nog Fudge by A Little Fish in the Kitchen Lemon
Candied Almonds by House of Nash Eats
Pastry and Dessert Recipes
Christmas Sprinkle Cookies by The Mandatory Mooch
Peppermint Fudge Cake by Simply Inspired Meals
Chocolate Peppermint Ice Cream Torte by An Affair from the Heart
Chocolate Covered Cherry Mice by The Spiffy Cookie
Carrot Cake Crinkle Sandwich Cookies by Bear & Bug Eats
Candy Cane White Chocolate Cookies by The Redhead Baker
Gingerbread Men Cookies by Kathryn's Kitchen Blog
Achu Murukku / Rosette Cookies by Magical Ingredients
Christmas Lights Rice Krispie Treats by For the Love of Food