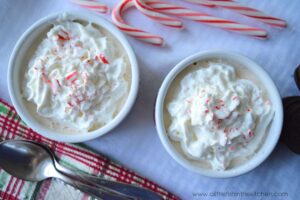 Ice cream pies are some of my family's favorite desserts. I have a few variations I like to make regularly, but I'll admit I've been downright terrible about sharing them here on this blog. ( and yes, the recipes will be shared here in the near future).
However, this cool, creamy peppermint candy cane ice cream pie quickly rose to the top of the most-requested list at my place last holiday season. And with this being #ChristmasSweetsWeek and all, I just knew this was one recipe I had to share with everyone!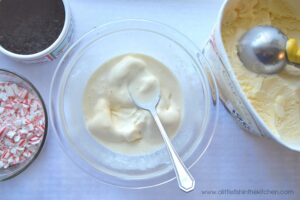 In my opinion, peppermint is the ultimate Christmas flavor and it's simply impossible not to think of the holiday season whenever I taste it. That's true, even if it's 104° and we are smack dab in the middle of a sweltering Texas July! If you hand me a piece of peppermint-flavored chewing gum at any time of the year, my mind goes right to visions of sugar plums and stockings hanging by the fire.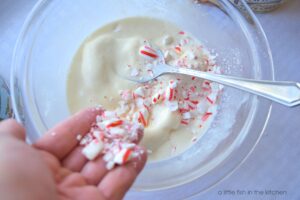 December is here again so, of course, at my house the Christmas tree is back up (where it will likely stay until February!), the stockings are hung, and our resident elf, Eddie, has popped in for his annual visit. I am happy to report that slowly, but surely, we are getting into the holiday spirit around here. I think we can all agree 2020 has been quite a wild ride and my holiday spirit had to be sure it was safe to come out before I busted out the sparkly wreath and the jingle bells.
Anyhow, the first request for this sensational candy cane ice cream pie came this past weekend. I was happy to oblige. I'll also share that I'll be keeping a tub full of crushed Oreos around because I already know my kids will ask for this dessert over and over again throughout the month of December!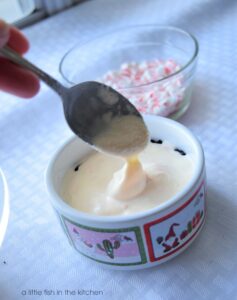 How to make a peppermint candy cane ice cream pie. 
To make this cool, minty ice cream pie you will need just five little ingredients: bits of broken cane canes, crushed Oreo cookies, melted butter, vanilla ice cream, and finally, whipped cream or a tub of whipped topping. 
The prep is minimal for this delicious ice cream pie which is just another reason I just know anyone who gives this cheery dessert a try will love it!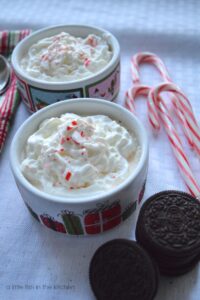 I feel it's also worthy to note that vanilla ice cream and peppermint candy are a match made in heaven… the Oreo crust is just a serious flavor bonus!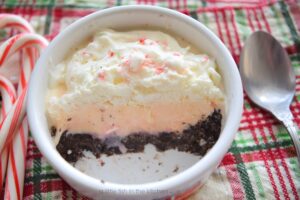 I hope you all enjoy this creamy, peppy peppermint candy cane ice cream pie! This is day three of #ChristmasSweetsWeek and I'm so thrilled to be sharing recipes with a group of amazing food bloggers. Be sure to keep scrolling and check out their recipes for today, I know you'll be so happy you did!
Happy holidays, Merry Christmas, and happy eating, my friends! xo -M
You will definitely want to Pin this recipe for later, y'all!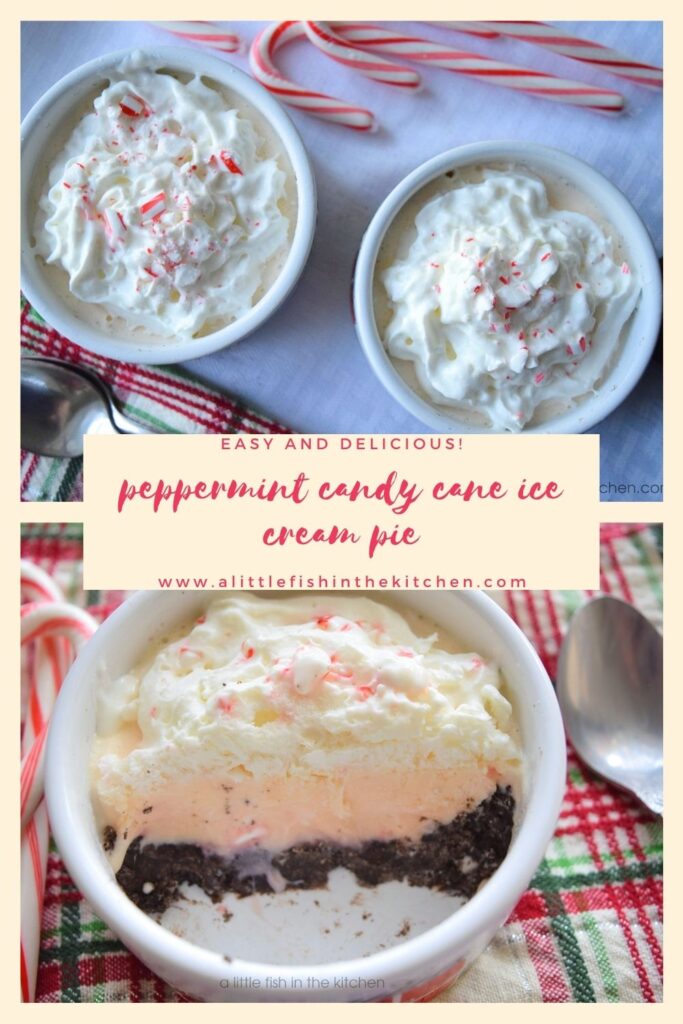 Sign up here for my email list and have all of my posts sent straight to your inbox! Subscribe and never miss a recipe or an update!!
Here's one of my latest videos! Be sure to subscribe to my You Tube channel for more cooking videos and recipes!
Peppermint Candy Cane Ice Cream Pie
Course: Dessert
Cuisine: American
Difficulty: Easy
This cool, minty dessert is a deliciously festive and simple dessert for the holiday season!
Ingredients
For 4 individual pies: 16 chocolate sandwich cookies, crushed or
For one 9 inch pie: 24, crushed cookies (I used Oreo brand)

3 -4 tablespoons salted butter, melted and slightly cooled

8 standard-size peppermint candy canes, crushed or coarsely chopped(1/2 cup crushed peppermint candy)

2 cups vanilla ice cream, softened

2 cups, sweetened whipped cream, homemade or store bought

Extra chopped peppermint candy for garnish, if desired
Directions
In a medium-size bowl, mix the crushed cookies with the melted butter and stir well to combine. Press the butter-coated cookie crumbs evenly into four (8 oz) greased ramekins or if you prefer, make one pie using a greased a nine-inch pie plate. Set prepared pie crust(s) aside.
In large bowl, combine 2 cups softened ice cream with 1 cup sweetened whipped cream or whipped topping and mix well. Fold in 1/3 cup of the crushed candy cane pieces and stir.
If making individual desserts, place 1/2 cup of the softened ice cream mixture on top of the cookie crust in each ramekin. If making one pie, spread all of the ice cream mixture evenly into the prepared cookie crust.
Cover and refrigerate remaining whipped cream. Place ice cream pie(s) in the freezer until ready to serve (at least 30 minutes so the softened ice cream can firm back up). Before serving, allow frozen pies to stand at room temperature for about 10 minutes.
Place a dollop of the remaining whipped cream and garnish with more crushed candy bits.
Enjoy!
Notes
This Peppermint Candy Cane Ice Cream pie can be prepared in 4 (8 oz) ramekins as individual desserts or you can make one 9-inch pie with the recipe instead.
Recipe from A Little Fish in the Kitchen blog at www.alittlefishinthekitchen.com. All content is owned by Marcelle G. Bolton. Please contact the author for permission to republish.
Welcome to #ChristmasSweetsWeek 2020! Co-hosted by Terri from Love and Confections and Christie from A Kitchen Hoor's Adventures! What better way to celebrate the holidays than with food and fun? 21 bloggers from around the country have come together to share some of their favorite sweet Christmas recipes!! Deck the halls and get ready for very merry sweet treats, like fudge, cookies, Christmas morning breakfasts, layer cakes, cocoa, and more! Follow along on social media with our #ChristmasSweetsWeek hashtag. Happy Holidays!
Enjoy these #ChristmasSweetsWeek recipes from our bloggers:
Breakfast and Baked Goods Recipes
Cranberry Orange Quick Bread by Simply Inspired Meals
Gingerbread Baked Oatmeal by Making Miracles
Candy and Fudge Recipes
Christmas Snack Board by Love & Confections
Chocolate Cherry Brownie Bites by A Day in the Life on the Farm
Dark Chocolate Graham Crackers by A Kitchen Hoor's Adventures
Hard Cinnamon Candy by Blogghetti
Papaya Halwa by Palatable Pastime
White Chocolate Peppermint Fudge by An Affair from the Heart
Pastry and Dessert Recipes
Christmas Tree Krispie Treats by Sweet Beginnings
Hot Chocolate cookies by Christmas Tree Lane
Lemon Olive Oil Sugar Cookies by The Spiffy Cookie
Lemon Rosemary Shortbread Cookies [Vegan & Allergy-Friendly] by Bear & Bug Eats
Candy Cane Ice Cream Pie by A Little Fish in the Kitchen Lemon
Gingerbread House by House of Nash Eats
Gingerbread Layer Cake by The Redhead Baker
Chewy Ginger Molasses Cookies by Kathryn's Kitchen Blog
Christmas Sprinkle Cookies by The Mandatory Mooch
Chocolate Saltine Toffee by For the Love of Food