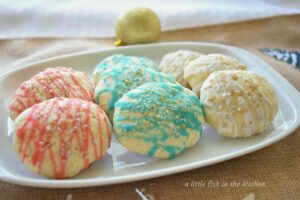 Welcome to #ChristmasSweetsWeek 2020! Co-hosted by Terri from Love and Confections and Christie from A Kitchen Hoor's Adventures! What better way to celebrate the holidays than with food and fun? 21 bloggers from around the country have come together to share some of their favorite sweet Christmas recipes!! Deck the halls and get ready for very merry sweet treats, like fudge, cookies, Christmas morning breakfasts, layer cakes, cocoa, and more!
My first recipe offering for this delicious recipe-sharing event is for these soft lemon-ricotta cookies! I have also seen variations of this recipe called lemon-ricotta pillows.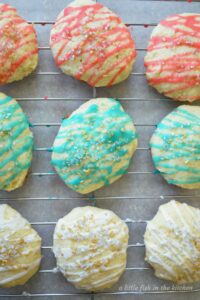 These cookies are soft in texture and rich in flavor. I choose to use lemon-flavoring, but really I think they could work with a number of different flavor-accents. I think orange-ricotta cookies or vanilla-ricotta cookies would also be delicious combinations for this recipe.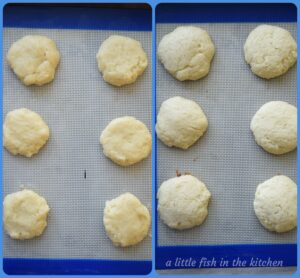 When it comes to glazing these cookies, I chose to color the glaze in some festive holiday colors, specifically teal, red and white. Although it my seem redundant to do so at first, I love to use white gel color in my white icings, frosting and glazes (especially for royal icing decorated cookies). I've included a photo below so you can see for yourself just how much a small drop of white gel coloring really makes a white icing pop!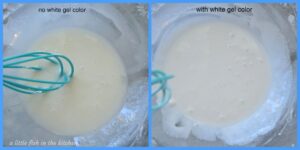 How to make lemon-ricotta cookies.
All you need to put together a batch of these delectable cookie are all-purpose flour, baking powder, room temperature butter, ricotta cheese, lemon juice, lemon, and vanilla extracts. You can make these in a stand-mixer, or you can simply use a mixing bowl and a wooden spoon.
These cookies are truly easy to make but pack some impressive cookie qualities. Each bite of a lemon-ricotta cookie has a fluffy texture and a richness of flavor from the ricotta cheese. Everyone will be asking you how to make these cookies!
I've tacked on the add below so you can order supplies to decorate these like I did! I used these products:
AmeriColor Red Red gel color
AmeriColor Teal gel color
Wilton White Icing Color
CK brand Gold and Silver Pearlized Sugar Crystals
Y'all will definitely want to Pin this post for later!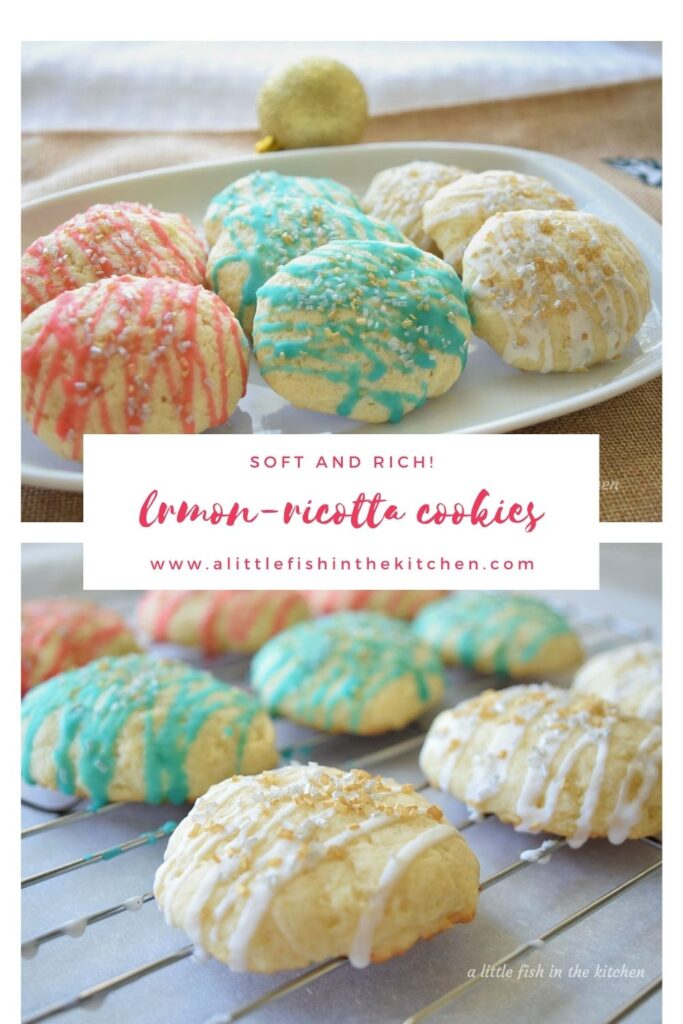 Sign up here for my email list and receive all of my posts straight to your inbox! Subscribe and never miss a post!!
Check out one of my latest videos!
Lemon-Ricotta Cookies
Course: Dessert
Difficulty: Easy
Ingredients
2 cups all-purpose flour

1 tsp baking powder

1 stick salted butter, room temperature

1 cup sugar

7.5 oz. whole milk ricotta cheese (half of a 15 oz. container)

2 tablespoons lemon juice

1 teaspoon lemon extract

1/2 teaspoon pure vanilla extract

1 large egg, beaten

For the glaze:

1 cup powdered sugar, sifted

1/4 tsp lemon extract

1/4 teaspoon vanilla extract


1-1/2 tablespoons milk or water

For decorating:

red, turquoise, and white food coloring gel (my favorite brands are the AmeriColor food coloring gels, and Wilton White Icing Color, optional)


silver and gold pearlized sugar crystals (I use the CK brand, optional)
Directions
Pre heat your oven to 350°. Line a cookie sheet with parchement paper or silicon mat and set aside.. In medium size bowl, mix together the flour and baking powder and set bowl aside.
In the bowl of a stand mixer or using a large mixing bowl and wooden spoon, mix together the softened butter and sugar until light and fluffy. Stir in ricotta cheese, the extracts and the beaten egg. Mix until well combined.
Mix the flour mixture in with the ricotta mixture just until a thick cookie dough forms.
Place heaping teaspoon of the cookie dough onto the prepared cookie sheet leaving 1.5 inches between each cookie. Lightly pat the dough balls into the form of a disk shape.
Bake the cookies for 15-20 minutes or until the bottoms are lightly browned. Cool cookies on a rack.
Decorated the cookie with lemon glaze and sparkling sugar, if desired.
For the lemon glaze
In a small bowl, stir powdered sugar, extracts and milk or water together until smooth. If desired separate the glaze into 3 small bowls and color with gel color.
Using a spoon to apply to the cookies in a drizzle pattern.
Notes
Recipe from A Little Fish in the Kitchen blog at www.alittlefishinthekitchen.com. All content is owned by Marcelle G. Bolton. Please contact the author for permission to republish. 
Please check out all of today's recipe from our amazing #ChristmasSweetsWeek bloggers! Follow along on social media with our #ChristmasSweetsWeek hashtag. Happy Holidays!
Enjoy these #ChristmasSweetsWeek recipes from our bloggers:
Beverage Recipes
Homemade Dark Hot Chocolate Mix by Bear & Bug Eats
Breakfast and Baked Goods Recipes
Easy Cranberry Orange Monkey Bread by Love & Confections
Cherry Croissant Breakfast Bake by Making Miracles
Classic Cinnamon Rolls by The Nifty Foodie
Cranberry Eggnog French Toast Bake by The Redhead Baker
Spiced Pear Quick Bread by Simply Inspired Meals
Star Bread by House of Nash Eats

Candy and Fudge Recipes
3 Ingredient Old Fashioned Potato Candy by Blogghetti
Bourbon Caramels with Chocolate and Vanilla by Christmas Tree Lane
Chocolate Peppermint Graham Crackers by Kathryn's Kitchen Blog
Pastry and Dessert Recipes
Banana Cake by Palatable Pastime
Cranberry Orange Sugar Cookie Bars by Sweet Beginnings
Egg Nog Ice Cream by A Day in the Life on the Farm
Eggless Blue Curaco Velvet Cake by Magical Ingredients
Hazelnut & Raspberry Balsamic Brownie Cookies by The Spiffy Cookie
Hot Chocolate Sweet Rolls by Kate's Recipe Box
Lemon Ricotta Cookies
by A Little Fish in the Kitchen Lemon
Peanut Butter Cut Outs
by A Kitchen Hoor's Adventures
Pecan Crusted Pecan Pie
by The Mandatory Mooch
Peppermint Dipped Chocolate Chip Cookies
by An Affair from the Heart
St Louis Gooey Butter Cake
by For the Love of Food