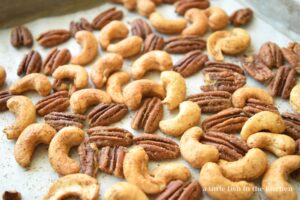 When it comes to snacks, a generous serving of roasted and seasoned mixed nuts is one of my go-to choices. When it used to be more common for us to visit a convenience store for an afternoon snack or after school treat, I would almost always head straight for a small bag of trail mix or some variation of roasted nuts for myself. I'm not picky either, honey-roasted, spicy, sweet 'n spicy… just gimme, I love them all!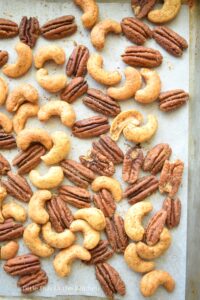 However, as it is these days, we have been trying more often to recreate our favorite treats at home and avoid making unnecessary trips out of the house. I've recently been tinkering with a few variations of mixed nuts and I've been enjoying the experimentation process a great deal. This spicy curried version is only recipe for homemade mixed nuts I'm going to share this summer, but trust me there will be more recipes along these lines coming up!
I'm just saving the next phase of roasted nut recipes so I can dress the food up for the holidays in seasonal posts (food blogger problems, right??).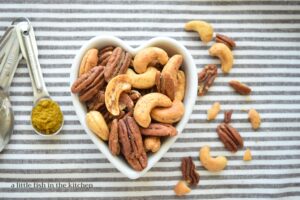 I don't mean to panic anyone, but as of today there are only 142 days until Christmas! And I might add, homemade gifts from your kitchen like some homemade roasted mixed nuts, in particular, make fantastic holiday treats for friends and family!!
Feel free to substitute your favorite whole nuts into this recipe, or add in others as you prefer. Just make sure your choice of whole nuts are no more than 2 cups, or you will need to increase the amounts listed for olive oil and for the spice blend to ensure the best flavor in this recipe!
I hope you enjoy these spicy, little treats as much as we did. Happy eating, my friends! xo – M
You'll definitely want to pin this one for later!!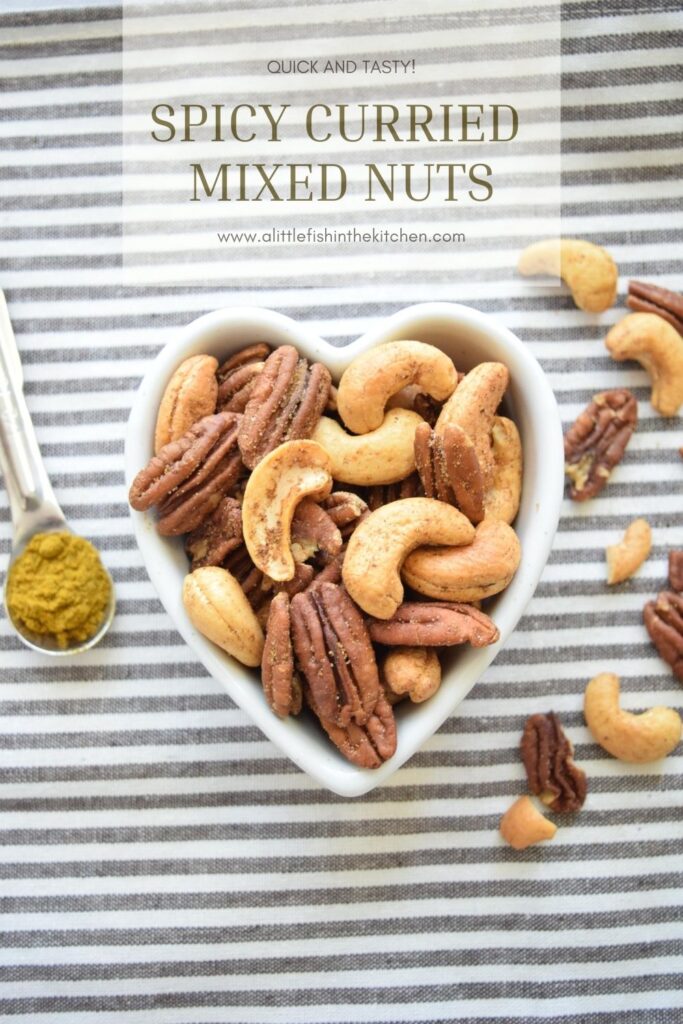 Check out one of my latest videos!
Wouldn't you like to stay awhile? Subscribe here for recipes and updates to be sent straight to your inbox!
Spicy Curried Mixed Nuts
Course: Snacks
Cuisine: American
Difficulty: Easy
This spicy roasted nut mix will hit the spot next time the craving for a savory snack hits! Feel free to substitute your favorite nuts in the same quantities in this recipe. Enjoy!
Ingredients
1 cup unsalted whole cashews

1 cups whole pecan halves

1 -2 tablespoons extra virgin olive oil

1/4 teaspoon salt

1/8 teaspoon curry powder

1/8 teaspoon cinnamon

1/8 teaspoon ground ginger

1/8 teaspoon ground cumin

1/8 teaspoon ground chili powder

1/8 teaspoon cayenne pepper
Directions
Preheat your oven to 325° Prepare a rimmed baking sheet with parchment paper and set aside. Place nuts in a large mixing bowl and set aside. In a small bowl, combine the salt and all the spices and set aside.
Drizzle the olive oil over the nuts in the large bowl. Toss with the oil until nuts are well-coated. Sprinkle in the spice blend and stir until nuts are evenly coated. Transfer to the prepared baking sheet and spread out into a single layer.
Place baking sheet into the oven and roast nuts for 15 minutes stirred every 5 minutes to avoid burning the nuts.
Remove pan from the oven and allow spicy curried nuts to cool completely on a rack
Enjoy!
Recipe Video
Notes
Recipe from A Little Fish in the Kitchen blog at www.alittlefishinthekitchen.com. All content is owned by Marcelle G. Bolton. Please contact the author for permission to republish.