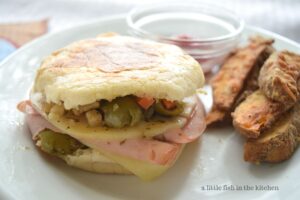 Well, it seems the summer of 2020 is a wash for our annual summer road trip. I'm not gonna lie, we are crazy sad about it. The big family road trip is a tradition we only recently started back in 2018 and our third annual adventure has been indefinitely postponed for now. We'll see how it goes, we are still considering a quick trip before school starts up, but we have to put in some research before we choose our next destination. All Disney locations are unfortunately off the table for now.
Back in 2018, the kids were ages 11 and 5, respectively, when we hit the road for a full week of travel. We stopped in New Orleans, Pigeon Forge, and finally Nashville (yes, in that order) before driving back home to central Texas. The kids were very impressed with New Orleans and we spent two nights there. We enjoyed our visit to the Audubon Butterfly Museum and the kids especially loved getting around everywhere by trolley. They remember more than I do at times about that trip! We also loved the food, especially the famous New Orleans muffaletta sandwich, and the sinful, sugar-smothered beignets.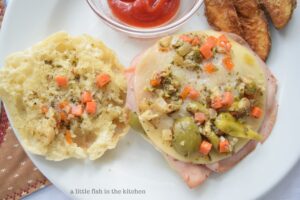 Yep, we've sure been missing New Orleans, and considering it's only a 7-hour road trip away from us, it's always a tempting destination. But, not this year. Not at this time. However, we try to keep a positive attitude, even about disappointing things. So, we decided it's not a total travel tragedy as at least we could be there in spirit and make some our favorite Cajun foods at home. For starters, I just had to recreate some version of the amazing NOLA muffaletta sandwich and these individual grilled mini-muffulettas turned out to be just the ticket. (Next up, homemade beignets!)
What is a muffaletta sandwich?
The term muffuletta actually refers to a form of Italian bread. This traditional Italian bread was baked daily by a man named Salvatore Lupo, an Italian immigrant and founder of the famous Central Grocery still located in New Orleans. The muffaletta bread became the base for the now-famous muffaletta sandwich which is made with a spicy olive tapenade, hard salami, smoked ham, as well as Swiss and provolone cheeses. The Central Grocery is an amazing New Orleans landmark and it still stands in its original location on Decatur street where it's been since 1906. Presently, it's still a thriving business and is owned by the third generation of Lupo's family.
The muffaletta sandwich is a smoky, salty, briny, cheesy sandwich, and it's just downright good. If you love it, you will love it forever after just one bite and the craving was real for us last week, y'all!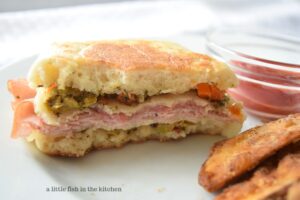 How to make a grilled mini-muffaletta.
I recreated the famous muffaletta using a commercially sold version of the Central Market's famous olive salad, deli slices of hard salami, smoked ham, and one slice each of Provolone and Swiss cheese. I didn't make homemade muffaletta bread, but I used an English muffin instead to make this a snappy version of the classic. In my opinion, the texture of an English muffin is a perfect partner to the flavorful sandwich fillings. I also grilled my mini-version in a grill pan with a little bit of olive oil and butter to get the cheese nice and melty. This sandwich is seriously easy peasy to make, but it's a real treat as it's packed with crazy-good flavors.
I am so lucky to be able to pick up the Central Market olive salad here at our supermarket. Y'all, you know I'm normally not so nit-picky about ingredients, but the olive salad is crucial to the recreate the addictive flavor of this sandwich. Check the olive/pickle section of your store to see if they carry some version of olive salad, otherwise please click here to purchase a bottle of the Central Market Olive Salad through Amazon! You'll be glad you did.
Here's a few pics of my family back on our NOLA trip in 2018, just because I'm feeling nostalgic. One day we'll be back in The Big Easy again to take in some live jazz music on Bourbon Street and eat beignets smothered in powdered sugar! Now that the kids are bigger, I believe some spooky cemeteries will be added to the NOLA travel agenda next time. We can't wait for that day.
Stay safe and happy eating, my friends!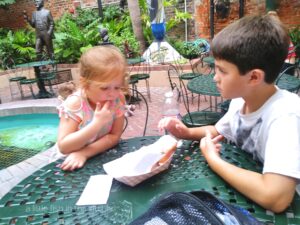 Their first taste of a NOLA beignet at the Musical Legends Park in August 2018. It was hit!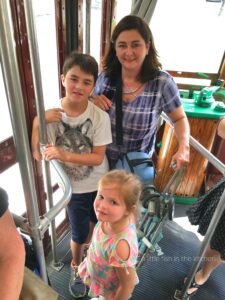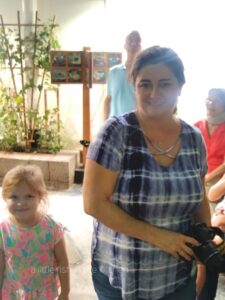 You'll definitely want to Pin this one for later!!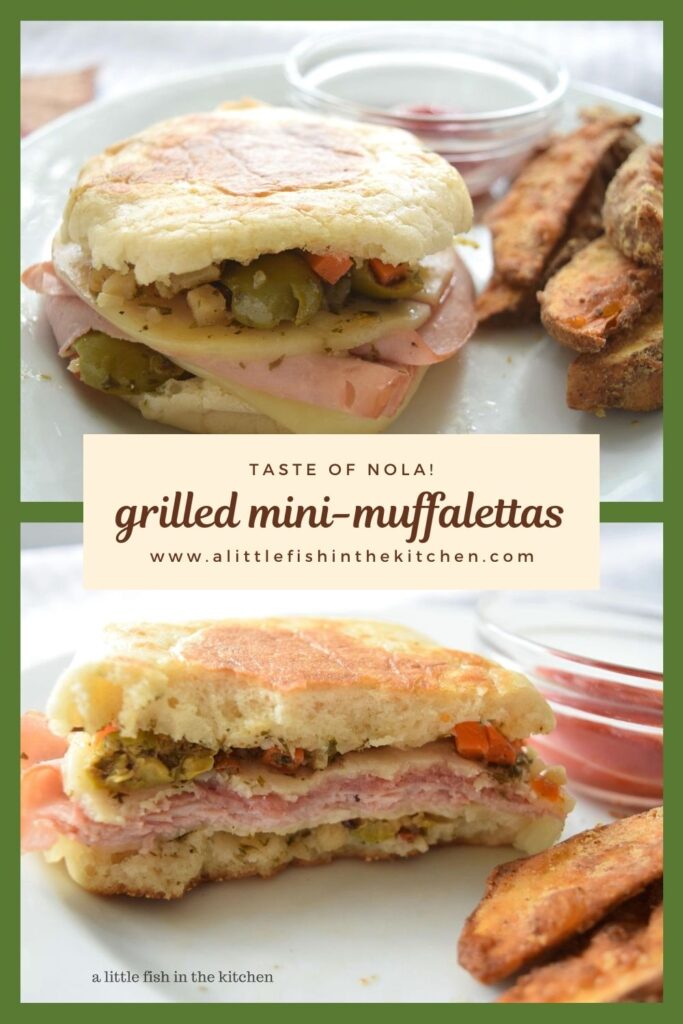 MY LATEST VIDEO!
Wouldn't you like to stay awhile? Sign-up here to receive all of my new posts in your inbox! Subscribe now and never miss a recipe or an update!
Grilled Mini-Muffalettas
Course: Main
Cuisine: American
Difficulty: Easy
Ingredients
1 English muffin

2 -3 tablespoons olive salad (see recipe video for suggestions)

1 slice provolone cheese

1 slice Swiss cheese

3 thin deli slices smoked ham

3 slices hard salami

1 teaspoon olive oil

1/2 teaspoon butter
Directions
Slice the English muffin in half. Spread 1 tablespoon of olive salad on each half of the English muffin.
Layer the sandwich filling on the bottom half of the English muffin. First lay down a slice of cheese, next the ham, then the salami, and top with the second slice of cheese (please see recipe video below for more reference, if needed)
Top with other half of the English muffin. In a skillet, heat the olive oil and butter. Once the oils are at medium-high heat, place the sandwich into the warm pan. After 3-4 minutes use tongs to flip the sandwich. Toast/grill the other side for another 3-4 minutes or until cheese is melted and the bread is lightly toasted on both sides.
Serve with French fries, kettle potato chips or fresh fruit. Enjoy!
Recipe Video
Notes
Recipe from A Little Fish in the Kitchen blog at www.alittlefishinthekitchen.com. All content is owned by Marcelle G. Bolton. Please contact the author for permission to republish.